9+ Free Encryption Software Tools To Protect Your Data [Updated 2018]
Because encryption is essential to secure your valuable data
LAST UPDATED ON
MARCH 13, 2018
What exactly is data encryption?
You probably know that data encryption is one of the best protection methods out there you can use to keep all your digital assets safe.
The encryption process uses a key and an algorithm to turn the accessible data into an encoded piece of information.
To decode the encrypted data and render it back to its original form (that can be easily understood), one needs access to the ciphering algorithm and the secret key that was used.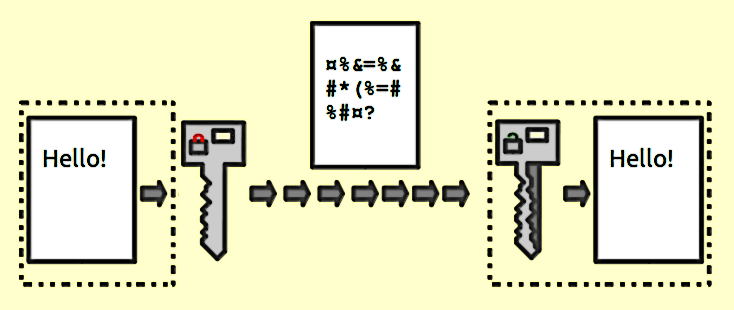 Encryption helps you secure sensitive information from cyber criminals or other online threats and make access harder to them. At the same time, it's a way that can be used to archive large amounts of data or to secure private communication over the Internet.
Finding the best encryption software to keep your data secure could prove to be a daunting task. This is why we thought it is useful to make this list and help you choose the best encryption software tools.
Free encryption tools are very useful in keeping valuable information hidden from cyber criminals, because it renders the data inaccessible to malicious actors. We strongly advise you to use some encryption to protect your valuable data, no matter if it is stored locally, on your PC, or sent over the Internet.
So which are the best encryption tools? Read on below and choose the free encryption software that can help you keep your data safe.
Before we jump to the best ways to encrypt your files, we have to remind you about the importance of using strong passwords. When setting up your encryption process, you'll be asked to choose a password that will act as the decryption key. So your encryption is only as good as your password.
CHECK YOUR CYBER SECURITY HABITS
Do you use any encryption tools to protect your sensitive data?
These security tips will help you manage your passwords like a pro and make them unhackable:
Set unique and strong passwords, which contain different character types, like uppercase and lowercase letters and numbers, and are more than 15 characters long. There are even several ways you can test if your passwords are strong enough.
Also, you'll need to set passwords which are not easy to remember or guess, and which aren't used for more than one online account.
For your online security, you should not keep your passwords saved in text files or browsers;
Never use/reuse the same password for more than one account;
Do not share your passwords in emails, instant messages or other online platforms.
We carefully curated and selected some of the best free encryption software tools you can use to keep your most valuable data safe and secure.
Use strong passwords for your online accounts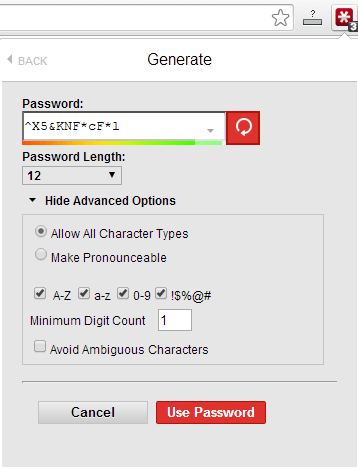 LastPass is both a password manager and generator we recommend using to better secure your passwords and personal data. With the help of a free encryption software tool like this one, you'll no longer have to remember or note a password in a notebook or other place.
LastPass is easy to use and can simplify things for you. It has extensions for the main web browsers, such as Mozilla Firefox and Google Chrome. Also, you can use the mobile app available for both Android and Apple.
When you create a new online account, it offers the option to save the new credentials.
This tool encourages you to set a unique and hard to break password and discourages users to reuse it. If you're using the same password for multiple accounts, it simply recommends selecting a different password.
Other password management tools that are easy-to-use and can offer good password security are Sticky Password  or RoboForm
Managing passwords safely can really become much easier if you follow the steps included in this guide and if you use two-factor authentication whenever you can.
Encryption software tools for your hard drive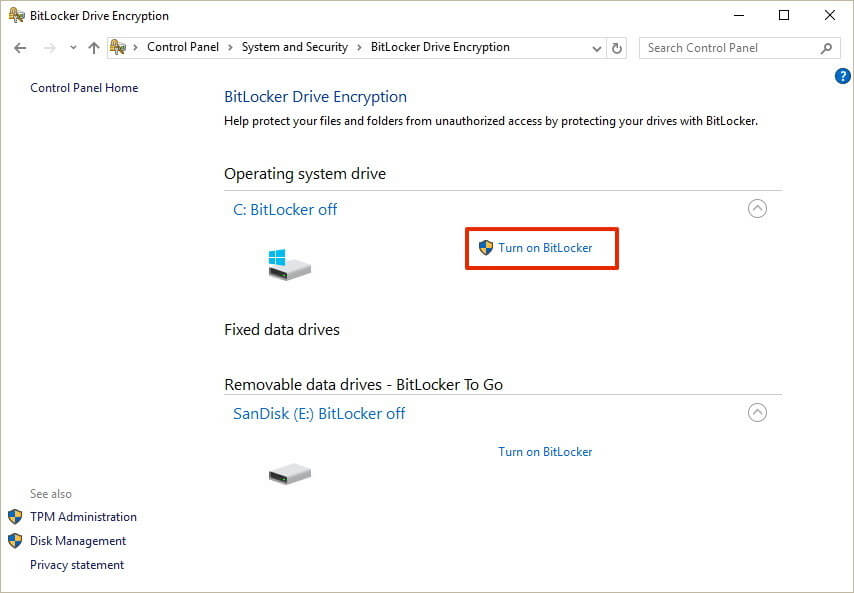 Source: Windows Central
There is a large number of encryption tools available out there, which can be used to encrypt data locally. For most users, the easiest way to encrypt sensitive information or maybe the entire hard-disk is to use Microsoft's BitLocker software, which can be found on most Windows operating systems.
BitLocker is a full-disk encryption tool built-in in the latest Windows operating systems (Windows 10), which uses AES (128 and 256-bit) encryption to encrypt data on the drives.
The Advanced Encryption Standard has been tested and improved and is now used worldwide by most security vendors due to its high level of security and optimization.
Why should you use BitLocker:
Easy to use and it's already integrated into your Windows operating system, so there's no need to add another encryption software;
It's mainly a free data encryption software tool you can use to prevent data breaches and data exfiltration from your hard disk.
It encrypts your entire drive, which makes it impossible for malicious actors stealing your laptop to remove the hard drive and read your files.
It's also a great encryption software if it happens to lose your PC/laptop or get it stolen.
When BitLocker Drive Encryption is activated, and you add new files, BitLocker will encrypt them automatically.
Read these in-depth resources about BitLocker in our security guide dedicated to Windows 10.
Another free encryption software we recommend trying is VeraCrypt which is available for Windows, OS X and Linux operating systems. If you've been familiar with the TrueCrypt encryption software that's been discontinued in 2014, then you will have no problem using VeraCrypt.
Just like BitLocker, it supports Advanced Encryption Standard (AES) and can hide encrypted volumes within other volumes.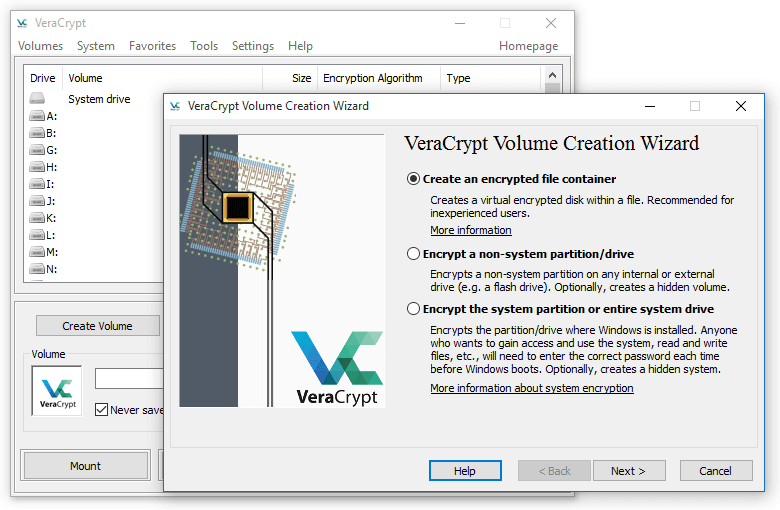 This encryption software is a great alternative to TrueCrypt tool and is constantly getting improvements and security enhancements.
You can use its dedicated beginner's step-by-step guide to get started and download it from here.
Are you interested in encrypting your data stored on your Mac safe? We recommend evaluating this free encryption software tool which is Apple's implementation of encrypting data on macOS and Mac hardware.
Just like BitLocker and VeraCrypt tools, FileVault 2 (FileVault full-disk encryption) uses XTS-AES-128 encryption with a 256-bit key "to help prevent unauthorized access to the information on your startup disk".
This version appeared in 2011 and is available in OS X Lion or later to secure users' data. Use this guide to turn on FileVault.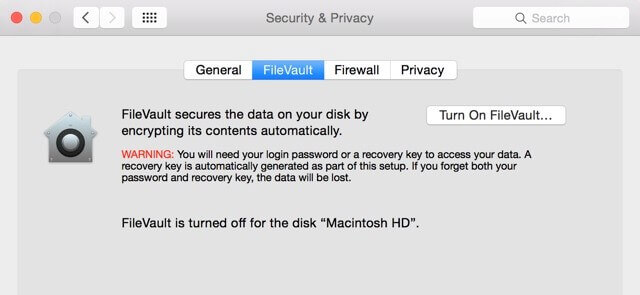 It is another Windows-only free encryption software you can use to encrypt your internal and external drive, including system partition, and even ISO images.
This software tool provides multiple encryption algorithms such as AES, Twofish, and Serpent, and the working system is quite simple: select your drive and click on "Encrypt" to protect your data available on it.
The file encryption software can be used as a good alternative to TrueCrypt tool and has a quick and easy installation procedure requiring a computer restart to finish. Here's a tutorial and full review of DiskCryptor.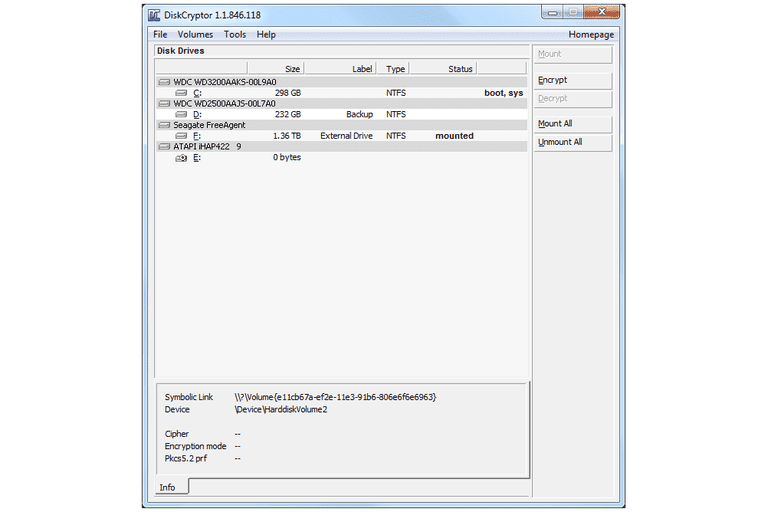 Source: Lifewire.com
DiskCryptor can also encrypt external USB flash drives or any other storage devices and use it to mount or unmount them. You can download it from here
Software encryption for your files
Many users are not interested in encrypting the entire hard disk, but only specific files and documents that store valuable data or information.
7-Zip is a free encryption software with open source, a powerful and lightweight solution well-known for its simplicity. This software tool is capable of extracting most archives and it features strong AES-256 encryption.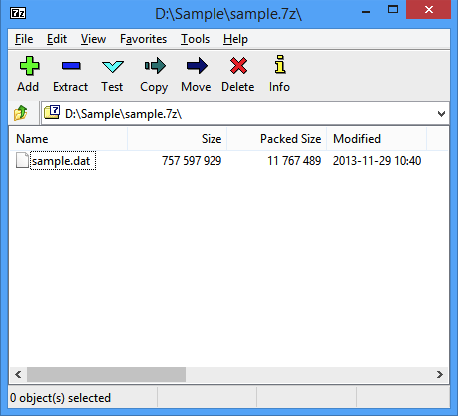 The program is easy to get used to when encrypting your own files and it uses one of the best compression formats. It's also available in 87 languages and compatible with even the oldest of Windows versions, plus Linux.
Just like 7-Zip, AxCrypt is a free and open source encryption tool for Windows which can be used mainly for protecting essential files from users' system.
It is a lightweight tool (around 1MB in size) and is efficient to encrypt a file, an entire folder or a group of files with a simple right-click.
The files can be encrypted for a specific period of time and can auto-decrypt later on when that file reaches the destination.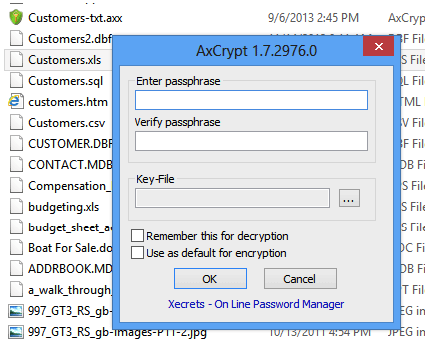 As I said in the beginning, its main purpose is to protect specific files and not entire hard drives, although it does offer protection against major cracking methods used by cyber criminals. Plus, you can use it to encrypt your sensitive data before backing it up in the cloud or on external hard drives. AxCrypt can be downloaded here.
If you're looking for even more tools and programs that you can use to encrypt computer hard drives or your sensitive data, this list is a great resource to explore!
Software tools to encrypt your online traffic
Encrypting your files is not enough. To enhance protection, you need to make sure no one can eavesdrop on your communication over the Internet.
So, how can I increase my online security without creating too many barriers that may slow down my access to information posted online?
See below a few simple tools you can use to access online content and stay safe from data breaches at the same time.
To make sure you always access secure web pages that use encryption mechanisms, we recommend trying a browser extension like HTTPS Everywhere, which is compatible with Mozilla Firefox, Opera, and Google Chrome.
While some security analysts argue that even secure websites aren't bulletproof, it's much better than doing nothing. After all, these secure websites have encryption and authentication standards that are meant to ensure the confidentiality of your online activities.
When you use HTTPS Everywhere, your browser will go through an authentication process while connecting to a secure website. This process uses cryptography to verify that a secure connection is maintained.
Using a little extension like HTTPS Everywhere, which encrypts your communication with major websites, will make your online activities more secure from the dangers of cybercrime.
If you want something close to complete privacy, try the Tor browser which allows you to access Internet anonymously using the Tor network of computers.
The special Tor browser has been designed to be used by anyone who wants to conceal any browsing activity from prying eyes.
The most recent version of this browser, Tor Browser 8.0a2, is now available and it features many updates and improvements, both in terms of stability and privacy.
For those who don't know,  Tor is the short version of "The Onion Router" and directs your Internet traffic by encrypting the IP address from where it came. Using an encryption software like Tor will make it more difficult for any Internet activity to be traced back to the user: this includes "visits to Web sites, online posts, instant messages, and other communication forms"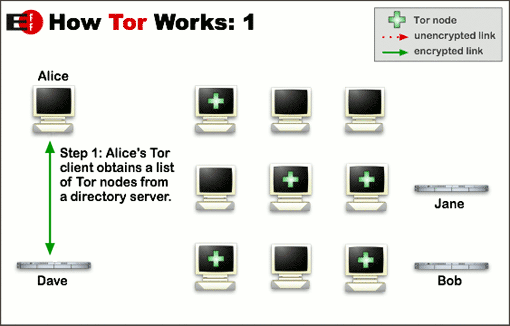 You can read more details in this review.
Another alternative to becoming anonymous online and encrypt your communications is to use a Virtual Private Network (VPN).
This private network is able to spread across the normal Internet space, using its resources to create an encrypted channel that can keep your communication safe from interception attempts.
Usually, employees who work remotely use a VPN to access the private company network. This way, they can run online operations or transfer highly confidential documents in complete privacy.
But that doesn't mean VPN software is just for corporate users. I recommend you use this type of software when connecting to unsafe public networks or when you want to access content whose distribution is restricted to a certain geographical area.
CyberGhost is a popular VPN solution to ensure that your web traffic and valuable information remain encrypted. Configuration is simple and easy to use and includes 256-bit AES encryption, to enhance online privacy. Once you activate CyberGhost, you'll be able to browse anonymously from another country and get access to more than 1,000 servers across 50+ countries.
If you need VPN for day-to-day or occasional use ( free Wifi in airports, hotels, coffee shop and any other places you go), the free ad-supported plan should be a good option to choose.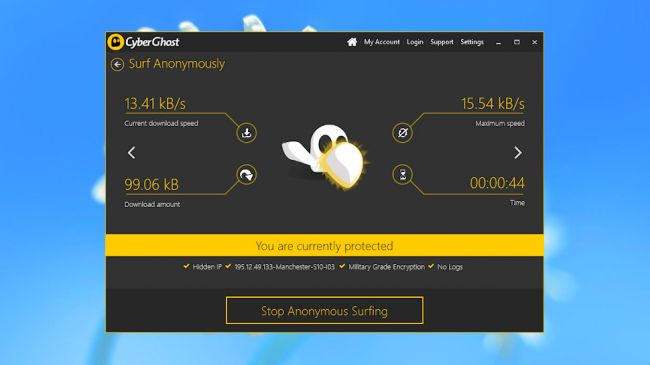 Source: TechRadar.com
It includes a 30-day money-back guarantee for everything else and friendly support. A VPN service provider like Cyberghost helps you keep your data protected and secure your digital assets. Cyberghost works with Windows, macOS, iOS, Android, Linux or routers.
This video will show you how a VPN works and for more details about this service, you can read this review.
For privacy enthusiasts, here's another VPN service you can use to encrypt your data and keep cybercriminals at bay. Just like CyberGhost, this one uses 256-bit AES encryption technology and the set-up is simple. All you have to do is download, install and connect to ExpressVPN with a few clicks.
Compatible with multiple devices, it works on Windows, Mac, iOS, Android, or Linux and connects to more than 148 locations in 90+ countries. It's not entirely free, but you can use it free of charge for up to one month and get a 30-day money back guarantee. Here are more free VPN services you can try.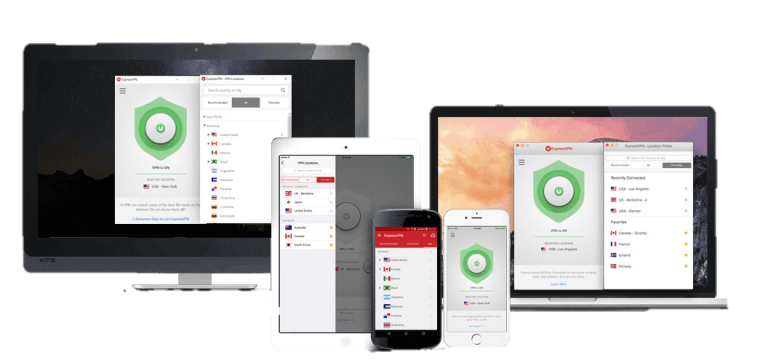 Source: VPNMentor.com
12. Online Proxy Server – Hide Your IP Address
If you find the process of installing and using a VPN or the Tor browser too difficult, you can still rely on a basic privacy measure: an online proxy server. Using a proxy server, you can simply hide your IP address and surf online accessing various sites anonymously.
Keep in mind that a web proxy server can't offer the encryption channel you get from a VPN solution and can't hide your online communication through an entire network like Tor. But you'll still have an indirect link between your computer and the website you access. This should provide basic protection for small browsing activities.
If you're a Windows 10 user and want to see how you can set up a proxy, use this guide to learn more.
Protection guide to enhance your online safety
To keep your valuable information safe from malicious actors, encryption is not enough. In our blog posts, we often emphasize that no single security solution is enough to offer the best protection for your digital assets. You need multiple layers of security to keep your data safe against online threats like ransomware, data-stealing malware, financial Trojans. Learn more about our product, Heimdal PRO, and what can do for you.
The cyber criminals' arsenal includes a lot of weapons that we need to shield our systems from. They continuously work on changing their tactics during the cyber attacks, so it's for your own best to take all the security measures needed.
Since there are so many online threats out there, here what you can do to improve your online security:
When you think about encryption, have in mind the whole picture and consider its role in your overall security strategy: it's a great, reliable way to ensure that your personal information doesn't get harvested by cyber criminals when you browse the Internet.
How do you see encryption in the bigger picture of Internet security? Are you using any type of encryption for your data at the moment?
Share your thoughts and please let us know what other free encryption software you are using.


Spend time with your family, not updating their apps!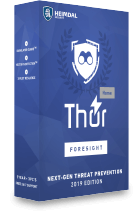 Let THOR FREE
Silently and automatically update software
Close security gaps
Works great with your favorite antivirus