These Free Ransomware Decryption Tools Are Your Key to Freedom [Updated 2023]
200+ Ransomware Decryption Tools to Help You Decrypt Your Files.
LAST UPDATED ON
DECEMBER 20, 2022
This post is also available in:
German
Ransomware is one of the most vicious cyber threats out there right now. A dangerous form of malware, it encrypts files and holds them hostage in exchange for payment. Luckily for you, there are plenty of ransomware decryption tools that you can use to get access to your files without needing to pay the ransom. 
If your network gets infected with ransomware, follow the mitigation steps below and use this list with over 200 ransomware decryption tools.
Steps to Recover Your Data:
Step 1: Do not pay the ransom because there is no guarantee that the ransomware creators will give you access to your data.
Step 2: Find any available backups you have, and consider keeping your data backups in secure, off-site locations.
Step 3: If there are no backups, you have to try decrypting the data locked by ransomware using these ransomware decryptors.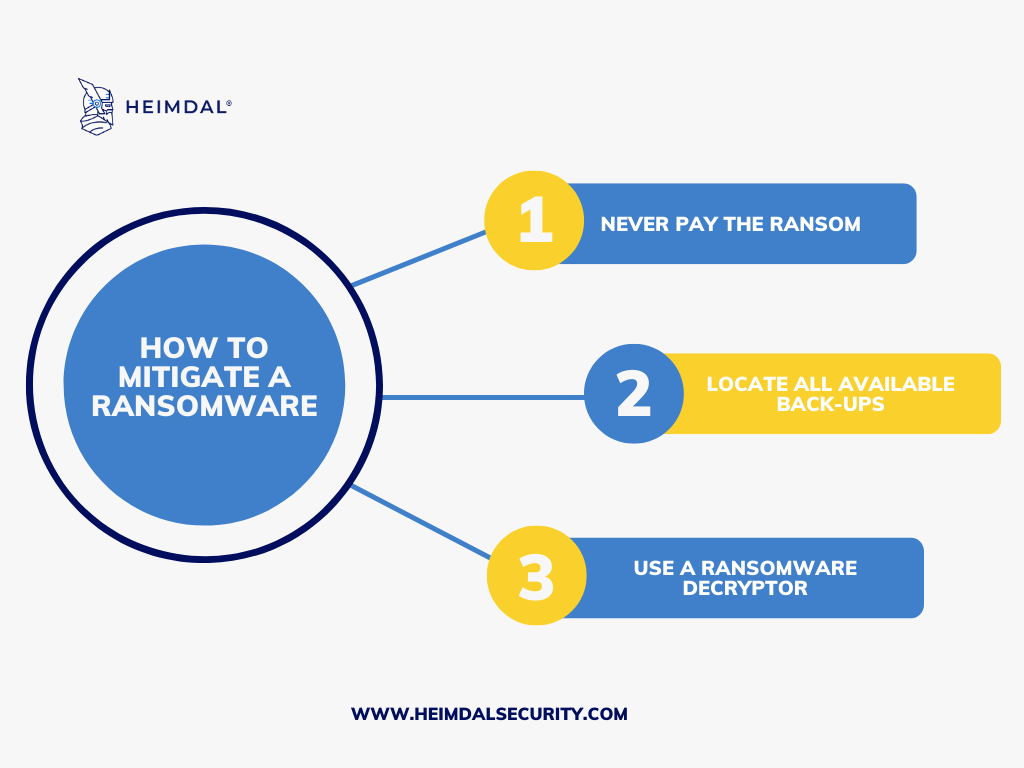 Navigate through these links to learn more.
How to Identify Your Ransomware Infection
There are a few ways to identify what type of ransomware you have been infected with to find the right ransomware decryption tool.
The first way is to look at the extension of the encrypted files. This will usually be something like .locked, .encrypt, or. ransom. If you see one of these extensions, you will likely be infected with ransomware.
Another way to identify the type of ransomware is to look at the ransom note. Again, this will give you a clue as to which type of ransomware you are dealing with.
Oftentimes, the ransom note provides details about the type of ransomware your files have been encrypted with, but it can happen that you don't have this information at hand.
Readers have asked us to include a list of ransomware extensions and their associated malware families. Updates to this list are available on our blog page.
If you find yourself looking for a ransomware decryption tool, two options could help you out:
How to Decrypt Encrypted Files Without Paying the Ransom
If you're infected with ransomware, there are a few tips you can use to make sure you get back on track quickly. As soon as you detect a ransomware infection, you must act fast.
First, note that only some tools can fix what every variant does. In addition, the tools are designed for a specific type of ransomware, so it's up to you to identify what ransomware variant caused your infection. Once identified, the right tool will be able to decrypt your files.
Second, before sterilizing and decrypting your system and files, make sure to remove the original file or the ransomware itself. Otherwise, the data will still be encrypted again once you finish the recovery process.
Most decryptors can unlock a variety of ransomware, including WannaCry, Petya, NotPetya, TeslaCrypt, DarkSide, REvil, Alcatraz Locker, Apocalypse, BadBlock, Bart, BTCWare, EncrypTile, and Globe.
Unfortunately, ransomware developers quickly push the latest updates and patches to make their malware harder to decrypt. This arms race is why most decryptors don't come with guarantees because they have to update and adapt theirs.
Below we'll list some free ransomware decryption tools that will help you unlock your encrypted files.
The Growing List of Ransomware Decryption Tools
Disclaimer:
There are currently many free ransomware decryption tools for some of the most common types. However, the list below is incomplete and will probably never be as more ransomware decryption tools emerge as we speak. So it would help if you documented research as well. Safely decrypting your data can be nerve-wracking, so try to be as thorough as possible.
If you've got a suggestion for us or something's missing from the list, we'll be happy to hear from you. Just submit your requests, and we'll get back to you with an answer as to whether or not it will be included in our blog post.
Some of the ransomware decryption tools mentioned below are easy to use, while others require a bit more tech knowledge to decipher. If you don't have technical skills, you can always ask for help on one of these malware removal forums, which feature tons of information and helpful communities.
Ransomware Families Vs Ransomware Decryption Tools
As you may have noticed, some of these ransomware decryptors work for multiple ransomware families, while certain strains have more than one solution (although this is rarely the case).
From a practical perspective, some decryptors are easy to use, but some require technical know-how. So as much as we'd want this process to be more straightforward, it doesn't always happen.
No matter how much work and time researchers put into reverse engineering cryptoware, the truth is that we'll never have a solution to all of these infections. It would take an army of cybersecurity specialists working around the clock to get something like this done.
Seven Best Ransomware Decryption Tools to Use in 2023
So now that we have a thorough list of ransomware decryption tools, we've narrowed it down to seven of the finest. Each one of them will get an in-depth review of their features.
1. No More Ransomware Project
The software's primary goal is to protect users against ransomware attacks. It has over 100 encryption keys, which serve as defense mechanisms, so it's effective at detecting and eliminating the many different kinds of files that may be encrypted. 
Experts from law enforcement agencies and cybersecurity companies have come together to eradicate ransomware. In fact, this project has become a valuable resource for anyone affected by ransomware.
Key features: 
It includes decryption keys for more than one hundred ransomware types discovered just in the last year.

There are detailed instructions for decrypting files that have been encrypted by ransomware.

It informs users about ransomware infections and the countermeasures available to them.

New ransomware decryption keys are regularly added to the website and regularly updated.

Includes a special box for reporting criminal activity, including ransomware.

The service is available in over 25 different languages.
2. Trend Micro Ransomware File Decryptor
It's a relatively new software designed to prevent malware from getting into your system. Additionally, the ransomware decryption tool can operate on systems that have been infected and assist you in successfully unlocking a file that Virus has locked.
In addition, Trend Micro Ransom File Decryptor is an easy-to-use program that is light on data usage. Despite all this, Trend Micro has helped to win against ransomware in the past. Its decrypting tool will keep you safe and won't impact your phone's performance.
Key features:
Each decryption utility has been combined into a single application.

It includes decryption keys for more than 25 different types of ransomware.

Trend Micro's website contains information that can help determine the type of ransomware.

New ransomware signatures will be added to the tool as it receives updates as new threats emerge.

Trend Micro has a dedicated support line for victims of ransomware.
3. Emsisoft Ransomware Decryption Tool
It is widely considered to be among the best ransomware decryption programs that can be installed on Windows. A vital tool like this has never failed to restore access to files encrypted by major ransomware like Apocalypse, Xorist, Stampado, and BadBlock.
Key features:
Emsisoft provides over sixty decryption tools to combat a wide range of ransomware strains.

Analyzing the encrypted file helps to determine the type of ransomware present.

It provides step-by-step instructions for decrypting ransomware-encrypted files and recovering your data.

Existing decryption tools are frequently updated with new functionality.
4. McAfee Ransomware Recover
McAfee Ransomware Recover is another excellent decryption tool that you can use to recover your encrypted files. Files, software, databases, and other files affected by ransomware can be retrieved with the help of McAfee Ransomware Recover. 
In addition, regular updates are made available for the tool that contains additional decrypting keys so you can always have access to them.
Key features:
In the field of computer security, McAfee is something of a warhorse. For example, they are actively developing decryption tools in response to the constant emergence of new ransomware attacks.

McAfee Ransomware Recover, also known as Mr2, is a highly sophisticated decryption software.

It can unlock a user's files, apps, databases, and applets, among other things.

Their decryption architecture may be modified and improved upon by anyone in the security community, and it is publicly available.

It provides extensive information on ransomware.
5. AVG Ransomware Decryption Tool
AVG Ransomware Decryption Tools can be a good option for ransomware that encrypts files using different algorithms. On the other hand, it can only decode files encrypted by Apocalypse, Bart, Crypt888, Legion, or TeslaCrypt.
Key features:
The antivirus software's user interface is streamlined and uncomplicated, including all automatic features that save you time.

It protects its users from threats that can be downloaded as well as links that may be malicious.

It is possible to perform a remote computer scan using AVG Antivirus on your mobile device.
6. 360 Ransomware
You can remove ransomware from your PC without having to pay the ransom by using a tool developed by the folks at 360 Ransomware Decryption Tool. This was created to help people remove Petya; however, it can also retrieve the decryption key for other types of ransomware.
Key features:
A single piece of software comes packaged with several different decryption keys.

It offers decryption services for a wide range of new specialized ransomware.

Their website contains several useful ransomware resources.

It's a ransomware removal program that's simple to operate.
7. Quick Heal – Free Ransomware Decryption Tool
Once you authorize your computer to be scanned, Quickheal can eradicate the infection quickly and efficiently while keeping your documents safe as ransom.
Quickheal has software that boots to scan for infected files and removes them before the Operating System kicks in. The software is supposed to be installed on a flash drive and then booted off. If it detects ransomware, Quickheal will remove it automatically.
Key features:
A single tool bundled with multiple decryption keys.

It provides decryption for some of the more unusual ransomware out there.

Their website contains valuable ransomware information.

It's a simple ransomware removal tool.
How to Avoid Ransomware in the Future
One of the most efficient ways to prevent the threat of ransomware from wreaking havoc and locking your sensitive data is to remain vigilant and be proactive.
In fact, we strongly recommend you to apply these basic and simple steps we outlined in the anti-ransomware security plan, that can help you prevent this type of cyber attack.
Safely keeping copies of vital information offline and equipping your company with cyber-insurance should be included in your enterprise's cybersecurity strategy. Even if cybercriminals get access to your computers and infect them with ransomware, you can wipe the system clean and restore your latest backup. Of course, this won't solve the double extortion ransomware situation but at least you can restore your systems to a working state. So, please, do not postpone the process of doing a secure backup of your data.
As new types of ransomware emerge, researchers decrypt some strains, but others get new variants, and it may look like a cat and mouse game, in which proactivity is vital. Paying the ransom never guarantees you actually get your data back, as it might still end up for sale on the Dark Web.
Therefore, prevention remains the best medicine as always. Heimdal Threat Prevention protects your endpoints and network against ransomware and data exfiltration with proprietary DNS security technology that spots and stops threats at the DNS, HTTP, and HTTPs layers. Coupled with the Heimdal Ransomware Encryption Protection, ransomware operators won't stand a chance.
Neutralize ransomware before it can hit.
Heimdal™ Ransomware Encryption Protection
Specifically engineered to counter the number one security risk to any business – ransomware.
Blocks any unauthorized encryption attempts;
Detects ransomware regardless of signature;
Universal compatibility with any cybersecurity solution;
Full audit trail with stunning graphics;
Heimdal™'s Ransomware Encryption Protection module is a revolutionary, 100% signature-free component. A novel and proactive approach, it benefits from market-leading detection and remediation that combats any type of ransomware, be it file-based or fileless.
If you liked this article, follow us on LinkedIn, Twitter, Facebook, Youtube, and Instagram for more cybersecurity news and topics.