Here Are the Free Ransomware Decryption Tools You Need to Use [2021 Updated]
Got infected with ransomware? Check out these free decryptors that will help you decode your data without paying the ransom
LAST UPDATED ON
JULY 6, 2021
Ransomware is one of the most vicious cyber-threats out there right now. A ruthless form of malicious code, it encrypts files and holds them hostage in exchange for a payment. This is why you need to stay updated on what ransomware decryption tools are out there for you to use.
In this article, we will go over a few essential mitigation steps, as well as list over 190 ransomware decryption tools that you can use if you fall victim to an attack. Let's get into it.
If your network gets infected with ransomware, follow the steps below to recover essential data:
Step 1: Do not pay the ransom because there is no guarantee that the ransomware creators will give you access to your data.
Step 2: Find any available backups you have, and consider keeping your data backups in secure, off-site locations.
Step 3: If there are no backups, you have to try decrypting the data locked by ransomware using the best ransomware decryption tools available.

In this anti-ransomware guide, we included these free ransomware decryption tools you can use to avoid all types of malware.
Navigate through these links to learn more.
How to identify the ransomware you've been infected with
Oftentimes, the ransom note provides details about the type of ransomware your files have been encrypted with, but it can happen that you don't have this information at hand. Readers have asked us to show which encryption extensions belong to which ransomware families. Many of these extensions signaled new types of encrypting malware, for which there are no ransom decryptors available.
If you need help with identifying what type of ransomware is affecting your system so that you know what ransomware decryption tools to use, one of the two options below can help you out:
Ransomware decryption tools – an ongoing list
Disclaimer:
You should know that the list below is not complete and it will probably never be. Use it, but do a documented research as well. Safely decrypting your data can be a nerve-wracking process, so try to be as thorough as possible.
We'll do our best to keep this list up to date and add more tools to it. Contributions and suggestions are more than welcome, as we promise to promptly follow up on them and include them on the list.
Some of the ransomware decryption tools mentioned below are easy to use, while others require a bit more tech knowledge to decipher. If you don't have technical skills, you can always ask for help on one of these malware removal forums, which feature tons of information and helpful communities.
Ransomware families and ransomware decryption tools
As you may have noticed, some of these ransomware decryption tools work for multiple ransomware families, while certain strains have more than one solution (although this is rarely the case).
From a practical perspective, some of the decryptors are easy to use, but some require some technical know-how. As much as we'd want this process to be easier, it doesn't always happen.
No matter how much work and time researchers put into reverse engineering cryptoware, the truth is that we'll never have a solution to all of these infections. It would take an army of cybersecurity specialists working around the clock to get something like this done.
How to avoid ransomware in the future
One of the most efficient ways to prevent the threat of ransomware from wreaking havoc and locking your sensitive data is to remain vigilant and be proactive.
In fact, we strongly recommend you to apply these basic and simple steps we outlined in the anti-ransomware security plan, that can help you prevent this type of cyber attack so that you won't have to resort to ransomware decryption tools.
Safely keeping copies of vital information offline and equipping your company with cyber-insurance should be your enterprise's main priorities. Even if cybercriminals get access to your computers and infect them with malware, you can just wipe the system clean and restore your latest backup. No money lost and, most importantly, no important information compromised!
So, please, do not postpone the process of doing a backup of your data and ensuring its security as well. Not tomorrow, not this weekend, not next week. Do it NOW!
Also, it helps to raise awareness on this topic and share the basics of proactive protection with your employees, because it could prevent them from being a ransomware victim, which secures your company's network in the process as well.
As new types of ransomware emerge, researchers decrypt some strains, but others get new variants, and it may look like a cat and mouse game, in which proactivity is vital. Paying the ransom never guarantees you actually get your data back, as it might still end up for sale on the Dark Web.
Therefore, prevention remains the best medicine as always. Heimdal™ Threat Prevention protects your endpoints and network against ransomware and data exfiltration with proprietary DNS security technology that spots and stops threats at the DNS, HTTP, and HTTPs layers. Coupled with the Heimdal™ Ransomware Encryption Protection, ransomware operators won't stand a chance.
Neutralize ransomware before it can hit.
Heimdal™ Ransomware Encryption Protection
Specifically engineered to counter the number one security risk to any business – ransomware.
Blocks any unauthorized encryption attempts;
Detects ransomware regardless of signature;
Universal compatibility with any cybersecurity solution;
Full audit trail with stunning graphics;
Heimdal™'s Ransomware Encryption Protection module is a revolutionary, 100% signature-free component. A novel and proactive approach, it benefits from market-leading detection and remediation that combats any type of ransomware, be it file-based or fileless.
Quick checklist for ransomware protection
Ransomware decryption tools should be your last resort. Following this actionable protection guide will help both Internet users and organizations to better prevent ransomware attacks causing so much damage.  Take the time to read this actionable checklist in which you can learn more about enhancing your online protection.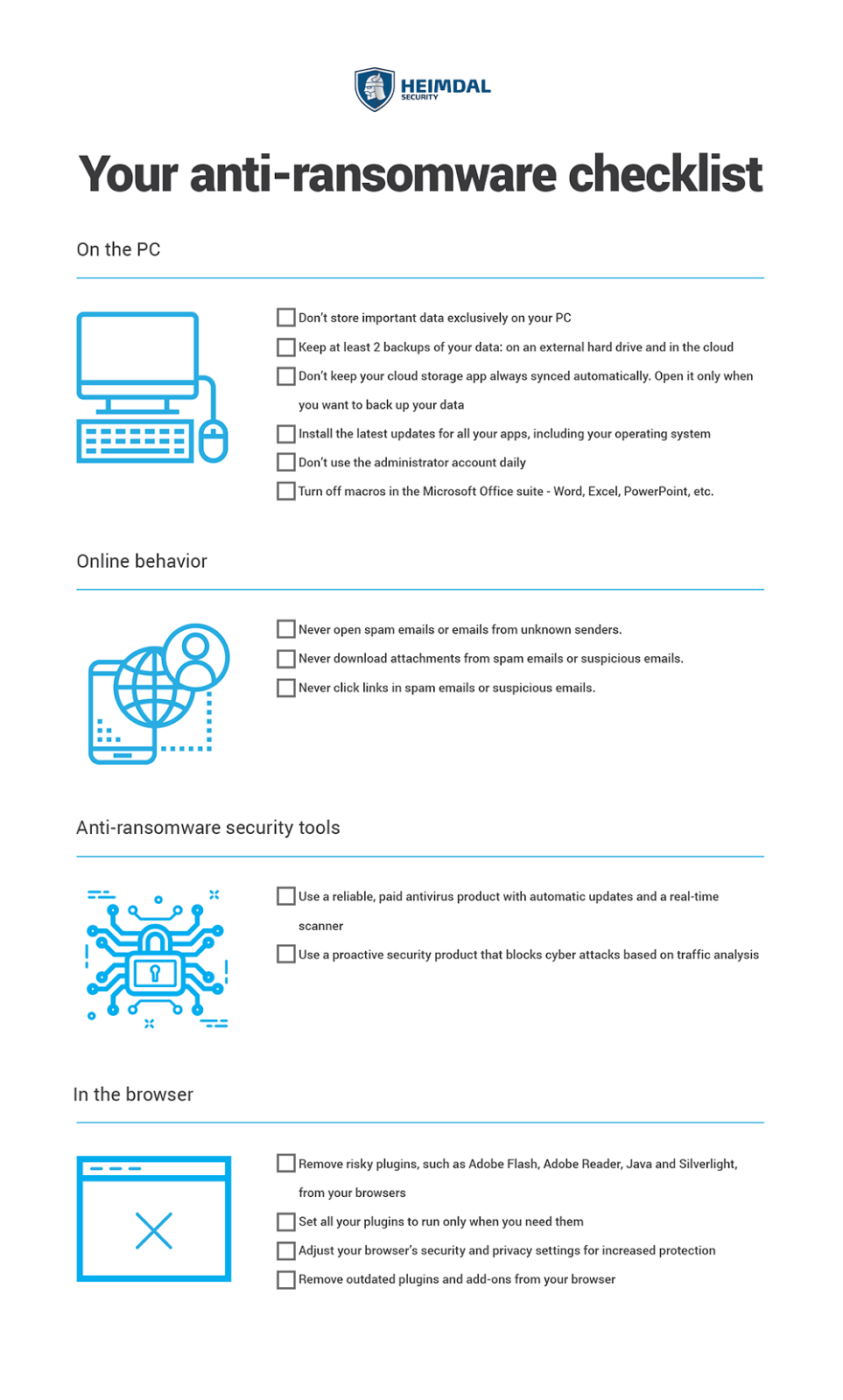 This article was originally published by Andra Zaharia on October 5th, 2016, and was updated by Ioana Rijnetu in March 2019, then by Alina Georgiana Petcu between November 2020 and July 2021.