The Best Encrypted Email Services You Need to Use
Here Are the Most Secure Email Providers That Will Help You Increase Your Level of Online Anonymity.
LAST UPDATED ON
AUGUST 18, 2021
In this article, I'm going to offer you the best encrypted email services, alternatives to popular email services such as Gmail or Yahoo, which can also be secured to a certain degree, but, at the same time, mainstream providers are notorious for mishandling their users' data or scanning inboxes for keywords to display personalized ads.
You may be concerned that everything you do online is being watched by the government, powerful corporations, or malicious hackers.  
In the past, we've shared with you what encrypted messaging apps you should use for secure communication and also walked you through the most popular free encryption software tools.
We can all agree on the fact that a huge part of our internet activity revolves around email. And I'm sure you want that everything you share via email to stay private and only be accessed by the people you choose, and the perfect way to do this is through encrypted emails.
Although there are multiple ways to secure your email using encryption software, they are often difficult to implement by unskilled users. Maybe at a later time, I'm going to also dig into this subject if you are interested, but for now, I'm going to look at some encrypted email service options that are easy to use.  
So, below I've put together a list of user-friendly web-based encrypted email services that will help you increase your level of online anonymity.  
You'll notice that (almost) all of the options come from European countries. Here, the GDPR imposes strict rules on data privacy, and among many other regulations, it's making privacy by design a legal requirement.  
Disclaimer: While none of those encrypted email services providers will share your data with other companies/advertisers, some may present it to government entities under legal demands.
ProtonMail is an encrypted email service based in Switzerland and created by scientists, engineers, and developers from CERN, with the intention of increasing your online security and privacy. They pride themselves on datacenters "located under 1000 meters of granite rock in a heavily guarded bunker which can survive a nuclear attack".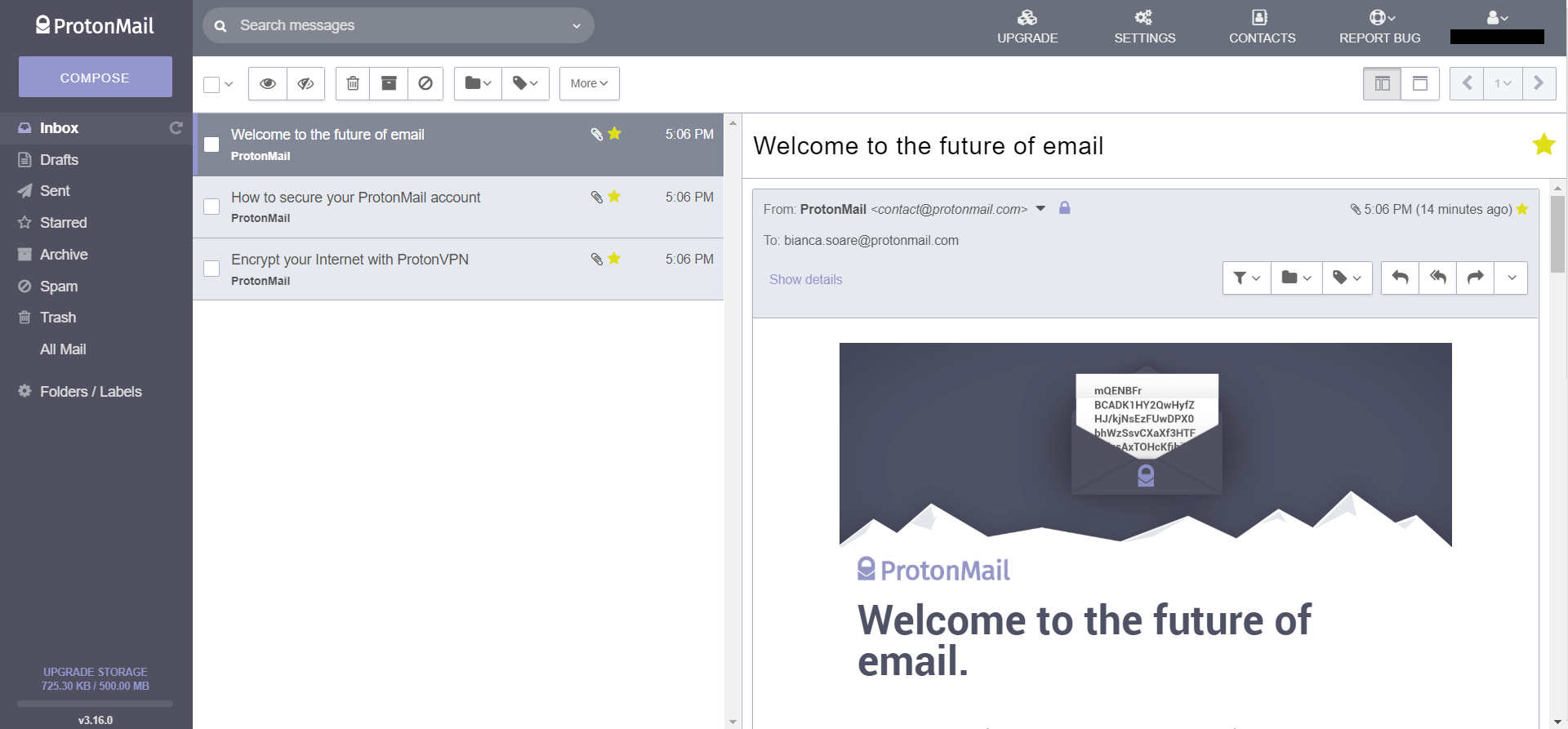 Features:
Free option with 500MB storage and 150 emails per day

Paid options starting from $ 4.00 / Month for personal use

Business plans for $6.25 / Month / User

Two-step verification

Use your own domain

Mobile apps available (iOS and Android)

Report phishing option

Self-destructing messages – you can set an expiration time on your emails so they get automatically deleted from the recipient's inbox after a certain time

Based on open-source code

They use AES, RSA, and OpenPGP encryption
When it comes to the best encrypted email services, Tutanota cannot be overlooked. Tutanota is an encrypted email provider from Germany. They position themselves as a secure email services alternative to Gmail. According to their website, they are also planning to include a calendar, notes, and cloud storage in their offering – and of course, all of these features will be encrypted too.  
Features:
Free for 1 user with 1GB of storage

Other paid options starting from €12 for personal use  

Business plans available

Free for non-profit organizations

Use your own domain

Two-factor authentication

Based on open-source code

Their data centers run on 100% renewable energy
Additional details:
If you want to send an email to someone who's using different encrypted email services (for instance, Gmail), you will be asked to enter a password that you will have to share with the recipient.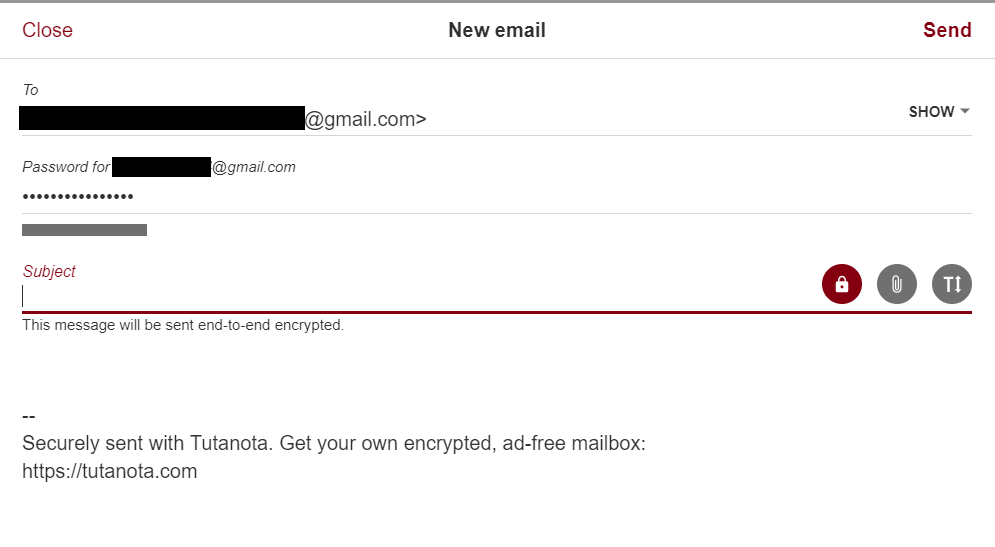 The recipient will then use it to unlock your message and be able to read it by accessing a link. The URL will remain active until you send them another confidential email.  
This is what an email sent from a Tutanota account to someone who is using a different email service looks like.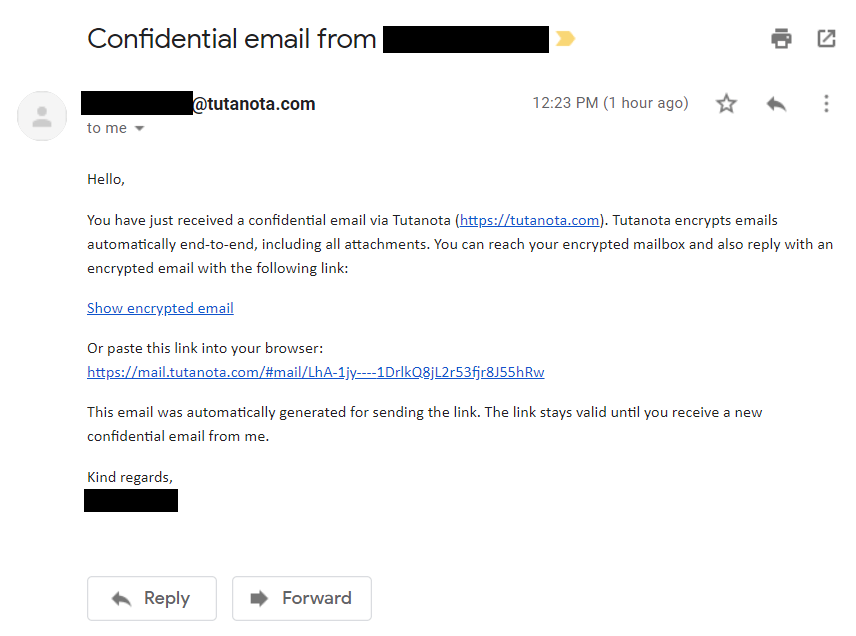 Hushmail is a secure email service based in Canada that encrypts your email communication. Simplicity is at the core of their business in order to keep their customers secure and better understand potential threats. Hushmail uses the "passphrase" naming for the log-in field which is typically referred to as "password", in this way encouraging people to use more complex passwords – phrases, rather than words.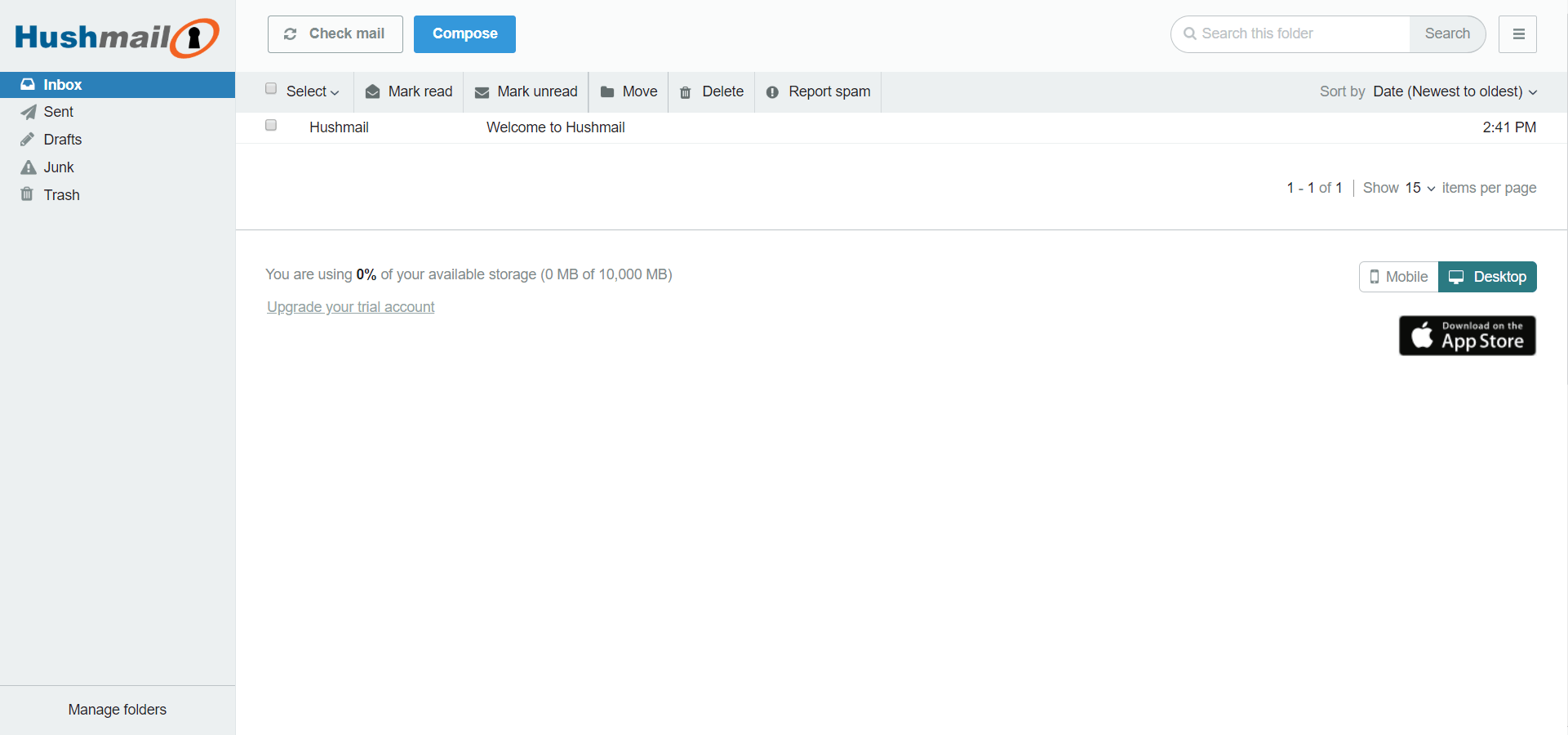 Features:
14-Day free trial (no credit card required), then $49.98 per year with 10GB of email storage

Business plans available

iOS app

Two-factor authentication

Use your own domain

An account will be locked if too many attempts are made to access it

Ability to set up Hushmail within an email program (Mac Mail, Microsoft Outlook, Android phone, Thunderbird)

Inbox antivirus and spam filtering

TLS/SSL, OpenPGP encryption
Additional details:
Similar to Tutanota, if your recipient is not using Hushmail, you have to check the Encrypted checkbox, and the email will be read on a secure web page.

Countermail is a web-based encrypted email services provider, with their data centers located in Sweden. Although their website looks quite outdated, their email security is able to handle today's privacy threats.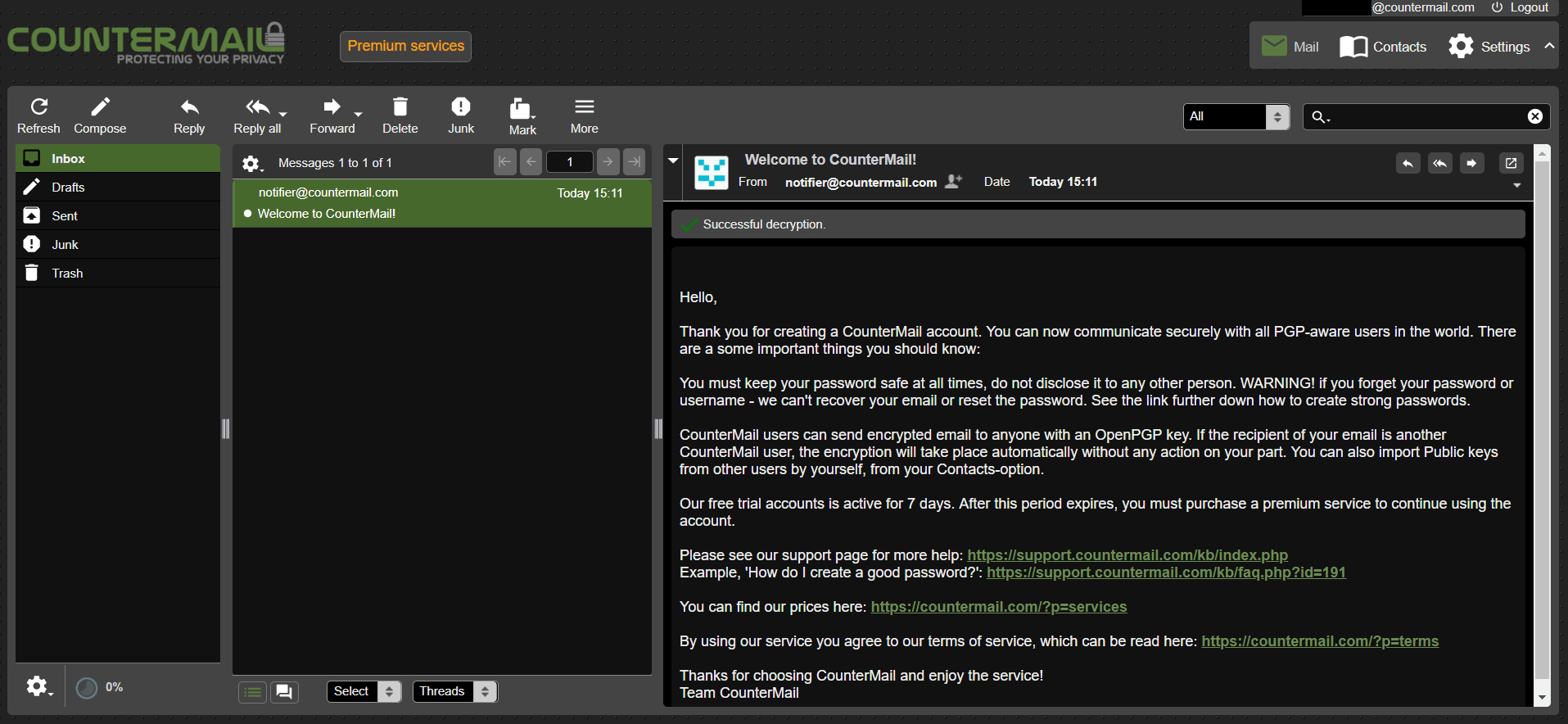 Features:
7-Days free trial. After the trial ends, multiple plans are available starting with $4.83 per month with 4000MB of storage. You also have the possibility to add extra storage for a fee.

Compatible with Android phone

Message filter / Autoreply

Supports IMAP

Diskless web servers – This means they don't have any hard drives and instead start from a CD-ROM for increased online privacy. Their web server does not log any IP-addresses.

USB-key option – It's used as a key file in combination with your password for increased security. It provides better protection against

keyloggers

and brute force attacks.  

OpenPGP data encryption, SSL-MITM protection
Headquartered in Norway, Runbox is a company that provides secure email services worldwide, offering encrypted communication and strong authentication.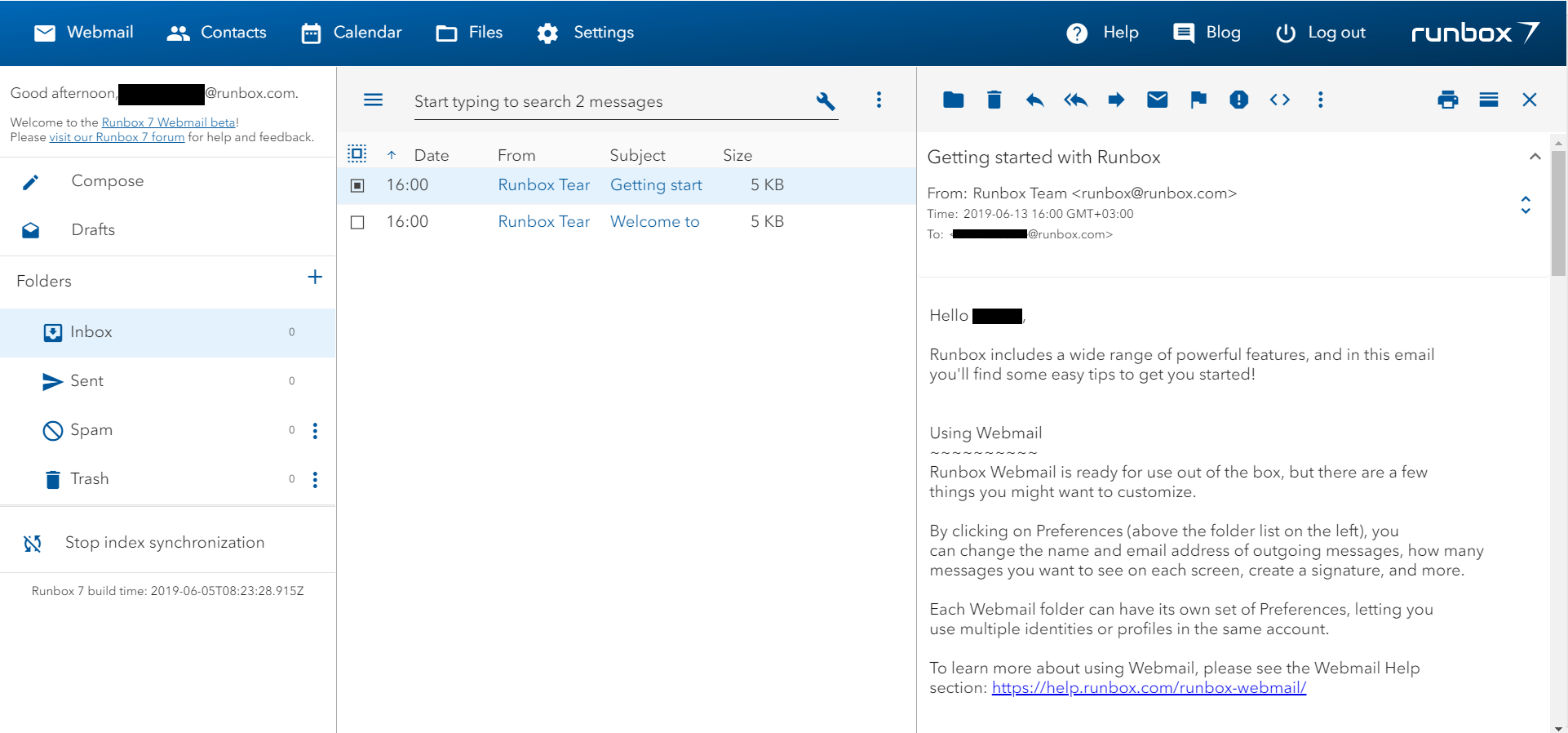 Features:
Free 30-Day Trial

Paid plans for personal use, starting with EUR 14.95 per year, with 1 GB for email and 100 MB for files

Business plans starting with EUR 69.95 per year, with 25 GB for email, 2 GB for files, and 25 email domains

Accepted payment methods: Credit/debit cards, Bitcoin, PayPal, Money Orders, SWIFT/SEPA payments, and cash.

60-day full money-back guarantee

Use your own domain

Calendar

Ad-free Webmail, spam and virus filtering, email consolidation, and filtering

Access from any client via POP, IMAP, SMTP, and others

End-to-end encryption

Their servers run on 100% renewable energy
Beyond Encryption's Mailock helps businesses to protect sensitive data, save money, and increase operational efficiencies while also helping the environment. Compliance, data management, and operational responsibilities are all addressed by the software's user-friendly and intuitive tools. Email encryption, identity authentication, delivery audit trail, regulatory compliance requirements, and many other capabilities are available to users.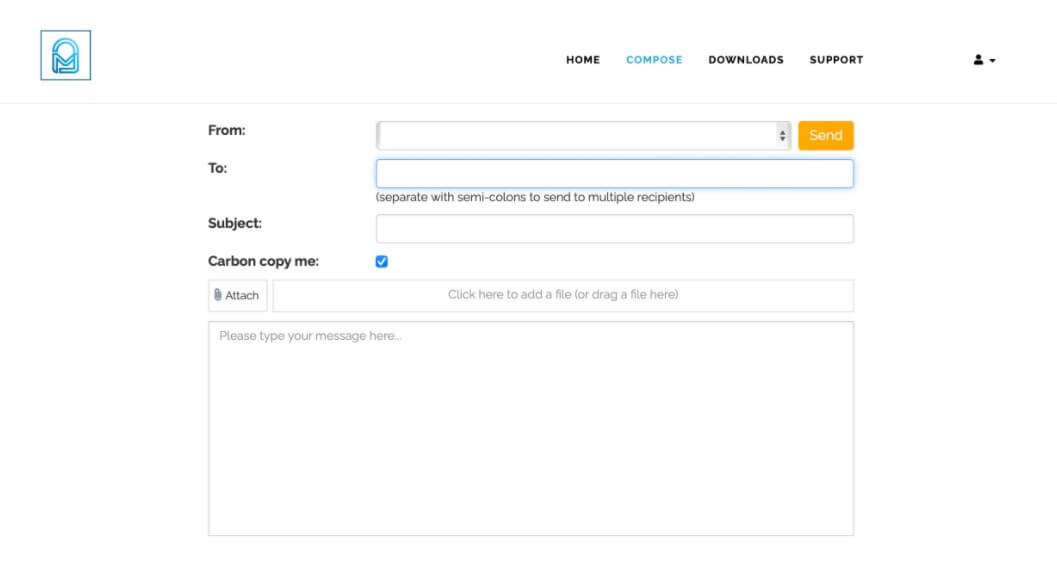 Features
Sensitive and confidential email content is protected by a secure system
Sensitive and confidential email attachments have a secure mechanism
Only the intended recipient can open an email
Controllable storage location
Read alerts and a full audit trail is received for secure emails
Enables secure email to be sent and received across different platforms
Enables safe email to be sent and received across many devices
Can be added to an existing browser as a simple add-on
It is only necessary to set up a secure network authentication once
Kolab Now offers email accounts for secure collaboration, with all the strongly protected data being stored in Switzerland. Just like any other secure encrypted email services, they will never monitor your data, sell it to third parties, or display ads.  
Image source: alternativeto.net
Features:  
30-Day Free Trial, then prices start at $4.44 per month for an Individual account

Group accounts (1 to 100 users) from $5.42 per month

Calendar, address book, files, and more

Two-factor authentication (this will disable access to your account on any other channel, such as ActiveSync, *DAV and IMAP)

Mobile synchronization (enabled for mobile devices using ActiveSync)

Automatic replies
Mailfence was founded in Belgium on the principle that privacy is a right and not a feature. They focus on transparency and maintain an updated transparency report, also keeping their code open to audits.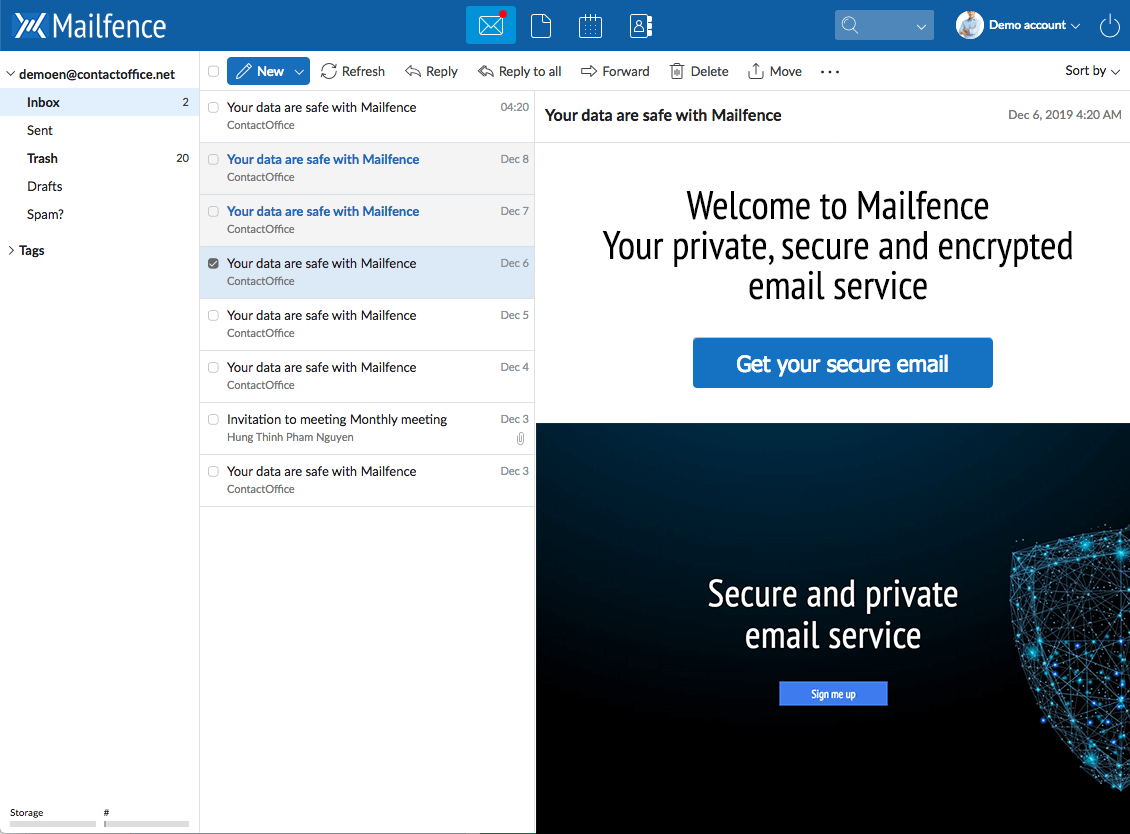 Features:
Free version for 1 group with 500MB of email, 500MB of documents, 1.000 events calendars, support via email

Paid versions starting from EUR 2,50 per month and 5GB of email, 12 GB documents, 10.000 events calendar, support available via email and phone

Business plans available, tailored to your company's needs

POPs, IMAPs, SMTPs, iOS, Android, Exchange

Custom email domain

Contacts, Calendar, Documents, and Groups

Accepted payment methods: credit card, PayPal, Bitcoin, Litecoin

Two-factor authentication

End-to-end encryption
Posteo is an independent email service based in Germany focused on sustainability, security, privacy, and usability. The service is fully ad-free and they protect their users' privacy through an innovative encryption and security model.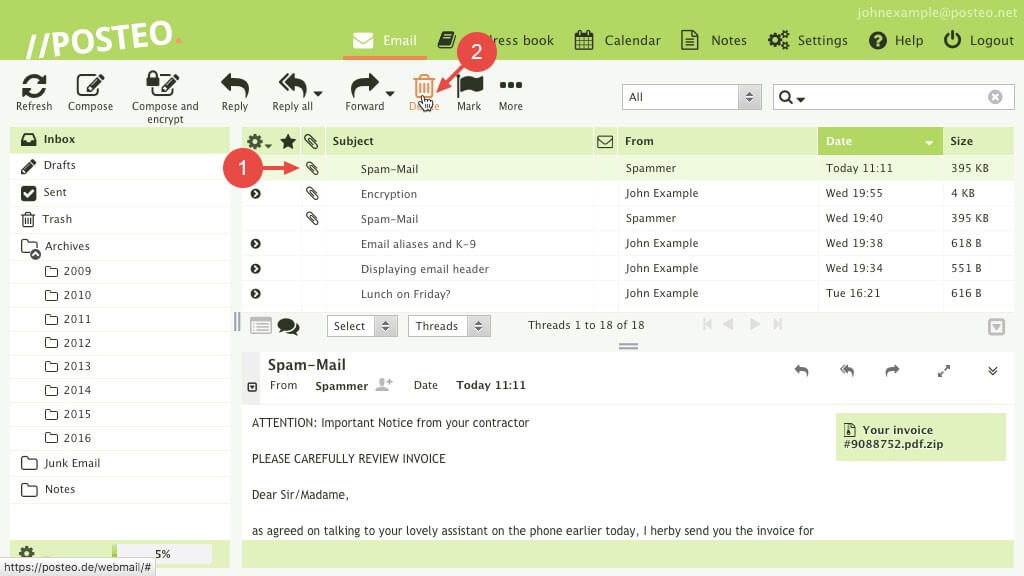 Image source: posteo.de
Features:  
Pricing starting with 1 EUR per month with 2GB storage – two aliases included. Storage can be increased up to max. 20 GB, each additional GB costs 0.25 EUR/month;

Migration service from other email accounts available (folder structure included)

Automatic replies

Anonymous signup – you don't have to provide your name or address during registration

Anonymous payment – they don't link payments with email accounts

Calendar  

100% open-source code

Spam and virus filter

Emails sent don't contain your IP address

Free support

Two-factor authentication

Accepted payments: PayPal, bank transfer, credit card or cash

TLS-encrypted access – TLS with PFS for IMAP, POP3, webmail, CardDAV, and CalDAV)

TLS-encrypted transmission: protects emails and metadata, as long as the other email server also supports it (TLS with PFS).

TLS-sending guarantee - protects you from sending emails to insecure systems

AES encrypted hard disks  

Runs on renewable energy 100%
StartMail is based in The Netherlands and was built by the creators of StartPage, a private search engine. This is a great platform for secure communications, that can be accessed from a webmail interface, as well as through IMAP protocol, which makes it compatible with existing email clients.
Features:
Free 7-Day trial (no credit card required)

Accounts for personal use with $59.95 per year – 10 GB storage, 10 custom aliases, unlimited disposable aliases, IMAP support

Business accounts with $59.95 per mailbox per year – 10 GB storage, 10 GB storage, custom, and disposable aliases, IMAP support

Disposable email addresses – create temporary email addresses when you don't want to share the real ones

IMAP/SMTP compatible

It's based on a mix of open-source and closed-source components

PGP encryption, security like PFS (TLS 1.1 & 1.2), and extra-secure vaults
Mailbox is a secure email provider based in Germany, which was founded with the purpose of becoming an alternative to other encrypted email services that depend on their customer data to obtain revenue from advertising. All created accounts include other features besides an email inbox, such as a cloud office suite to edit documents, a calendar, etc.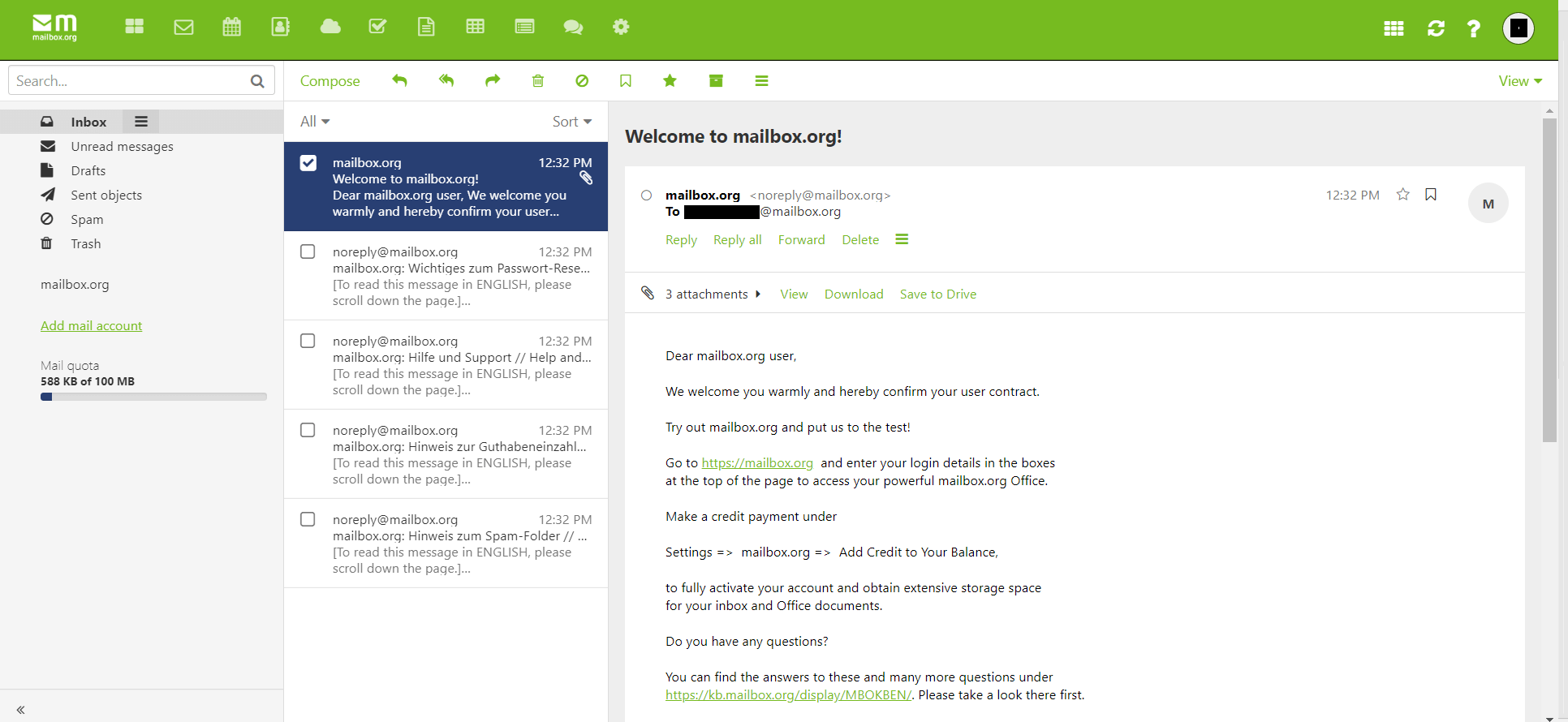 Features:  
Free 30-Day Trial, with 10 emails per day, storage space of 100MB for emails, 10MB file storage, 1 email address alias

Paid option for personal use starting with 1 EUR per month, with 2GB email storage, 3 email aliases

Business email plan starting with 25 EUR per month, with the central management console, email and groupware, cloud storage, online word processing, and more

Calendar, Contacts, Task Planner

Online Office

Cloud Storage

Offline mode  

Advanced users are offered dedicated Tor Exit Node with Hidden Onion Services available at their data center

Their servers run on 100% green energy
PreVeil is an encrypted email system based on MIT computer scientists' research on cybersecurity and applied cryptography. PreVeil adds an end-to-end encrypted mailbox to Outlook, Gmail, and Apple Mail without changing your email address. Unlike other encrypted email services, PreVeil protects your messages from phishing, spoofing, password, server, and admin attacks.
PreVeil makes encryption both easy to use and manage.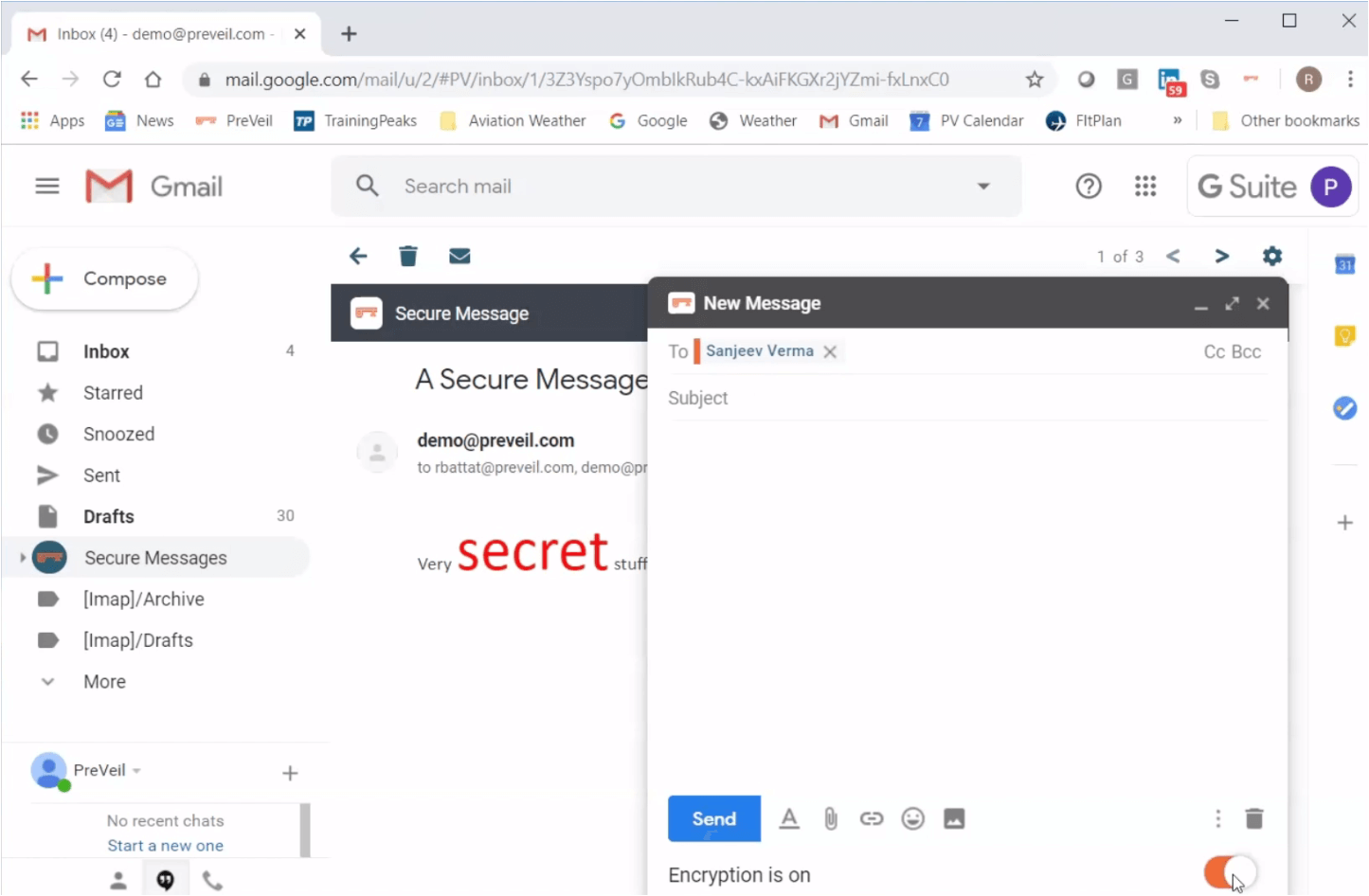 Features:
Free individual user account. Business plans start at $6 per user per month
Uses end-to-end encryption
iOS and Android available
Integrates with Outlook, Gmail, and Apple mail
Keep your same email address
Full set of administrative tools for the enterprise
Zoho Mail is an encrypted email service developed and based out of India, with data centers distributed across the US, Europe, China, and India. Their data centers have fail-proof servers at undisclosed locations with stringent 24/7 surveillance and a biometric seal for entry. In addition to end-to-end encryption, Zoho Mail also keeps emails encrypted during transit.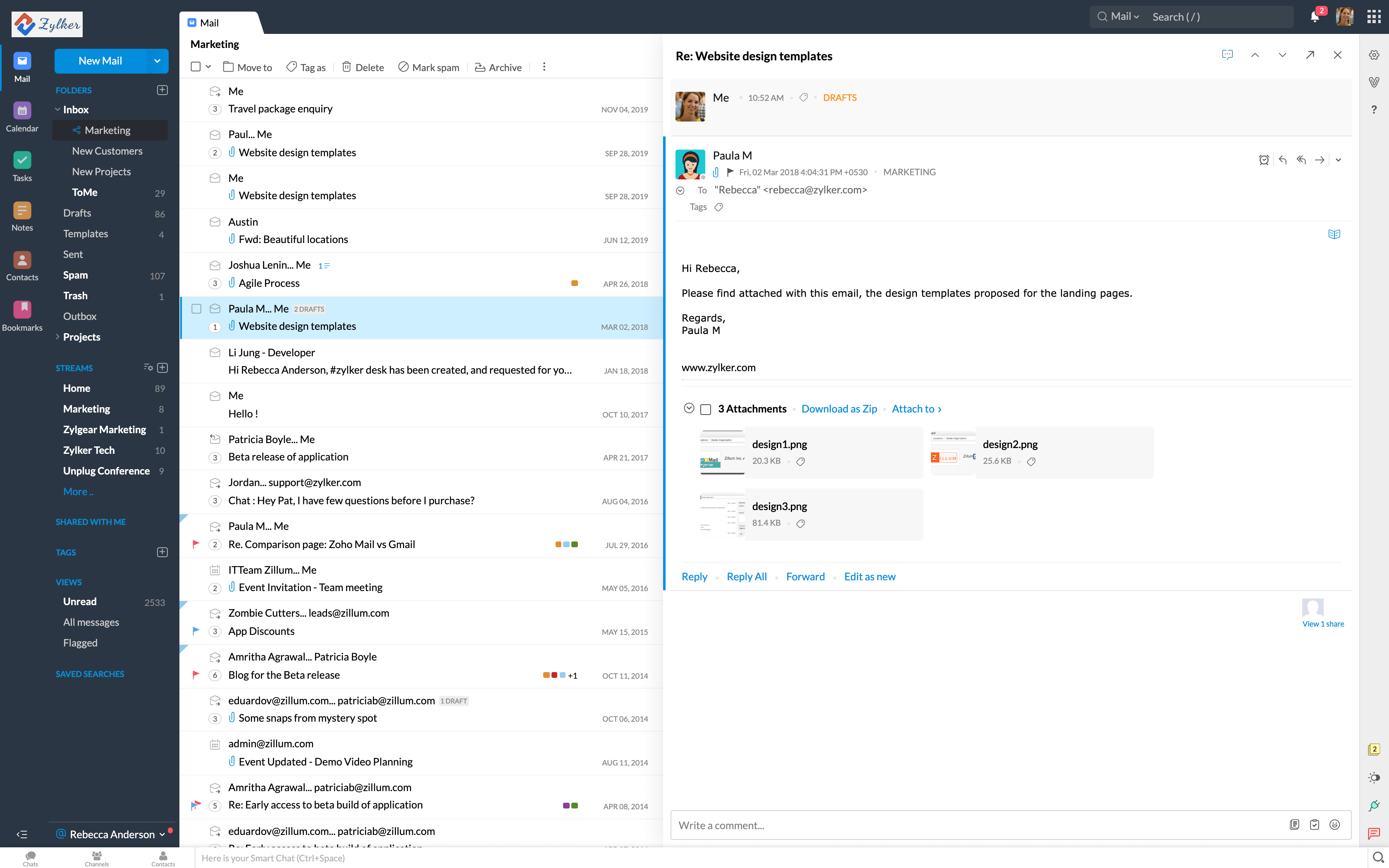 Features:
Up to 5 custom-domain mailboxes free (forever), with 5GB storage per user
Lifetime free plan for personal email accounts
No ads
Business plans start from $1 per month
Premium plan with eDiscovery access available for a 15-day trial
Two-factor Authentication
TLS and S/MIME encryption available
DMARC, SPF, and DKIM authentication for extra security
44 languages supported
Offline and dark mode available
Devoid of third-party trackers
Additional Details:
For organization-level communications, Zoho provides the employer with extensive administrator controls. With this console, the administrator can set up spam filters, customize user-specific settings, and also set up email policies such as domain restrictions, email restrictions, access, and account permissions, based on every employee's requirement. This way, you have total control over how each of your mailboxes works.
Disroot.org advertises itself as a platform providing online services based on principles of freedom, privacy, federation, and decentralization. It provides secure email accounts that can be used either in your desktop client or through a web interface. What's more, since communication between you and the mail server is encrypted with SSL, you can be sure it provides the highest possible level of privacy.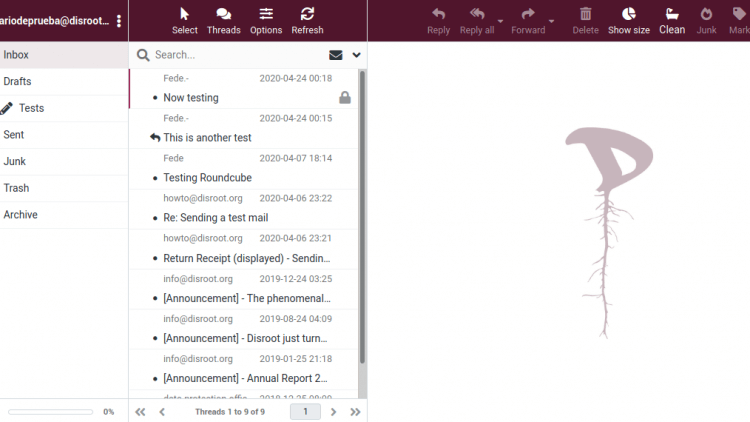 Features:
Free 2 GB storage mailbox.
Up to 10MB for documents attachment at once.
Accessible by POP3, IMAP, and web page.
Boasts a multi-lingual user interface.
Open-source software.
Provides useful additional services including cloud storage, a social network, forums, and chat.
Criptext.com is an encrypted email service that guarantees security, privacy, and control over all your email communications. The secure email provider doesn't have access to your emails nor does it store them in their servers.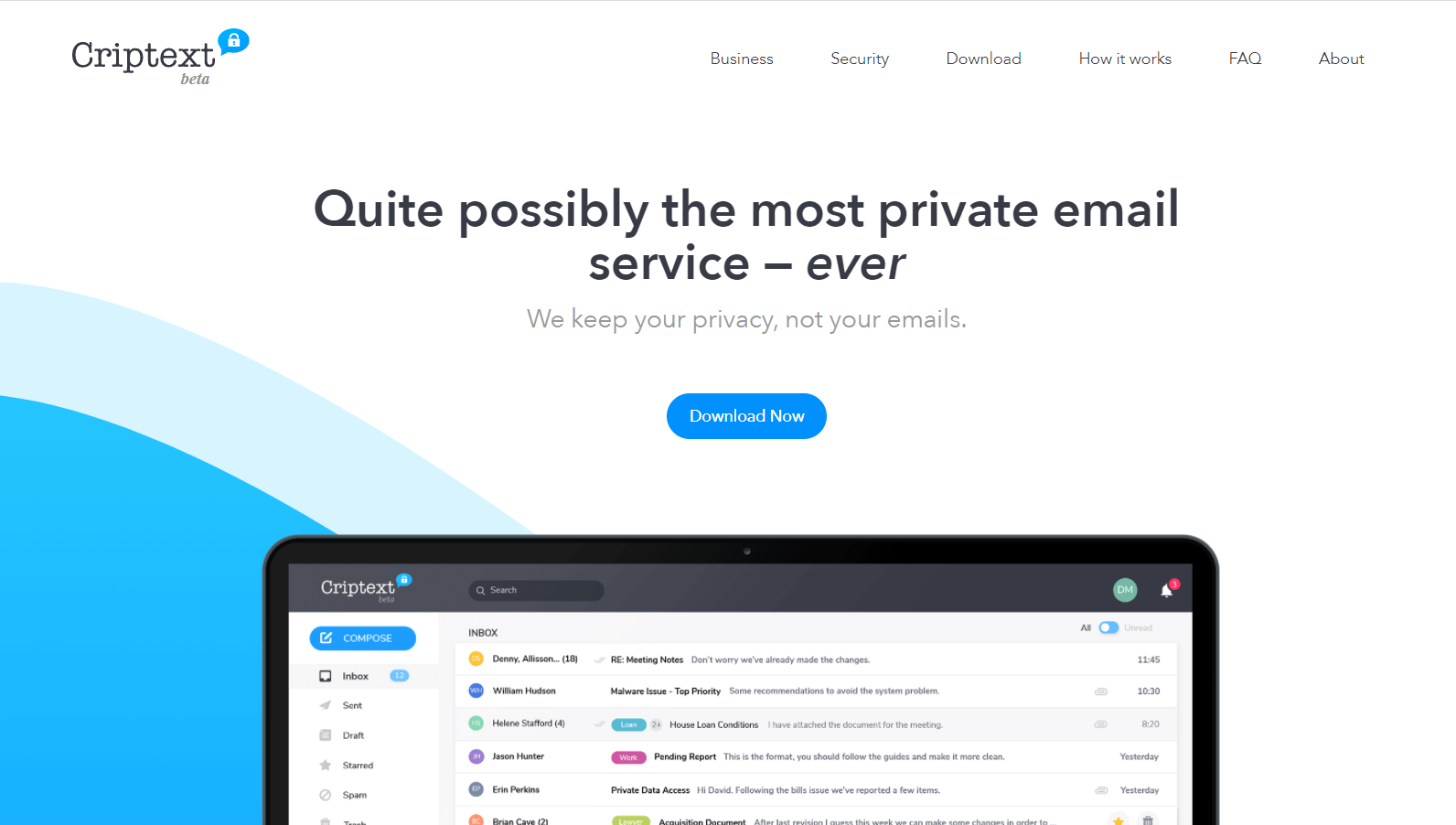 Features:
A pioneer of secure email service solutions.
It's free.
Has an "unsend" email feature.
All your emails are locked with a unique key that's stored on your device alone.
Doesn't store any emails on its servers.
Allows sending emails to people who do not have a Criptext account.
Utilizes the open-source Signal Protocol library.
Fastmail is a security-focused email service provider based in Melbourne, Australia. The company claims never to monetize the contents of user emails – as is the case with email giants such as Google, Yahoo, and Microsoft. Although it claims to only respond to Australian court orders, its servers are based in the US.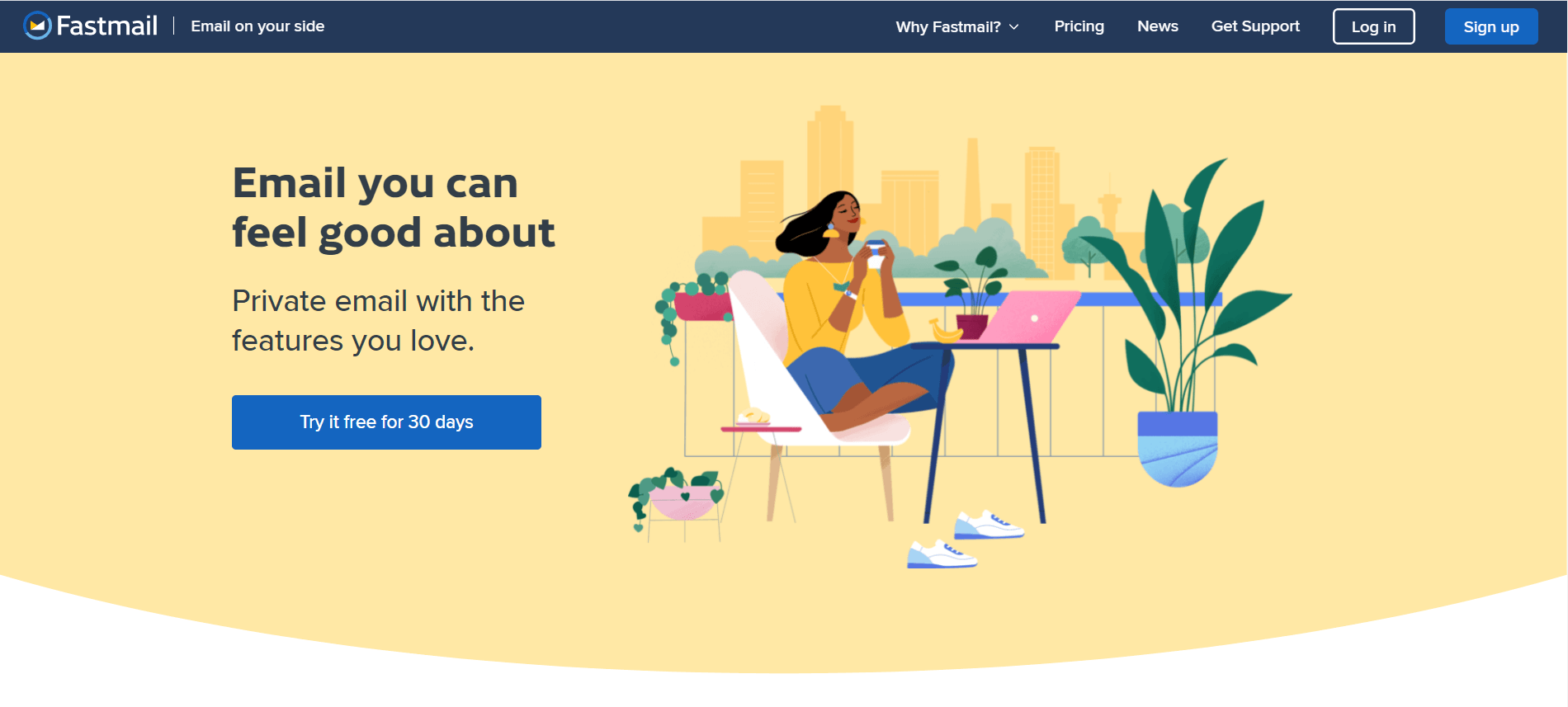 Features:
Offers a 30-day free trial.
IMAP access.
No hidden or complicated policies.
Simple, easy-to-use interface.
Dates back to 1999.
How you can increase your online security and privacy even more
Hopefully, I've helped you choose the best encrypted email service alternative to the risky email provider you are currently using. Yet, obviously, email anonymity does not equal online security.  
Even though some of the encrypted email services listed above also include spam filtering, virus scanning, or report phishing options, malicious attackers can always find ways to send you malware-infected links via email.  
This is why you should also be using a proactive, threat prevention solution for your PC, which lets you click any link with confidence and allows you to be sure that your endpoint won't get affected by malware.  
And it scans and blocks the URLs you click both in your inbox and anywhere else on the web.   
Email is the most common attack vector used as an entry point into an organization's systems.
Heimdal® Email Security
Is the next-level email protection solution which secures all your incoming and outgoing comunications.
Completely secure your infrastructure against email-delivered threats;
Deep content scanning for malicious attachments and links;
Block Phishing and man-in-the-email attacks;
Complete email-based reporting for compliance & auditing requirements;
Here's some great news for companies  
We're working hard on a brand new email module specifically designed to prevent business email compromise (BEC) attacks. We will keep you posted on the progress, so stay tuned!
Later edit: Our email security solution that protects you against email fraud is now live! Get a free demo here.
Are you using encrypted email services? Do you have any suggestions that we could add to the list? Let us know in the comments section below!
This article was originally published by Bianca Soare in June 2019.