Coping with Remote Work during the COVID-19 Pandemic: Tips, Tricks, and Actionable Advice
From White-collar Worker into a Productive Couch-potato
LAST UPDATED ON
MARCH 19, 2020
As the international health authorities struggle to contain the COVID-19 pandemic, more and more companies have begun to embrace the remote work style. It's not everyone's cup of tea, that's for sure – a fact confirmed by not only by the fact that employers stumbling in the dark about accommodating this mandate and, ultimately, by the employees themselves who seem to be clueless about how the coronavirus WFH masterplan will work out. Granted that working from the comfort of one's home can be distracting and counterproductive, but it doesn't have to be that way. Since yours truly is now a remotee (that's the best I could come up with), I'll share with you some tips on how to cope with remote work during the pandemic. So, sit tight, keep reading, and stay strong; you're not alone in this.
Why are we dismissing remote work?
Let's clear the air: remote for home is not considered a 'professional' stigma. However, its global adoption process has been hampered due to any number of reasons – overzealous managers believing that the staff is less productive if allowed to work off-premises, employees not being able to focus because 'they're too many things happening around', company's IT infrastructure too underdeveloped to match the number of remote work solicitations. Whatever the case may be, from where I stand (and I'm not referring to my cushy chair), it all boils down to one simple fact: as long as you're comfy with the job, you can achieve performance from anywhere in the world, regardless if it's from some dreary office or the comfort of your own house. As someone who freelanced for two odd years, I can say for a fact that there are advantages to remote work, but some major turnoffs, as well; pro side concerned – you can work from literally anywhere (though I wouldn't recommend it during this period). Another 'goodie' that comes to mind – you don't need to worry about someone coming down to your workstation to keep tabs on the status of the thing you're working on (or should be). Of course, there are some major downsides to remote work, most of them being on the 'psych' side. Allow me to clarify: bumping into a co-worker you like on your way to get coffee is a great mood-booster. That's not likely to happen should you opt for this type of professional 'nomadism'. And there's also the very real danger of overworking – yes, I know that it sounds like a red herring, but it tends to happen more often than we realize when we work from home. Anyway, beyond my somewhat subjective considerations, there are some very interesting trends in the global adoption of WFH. Initially, this type of 'work' regimen was regarded with a high degree of suspicion, since it did not correspond with the typical (and gridding) 9-to-5 commuting and all of its implications. Regrettably, the remote work adoption drag still exists – according to a study published by Small Biz Genius, a whopping 44 percent of companies won't endorse remote work due to various reasons. Still, the number of people working from home has seen a 140% increase since 2005 (according to Global Workplace Analytics), showing that more and more employers are seeing the benefits of creating or, better yet, 'revamping' work. What we need to understand is that, for some industries, remote work is impossible (i.e. an ER surgeon cannot take up WFH, even with medical robots, such as Da Vinci).
Heimdal™ Threat Prevention Home makes sure that link is safe!
Your parents and friends will click any suspicious link, so make sure they're protected.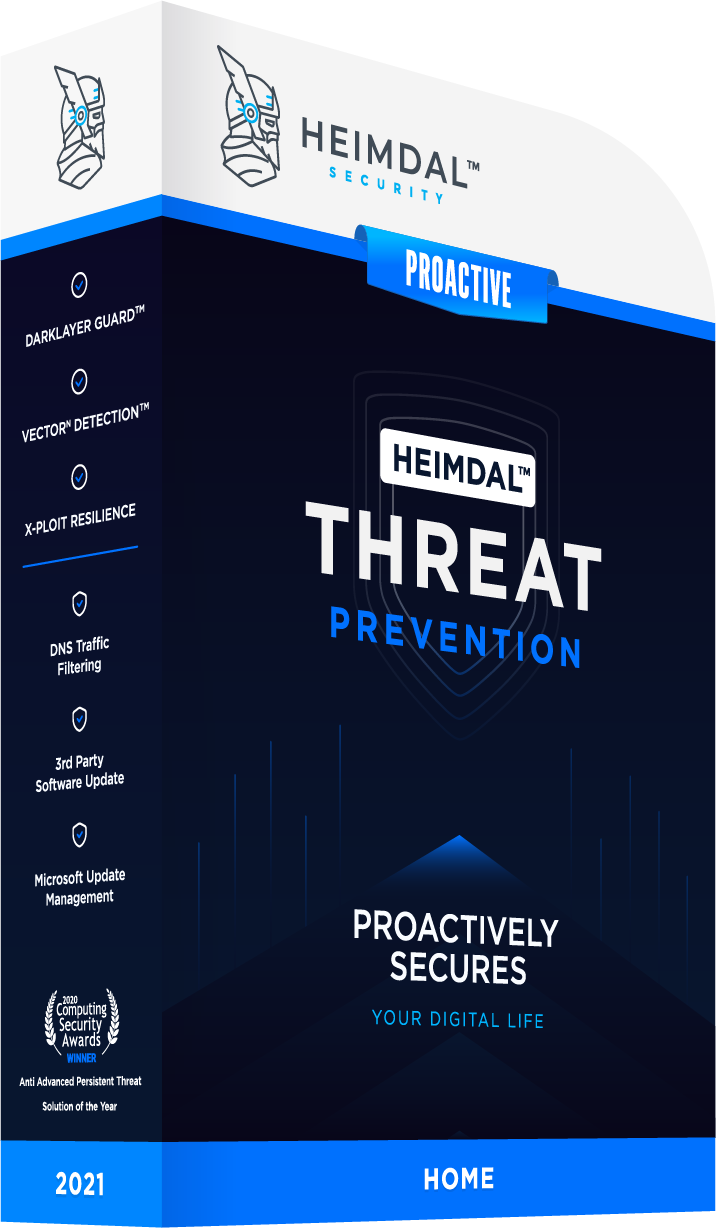 Heimdal™ Threat Prevention Home provides:
Automatic and silent software updates
Smart protection against malware
Compatibility with any traditional antivirus.
Remote work, COVID-19, and reaffirming the need to redesign The Office
A blessing, for some, and a burden for others, unfortunately, the difficult times we are going through, has forced us (and our employers) to reassess the work from home idea. The COVID-19 pandemic is not to be taken lightly. WHO's number one recommendation is to stay indoors until this blows over, and we would do wise to comply with the official guidelines. Meanwhile, we have another challenge to tackle: how to cope with working from home for an extended amount of time. Of course, for those of your who dread the thought of waking up early in the AM to go to work, being 'ordered' to take up remote work may seem like a dream come true. If this is your first time working for home, you will no doubt find the perspective a little bit strange. Don't worry. We've all been through 'the gauntlet'. There are some things you can try out to make your home less homey and more office-like.  Here's my list of work from home tips and tricks you can try out.
Maintain your morning routine
You can give yourself a treat and sleep the extra hour (or two) for the next couple of days. However, for extended periods, I would recommend that you adhere to your regular, 9-to-5 routine: getting up and having your coffee/breakfast at around the same time. You'll probably hate me for the next one, but here it goes: try to squeeze in a couple of minutes of PE. Ten minutes are more than enough and you can go with anything you like: treadmill cardio, pushups, jumping jacks, etc.  If you've any time left until work, grab a quick shower. It's one nifty trick of setting some boundaries between work and personal life.
Buddy up with your headphones!
If you're used to sharing the office with quiet colleagues, remote work will undoubtedly feel very distracting: children, spouse trying to get some work done, cat silently judging you, neighbors hosting impromptu parties, and the list goes merely on. To avoid all these distractions and focus on getting that work done, I would advise you to invest in a pair of high-quality headphones (wireless ones, if you have the budget for them). They're good for blasting some good tunes, attending online meetings while doing other stuff around the house, and most importantly, blocking out all those distracting noises. You may even get that office-like feel if you're the silent and 'headphoney' type.
Keep in touch with your co-workers
I know most of you would welcome this respite from idle chatting, presentations, and having to deliver status reports, but even if you're working from home, you shouldn't neglect the communication part. This is something that goes beyond work: just drop in a few lines to a co-worker and ask for he/she feels. The gesture goes a long way, especially for people who are alone. As far as the professional aspect is concerned, attend all the online meetings, shoot an email if you have any questions about the workflow, and send regular updates to your manager. It's not any different from working at the office – even though you're at home, there's still work to be done. Now, from a more global, PM perspective, keeping in touch (both horizontally and vertically) is crucial to ensuring business continuity. Imagine what would happen if, say, the sales team fails to send the invoices to accounting! So, don't be a hermit and reach out to your colleagues and managers as much humanly possible.
Know what you're in for
Let me be as clear as possible: COVID-19 SHOULD NOT BE TAKEN LIGHTLY! If you've been ordered to stay indoors, avoid crowds, wash your hands, and report to your health provider in case you come down with disease-specific symptoms, then do so without hesitation. Be a problem-solver, not a problem-maker! I won't tackle the coronavirus topic – it's thoroughly covered by WHO and international news outlets. I'll just say this: please be mindful of the reason you were sent to work from home. It's not a vacation, a chance to embrace your inner introvert or to get more Netflix time. Of course, no one's stopping you to do just that in your spare time, but no mingling of work and binge-watching (or gaming). Also, be realistic about the entire situation: you could be in for a very long time. So, as always, early planning will help you get your priorities straight and prevent any mishaps that are certain to pop up along the way.
Keep on top of your cybersecurity
Although you're no longer connected to your company's IT resources (probably using a VPN), you should still keep an eye on your cyber-defenses. And the answer to your question is "no" – hackers haven't ceased their attempts to compromise your system, steal personal data, or empty your bank account. Unfortunately, they're more active than ever, a fact proven by the fact that ransomware attacks on healthcare providers have increased by a factor of ten since the beginning of the COVID-19 pandemic. While working from home, be sure to maintain the same cybersecurity hygiene as you do at the office – don't click on a suspicious link, don't open attachments unless they're from trusted sources, always ask your managers to confirm financial-related requests (i.e. transferring money to a third-party), refrain from accessing potentially malicious websites, and that's about it. One more thing: protection. To safeguard your endpoint and digital assets, you will be needing the best-in-class protection. Do bear in mind that antivirus software is no longer enough to protect your devices against next-generation online threats. Heimdal™ Threat Prevention Home, Heimdal Security's response to APTs (Advanced Persistent Threats) is designed to tackle second-generation malicious campaigns, by filtering out inbound and outbound traffic at DNS, HTTP, and HTTPS levels. Heimdal™ Threat Prevention Home gets along with any AV solution on the market, and will definitely make you worry less about malware.
Wrap-up
The perspective of working from home is pretty much like seeing a water-filled oasis in the desert: both are appealing until you get there and start questioning yourself about your own sanity. It's very doable, as long as you set some boundaries, fine-tune your pace, and keep a light head. As always, stay safe, wash your hands, don't click on odd-looking links, boost your online protection, and stay indoors until the pandemic is over.