What Is SIEM: How It Works and What Are Its Benefits
Cybersecurity Basics: What Is SIEM and How You Can Use It for Your Business. SIEM Benefits and Best Practices.
LAST UPDATED ON
JULY 1, 2021
Wondering what is SIEM, what are its benefits and limitations, and what are the best practices you can apply for your business? Read on to find out the answers to your questions!
What is SIEM? Definition
As CSO notes, "security information and event management (SIEM) software give enterprise security professionals both insight into and a track record of the activities within their IT environment." 
SIEM evolved from the log management discipline and "combined security event management (SEM) – which analyzes log and event data in real-time to provide threat monitoring, event correlation, and incident response – with security information management (SIM) which collects, analyzes, and reports on log data." 
How does SIEM work? 
A SIEM software's mission is to collect and aggregate the log data that is generated throughout an organization's technology infrastructure. This includes host systems and applications, network and security devices – firewalls, antivirus filters. 
After this part, the SIEM software identifies and categorizes incidents and events, and then it analyzes them. Its objectives are to: 
provide reports on security-related incidents and events, such as successful and failed logins, malware activity, and other possibly malicious activities, and send alerts if analysis shows that an activity runs against predetermined rulesets and thus indicates a potential security issue.
What is SIEM? Benefits
How can a SIEM software help you? Well, it offers:
a. Data Aggregation and Retention 
As already mentioned, a security information and event management software will aggregate data from your company's technology infrastructure and, moreover, it will store it in the long-term to enable analysis and tracking.  
b. Threat Intelligence Feeds 
 A Security Information and Event Management software can combine internal data with threat intelligence feeds that include information about attack patterns, threat actors, and vulnerabilities. 
c. Correlation, Analytics, and Alerting
SIEM applications can help you link events and data into meaningful explanations of real security incidents, use statistical models and machine learning to find more complex relationships between data and anomalies, and send out alerts about immediate issues. 
d. Incident Response 
A SIEM software will allow security teams to quickly synchronize and respond to threats by providing case management, collaboration, and knowledge sharing. 
e. Compliance 
As you might imagine, SIEM applications are particularly useful for compliance purposes too – they automate the gathering of compliance data and produce reports that measure up to various standards (HIPA, HITECH, GDPR, etc.).
The general benefits of a SIEM software include, therefore: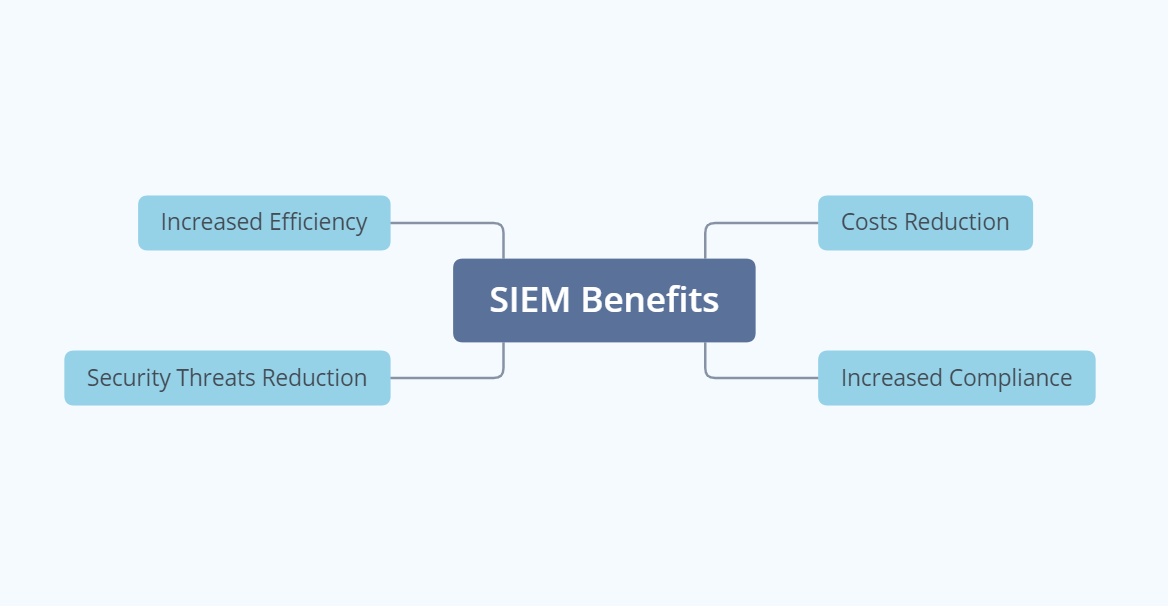 What is SIEM? Limitations
Does SIEM have any limitations? There seem to be a few, since, of course, no software is perfect: 
SIEM applications usually offer

limited information about the context of events

, so it might be difficult to distinguish, for example, a completely benign behavior from a theft of sensitive data.  

SIEM applications

do not distinguish between sensitive and non-sensitive events

. 

ultimately, SIEM applications

depend on the data they receive

, having no additional context. 
What is SIEM? How to Choose the Right SIEM Tool
If you're thinking about the criteria that you need to take into account when choosing a SIEM software for your business, let me just tell you that: 
the ability to

integrate third-party threat intelligence feeds

to obtain more accurate threat detection would be nice to have; 

the log data should be analyzed in

real-time

, allowing your teams to quickly identify and block attacks; 

a good SIEM software should provide

rapid investigations and visual correlations

; 

a SIEM software should also

monitor the access

to your critical resources and check for unusual user behavior or remote login attempts. 

SIEM solutions can be either

locally installed or cloud-based

. 
In addition, before making any decision,
think about

your organization's needs and objectives

when you evaluate the products on the market. As

CSO

notes, 
Organizations that want this technology primarily for compliance will value certain capabilities, such as reporting, more highly than organizations that want to leverage SIEM to set up a security operations center. […] organizations that have petabytes of data will find some vendors better able to meet their needs, while those who have fewer data might opt for other options. Similarly, companies that want outstanding threat hunting will likely look for top data visualization tools and search capabilities that others may not need to have.
consider all the factors: if you can support a particular tool, how much data your systems enclose, how much you want to spend. 
What is SIEM? Recommended Tools 
When it comes to SIEM tools, you can, of course, find both paid and free options on the market (you'll just have to keep in mind that the free ones might not be the most secure and probably won't have a customer service to assist you in case you need any help). Here are a few examples: 
OSSIM 
OSSIM is one of the most popular open-source SIEM tools, which offers event collection, normalization, correlation utilities. Its short-term logging and monitoring capabilities, long-term threat assessment, and built-in automated responses are particularly useful for any IT security team. 
OSSEC
OSSEC is another free SIEM solution that is highly appreciated especially by macOS, Linux, BSD, and Solaris users. This solution can help you monitor multiple networks from a single point, and offers the possibility to join a Slack channel where you can collaborate with other users. 
Sagan
Sagan is also a free SIEM solution that offers real-time log analysis, correlation, log normalization, real-time alerting, with a multi-threaded architecture that allows it to use all CPUs for log processes in real-time. 
IBM QRadar
This IBM product is described as smart and reliable, capable of detecting a variety of threats. Its capabilities are matched by a complex architecture, so the solution could be a strong option for enterprises with extensive log management needs. 
If you would like to try a SIEM solution from the Heimdal™ suite, I can recommend our Endpoint Detection and Response (EDR) Software, which actually acts like an EPDR – endpoint prevention, detection, and response. 
It will help you protect your endpoints by continuously monitoring and responding to mitigate a variety of cyber threats, from ransomware to insider threats. 
Simple standalone security solutions are no longer enough.
HEIMDAL™ ENDPOINT PREVENTION - DETECTION AND CONTROL
Is an innovative multi-layered security approach to organizational defense.
Next-gen Antivirus & Firewall which stops known threats;
DNS traffic filter which stops unknown threats;
Automatic patches for your software and apps with no interruptions;
Privileged Access Management and Application Control, all in one unified dashboard
What is SIEM? Best Practices
What should be your next steps after deciding on a SIEM software? 
Customize the software's rules according to your company's needs
SIEM software usually has its own pre-configured correlation rules, but your security teams can also fine-tune them as they consider necessary. 
Keep an eye on compliance requirements 
A SIEM software is excellent for better compliance, so make sure your software can support your organization's specific compliance requirements. 
Test your SIEM
Testing is a stage that should not be skipped in the implementation of a SIEM software because it's crucial to assess how it reacts. 
Implement a response plan 
I cannot stress enough the importance of having a response plan if a cybersecurity incident happens. It's very probably that time won't be on your side in those moments, so your staff must know exactly what to do following a SIEM alert.
What is SIEM? Final Thoughts
When it comes to your business's cybersecurity, it's essential to have an overview of what happens in your network and system at any time, and this is exactly what implementing a security information and event management software will help you achieve.
However you choose to proceed, please remember that Heimdal™ Security always has your back and that our team is here to help you protect your home and your company and to create a cybersecurity culture to the benefit of anyone who wants to learn more about it. 
Drop a line below if you have any comments, questions, or suggestions related to the topic of security information and event management definition  – we are all ears and can't wait to hear your opinion!