SIEM vs XDR: A Comparison of Two Advanced Detection and Response Solutions
LAST UPDATED ON
APRIL 20, 2023
When trying to tie up your organization's cybersecurity posture, you look for the perfect detection and response solution to keep you safe.
With all the options available nowadays, this is when it can get confusing.
In this article, we will line up the features and differences between two solutions: SIEM software vs XDR software. They may overlap in some points, but they serve different purposes and reach them in different ways.
Choosing the right one means you need to know the basics of XDR and of SIEM. Let's get into it.
What Is SIEM?
Security Information and Event Management (SIM) is a cybersecurity solution that collects incident data for threat monitoring and response across the IT infrastructure of an organization.
It offers data analysis and centralizes log data combining Security Event Management (SEM) with Security Information Management (SIM). It sends alerts to the SOC team about security events at the application, endpoints, or network level. The IT staff will then triage and resolve the security alerts.
SIEM solutions may use machine learning and behavioral analytics in order to identify suspicious network traffic, create contextual reports, and sandbox or quarantine endpoints when it's needed.
SIEM Features
Security Information and Event Management solutions can help your company's cybersecurity posture in a number of ways:
Collects and Retains Data
Security Information and Event Management solutions will gather data from the IT environment of an organization. Then it will store this data for a long time to facilitate analysis and monitoring.
Information Feeds
Besides collecting internal data, SIEM software can use threat intelligence feeds. These sources offer details about attack patterns, cybercriminals, and vulnerabilities.
Data Correlation
This security solution is useful to correlate data with security events. This way you will have a more meaningful understanding of cybersecurity incidents, finding complex relationships between the collected information and anomalies.
Incident Response
Security Information and Event Management solutions enable SOC teams to deal with threats through case management, cooperation, and knowledge exchange.
Compliance
Employees can rely on SIEM solutions for compliance purposes too. It automates the data collection for compliance and produces reports for standards like HIPA, HITECH, GDPR, etc.
What Is XDR?
Extended Detection and Response (XDR) is a unified cybersecurity solution that detects and mitigates threats. It offers the SOC team visibility across the entire attack surface of an organization, collecting data from endpoints, applications, emails, servers, clouds, and networks.
XDR's unified dashboard correlates and analyzes information and alerts from different security products, offering the IT staff a panel of glass clarity over all the attack vectors. This prevents overlapping tasks and decreases the workload of your company's employees. This solution expands the capabilities of Endpoint Detection and Response (EDR) to threat hunting in different environments.
XDR Features
The purpose of XDR solutions is to increase an organization's security visibility. They do the following tasks to achieve this:
Collects Data
XDR not only collects data from all across your company's IT environment but also aggregates it for the SOC team. This way it improves visibility, as well as threat detection and response capabilities.
Analyzes Data
This application analyzes large amounts of data produced by security tools using artificial intelligence, machine learning, and threat intelligence. This way it can extract useful information that is then used by security teams.
Alert Triage
XDR solutions triage through alerts, sorting between true alerts and false positives. After this triage, security alerts reach security analysts, saving them time. This is a good way to avoid the alert fatigue that could install if IT staff has to manually sort all the alerts.
Joint Response
This security solution will coordinate the activity of all the different tools from an organization's security suite. This will eliminate blind spots improving the organization's ability to investigate and handle security incidents.
Enhanced Detection
XDR can detect external assaults, rogue insiders, and compromised credentials. It can identify a threat even after the breach due to its traffic monitoring and analysis.
SIEM vs XDR: The Differences
Both SIEM and XDR gather, correlate and analyze data with the goal of finding and mitigating threats.
But Security Information and Event Management solutions are limited to sending security alerts to the IT team because these types of software can't automatically respond to incidents across endpoints.
Meanwhile, the best Extended Detection and Response solution can automatically adjust the protection measures on networks and endpoints.
It alerts the SOC team to investigate only important security events. We also can't neglect the ease of use and threat prevention capabilities of the XDR.
Primary Goal
SIEM – Provides a company with centralized log management and analysis capabilities.
XDR – Uses the collected data to enhance threat detection and response.
Management Difficulty
SIEM – Need intensive management effort to connect to data sources and to sync the alerts.
XDR – Are created to connect more smoothly with a company's security architecture.
Responding Skills
SIEM – Primarily a data analysis tool that provides data and alerts to the SOC team so that they can identify dangers.
XDR – Possesses the capacity to support and coordinate response efforts.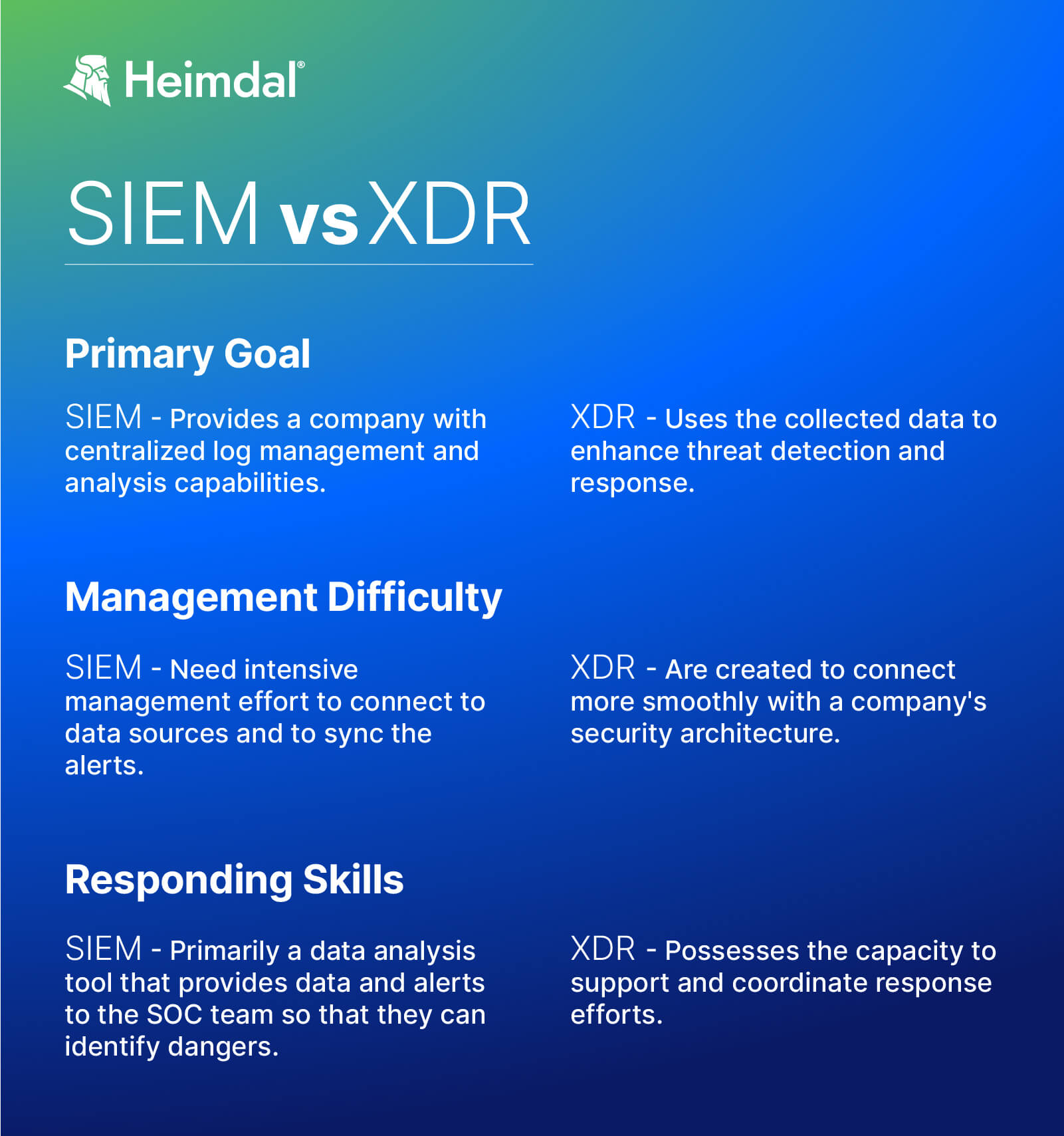 SIEM vs XDR: What Should You Choose
The solution you opt for should be dictated by your company's needs and cybersecurity maturity level.
You should choose a SIEM solution if you are looking for:
Increasing your organization's efficiency in preventing and hunting threats.
Reduce the impact that a security incident could have on your organization's activity.
Drop costs with cybersecurity.
Lighten compliance and reporting tasks.
You should choose an XDR solution if you are looking for:
Stay protected from more advanced and sophisticated threats.
Boost the productivity of your IT team by offering all the security data in one unified dashboard.
XDR gets better with time, continuously learning how to better protect you through AI technology.
Having a light security solution that will speed up your protection processes by unifying all the tools.
Overcome sinuous cybersecurity architecture with greater visibility on your attack surface.
Having a rapid response to a security incident by synchronizing all the security layers.
How Can Heimdal® Help?
Heimdal's Extended Detection and Response solution will continuously check your communications systems, servers, endpoints, and connected devices for indicators of a cyberattack.
You can find many of the features of an MDR service in our Extended Detection and Response powered SOC Service, which ensures:
Constant monitoring, 24/7/365;
Minimized response times and enhanced productivity;
Complete network visibility;
Real-time phone or email alerts in the event of an infection or attack;
False-positive management, pre-incident assessment, "noise" reduction;
Systemized, comprehensive reports on potential threats, malware, and vulnerabilities;
Actionable advice on how to strengthen your security policies and procedures;
Inspection of policy settings to ensure maximum compliance.
The next level of security - powered by the Heimdal Unified Security Platform
Experience the power of the Heimdal cloud-delivered XDR platform and protect your organization from cyber threats.
End-to-end consolidated cybersecurity;
Complete visibility across your entire IT infrastructure;
Faster and more accurate threat detection and response;
Efficient one-click automated and assisted actioning
Wrapping Up…
In the SIEM vs XDR discussion the final advice is to match each one's capabilities with the problems that you need to solve.
On one hand, Security Information and Event Management (SIM) will help you to better collect and store data and to achieve compliance standards. On the other hand, Extended Detection and Response (XDR) will offer you better visibility into your IT infrastructure and automated threat response.
If you liked this article, follow us on LinkedIn, Twitter, Facebook, YouTube, and Instagram for more cybersecurity news and topics.