XDR vs MDR: A Comparison of Two Detection and Response Solutions
LAST UPDATED ON
APRIL 11, 2023
Ensuring an efficient threat detection and response (D&R) strategy for your organization is vital for every sector of its activity. But growing workloads and limited resources are only two of the problems you encounter in your search for the best solution.
Although there are a variety of D&R tools, it can be difficult to pinpoint the one that will ramp up your company's security without burdening costs or difficult deployment and maintenance.
Both XDR software and MDR software can help your security team to better perform their tasks, although in different ways. Let's see how these types of tools work, how they differentiate, and which one is better for your organization.
What Is Extended Detection and Response (XDR)?
Extended Detection and Response (XDR) is a unified cybersecurity solution that monitors and mitigates threats. It collects and correlates data over a variety of environments, offering visibility across multiple attack vectors.
In addition, XDR's unified dashboard will enable you to detect, investigate and respond to threats on endpoints, emails, servers, clouds, and networks.
With the help of XDR's support for automation and this unified visibility, lean security teams may work more productively and effectively.
These tools also correlate alerts from different security products. In consequence, it will ramp up accuracy for better detection of an attack.
This solution will cohesively protect the whole attack surface of your organization.
Watch: The 5 Must Watch XDR Videos from Heimdal
XDR Benefits
XDR solutions come with great visibility into your data and a valuable context for them.
It automatically correlates and analyzes information from all across your organization's attack surface, consequently this leads to a more rapid and efficient threat response. Needless to say, the faster you respond to an attack, the less company's day-by-day activities are affected.
The main benefits of Extended Detection and Response are:
Telemetry and Data Evaluation
All the data from the network, cloud, server, and endpoints are reunited under one dashboard. Then the data is analyzed automatically to provide context for security alerts. The goal is to reduce the number of alerts that exhaust the security team and to show only the relevant ones.
Detection
XDR also uses data to determine what normal behavior is within the environment so it can detect threats. Once the security tool detects a threat, it investigates its origins and tries to contain the infection so will not from spreading to other systems.
Response
An XDR solution can also mitigate threats. It will eliminate the malicious element, updating security measures to prevent future attacks.
What Is Managed Detection and Response (MDR)?
Managed Detection and Response (MDR) is a cybersecurity service that offers non-stop threat detection across endpoints, mitigation of attacks, and alert investigation through tools and an external SOC team. In other words, outsourced cybersecurity experts will ease the burden of network monitoring and incident investigation and response for the in-house security team.
MDR also comes in handy when dealing with sophisticated attacks or delicate security actions. It can offer you access to advanced technology and experts to amplify your security measures.
MDR Benefits
Managed Detection and Response enables remote monitoring, detection, and response through tools and cybersecurity experts outside your organization. MDR providers often use Endpoint detection and response (EDR) products to gain insight into the endpoint security posture of the client company.
The main benefits of Managed Detection and Response are:
Prioritization
Third-party vendors analyze every security alert from within an organization's cybersecurity tools. After this process, the alerts are prioritized for the client so the organization can deal first with the most urgent ones.
Threat hunting
The most covert and hard-to-find threats are discovered using human threat hunting. This way, MDR can identify what an automated security solution may miss. Once the threat is detected, the experts alert the client organization.
Research
Every security incident is researched: What happened during the incident? When it happened? What systems were affected? These investigations give context to understand threats and how to stay protected.
Response
External security experts will guide the client organization on how to respond to different threats. The practical advice can regard mitigating attacks and recovering after a cybersecurity incident.
XDR vs MDR: Differences
Both MDR and XDR solutions can offer you endpoint security that goes beyond scanning data and focuses on 24/7 monitoring for indicators of compromise (IOCs). They are both proactive solutions that mitigate threats and send important alerts to the SOC team for in-depth research.
However, the XDR approach lives the management of the security tools to the organization implementing them. At the same time, MDR solutions will transfer this responsibility to an outside expert that will supplement the in-house security resources. These SOC experts and technology will come at much lower costs compared to those necessary for an internal solution.
Another difference is the fact that XDR programs will go beyond endpoint data, collecting information across the organization's technical infrastructure. This data will be then analyzed automatically, faster, and more efficiently. This will free up time for the IT staff to focus on more important tasks, leaving repetitive and time-consuming tasks for the security tools.
Both approaches aim to lighten the burden on internal security personnel and can considerably increase an organization's capacity to recognize and address security issues.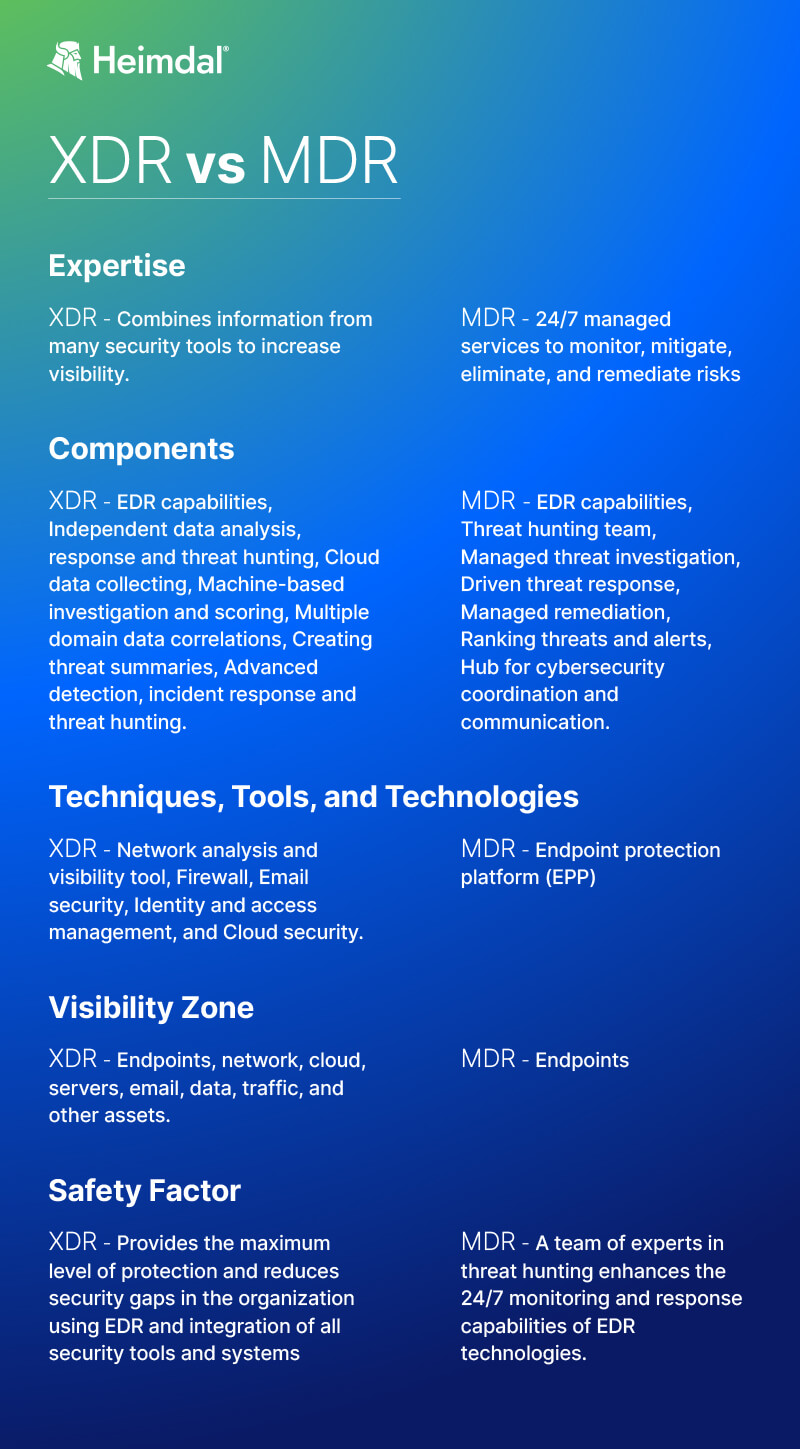 Expertise
XDR – It combines information from many security tools to increase visibility and lower risks across the whole attack surface.
MDR – In addition to 24/7 managed services to monitor, mitigate, eliminate, and remediate risks, it has features that overlap those of EDR solutions.
Components
XDR – Firstly, EDR capabilities, then Independent data analysis, response and threat hunting, Cloud data collecting, Machine-based investigation and scoring, Multiple domain data correlations, Creating threat summaries, Advanced detection, incident response and threat hunting.
MDR – Firstly, EDR capabilities, then Threat hunting team, Managed threat investigation, Driven threat response, Managed remediation, Ranking threats and alerts, Hub for cybersecurity coordination and communication.
Techniques, Tools, and Technologies
XDR – Network analysis and visibility tool, Firewall, Email security, Identity and access management, and Cloud security.
MDR – Endpoint protection platform (EPP)
Visibility Zone
XDR – Endpoints, network, cloud, servers, email, data, traffic, and other assets.
MDR – Endpoints
Safety Factor
XDR – Through EDR and integration of all tools and systems throughout the network architecture, it provides the maximum level of protection and reduces security gaps in the organization.
MDR – A team of experts in threat hunting, analyzing, and response enhances the 24/7 monitoring and response capabilities of EDR technologies.
Which D&R Solution Is Best for Your Organization?
The effectiveness of an organization's security team, as well as its particular business demands and security requirements, determine the best solution.
XDR is for you if you:
Need to be able to detect and respond to more sophisticated threats.
Aim for a faster response time.
Look for combined multi-layers threat analysis, investigation, and hunting.
Realize that your team suffers from alert fatigue or overwhelming workload.
Have an entangled and inefficient security architecture.
Aim to increase the return on the current security tool investments.
MDR is for you if you:
Can't tackle advanced threats with existing resources.
Don't want to hire additional staff for new security skills.
Experience a shortage of talent.
Aim to close some security gaps with the help of highly-experienced professionals.
Don't have the money for expensive security acquisitions.
How Can Heimdal® Help?
Heimdal's Extended Detection and Response solution will continuously check your communications systems, servers, endpoints, and connected devices for indicators of a cyberattack.
You can find many of the features of an MDR service in our Extended Detection and Response powered SOC Service, which ensures:
Constant monitoring, 24/7/365;
Minimized response times and enhanced productivity;
Complete network visibility;
Real-time phone or email alerts in the event of an infection or attack;
False-positive management, pre-incident assessment, "noise" reduction;
Systemized, comprehensive reports on potential threats, malware, and vulnerabilities;
Actionable advice on how to strengthen your security policies and procedures;
Inspection of policy settings to ensure maximum compliance.
The next level of security - powered by the Heimdal Unified Security Platform
Experience the power of the Heimdal cloud-delivered XDR platform and protect your organization from cyber threats.
End-to-end consolidated cybersecurity;
Complete visibility across your entire IT infrastructure;
Faster and more accurate threat detection and response;
Efficient one-click automated and assisted actioning
Wrapping Up…
Extended Detection and Response (XDR) and Managed Detection and Response (MDR), as two detection and response (D&R) solutions, may share some features but are two different approaches to your organization's cybersecurity.
Each one of them is suitable for certain types of companies, with variable maturity levels of security, and risks. An XDR solution can help you have greater visibility of your security suite. In the meantime, MDR is here to infuse your IT team with manpower and knowledge.
If you liked this article, follow us on LinkedIn, Twitter, Facebook, YouTube, and Instagram for more cybersecurity news and topics.