3 Benefits of Using Consolidated Platforms in Cybersecurity
Platform Consolidation – A Market Trend That Heimdal Saw Long Ago
LAST UPDATED ON
AUGUST 22, 2022
The need to optimize performance, leverage consistency, and reduce administrative costs has caused a significant percentage of the cybersecurity market to move toward consolidated platforms. Let's explore what are consolidated platforms in cybersecurity and how they can help businesses have the upper hand in the fight against cybercrime!
What Is a Consolidated Platform in Cybersecurity?
A consolidated platform in cybersecurity is a model that enables the optimization of IT architecture management by linking and managing standalone components in a security system that is by definition very flexible and can be adapted to meet the ever-changing client needs.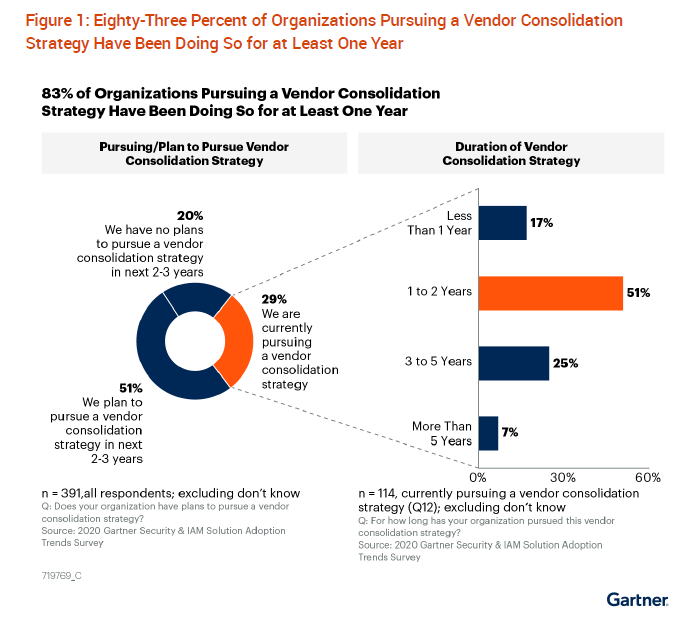 Source: Gartner
According to Gartner, there are two clear directions that vendors opt for in terms of consolidation, the platform approach and the portfolio approach. 
The platform approach
The platform approach takes advantage of the interconnections and similarities of adjacent systems, connecting consoles for shared purposes.  This guarantees operational simplicity and integration.
The portfolio approach 
The portfolio approach combines a number of minimally or insufficiently linked products into a single package, but it falls short of delivering any of the claimed benefits of consolidation. Read on to find more about them. 
Key Advantages of Consolidated Cybersecurity Platforms
As Gartner mentions, "By 2025, 80% of enterprises will have adopted a strategy to unify web, cloud services and private application access from a single vendor's Security Service Edge (SSE) platform." Moreover, "By 2027, 50% of midmarket security buyers will leverage eXtended detection and response (XDR) to drive consolidation of workspace security technologies, such as endpoint, cloud and identity."
Why do businesses move towards platform consolidation? 
Well, the main benefits are: 
Consolidated platforms provide unified cybersecurity and boost employee productivity
Unified cybersecurity platforms ensure that customers can manage multiple solutions (like patch management, threat prevention, privileged access management etc.) from a single, integrated console, whose components work together for increased efficiency. A key feature here is automation, which simplifies the work of IT admins, thus boosting productivity. 
It may be important to note that platform consolidation boosts employee productivity both inside and outside of IT, making the company more appealing to hard-to-find talent.
Consolidated platforms bring more meaningful, centralized insights – for a smaller budget
By default, a consolidated platform implies that companies do not need to implement solutions for multiple vendors. Opting for a security suite from a single MSSP is much more cost-effective, and the more meaningful, centralized insights that consolidated platforms provide help fine-tuning the cybersecurity posture, thus generating a significant ROI. 
Consolidated platforms promote business agility and enable organizations to devote more efforts to accelerating revenue growth than to coping with the repercussions of cybercrime.
Another key aspect worth mentioning here is that consolidated cybersecurity platforms help businesses achieve compliance with various regulations (e.g. GDPR, SOC 2 Type II, ISAE 300 etc.) easier. 
Consolidated platforms guarantee enhanced defense and minimized attack surface
Consolidated platforms can help IT admins keep up with new risks, resolve them as soon as they occur, and increase incident response time. Naturally, they also help minimize the attack surface ("the digital and physical vulnerabilities that can be found in your hardware and software environment, being the total number of vulnerabilities that an unauthorized user can potentially use to access and steal data"). 
Additionally, unified platforms give businesses the option to purchase or develop adjacent technologies (such as Zero-Trust, for instance) and incorporate them into the platform.
Platform Consolidation – Heimdal's Focus Even Before It Became a Trend
In September 2021, Heimdal's CEO, Morten Kjaersgaard, was mentioning unification as one of the top trends to expect in 2022: 
When it comes to cybersecurity trends, the shift towards extended detection and response and unified endpoint management might be the most important. XDR brings a cross-layered detection and response approach, improving security by looking at endpoints, servers, clouds, networks, and email agents, and enhances productivity while substantially reducing costs. Unified endpoint management will also be crucial for an effective cybersecurity strategy, enhanced productivity and reduced costs, offering the much-needed real-time data visibility that all company owners must have at any time.
Even before the publication of Morten's article, Heimdal concentrated on consolidating its product line, designing our solutions to combine and offer a smooth experience, accessible through a unified, user-friendly dashboard. As Morten notes in his latest article explaining the Heimdal cybersecurity strategy, 
Within a dashboard that combines intelligence from several or all of the Heimdal solutions, IT administrators, CIOs, and CISOs can use this unification to monitor the enterprise's cybersecurity state, manage threats, and respond to them as quickly as possible. However, in the long run, it's not just about unification; it's also about the time saved by having a user-friendly platform that doesn't tie itself in knots when trying to solve a problem.
Customers that choose Heimdal products have the option of selecting our EDR or XDR/SOC services, comprising some of our most important modules (Threat Prevention, Patch and Asset Management, Next-Gen Antivirus, Ransomware Encryption Protection, Privileged Access Management, Application Control), or purchasing any of the products in our suite and combining them as needed (and stay tuned, by the way, because more powerful products are coming soon!).
Moreover, Privileged Access Management, Application Control, and Next-Gen Antivirus are the three main modules of our EDR and XDR/SOC services that leverage the Zero-Trust Execution Protection cross-module component. This component facilitates the classification of all processes running in the IT environment of customers in order to detect and block malicious or suspicious executions.
The Zero-Trust component from Heimdal helps customers stay one step ahead of any insider or cybercriminal threat while saving system administrators a lot of time and ensuring restricted access, enhanced compliance, and smoother risk management.
Simple standalone security solutions are no longer enough.
Is an innovative and enhanced multi-layered EDR security approach to organizational defense.
Next-gen Antivirus & Firewall which stops known threats;
DNS traffic filter which stops unknown threats;
Automatic patches for your software and apps with no interruptions;
Privileged Access Management and Application Control, all in one unified dashboard
Final Thoughts 
More and more businesses are turning to cybersecurity platform consolidation as a result of a hybrid workforce and data that is available everywhere to everyone. Heimdal foresaw this trend and began focusing on it long before it was widely recognized in the industry.
Any company may benefit from a consolidated platform's ability to unify cybersecurity, increase staff productivity, get more insightful, centralized data on a lower budget, and, of course, strengthen cyber protection and reduce the attack surface.
Have you considered using a consolidated platform as part of your company's cybersecurity strategy? I'm curious to hear your thoughts on the subject, so make sure you leave a comment below!
P.S. Did you enjoy this article? Follow us on LinkedIn, Twitter, Facebook, Youtube, or Instagram to keep up to date with everything we post!