Introducing VectorN Detection against Second Generation Malware
Find out what your traffic reveals about your cyber risk level
LAST UPDATED ON
JUNE 29, 2017
Starting June 30, 2017, our Heimdal™ Threat Prevention and Endpoint Security Suite users fully enjoy the benefits of machine learning insights from VectorN Detection that fuel even stronger protection against advanced and sophisticated malware.
We are delighted to announce the launch of a landmark enhancement to our DarkLayer GUARD engine, called VectorN Detection. This is the result of coordinated, hard work between our team and our strategic partners that share the same values and dedication for online security.
VectorN Detection will focus on ensuring Code Autonomous ProtectionTM on both corporate and private endpoints, detecting malware in ways that no other endpoint protection can.
A few key things you should know about VectorN Detection:
It works across-the-board on any Windows™ device;
It does not rely on scanning the code or auditing any system processes. Instead, the new technology uses Machine Learning Detection (MLD) to perform an in-depth analysis of all incoming and outgoing HTTP, HTTPS and DNS traffic.
It matches Machine Learning (MLD) insights with Indicators of compromise/attack (IOC/IOA) and network forensics, turning Heimdal CORP and Heimdal PRO into unique, proactive cybersecurity suites.
It helps users discover even hidden, second-generation malware that tries to infect the endpoint or attempts to harvest data from the compromised system.
By tracking device-to-infrastructure communication, this technology enables users to detect and block advanced malware, regardless of the attack vector.
The graphic below illustrates how VectorN DetectionTM empowers both Heimdal CORP and Heimdal PRO users to detect and block even hidden malware attacks, preventing malware from infiltrating the system.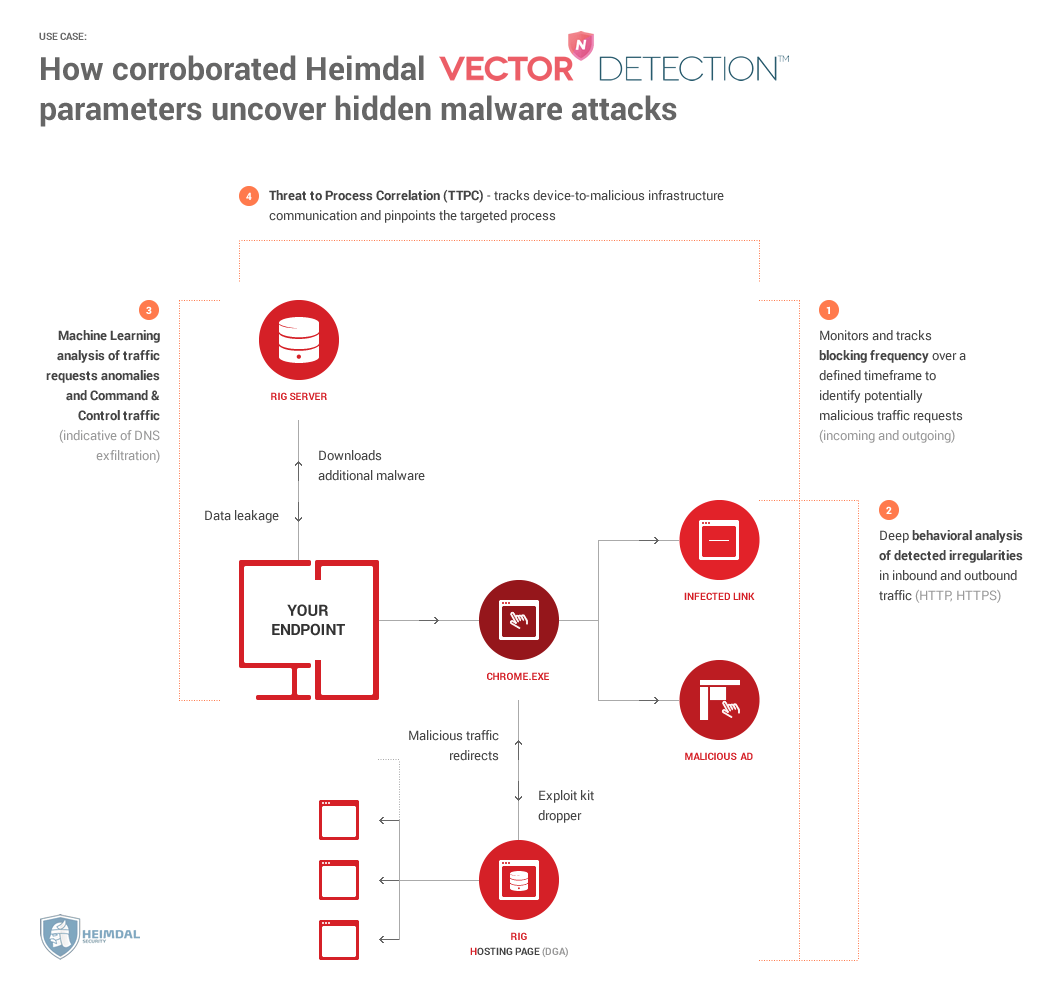 Endpoint Security Suite and Heimdal™ Threat Prevention work proactively to detect APTs, ransomware strains, botnets. Trojans and more, while blocking them until removed from the system.
Our main goal at HeimdalTM is to enable users to close vulnerabilities and mitigate exploits, while constantly blocking incoming attacks, data leakage and Command & Control server communication.
What you need to know about Darklayer GUARDTM
HeimdalTM has a unique, client-based two-way Traffic Scanning  Engine which detects and blocks network communication to mitigate Zero Hour exploits, ransomware C&Cs, malware backbones, next-generation attacks and data leakage.
In addition to blocking the source of threat by analyzing traffic-based communication, the Threat to Process Correlation (TTPC) technology will also identify the malicious process, enabling endpoint owners to act fast in containing and cleaning the potential infection. When malware tries to compromise your computer, you'll know which application or process it's trying to infect, so you can stop attackers in their tracks.
Our team is constantly working to improve Heimdal™ Security products and develop new features that can strengthen users' security against cyber threats, no matter what the challenge is.
We recommend keeping a keen eye on our blog for the security alerts and stay up to date with the new attacks that can target your sensitive data.
Stay safe!