XDR vs EDR – A Comparison
How to Choose the Best Solution for Your Company's Security
LAST UPDATED ON
APRIL 20, 2022
Cyberthreats can compromise any device, including a smartphone, tablet, or laptop. Endpoint security seeks to protect every endpoint that connects to a network in order to prevent unauthorized access and other destructive behaviors at such entry points. The value of effective endpoint security solutions has expanded dramatically, partly as a result of the proliferation of mobile vulnerabilities. Employees rely on mobile devices, home PCs, and laptops to access corporate networks and complete activities nowadays, and XDR and EDR are two extremely effective protection approaches. But which one should you go for? 
What Is EDR? 
Endpoint detection and response (EDR) refers to a set of unified endpoint security solutions that integrate data gathering, data analysis, forensics, and threat hunting with the purpose of detecting and preventing potential security breaches in real-time.
Endpoint Detection and Response (EDR) platforms were designed to identify and actively respond to complex malware and cyberattacks, as they can detect any unusual behavior that can be examined afterward.
These tools have been specifically built for endpoints (and not networks), as the name implies. Anton Chuvakin, a former Gartner VP and security expert, introduced the acronym EDR in 2013.
What Is XDR?
The abbreviation stands for extended detection and response, and it refers to a sort of cybersecurity service that monitors and mitigates incidents. A multi-layered detection and response tool, this technology captures and analyzes data across several security layers, including endpoints, emails, servers, clouds, and networks. 
Thus, XDR can assist your security team in detecting, investigating, and responding to threats across several layers of protection, transgressing endpoint detection. XDR enables more security, awareness, and response capabilities, but also higher productivity and costs reductions.
As cybersecurity expert Joseph Shenouda mentions,
With EDR, you've taken end-point security seriously. Continued with XDR, you've now enlarged your vision to network activity as well. The goal ultimately is to respond automatically to identified threats.
XDR vs EDR – Differences and Benefits 
In terms of differences, the most notable are the following:
EDR is centered on endpoint protection, offering detailed visibility and threat prevention for specific devices. XDR promotes a broader approach to security, integrating it across endpoints, cloud computing, email, and other platforms.

EDR often includes behavior analysis engines for identifying unknown threats, whereas XDR typically encompasses endpoint and network rules, as well as behavior-based detection engines.

EDR may assist teams in performing kill chain analysis, implementing traffic filtering, and automating event response, whereas XDR delivers end-to-end tracing and enables you to manage security across various environments and scale solutions as required.
Despite these differences, both types of endpoint security solutions provide:
rapid threat response – EDR and XDR both provide automated threat detection and response. This enables organizations to limit the expense and harm that a cyberattack might cause by preventing or promptly resolving it.

enhanced visibility and threat hunting: both EDR and XDR facilitate proactive security by enabling analysts to detect and address possible security flaws before an attacker exploits them. EDR and XDR offer detailed insights and easy data access, which improves overall threat hunting operations.
Other Types of Endpoint Security Solutions
Now that we've discussed what is XDR security and we've seen what are the XDR and EDR benefits, it's time to mention a few other endpoint security solutions. 
MDR vs EDR vs XDR
MDR (or managed detection and response) is an endpoint security service that enables advanced threat detection and mitigation, allowing businesses to outsource their endpoint security operations to third-party professionals (MSSP).
Unlike EDR and XDR, MDR services are defined by particular security goals and outcomes rather than by technology. Endpoint detection, intrusion detection, asset discovery, SIEM, network traffic analysis, User and Entity Behavior Analytics (UEBA), vulnerability management, and cloud security are essential components of MDR providers.
EPP vs EDR vs XDR
As I mentioned in a previous article, EPP portrays a proactive attitude towards cybersecurity and stands for Endpoint Protection Platform. EPP is represented by solutions that detect and block cybersecurity threats at the device level. It typically includes components like antivirus, anti-malware, data encryption, firewalls, intrusion prevention, and data loss prevention.  
EPP is the first line of defense, does not require active supervision, and, unlike EDR and XDR, can prevent almost entirely known threats.
EPP is designed to protect each endpoint individually and is not intended for post-compromise security. Without additional tools, detecting attacks that evade the firewall and EPP is impossible.
How to Choose the Best Endpoint Solution for Your Company 
While security is critical for any business, regardless of size, each organization's requirements are unique. As a result, it is essential to choose a security product that delivers the appropriate type of coverage depending on the risk profile of the organization. Here are a few guidelines to consider while deciding between an XDR solution and an EDR one.
EDR is recommended for enterprises that:
– are just starting to build a cybersecurity strategy and want to lay a foundation.
– already have a cybersecurity strategy in place, but want to strengthen endpoint security by moving beyond NGAV capabilities.
– have information security specialists who can handle the alerts and suggestions generated by the EDR solution.
XDR is better suited for companies that:
– focus on improving threat detection and managing threat analysis, assessment, and hunting from a centralized platform.
– seek a faster response time.
– would like to see an increase in ROI over all security products.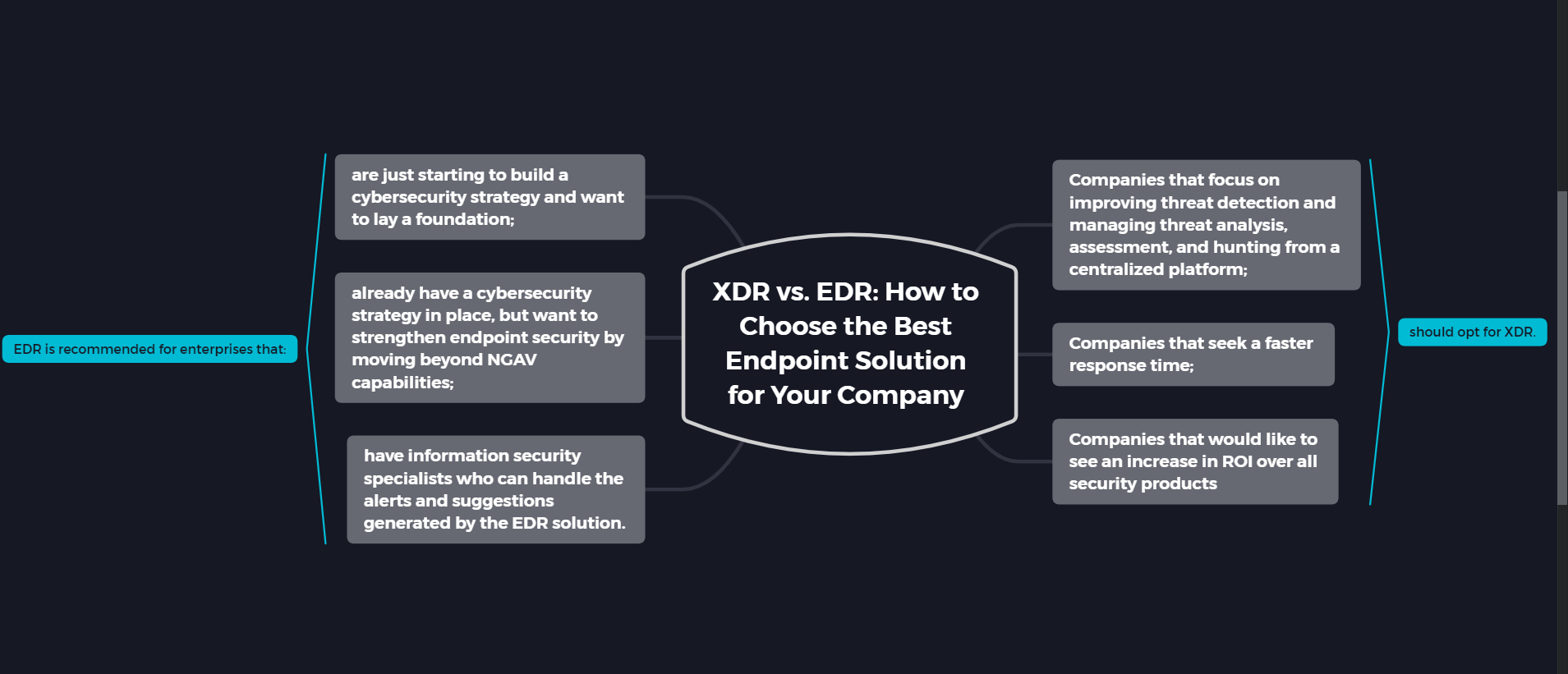 XDR and EDR in the Heimdal
 Suite
Heimdal's Endpoint Detection and Response offers unrivaled prevention, threat-hunting, and remediation capabilities, combining six solutions in a single easy-to-deploy and compact agent that will not delay your systems and will help you save significant time. 
We can protect your network from sophisticated cyberthreats and go beyond what conventional security solutions can achieve. Our EDR software can prevent advanced ransomware, insider threats, admin rights abuse, APTs, software exploits, brute force attacks, DNS and DoH Vulnerabilities, phishing and social engineering, and any other known or unknown threats by leveraging the benefits of Machine Learning and AI-driven intelligence.
Our Extended Detection and Response Powered SOC Service functions as a centralized monitoring and incident response hub, notifying you of infections or attacks, monitoring your environment, evaluating policies for optimum compliance, and applying quick and effective countermeasures to attacks.
The Heimdal XDR-powered SOC Teams respond quickly to malicious incidents by blocking domains, quarantining malicious processes and e-mails, deploying critical vulnerability patches, and isolating compromised devices. Our teams report the findings, actions, and resolutions of incidents both while and after they occur. They also provide actionable strategies to avoid future attacks on the vulnerable routes.
Supported by a next-generation SOAR (security orchestration, automation, and response) platform, our SOC teams can proactively reduce attacks by automatically patching critical vulnerabilities and monitoring and adjusting the security settings on a regular basis.
If you need help in choosing the best approach for your company, don't hesitate to request a demo of our solutions – one of our consultants will contact you shortly after. 
Simple standalone security solutions are no longer enough.
Is an innovative and enhanced multi-layered EDR security approach to organizational defense.
Next-gen Antivirus & Firewall which stops known threats;
DNS traffic filter which stops unknown threats;
Automatic patches for your software and apps with no interruptions;
Privileged Access Management and Application Control, all in one unified dashboard
Final Thoughts 
Despite the variations between XDR and EDR, we have seen that both types of endpoint security solutions enable rapid threat response, increased visibility, and threat hunting.
Drop a line below if you have any comments, questions, or suggestions regarding this topic of XDR vs EDR– we are all ears and can't wait to hear your opinion!

P.S. If you liked this article, be sure to follow us on LinkedIn, Twitter, Facebook, YouTube, and Instagram to stay up to date on everything we publish!