Endpoint Security vs. Antivirus: A Comparison  
LAST UPDATED ON
FEBRUARY 10, 2023
Switching from Antivirus to an Endpoint security solution will offer you not only better cybersecurity but also a centralized and easy-to-handle security management system.
These two may look the same to an inexperienced eye but take a closer look. Then you will realize that they use different ways to protect you from viruses, spyware, adware ransomware, and other types of malware.
In this article, we will explain the differences between Endpoint security vs. Antivirus. Find out why you need the first one if you manage the security for more than one computer.
Antivirus Software
Antivirus or antimalware is software created to protect a certain device – PC, laptop, tablet, or smartphone – or server. Basically, it detects and removes viruses and malware from a machine. But more advanced antivirus can have anti-phishing protection or malicious URL blocking. An Antivirus can operate in the background of your computer, without disturbing day-by-day activity.
But keep in mind that this security solution uses signature-based detection and prevention. This makes more advanced signature-less threats or fileless malware hard to detect for it. An Antivirus is designed with only one endpoint in mind.
Endpoint Security
Endpoint security includes features that detect and remove viruses and malware, but it is not limited to this. This solution adds levels of protection – like advanced persistent threat detection, investigation, and response, device management, data leak prevention, and others – to detect more advanced threats.
Also, Endpoint security is designed to protect multiple devices within a network. But is still an adaptable tool thanks to its unified security management system. It employes using AI, machine learning, and being proactive – actively scanning for threats or suspicious behavior.
In the Endpoint security vs. Antivirus comparison, you can say that the Antivirus is the starting point of your security suit, but the Endpoint security is the advanced step.
Endpoint Security vs. Antivirus: The Differences
Let's dive deeper into the features that set Antivirus and Endpoint security apart. This way, you will have a better understanding of these two options and will take an informed decision regarding your company's security.
Monitoring
Antivirus – will monitor the device in which it is installed to find viruses or malware. It will do so at a certain time, as scheduled.
Endpoint security – will scan all the devices from a network for threats, anomalies, and suspicious behavior. This solution is more efficient because it does a continuous scan on your endpoints, leaving less room for error.
Threat detection
Antivirus – uses a signature-based threat detection, so more advanced threats, like fileless malware, can bypass this security solution. Once infiltrate into an endpoint, a malware can infect an entire network.
Endpoint security – uses a firewall to identify even the most sophisticated threats. It detects even the newest ones, that are not included in a threat signature database.
Threat response
Antivirus – when a virus is found, the Antivirus software will send an alert so the user could deal with the threat.
Endpoint security – once a threat is detected, the software removes it immediately. Doing this without human assistance, it is saving precious time. Endpoint security solutions can also sandbox a suspicious file, isolating it until categorized as innocent or malicious software.
Compatibility
Antivirus – usually, this type of security software stands alone. Antivirus will not integrate with any other tools or programs that could enhance its features.
Endpoint security – it is designed to easily integrate other security components. This will create a smooth security system that will offer better protection to your endpoints and the entire network.
Data loss prevention
Antivirus – it focuses only on malware protection, with no other data protection features. If a file does not contain malware, it is not of interest to an Antivirus solution.
Malware – can mitigate data loss on your endpoints. For this it uses data traffic monitoring, identifies suspicious patterns, and encrypts information.
Reporting
Antivirus – can report only about the activity from a certain device, so we are looking at a report per device workload. This is not a great solution if you are managing security for a large number of machines.
Endpoint security – the reporting part is approached more holistically. This security solution creates reports that include information from all your network's devices, offering greater visibility and insights for the IT staff.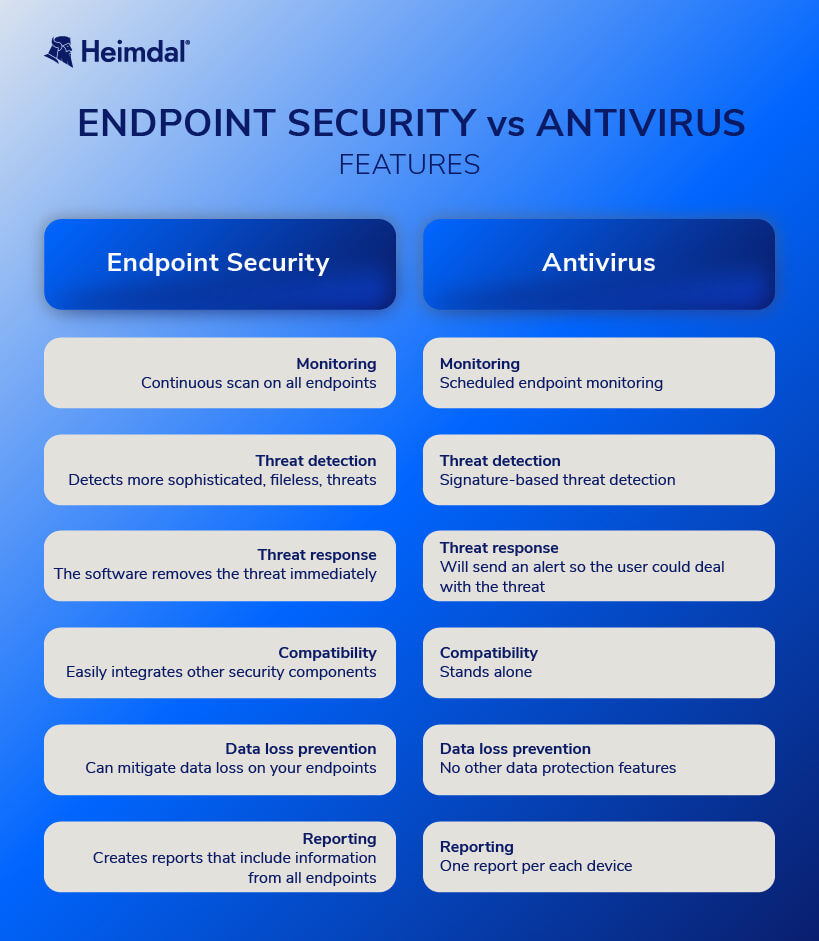 How Can Heimdal® Help?
Heimdal Endpoint Detection and Response offers a complex cybersecurity technology designed to protect endpoints and continuously monitor them for anomalies, as well as to respond to mitigate cybersecurity threats.
When threats arise, Heimdal's EDR provides greater visibility into corporate endpoints. Also allows for faster response times, stopping an attack at its beginning.
Some of our most crucial modules are included in our EDR service: Threat Prevention, Patch and Asset Management, Next-Gen Antivirus, Ransomware Encryption Protection, Privileged Access Management, and Application Control.  They ensures the following features: automated detection and remediation, machine learning, threat intelligence, application control, patch and vulnerability management, privileged access management, intelligent alerting, and reporting.
Antivirus is no longer enough to keep an organization's systems secure.
Heimdal® DNS Security Solution
Is our next gen proactive DNS-Layer security that stops unknown threats before they reach your endpoints.
Machine learning powered scans for all incoming online traffic;
Stops data breaches before sensitive info can be exposed to the outside;
Advanced DNS, HTTP and HTTPS filtering for all your endpoints;
Protection against data leakage, APTs, ransomware and exploits;
Wrapping Up…
Although an Antivirus solution is capable to offer a certain level of protection, your IT team will not have much to work with in terms of security management options.
An Endpoint security solution is the answer for you if you need to protect a number of machines, mobile devices, servers, etc. It is also good if you are looking into solutions for the cloud or other virtual environments. All these while including your BYODS, the remote workers, and eventually separate locations in your company's PCs' centralized security infrastructure.
If you liked this article, follow us on LinkedIn, Twitter, Facebook, YouTube, and Instagram for more cybersecurity news and topics.