Windows 7 End of Support: What Does It Mean for Your Organization?
And What Are Your Options?
LAST UPDATED ON
JANUARY 31, 2020
As you may already know, Windows 7 has officially hit its end of support. Starting with January 14, Microsoft will no longer be providing updates, security patches, or new features to what was once the most popular operating system in history, that was outpaced by Windows 10 only in early 2019. For organizations that are still running Windows 7, this is a serious matter of concern, since generally, legacy software and systems quickly become highly attractive targets for cybercriminals. Thus, in this case, it would be reasonable to suppose that Windows 7 machines are going to be attacked by malicious actors in the near future. According to a Spiceworks report released in June 2019, 79% of organizations still ran at least one instance of Windows 7, and many of these businesses responded they would procrastinate in their migration efforts. In fact, the data showed that 67% of businesses running Windows 7 were planning to migrate all their machines off of Windows 7 prior to the end of service date, but 25% planned to migrate after the deadline.
A brief history of Windows 7
Windows 7, the successor to Windows Vista, was released in October 2009 in conjunction with Windows Server 2008 R2, its server counterpart. It was based on Windows Vista's underlying code and technology, with various enhancements added to its speed, user interface, and the addition of Internet Explorer 8, to name a few. Windows 7 met the needs of both consumers and enterprises, bringing Home Basic, Home Premium, Professional, and Ultimate to individual users, and Windows 7 Enterprise Edition to businesses. Shortly, it became the fastest-selling operating system in history, with 240 million licenses being sold in the first year alone. We witnessed its adoption peek back in 2013 when Windows 7 accounted for over 60% of all Windows operating systems. However, since Windows 7 did have its faults, Windows 8 was released shortly after (in 2012) and was followed by Windows 10 a few years later. Aiming to increase the adoption of Windows 10, Microsoft even pushed it as a free upgrade to Windows 7 users. However, according to ZDNet, you can still get a free Windows 10 upgrade, so check out their guide if you'd be interested. This exercise to increase the adoption of Windows 10 proved to be successful, and by early 2018, it had taken its place as the dominant desktop operating system.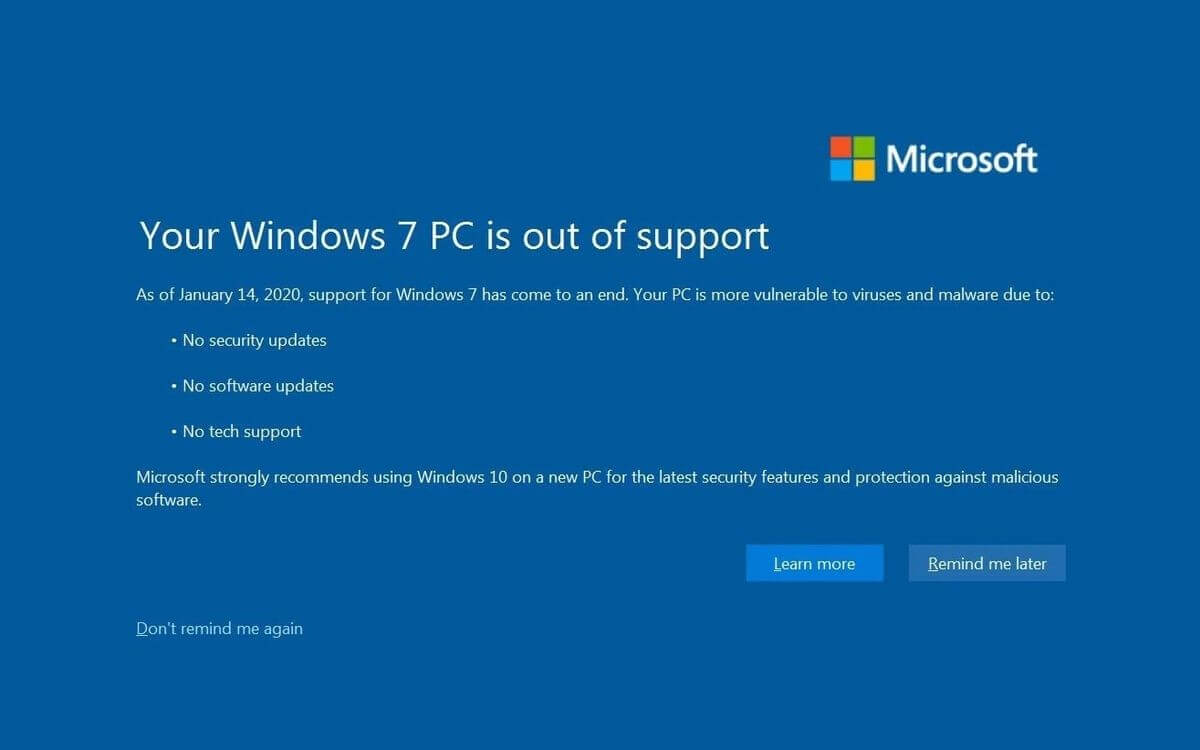 A Windows 7 out of support notification
The Windows 7 end of life has not been received well by everyone. Some voices behind the free software movement are demanding Windows 7 to be released as free software and given to the community "to study, modify, and share". The request has been made in exchange for proof that Microsoft values "users and user freedom, and aren't just using those concepts as marketing when convenient."
Windows 7 end of support – How does this affect your organization?
What does Windows 7 end of support mean for your business? Basically, after January 2020, your machines that are running Windows 7 will no longer receive security updates. At the same time, Microsoft's customer service will not be available to provide technical support anymore. Also, certain software and apps compatible with Windows 7 with gradually be discontinued. Below you can read a section of Microsoft's statement:
Microsoft made a commitment to provide 10 years of product support for Windows 7 when it was released on October 22, 2009. This 10-year period has now ended, and Microsoft has discontinued Windows 7 support so that we can focus our investment on supporting newer technologies and great new experiences. The specific end of support day for Windows 7 was January 14, 2020. Technical assistance and software updates from Windows Update that help protect your PC are no longer available for the product. Microsoft strongly recommends that you move to Windows 10 to avoid a situation where you need service or support that is no longer available.
Is Windows 7 still available?
Yes, Windows 7 still works. However, it is strongly recommended that you do not keep using it due to security flaws that may be discovered and exploited by cybercriminals.
Windows 7 support has ended – What are the next steps for your business?
Now that Windows 7 is no longer being given support, it's time for you to take a look at your options. This operating system is more than ten years old, and you definitely need a plan to move your workloads to something more modern. It would not really make sense to consider migrating to Windows 8.1 since you'll only get just a few more years of support anyway. So, your safest bet would be to switch to Windows 10 (or Windows as a Service, the SaaS approach introduced by Microsoft with Windows 10 to deploy and update the OS). You should follow this approach especially if you're a company that has invested heavily in Microsoft's stack and switching to a different system, like macOS or Linux, would end up being too expensive. So, below are a few steps to consider and aspects to keep in mind when migrating to Windows 10.
#1. Start a plan to migrate as soon as possible to Windows 10
It's best that you prioritize your migration to Windows 10 to avoid the security risks involved. Studies have shown that unpatched systems account for the majority of data breaches. Remember the WannaCry ransomware attack, that devastated the UK's National Health Service? Experts were arguing that this disastrous ransomware infection could have been prevented, had security patches been applied to protect the Windows 7 systems, which were common throughout the NHS. Here at Heimdal, we can't stop focusing on the importance of patching. If you are interested to learn more about the common practices and vulnerabilities related to software patching, feel free to check out the insightful guide published by one of my colleagues.
#2. Do a fresh installation of your software and apps on your new Windows 10 PCs
After you've completely switched to Windows 10, it's time to deploy the tools your business needs. A solution like Heimdal™ Patch & Asset Management helps you easily install and manage your software and even automate the updating process, by scheduling software and system updates whenever you want.
Antivirus is no longer enough to keep an organization's systems secure.
Heimdal® DNS Security Solution
Is our next gen proactive DNS-Layer security that stops unknown threats before they reach your endpoints.
Machine learning powered scans for all incoming online traffic;
Stops data breaches before sensitive info can be exposed to the outside;
Advanced DNS, HTTP and HTTPS filtering for all your endpoints;
Protection against data leakage, APTs, ransomware and exploits;
Should your employees require to install certain software on their own, you can now free your system administrators from the burden of manual installation of software. Be sure to check out a
Privileged Access Managemen
t (PAM) tool like
Heimdal™ Privileged Access Management
. And the best part is you don't need to worry about malware infections that abuse admin rights – our product automatically de-escalates elevated privileges if a machine shows any signs of infection.
System admins waste 30% of their time manually managing user rights or installations
Heimdal® Privileged Access Management
Is the automatic PAM solution that makes everything easier.
Automate the elevation of admin rights on request;
Approve or reject escalations with one click;
Provide a full audit trail into user behavior;
Automatically de-escalate on infection;
#3. Be careful to whom you grant admin rights
Since I've mentioned the PAM concept, make sure you are up to date with the latest best practices in regards to what defines a good Privileged Access Management strategy. I also encourage you to take a look at the guides my colleagues and I have published around this topic:
#4. Train your users
If your users have grown accustomed to using Windows 7 only, you may need to do a training session, just to get everyone on the same page. Even though there are many similarities between Windows 10 and Windows 7, your employees may experience difficulties when it comes to the control panel setting locations, wireless networks, or quickly using the Start menu. Microsoft has provided a lot of helpful information on their website, offering you guidance on how to communicate about your migration, and also guides on how to connect printers, how to use the desktop, and more.
#5. Beware of tech support scams
Unfortunately, Microsoft tech support scams are a never-ending story. Since the Windows 7 end of support date has already passed, new opportunities for Windows tech support scammers will now unfold. According to BBB Scam Tracker reports, malicious actors are trying to trick Windows users into paying to upgrade their current Windows 7 operating system to Windows 10, by informing them their license has expired. Scammers might try to convince targets to pay some fake annual fees or request remote access to their computers to "solve" their issues. This does not only result in financial loss, but also in the risk of sensitive information theft.
Quick Note: If you absolutely must keep using Windows 7 for a prolonged period of time now that its support has ended, you do have another alternative. Microsoft will still offer security updates through January 2023 (obviously, in exchange for a fee). Here you can find answers to any questions on Extended Security Updates for Windows 7 you may have.
Conclusion
Migrating to Windows 10 is no small matter. However, the good news is that Windows 10 has been released for a while now, many of its flaws have been fixed, and it has become more stable. Switching from Windows 7 to Windows 7 may feel like a chore, but in the long run, it will prove to be the best decision.
Are you still using Windows 7 in your organization? If you are, when are you planning to migrate to a supported operating system?