The UK Government Shares New Strategy to Boost NHS Cybersecurity by 2030
5 Core Pillars to Minimise the Risk of Cyber Incidents and Improve Response and Recovery.
LAST UPDATED ON
MARCH 31, 2023
The Department of Health and Social Care has established a cyber security program aimed at improving cyber resilience across the NHS and social care sectors in England over the next seven years.
The use of technology to access health and care services and information is on the rise – over 40 million people now have an NHS login, allowing them to make appointments, keep a tab on referrals and acquire medications digitally.
In addition, more than 50% of social care organizations are using a digital social care records for staff to share critical data about the people they assist. As digital capabilities become increasingly necessary for optimizing health and care services in this country, it is essential that effective tools are available to guard the privacy of patients' records.
This new measure will ensure that services are better protected from cyber attacks, safeguarding sensitive information and ensuring patients can continue to access care safely.
We're harnessing the power of technology to deliver better, safer care to people across the country – but at the same time it's crucial we're also bolstering the defences of our health and care services. This new strategy will be instrumental to ensure every organisation in health and adult social care is set up to meet the challenges of the future. This is an important step to ensure we're building an NHS which is sustainable and fit for the future, with patients at the centre.
Lord Markham, Parliamentary Under Secretary of State
The government has emphasized the importance of shielding valuable resources from malicious parties, as well as improving the cyber resilience that has seen considerable advances since 2017's WannaCry occurrence.
NHS Trusts have the aid of a direct link to the Cyber Security Operations Centre of NHS England, which provides active defence for almost two million devices and filters out about 21 million suspected emails every month.
Main Cyber Threats that Impact UK Healthcare
Every day, the health and social care industry faces cyber dangers such as: phishing and other types of malicious emails, automated scanning for common software vulnerabilities, attempted fraud and more. Phishing and malware are relatively easy to perform, also known as low-level 'commodity attacks' that can be used by a wide range of cyber criminals.
However, the most serious cyber threat that the sector is facing right now is ransomware. Profit-driven attacks use this tactic, and while sophisticated groups often stage them, the growing prevalence and commercial availability of ransomware as a service implies that anybody may launch an attack.
Ransomware attacks can wreak havoc on health and social care services, leading to postponed operations and diverted ambulances, while pushing staff to resort to paper-based contingency plans without access to digital records. Furthermore, they are often accompanied by data theft and extortion with a warning that the compromised information could be leaked online, thereby causing distress and potential harm to patients, service users, staff, and third-party suppliers.
Other threats such as state actors attempting to access confidential records, or personnel within the health and social care sector misusing their privileged access must also be taken into account.
5 Pillars to Build Resilience to Cyber Attacks
The government's vision comprises 5 core pillars to decrease the risk of cyber attacks and other cyber security challenges, and to improve response and recovery from incidents across health and social care systems, including adult social care, primary and secondary care.
These 5 pillars will direct the health and social care system's overall approach to cyber security by 2030:
Focus on the greatest risks and harms – identifying the areas of the sector where disruption would cause the greatest harm to patients, such as through sensitive information being leaked or critical services being unable to function.
Defend as one – uniting the sector so it can take advantage of its scale and benefit from national resources and expertise, enabling faster responses and minimizing disruption.
People and culture – building on the current culture to ensure leaders are engaged and the cyber workforce is grown and recognised, and relevant cyber basics training is offered to the general workforce.
Build security for the future – embedding security into the framework of emerging technology to better protect it against cyber threats.
Exemplary response and recovery – supporting every health and care organisation to minimise the impact and recovery time of a cyber incident.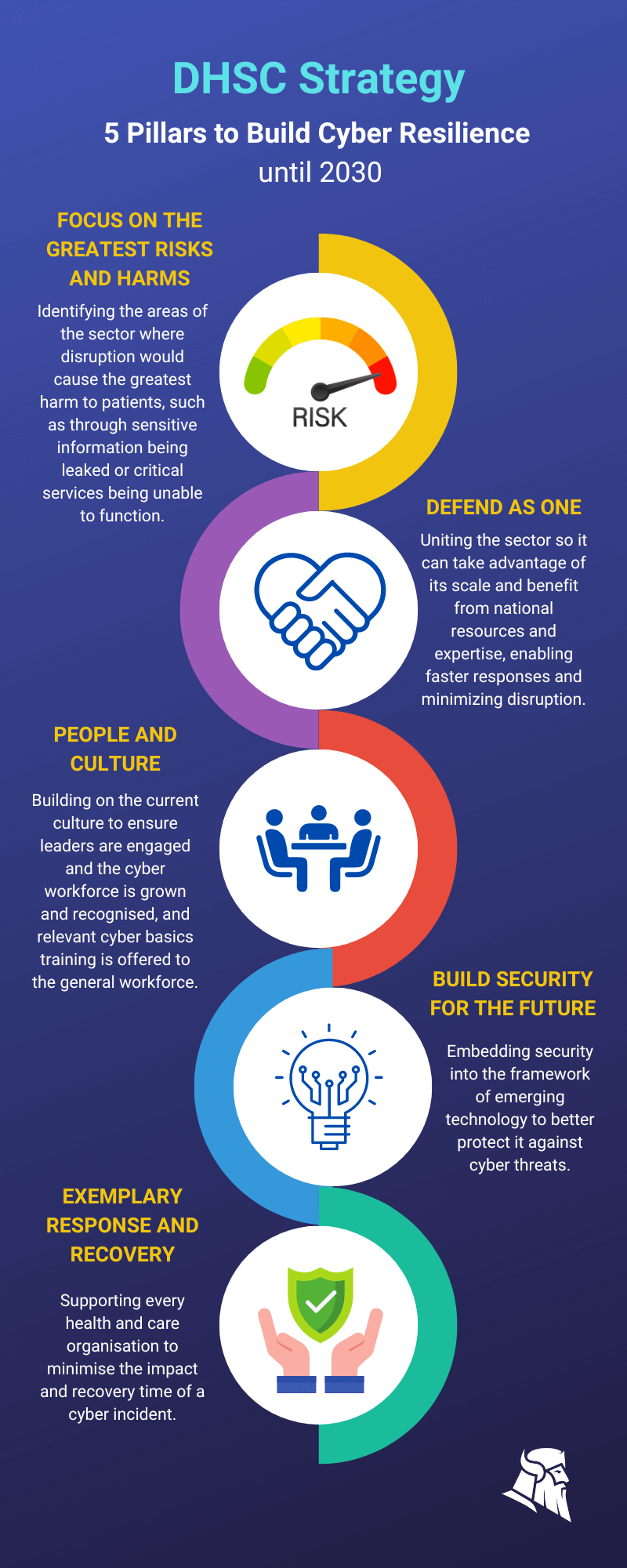 In the summer of 2023, a full implementation plan will be released, including precise actions and specifying measures to create and measure resilience over the next two to three years.
How Can Heimdal® Help?
Heimdal is helping NHS, among other healthcare institutions build a multi-layered cybersecurity strategy and cover all attack fronts, offering protection against: advanced ransomware, insider threats, admin rights abuse, APTs, software exploits, brute force attacks, DNS and DoH vulnerabilities, phishing and social engineering, and many other known or hidden threats.
We are actively supporting the fight against cybercrime since 2014. For the last 9 years, we've been protecting 3 million endpoints for over 11,000 organizations worldwide via a unique security offering: a portfolio of eleven state-of-art products that operate under a single dashboard.
Our EDR and XDR/SOC services provide all of the components required for a strong, layered defense: Threat Prevention, Patch and Asset Management, Next-Gen Antivirus, Ransomware Encryption Protection, Privileged Access Management, Application Control and, our latest addition – Heimdal®'s Threat-Hunting and Action Center, a revolutionary new product with granular telemetry, built-in hunting, and remediation capabilities, all in one unified platform. On top of that, we also provide a team of XDRs monitoring our clients' cyber environment 24/7.
Reach out to our consultants at sales.inquiries@heimdalsecurity.com and book a demo to find out which solution suits you best.
Neutralize ransomware before it can hit.
Heimdal™ Ransomware Encryption Protection
Specifically engineered to counter the number one security risk to any business – ransomware.
Blocks any unauthorized encryption attempts;
Detects ransomware regardless of signature;
Universal compatibility with any cybersecurity solution;
Full audit trail with stunning graphics;
Compliance with Cyber Essentials
If your company is located in the United Kingdom, Heimdal can help you become Cyber Essentials compliant. Our products will help you get coverage across all relevant areas.
Cyber Essentials scheme is a Government-backed, industry-supported certification and run by National Cyber Security Centre (NCSC). Many non-governmental organizations depend on Cyber Essentials to win or accept government contracts in the United Kingdom. As a consequence, one of the requirements for being fully compliant and providing services to the UK government is Cyber Essentials.
Heimdal's comprehensive cybersecurity solutions can help your UK-based company achieve Cyber Essentials compliance quickly and efficiently, as well as remain compliant in the long run.
The table below shows how our services and solutions correlate with the CE components: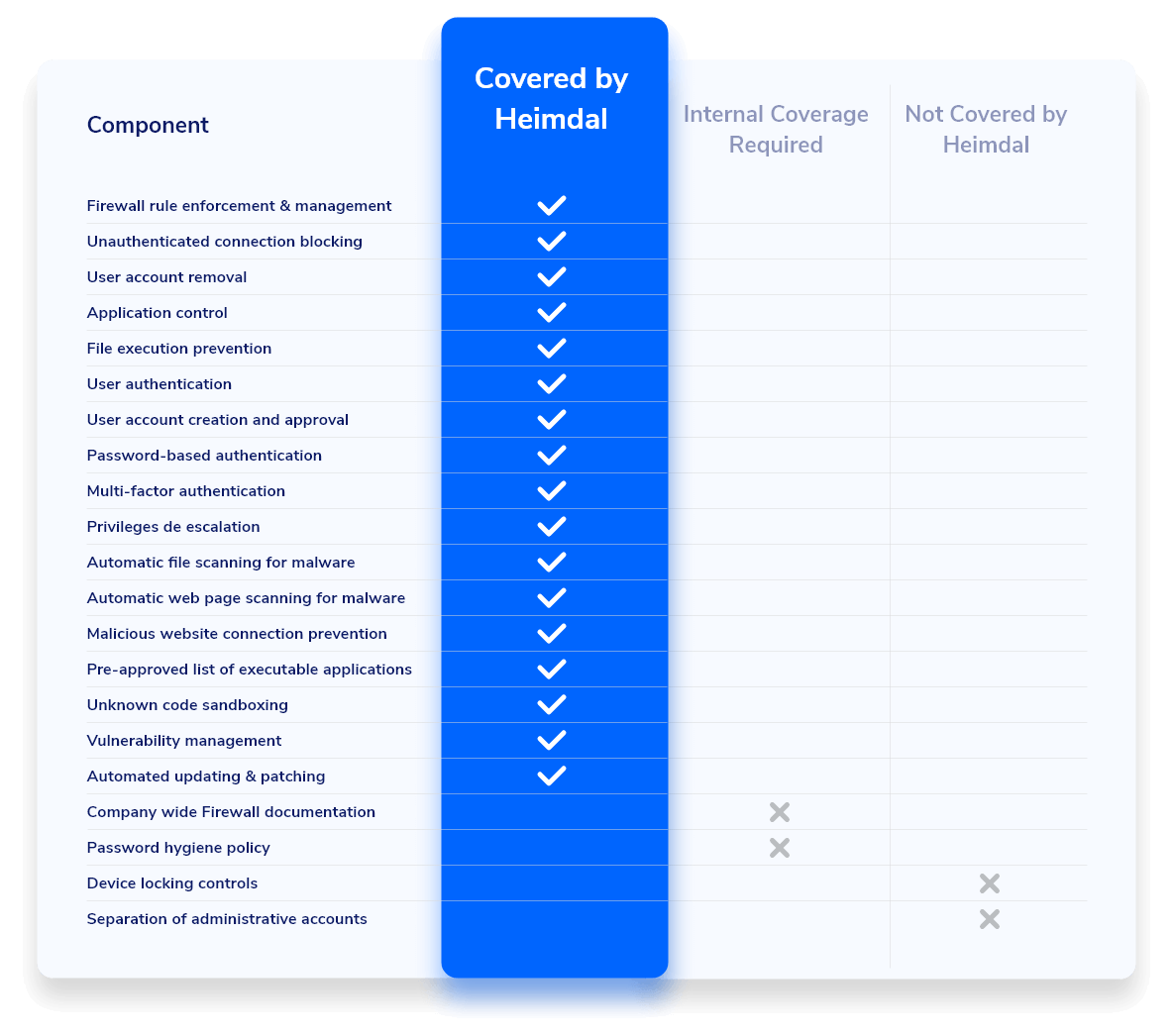 If you liked this article, follow us on LinkedIn, Twitter, Facebook, and YouTube for more cybersecurity news and topics.
Do you work for an NHS Trust? Heimdal is giving you free ransomware licenses to combat growing cyber attacks.
Get your free ransomware protection here .