50+ Useful Cyber Security Online Courses You Should Explore
Learn more, start a career or improve your skills
LAST UPDATED ON
FEBRUARY 9, 2018
Finding the best cyber security courses is incredibly difficult, so we wanted to make it easier to gain knowledge in this area. This is why we put together this list of 50+ cyber security online courses.

Use the links below to explore the cybersecurity resource you're most interested in:
Free courses for regular users
Free and paid courses for small businesses
Courses for beginning an infosec career
Free
Paid
Courses for advanced infosec professionals
Free
Paid
Whether you're a regular user wanting to be informed, someone looking to improve their career or own a small business, cybersecurity courses are the way you will learn how to protect yourself and your information online. We hope you will find these resources valuable because we will continue to update them periodically.
Free online cybersecurity courses for regular users
Cyber Security for Beginners
As the creators of the Heimdal suite of anti-malware products, we receive a lot of messages from users who want simple, straightforward explanations on cybersecurity terms and advice.
Here is a free, email-based online course comprised of 20 step-by-step lessons that will teach you how to secure your information and devices.
You can register and receive free lessons every 2 days, delivered straight to your inbox.
FutureLearn
We've taken a few courses ourselves and found them to be amazing resources to ensure your data protection on a personal level.
Introduction to cybersecurity is well-structured and has great assignments. Cybersecurity: Safety at Home, Online, in Life offers 3 weeks of practical, guided training.
Udemy Cyber Security Guides and Resources
Udemy is a great platform for learning a lot of new skills. On the cybersecurity front, start with these 3 guides:
The Daily Security Tip
This is not a cybersecurity course per se, but it's a fun way to understand online security and get actionable tips to protect yourself online. Signing up gives you a security tip every day, for a full year, delivered to your inbox.
Courses for small businesses
The Cyber Security Course for Small Business Owners
This course is developed by the Heimdal Security team in partnership with the London Digital Security Centre (LDSC).
This course has two parts. In it, you will learn the basics of cybersecurity for yourself, then the essential safeguards for your business. It includes protecting your clients' data and adapting to the EU Data Protection Regulation, also known as GDPR, a new set of regulations that will affect companies around the world.
Futurelearn
This cybersecurity course is dedicated to small and medium enterprises and takes 6 hours total. It includes examples of famous cyber attacks like The Panama Papers and tools and strategies to avoid security incidents.
Cyberplanner by FCC.gov
The FCC.gov website offers wonderful, self-guided course cybersecurity for small businesses. The tool allows you to pick what areas you want to improve on.
SBA Cybersecurity for Small Businesses
This is a self-paced training exercise that covers topics like best practices, the importance of data security and risk management methods.
Udemy Cyber Security for Small Business
This paid course is for absolute beginners in information security as it applies to run a business. It will include practical steps to avoid attacks, how to avoid ransomware and more.
Courses for beginning an infosec career
Free courses
Leap Cyber Security courses
The same 101 and 201 free courses we mentioned as useful for those owning small businesses could be great for your career.
As we said, they include information on things like frameworks for improving critical infrastructure cybersecurity,  secure DNS deployment, enterprise patch management technology and more. This means they can provide you with a lot of insight into organizations and cultures.
Cybrary.it
This intermediate course will be very appealing for those fascinated by hacking and can be done in less than a week.
We can also recommend the CompTIA Security+ for beginners and the Secure Coding micro-course, but you will find a lot of other great training materials there.
Greycampus
In the Open Campus section of this website, you will find plenty of great free cybersecurity resources. We recommend the Ethical Hacking course, as it's a great intro to those who want to start a pen-testing career.
Paid courses
SANS SEC560
One of the most acclaimed courses available, SEC560 Network Penetration Testing and Ethical Hacking prepares you to conduct high-value penetration testing projects step-by-step and end-to-end. There is also a free demo available.
EC-Council Certificate Ethical Hacker (CEH)
The CEH is one of the best and widely known penetration testing courses and has a lot of diverse modules.
Udemy
Volume 3 of The Complete Cyber Security Course: Anonymous Browsing is really insightful for the future cybersecurity specialist. It focuses on protecting your online anonymity, detailing things like VPNs, proxies, and the Tor browser.
Of course, Udemy is one of the best platforms for learning new skills, so explore what they have to offer.
Courses for advanced infosec professionals
Free courses
ISIS Laboratory
This course was developed from the materials of NYU Poly's old Penetration Testing and Vulnerability Analysis course.
MIT Open Courseware
Network and Computer Security and Computer Systems Security are both great options to consider for advancing your professional knowledge at no cost.
OpenSecurityTraining.info
These training options include beginner, intermediate and advanced classes and they're all FREE of charge! Subjects range from Android forensics to secure coding and vulnerability assessment.
Khan Academy
Intro to Cryptography is a great way to learn about code-breaking and how cryptographic methods work.
Rapid 7
Metasploit Unleashed is an ethical hacking training course that will help you dip your toes in the waters of penetration testing for free. And you'll also be able to make a charitable donation for a good cause, should you feel like it.
Cybrary.it
Cyber Security is an amazing resource of free online cyber security courses for professionals of various levels and experiences. You'll be able to learn about social engineering, computer forensics, ethical hacking and more, just by investing your time and energy.
Coursera
Coursera offers plenty of options, being one of the biggest MOOC platforms in the world. You can start with any of the courses we picked below, but you should also explore the course list according to your interest. Don't forget to use the handy filters: categories, language, if it's eligible for certifications or specializations and if the course is on demand.
Udemy
A good selection of free courses for more advanced cybersecurity professionals includes:
Georgia Tech College of Computing
Introduction to information security is presented as "a graduate-level introductory course in information security," so you should be prepared for a structured way to learn a lot about the fundamental elements of information security.
Looking to get more info about this particular program? You can find it right here.
SANS Cyber Access
By taking this course, you'll be able to explore the three fundamental areas of information security: Operating Systems, Networking and Systems Administration. You'll consolidate both your skills and knowledge, so you can start whenever you're ready.
OpenLearn
An introduction to information security requires that you're quite advanced in your knowledge of cybersecurity. The course focuses on the importance of cybersecurity in a business context, while also emphasizing its impact on the organization. Very useful for those who want to grow and reach higher ranks in their company's cyber security department.
There will be 1 to 2 million cybersecurity job openings in 2018 and a need for 6 million cybersecurity analysts – what will do about this opportunity?
If you're a cybersecurity professional, you'll certainly agree with me when I say that:
Investing in your continuous development is essential!
So if you're already set on spending some money (wisely) on a great training program, here is the list of courses we discovered:
Paid courses
Carnegie Mellon University, Software Engineering Institute, CERT Division
This amazing platform lists 3 major categories of courses:
Incident Handling
Network & Software Security
Risk Assessment & Insider Threat.
CERT is a major institution when it comes to cybersecurity training, so you can fully rely on their resources to help you achieve your professional development goals!
SANS Institute
They also offer Online Security Training, so do check it out, because they're as trustworthy as CERT in the field. You can take the course in various forms, from on-demand to live or through self-study, whichever fits your way or learning best.
Coursera
We have to mention them again because on Coursera you'll find an entire specialization dedicated to Cybersecurity Fundamentals. You can earn the following knowledge and abilities:
Usable Security
Software Security
Cryptography
Hardware Security
The specialization is created and taught by professors and specialists from the University of Maryland, College Park, and also by industry specialists.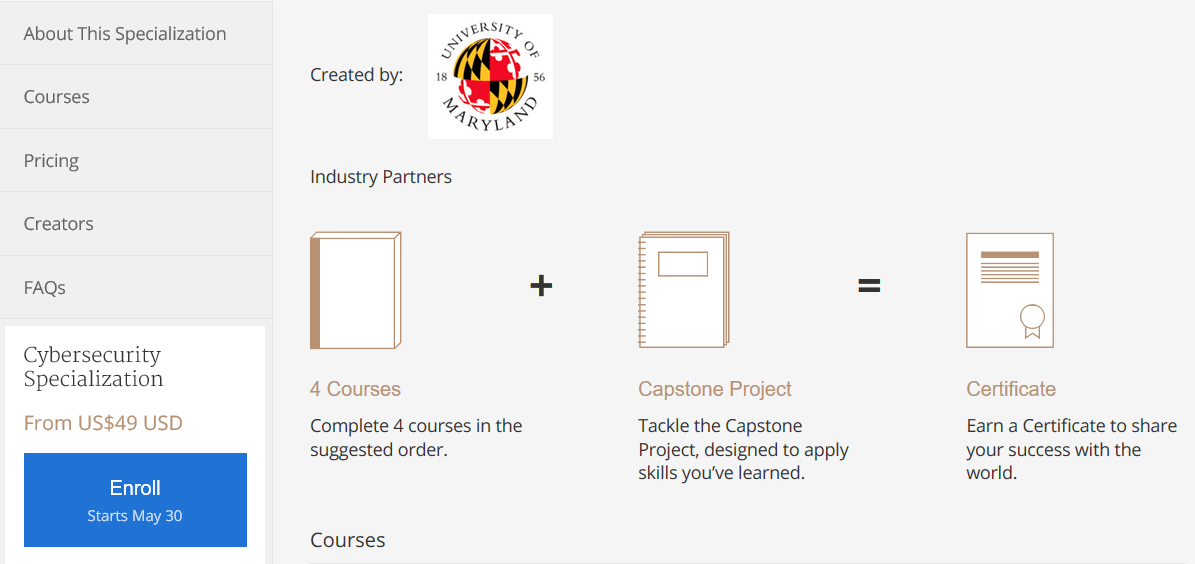 Canvas Network
Information Security and Risk Management: An Overview will help you become more aware of the legal implications of managing cybersecurity in organizations. Study topics include:
Information security strategies and individual privacy
Legal security implications
Medical health record confidentiality and integrity
Cutting-edge technologies.
Learning Tree
From "Cyber Security for Management and the Boardroom" to "Cyber Security: Accessibility and Quality", LearningTree offers a wide range of courses for infosec professionals.
You should take your time to read the course descriptions thoroughly before starting a course and see where they fit in your career path.
Stanford University
You can pick your favorite from various courses offered by this prestigious institution:
Know that these courses require advanced skills and knowledge to complete.
Security Tube
Security training online courses provides at least two interesting subjects to study:
PentesterAcademy
Here you'll find some very technical and very specific cybersecurity courses, such as:
These courses boast using real-world scenarios which will help you try your hand at situations that you can come across in your professional practice.
The Virus Doctor
Advanced Techniques for Virus Removal is a great course for those involved in the business of computer repairs and assistance. As technology evolves, more people will need help with identifying malware infections and mitigating their impact, so this course could help you improve your business.
Infosec Institute
As the name says, the Infosec Institute focuses on helping cybersecurity and IT professionals keep the extra-fast pace of the field they work in.
The list of live courses is very appealing, as you can see from the sample below:
Information Security
Information Assurance
IT Audit
Microsoft
Cisco
8570.1
CompTIA
Secure Coding
Linux
Project Management
ITIL.
More cybersecurity resources to follow!
I really hope that this list of cyber security online courses gives you a good starting point to find exactly what you need to improve your knowledge and skills!
Do you have more insight?
If you have any recommendations, please send them in a comment below and I'll be happy to add them to the list!
Are you new to MOOC (massive open online courses)?
Here is an article about Coursera, Udacity and edX will help you get a better picture of how you can explore them to your benefit.
This article was published by Andra Zaharia on May 17, 2016, and updated by Ana Dascalescu on February 9, 2018.