Understanding IT Asset Lifecycle Management
What It Is and How to Structure It. Main Stages of IT Asset Lifecycle Management.
LAST UPDATED ON
FEBRUARY 26, 2021
Tracking IT assets using IT asset management software can be vital for the operational and financial success of your organization. For this reason, having an effective IT asset lifecycle management (ITALM) process in place is crucial.
But how exactly do we define IT asset lifecycle management? Basically, it is the centerpiece of IT asset management. ITALM helps your organization to increase employee productivity by helping you make informed decisions regarding IT needs and services. If you're wondering how can you achieve that, it's quite simple: by checking different resources and follow their lifecycle phases. For instance, if you know that an IT asset from your inventory has a license that is about to expire, you have enough time to renew it. If you're not aware of that information, your notice is shorter, and the whole situation will result in unnecessary stress.
According to Gartner,
Lifecycle management practices are required to improve the return on investment for IT assets, avoid internal and external audit consequences, and adopt future technology.
How to Structure IT Asset Lifecycle Management
When creating an efficient IT asset lifecycle management process, you should have in mind three principles:
#1. A Clear Management Strategy
The executive level and the IT department should be sharing a common vision. To make sure they're on the same page, you should discuss business requirements in such a matter that all teams can fully understand. In the end, the main goal is to reach an agreement regarding your business objectives and strategy implementation.
It should be a strategic plea to how business is conducted, how decisions and processes are made and used, and you pass on this information. Developing a strategic IT asset management plan will help your organization provide services more efficiently and get the highest amount of worth from its assets.
At the same time, creating a strategic IT asset management plan will allow you to understand how and how much of your assets are being used. With this information, you can define the lifecycle value of an asset and plan it accordingly. What's more, unnecessary assets can be disposed of, and you can generate extra funding from their sale.
#2. Defining Organizational Design
For your plan to succeed, each role and responsibility in your organization should be clearly defined. Qualified resources must be available to achieve the ITAM objectives.
As soon as you've figured out the people and processes, you should:
Collect assets information
Decide what assets to focus on
Develop a strategy for every asset
#3. A Long-Term Asset Plan
ITAM planning should go a good way off from short-term thinking. With long-term asset management, on the other hand, you'll be capable of predicting infrastructure investments, a crucial move for a business' product quality and performance reliability. To be able to decide how to invest limited capital you first need to understand both the current and future condition and capacity of your company's infrastructure. Finally, you need to understand the associated costs and risks of implementing or postponing system improvements or developments.
System admins waste 30% of their time manually managing user rights or installations
Heimdal™ Privileged Access Management
Is the automatic PAM solution that makes everything easier.
Automate the elevation of admin rights on request;
Approve or reject escalations with one click;
Provide a full audit trail into user behavior;
Automatically de-escalate on infection;
Stages of IT Asset Lifecycle Management
As soon as you establish these principles and have figure out which assets you need to prioritize, you can begin developing your ITALM plan. This will allow you to benefit from their value and avoid potential risks for your organization.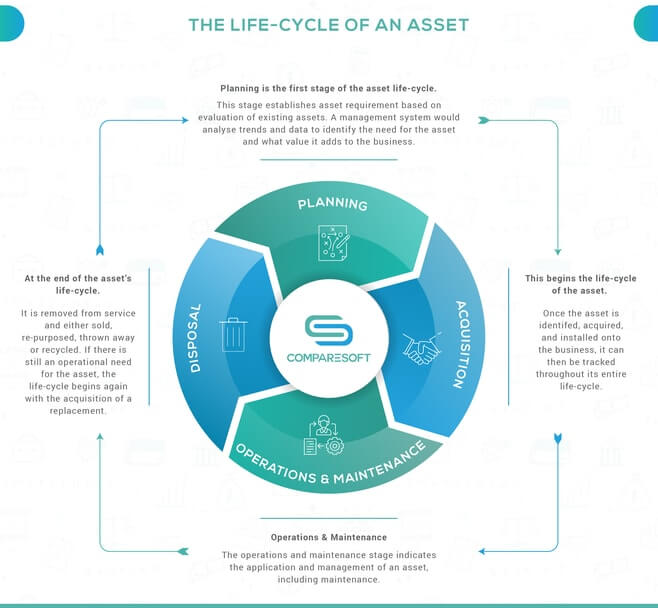 According to ITAM experts, a basic strategic IT asset lifecycle management plan should include four stages:
#1. Planning
Before procuring an asset, it first needs to be identified in this first stage, planning. You need to make a business case by pointing out what it will be used for, its estimated costs, etc. Next, the asset is evaluated based on your necessary criteria.
#2. Acquisition
The second stage of ITALM is the acquisition or procurement of the asset and the associated activities. Before purchasing it, various options need to be researched, pricing compared, trials, or demos tried. Afterward, the asset is installed, built, and delivered.
#3. Operation and Maintenance
At this moment, the asset is being put to use, providing the purposed service to your organization. Proper maintenance and upgrades should be provided regularly across its lifecycle so that you'll be allowed to make the most of your investment and benefit a long time from your asset.
#4. Disposal or Replacement
As you can imagine, this final stage of the IT asset lifecycle takes place when the asset is no longer profitable for the business, the costs for operational/maintenance become sky-high, or the asset is at the end of its operative and efficient life. Therefore, the asset should be deactivated and disposed of properly, or replaced with a new one, focusing on financial and environmental sustainability, and, above all, security.
Wrapping It Up…
It is very important to understand the condition and evolution of all assets in your organization through all the stages mentioned above. Luckily for you, now you can cut down manual efforts and guarantee accurate information with the help of Asset Lifecycle Management. Also, remember that our Heimdal™ Patch & Asset Management solution allows you to deploy software, close vulnerabilities, achieve compliance, and see all software assets, thus mitigating breaches, data leaks, environment compromise, exploits, and compliance fines.