REvil Ransomware Gang Warns to Leak New Apple Logos and iPad Plans
REvil Ransomware Gang Mysteriously Removed Apple's Schematics From Their Data Leak Site After Warning Quanta About Wanting to Leak Drawings for the New iPad and New Apple Logos.
LAST UPDATED ON
APRIL 28, 2021
The well-known ransomware gang, REvil, conducted an attack on Quanta, a Taiwan-based original design manufacturer (ODM) involved in the manufacturing of the Apple Watch, Apple Macbook Air, and the Apple Macbook Pro.
It seems that as a part of the attack, the attackers stole data belonging to the company, like drawings and schematics meant to be used in relation to some Apple products.
Quanta did not pay the $50 million ransom requested by the attacker group, therefore REvil began posting the stolen schematics for Apple Macbooks on their data leak site, whilst also warning Apple they should buy back the data by May 1st or more data would be leaked.

REvil is not known for being the most kindhearted attacker group out there, or for giving up very easily, so it came as a surprise to find out that the ransomware gang had removed the Quanta leak page that was including the Apple schematics and drawings.
The journalists at BleepingComputer have discovered a private chat between REvil and Quanta created four days ago in which REvil informed Quanta they hid the data leak page and will stop talking to reporters in order to allow the negotiations to continue, and that "Having started a dialogue with us, you can count on a good discount."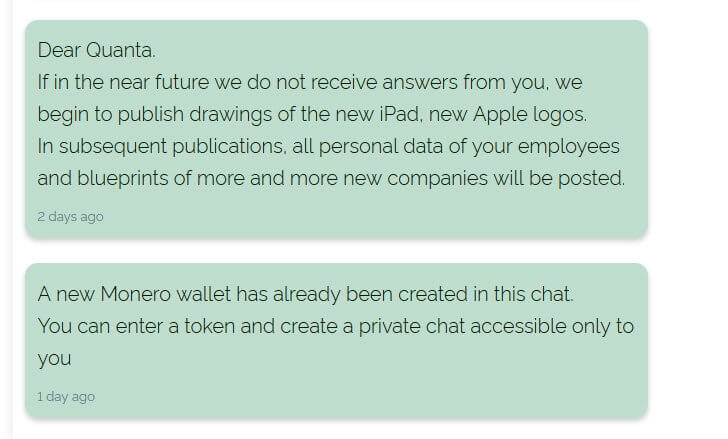 From what we know at this time the discount is reducing the ransom demand from $50 million to $20 million and offers a new deadline of May 7th.
Your perimeter network is vulnerable to sophisticated attacks.
Heimdal® Network DNS Security
Is the next-generation network protection and response solution that will keep your systems safe.
No need to deploy it on your endpoints;
Protects any entry point into the organization, including BYODs;
Stops even hidden threats using AI and your network traffic log;
Complete DNS, HTTP and HTTPs protection, HIPS and HIDS;
For now, it is unknown if Quanta is communicating with REvil within another chat or if negotiations have stalled.