Internet Safety for Kids – 10 Actionable Tips
Or what you can do right now to keep your kids safe when navigating online.
LAST UPDATED ON
MARCH 12, 2015
These 10 actionable tips will improve the Internet safety for your kids and we recommend that you follow them now.
The online sphere and technology improved our lives and our kids' knowledge base. They learn more, they find out more about life, society and basically anything they choose to discover.
At the same time, the information highway brings forward not only high speed connectivity and a wealth of data, but an increasing danger for our children, since the online medium is a volatile space that one cannot control.
Tools that we use to remain invisible and private from government control and spy agencies, like proxy servers, VPNs or anonymity networks like Tor, are at the same time possible weapons for cyber-criminals or individuals that try to take advantage of a child's lack of experience.
What they could obtain from a child is difficult to predict. It could be sensitive financial details from his parents, such as credit card information or online bank account credentials, but there could also be another, more dangerous aspect, the possibility of meeting an online sexual predator.
It's not just the increasing presence of dangerous individuals in the online that our children should keep distance from, but the growing number of malicious content that targets even legitimate websites.
Online protection for children is hard to deliver in just one article, but we can present the most important steps a parent can take to keep a child protected from online dangers.
Internet Safety for Kids in 10 Steps
1. Make sure to always have access to your child's computer.
It doesn't mean that you need to verify every day what happens on the computer. But once in a few weeks, you can take a look on what websites have been accessed or what kind of content has been downloaded on the system. If you have the possibility, monitor the chat rooms, the IM applications and the received e-mails.
We need to emphasize that online sex-offenders usually meet their victims by accessing chat rooms. And as soon as the communication has been established, the relationship usually continues by a long time exchange of e-mails.
In the unfortunate case that you discover your child could be the latest target or victim of a sexual offender, there are two actions you can take. First, talk to your child and clarify the situation. Second, if you discover actual proof of more than sexual innuendo taking place in their conversations, then you really need to do something about it and contact the local authorities.
2. Teach your children about online dangers.
Learning is not a destination, it is a process. In a changing environment we need to establish fast the limits of our liberty to access unfiltered content and the potential dangerous phishing attempts that could pose a threat to our families.
And this is actually the best step you should follow. Teach yourself about malicious software and hackers before you develop any action on the Internet or access the online bank account.
The following questions could prove useful for you and your family:
These are just a few topics you and your family should address. To find answers to the questions above, simply access the corresponding links.
3. Let them teach you. Or simply listen to them.
Staying online is a risky business and we cannot really predict where a discussion or comment will take us or what type of people we may encounter on a social media platform.
You may check their computers, their smartphones or any other devices they might use to connect to the world wide web. You can find out who they know and whom they listen to.
But how much do we actually know about our children?
In just a few words…not very much, because there will always be ways and methods to evade our attention. So, this time you need to listen and let them teach you about the social media platforms they use or the latest viral on Youtube.
Really now, this is by far the easiest way to obtain information on their online habits, then losing time on spying their computers and trying to understand their browsing history.
So, just listen to them. Pretend that you don't know too much about this Internet thing and let them start talking. There's nothing more exciting for children than pretending to be teachers for a little time. Not to mention the trust they gain in themselves and finally, in You.
4. Online actions have real consequences.
It is difficult to understand for a child that Internet is a dangerous location. How could anyone explain a child what a sexual offender is, when they didn't even start their sexual education?
Should we solve this quickly by teaching them to avoid talking to strangers or maybe, we can help children improve their intuition on security risks?
Various choices and decisions can be made to increase our family's security strategy, but we need to establish what is it that we are afraid of. The limits that we impose may increase our online security strategy, but at the same time, we risk to block the natural development process that drives our children forward.
How much do we tolerate and what can we actually control is a different topic that we need to answer, before we can create a security framework for our family.
For the moment, children need to acknowledge that online actions lead to real consequences. Not paying attention to what we choose to access may lead to serious malware infections. Using the parents' credit cards on any website may lead to losing money. And if we are here, we need to say it: Cyberbullying should not be accepted by any parent.
5. Install a good antivirus product on the computer.
Are your children using a separate computer from you? Are you using the same computer? It doesn't really matter. Security is security and each computer should be protected from online threats and malicious software.
Since children are naturally attracted by new things and have less experience, they follow easily dangerous links and untrusty websites. Not to mention the tendency to download and install video games from unknown web locations, a content which could easily infect the entire operating system.
Therefore, you need to have a good antivirus product from a reliable company and this solution must include a real-time scanning engine, a firewall and automatic update. Also, guide them and teach them how to enjoy the Internet safely
To help you determine what is the best solution for you and your family, you could access the test results provided by companies in the online industry, like AV Comparatives, PC Magazine, AV-TEST or Virus Bulletin.
6. Use parental control software to monitor your child's online behavior.
Software companies have already considered the possible issues that could appear from kids' unrestricted access to online content. For this reason, we find many parental control solutions that address and try to limit this problem.
Should you use such a software or not? How much do you trust your child's intuition? And how likely is that your child will involve in unsafe activities that could compromise the operating system or your financial situation?
Since parental control solutions are in use by quite some years now, you may find useful having a software that acts like an online guardian. These solutions can help monitor the Internet usage, keep track of visited websites,
control the Internet connection time, block malicious or porn websites, block games and report any unusual online activities.
This website can help you choose a free parental control software for your family.
7. Keep your child's software up-to-date.
Make sure the Windows operating system used by your child has all the latest security patches installed. These updates are important because they contain stability and security fixes that shield the system against cyber-criminals attempts.
It has been proven that hackers usually gain access to operating systems by using security holes in software, like Adobe Flash, Java or popular browsers like Internet Explorer, Mozilla Firefox and Google Chrome.
That's why you need to check the PC used by your children and make sure they have the necessary security patches. To avoid this task which could take some time if you have a few computers in the house, we recommend using a free
dedicated solution to do the job.
8. Don't let them go online without anti-spyware protection.
Spyware is a software program that monitors your private Internet connections. But, as everybody knows there are many signs of alarm that could indicate such an infection on the system.
So, if you hear your child complaining about slow-down issues, pop-ups all over the screen, new toolbars, a different default engine or random error messages, this could mean a spyware issue that you need to address.
To stay safe from such a problem, talk to your child and teach him a few basic things to keep things clear:
don't click suspicious links or pop-up windows
don't answer to unexpected questions
don't involve in chat sessions with strangers
be careful to drive-by downloads in free applications
Even better, use popular anti-spyware products available online, like Malwarebytes or Spybot Search and Destroy.
9. Secure your Home Wireless network.
The home Wi-Fi network is usually accessed only by members of the same household, but that doesn't mean that dangers don't exist and additional steps should not be followed to increase the home network security level.
Access our dedicated article to home network protection and follow a few simple, but vital steps like imposing a password for the network and another one for the network administrator, or using a good firewall to block hackers from accessing the network computers.
It is important to protect the home network and the computers that are part of it, because a security breach on one computer could compromise the entire network. And this is something parents should be aware of.
10. Pay attention to WiFi networks outside your home.
Your children may be safe at home, but with so many Wi-Fi public networks they connect to, how can we be sure they will remain safe?
The free public WiFi networks are everybody's favorite places to stay up-to-date and check their social media accounts. And it's not just children, we all do it.
We go everywhere and enjoy a coffee at Starbucks, without even thinking about the online dangers or hackers that could wait for our connection to start. Even if we can't be anywhere, there are still a few things we can do to greatly improve their online security.
First, make sure the laptop they use has some sort of protection, like anti-spyware or antivirus protection and an update solution to keep the software sealed against exploits and security breaches.
Second and more important, information is the secret for your kids' online safety, no matter where they are, so read this article or better yet, have them read it.
Conclusion
We cannot deny the fact that Internet opens a world of possibilities for children and brings together different cultures and people from various corners of the world.
Therefore, online connection services or social media networks are great means for improving our communication speed, but they still serve as best tools for disturbed individuals to reach your kid's sphere of interest.
And it's difficult to fight these dangers, when we have an online medium in an ever-shifting and unpredictable world.
In the end, our problem is twofold.
We need to teach children that dangerous people exist in the online and they might pose a threat for their development. But we also need to "preach" online protection from malware threats and phishing attempts that usually target unaware or uneducated minds.
How do you keep your kid safe from online threats? What methods are you using?


The easy way to protect yourself against malware
Here's 1 month of Thor Foresight Home, on the house!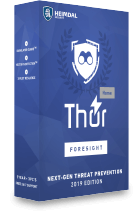 Use it to:
Block malicious websites and servers from infecting your PC
Auto-update your software and close security gaps
Keep your financial and other confidential details safe
This post was originally published by Aurelian Neagu in March 2015.