DDoS-as-a-service Attacks. What Are They and How Do They Work?
LAST UPDATED ON
MARCH 17, 2023
This is the time to remind you again that online threats are always changing and so should your cybersecurity strategy. You know all the major types of cyberattacks that could impact your organization, but hackers took everything to another level with the cybercrime-as-a-service model.
Today we talk about DDoS-as-a-service, a practice that combines DDoS (Distributed Denial of Service) attacks with service providing. Let's see why these types of attacks are getting more dangerous, how they work, and how you can protect your money, data, and reputation.
What Is DDoS-as-a-service?
DDoS-as-a-service is part of the cybercrime-as-a-service model and implies a hacker providing DDoS (Distributed Denial of Service) attacks for money. The vendor usually owns a botnet and advertises his services on the Dark Web. The buyer – who can be another hacker or a random individual – selects the target, the type, and the duration of the attack. The fee they agree upon is most of the time paid in cryptocurrency. The anonymity of this transaction is guaranteed, as there is no contact between the hacker and the buyer.
Today you no longer have to be a skilled hacker to perform a successful cyberattack. Going online, you can find the perfect DDoS-as-a-service for you after a simple search. The price isn't also an obstacle. As every flourishing business does, cybercriminals offer discounts, loyalty programs, memberships, and subscriptions. Consequently, the number of attacks grew, putting at risk both companies and individuals.
How DDoS-as-a-service Works?
Threat actors offer DDoS-as-a-service attacks at a variety of prices. It can cost $30 per day or $10-5 per hour. The fee fluctuates according to the size and duration of the attack, but also to the kind of botnet network utilized by the vendor. If the target uses an anti-DDoS softer, this can also rump up the costs.
The technical details of a DDoS-as-a-service attack are no different from a classic DDoS attack. The aim is to stop an online service from working by flooding it with data from many different sources. The huge volume of traffic makes the chosen target slow down its processes or even crash.
The botnets are used by vendors on the Dark Web because this way they can generate the necessary amounts of traffic for this type of attack. Depending on the directions given to the attacker by his client, the attack is either stopped or continued.
The reason behind such an attack can vary from trying to harm business competition, extortion, political beliefs, etc. Sometimes a DDoS-as-a-service is used to distract the victim's attention, intimidation, or as a step in a larger-scale attack. Cybercriminals can use it to keep the victim busy while the main goal is to inject malware.
DDoS-as-a-service Tools
As the popularity of these attacks grew, so did the tools that can be used to perform them. The dark marketplace offers a variety of powerful and cheap DDoS-as-a-service tools.
This type of software merges multi-vector DDoS attacks with large traffic volumes. In consequence, companies are forced to implement better protection against DDoS attacks.
DDoS-as-a-service tools include:
Booters
These are basically botnet networks that are leased for a fee. The buyers can use them to launch attacks. Vendors make sure to have a user-friendly interface and some additional tools like Skype resolvers, or IP trackers. Hackers prefer them because booters are harder to track.
Stressers
These tools are designed to test the strength of a network or server. Using them, you can tell the traffic load they can handle. However, stressers enable threat actors to "test" a chosen target, disrupting its processes. This practice is illegal, making it a cybercrime.
How Can Heimdal® Help?
In the fight against DDoS-as-a-service, Heimdal Endpoint Detection and Response offers a complex cybersecurity technology. We design it to protect endpoints, continuously monitor them for anomalies, and respond to mitigate cybersecurity threats.
When threats arise, Heimdal's EDR provides greater visibility into corporate endpoints. Also allows for faster response times, stopping an attack at its beginning.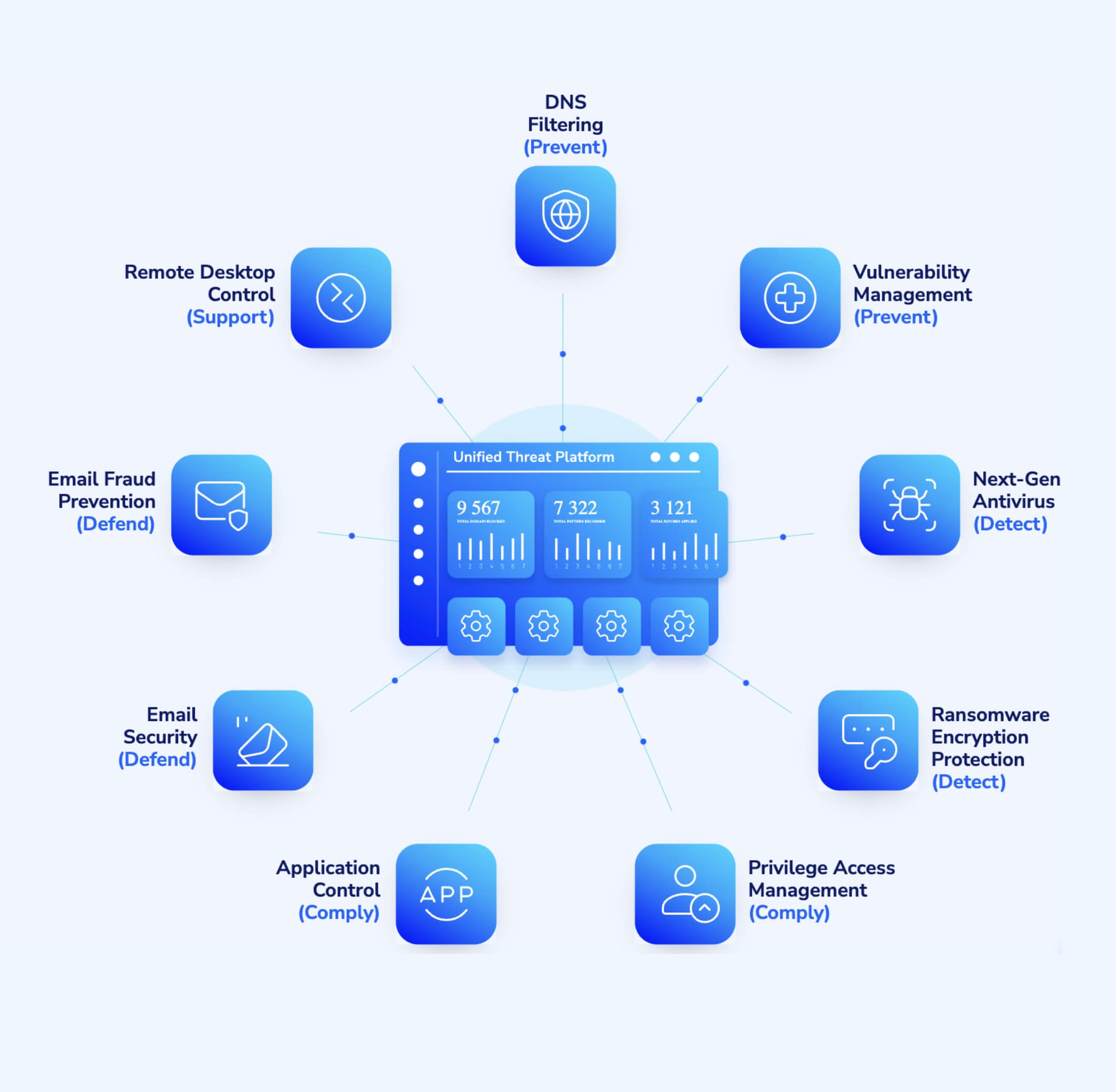 Some of our most crucial modules are included in our EDR service: Threat Prevention, Patch and Asset Management, Next-Gen Antivirus, Ransomware Encryption Protection, Privileged Access Management, and Application Control.  They ensure the following features: automated detection and remediation, machine learning, threat intelligence, application control, patch and vulnerability management, privileged access management, intelligent alerting, and reporting.
Antivirus is no longer enough to keep an organization's systems secure.
Heimdal® DNS Security Solution
Is our next gen proactive DNS-Layer security that stops unknown threats before they reach your endpoints.
Machine learning powered scans for all incoming online traffic;
Stops data breaches before sensitive info can be exposed to the outside;
Advanced DNS, HTTP and HTTPS filtering for all your endpoints;
Protection against data leakage, APTs, ransomware and exploits;
Wrapping Up…
DDoS-as-a-service providers make cybercrime more affordable, simple, and available. You no longer need extensive knowledge or money to do serious damage. You can hire a hacker for a reasonable fee to do it for you.
This is especially threatening for organizations that now can face a larger number of cybersecurity incidents. But individuals al also affected, as hackers can direct their efforts into disrupting public institutions' activity, for example.
You should look into protection measures before irreparable damage occurs. Choose a security software that can protect your company's infrastructure from DDoS attacks.
If you liked this article, follow us on LinkedIn, Twitter, Facebook, and YouTube for more cybersecurity news and topics.