Cryptocurrency Scams to Heavily Target TikTok Users
Threat Actors Post Fake 'Elon Musk' Cryptocurrency Giveaways.
LAST UPDATED ON
SEPTEMBER 18, 2023
Cybercriminals heavily target TikTok users with cryptocurrency giveaway scams. The vast majority of the posts impersonate Elon Musk and relate to Tesla or SpaceX.
These types of posts have been on other social media platforms – Instagram and Twitter – for years. But now the scammers have moved to the video-sharing platform.
Cryptocurrency Scams on Social Media
Impostors often masquerade as celebrities, or cryptocurrency platforms, and frequently assume the personas of individuals like Elon Musk or entities like SpaceX, in order to trick users.
These scammers created hundreds of websites designed to mimic cryptocurrency exchanges or giveaway platforms. These deceptive sites encourage users to create accounts, promising them free cryptocurrency rewards.
Unfortunately, these scams consistently follow the same pattern: they abscond with any cryptocurrency deposits, leaving users empty-handed.
These scams have managed to pilfer millions of dollars in cryptocurrency from unsuspecting social media users.
How Cryptocurrency Scams for TikTok Work?
Scammers post fake cryptocurrency giveaways on TikTok every hour.
They can be deep fake videos with Fox News or other networks interviewing Elon Musk to promote a phony cryptocurrency giveaway. Or just demonstrating how to use a promo code to receive free Bitcoin by logging onto one of the linked websites.
Almost all cryptocurrency scams use the same template, which pretends to be a crypto investment platform. Furthermore, any of the videos feature web domains that bear a striking resemblance to legitimate ones. Examples include bitoxies[.]com, moonexio[.]com, altgetxio[.]com, and cratopex[.]com.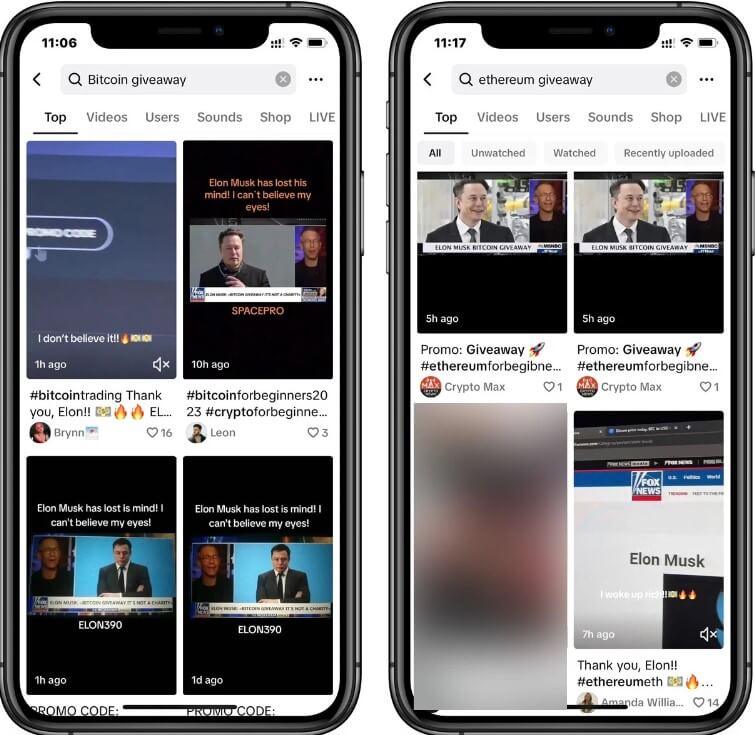 BleepingComputer (Source)
To participate in these supposed giveaways, users are encouraged to complete a registration process and input a promotional code shared in the TikTok video.
Once the victim enters the code, the website puts on a facade of depositing Bitcoin into the user's wallet.
However, the catch arises when users attempt to withdraw these supposedly free Bitcoins. They are required to activate their accounts by depositing 0.005 Bitcoins, which amounts to approximately $132.
Since users never actually receive any Bitcoins from the site, the scammers profit by pocketing these "activation" deposits.
To compound the issue further, users are also prompted to provide KYC (Know Your Customer) information, which threat actors can potentially exploit to target their other legitimate cryptocurrency accounts.
Stay Safe from Cryptocurrency Scams on TikTok
These scams are here to stay, as they generate profit for their creators. The Better Business Bureau warned about cryptocurrency scams on TikTok only last week.
Watch out for this TikTok scam, which promises to turn a few hundred dollars worth of cryptocurrency into thousands in no time. BBB is seeing many new reports in BBB Scam Tracker related to this money-flipping scam.
Better Business Bureau (Source)
Therefore, it is vital to be cautious of crypto giveaway sites, particularly those linked to Elon Musk, Tesla, SpaceX, Ark Invest, Gemini, and other high-profile figures promising significant returns.
Here are some key tips for TikTok safety:
Ensure your TikTok account is private so that only people you know can view your videos.
Avoid sharing private details like your birthdate, address, or personal email on your profile.
Only accept messages from people you know, and use TikTok's privacy settings to manage who can access and interact with your videos.
Prevent TikTok from recommending your account to strangers by disabling "Suggest Your Account to Others" in privacy settings.
Activate two-factor authentication to enhance the security of your TikTok account.
Avoid using the same passwords for multiple accounts to protect your online security.
Be cautious with links received in messages; they could be scams or lead to malicious content. So, verify the source before clicking.
Consider using a VPN to protect your online privacy.
If you want to keep up to date with everything we post, don't forget to follow us on LinkedIn, Twitter, Facebook, and YouTube for more cybersecurity news and topics.