What is Security Assertion Markup Language (SAML)
LAST UPDATED ON
JUNE 24, 2022
SAML, which stands for Security Assertion Markup Language, is an open federation standard that enables users to be authenticated by an identity provider (IdP), who may then provide an authentication token to another application, which is known as a service provider (SP). SAML makes it possible for the SP to function without having to do its own authentication and pass the identity to integrate users from both within and outside the organization. It makes it possible to exchange one's security credentials with an SP over a network, which is often an application or service.
SAML makes it possible for public cloud services and other SAML-enabled systems to communicate with one another in a secure manner across multiple domains. You can enable a single sign-on (SSO) experience for your users across any two applications that support SAML protocol and services by using SAML. This enables an SSO to perform multiple security functions on behalf of one or more applications. SAML protocol and services are supported by the following applications:
What Are the Components of SAML?
Assertions
SAML enables one party to make claims about the traits and attributes of an entity on behalf of another party. The three types of assertions that make up an assertion are an authentication statement, an attribute statement, and an authorization decision statement.
Protocols
SAML covers a variety of request/response protocols. Because of these standards, service providers are able to  enquiry or request about a claim Inquire into the authenticity of a topic,  build and oversee the management of name identifier mappings, ask for a nearly simultaneous logout of a group of sessions that are all connected to one another ("single logout").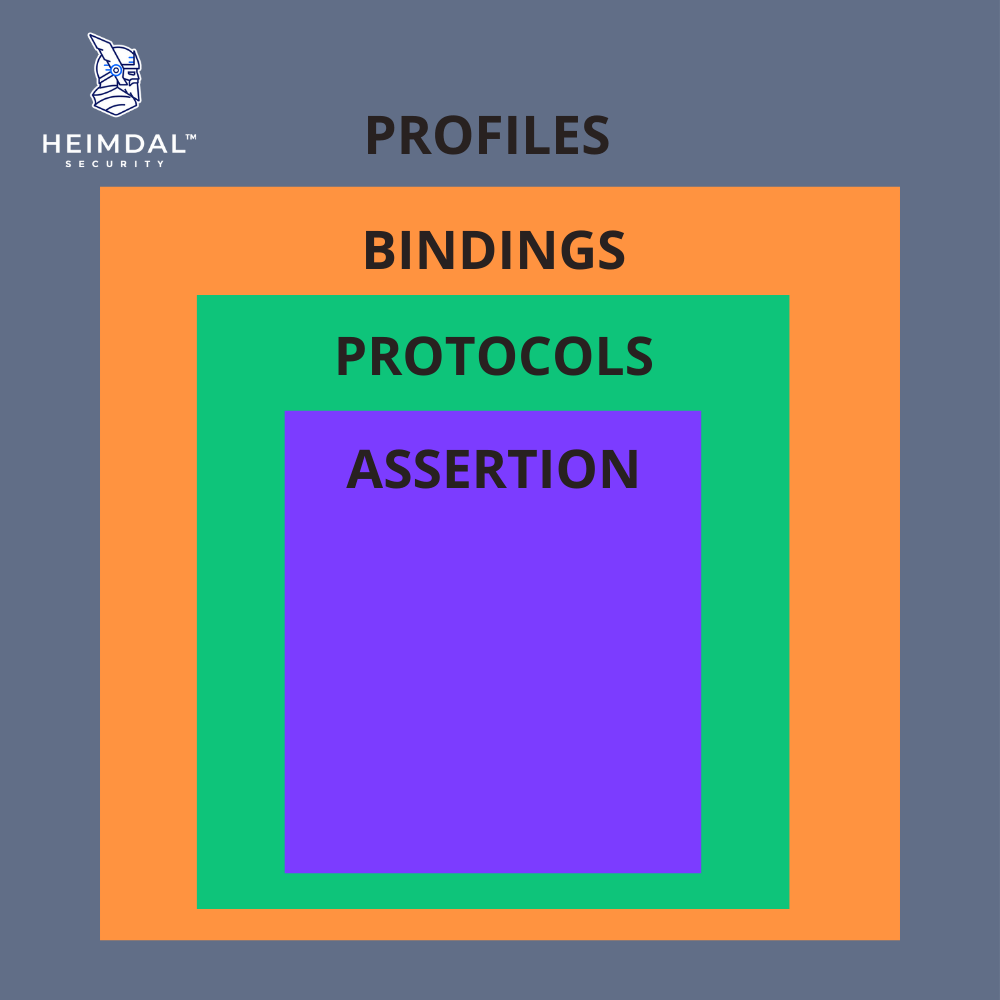 Bindings
A SAML Binding is a mapping of a SAML protocol message onto conventional messaging formats and/or communications protocols. SAML Bindings may also be used interchangeably with SAML Mappings.
Profiles
The purpose of a SAML profile is to improve interoperability by reducing some of the flexibility that is unavoidable in a general-use standard. In general, a SAML profile will describe limitations and/or extensions in support of the use of SAML for a specific application. For instance, the Web Browser SSO Profile delineates the manner in which SAML authentication claims are conveyed between an identity provider and a service provider in order to make single sign-on possible for browser users.
SAML Advantages
Platform neutrality
The security framework is abstracted by SAML so that it is no longer dependent on platform designs or specific vendor implementations. One of the most essential tenants of service-oriented architecture is to decouple application logic from data security as much as possible.
Loose coupling of directories
SAML does not require user information to be maintained as the directories are loosely linked to one another. It is not necessary to keep user information updated and synced across directories in order to utilize SAML.
Enhancement of the overall online experience for final users Single sign-on
This is made possible via SAML, which allows users to verify themselves first with an identity provider, and then proceed to access service providers without requiring further authentication. In addition, identity federation, which is the connection of several identities, is supported by SAML, which makes it possible to provide users with a more tailored and private experience across all supported services.
Decreased expenses associated with administration for service providers
A single act of authentication, such as checking in with a username and password, may be "reused" several times across various services by using SAML. This can help minimize the cost of keeping account information. This responsibility is now the responsibility of the identity supplier.
Risk transference
The business model of an identity provider is often more compatible with SAML than that of a service provider. As a result, SAML may be used to shift the responsibility for the correct administration of IDs to the identity provider.
How Is the Security Assertion Markup Language Used?
The development of the SAML standard was motivated by the following four "drivers":
The constraints imposed by cookies stored in browsers, as the vast majority of current Single-Sign-On systems make use of browser cookies to retain state, hence avoiding the need for re-authentication.
SSO Interoperability, regarding the manner in which products implement SSO and CDSSO is wholly protected by intellectual property laws.
Web Services, as the parameters for the security of Web Services are currently being worked out. The majority of attention has been directed into discovering methods through which end-to-end secrecy, authentication, and integrity services may be provided. The Security Assertion Markup Language, or SAML, is a standard that offers the mechanism through which communication parties may communicate authentication and authorization assertions.
Federation, regarding the requirement to simplify identity management across organizational borders, giving users the ability to combine a large number of local identities into a single (or at least a reduced set of) federated identity(s).
How Can Heimdal™ Help You?
Managing privileges is essential to cybersecurity. Be ahead of hackers with a PAM tool.
Our Privileged Access Management solution stands out through the following characteristics:
When combined with our next-generation antivirus software, it transforms into the only piece of software that can automatically reduce a user's privileges in the event that any dangers are found on the device.
A very effective flow of approvals and rejections.
Flexibility: regardless of where you are at the moment, with our PAM, you have the ability to either increase or decrease user permissions.
Our solution is distinguished by a wide variety of configurable settings, including those pertaining to AD group permissions, escalation period customization, removal of local admin privileges, session tracking, and prevention of elevated access to system files.
Your audit plan will be supported with breathtaking visuals that include facts such as the hostname and the average escalation length.
This will allow you to demonstrate compliance with NIST AC-5 and NIST AC-1,6 and establish a trustworthy connection with your business partners.
Combine it with another one of our modules, Application Control, which gives you the ability to do application execution approval or rejection as well as real session customization to further secure the safety of your organization.
The management of access credentials is an essential component of any cybersecurity plan.
If you enjoyed this article, you can drop a comment below and let us know how you feel about it. Don't forget to follow us on LinkedIn, Twitter, Facebook, Youtube, or Instagram to keep up to date with everything we post!