Queensland University of Technology, Royal Ransomware's Newest Target
The Group Claimed Responsibility for the January 1 Attack.
LAST UPDATED ON
JANUARY 4, 2023
Following a recent cyberattack on the Queensland University of Technology, the Royal ransomware gang has begun leaking data they allegedly stole during the intrusion.
Queensland University of Technology (QUT) has 52,672 students and operates on a budget exceeding one billion Australian dollars. In recent years, the university has received significant government funding to support its research in the fields of science, technology, engineering, and mathematics.
The Queensland University of Technology announced a cyberattack on January 1st, 2023, warning students and academic staff of disruptions. To stop the attack from spreading, the university shut down all IT systems. Now, they're working with external security specialists to respond to the security incident.
Our university staff are working around the clock to assess the situation, restore services and limit disruption to students and academic progress. As previously communicated, our campuses will reopen on 3 January 2023, but it is expected that there will be some system disruptions that will continue for some weeks.
Many classes and tests have been postponed until early February because the HiQ website, "Digital Workplace," "eStudent," and the Blackboard services are down. Until further notice, access to 'U Drive' and other network files, the printing network, and the VPN via Cisco AnyConnect have all been turned off.
Due to the potential unacceptability of this change, students presently enrolled in a summer semester unit will be given the option to withdraw without suffering any monetary or academic penalty.
The situation has been communicated to all students and staff via notices, and a service status page has been set up to update them on the status of the restoration and the availability of the service.
Royal Ransomware, Behind the Attack
Despite the university's denials of any data theft, the Royal ransomware operation has already began releasing what it claims to be stolen information from QUT, explains Bleeping Computer.
The ransomware organization has released what they claim is 10% of the stolen material, including human resources files, emails, ID cards, and documents, and financial and administrative records on their data leak site.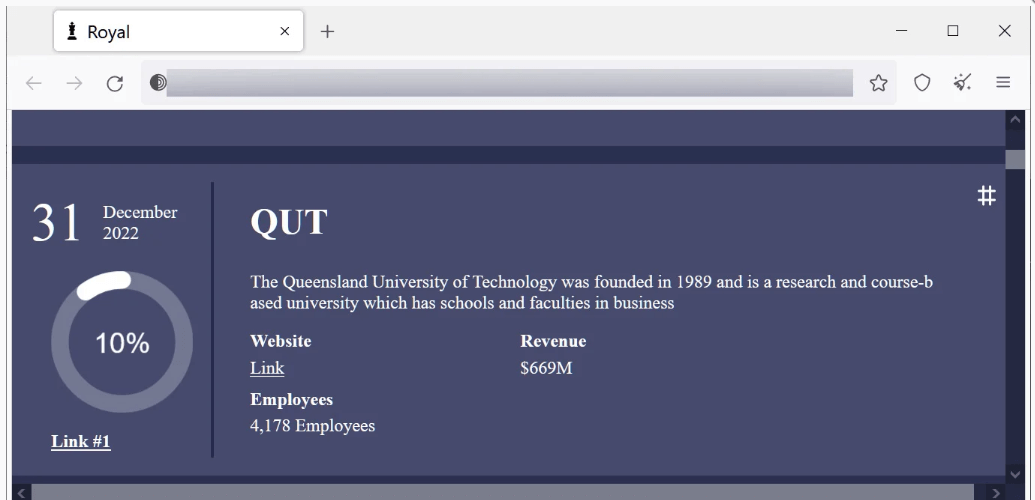 The Royal ransomware operation began in September 2022 as a spin-off of the infamous Conti ransomware organization, which was shut down in May 2022. After initiating many attacks against healthcare organizations, the gang soon drew the attention of researchers and governments. In December, the ransomware organization attacked telecommunications provider Intrado, initially seeking a ransom payment of $60,000,000.
If you liked this article, follow us on LinkedIn, Twitter, Facebook, Youtube, and Instagram for more cybersecurity news and topics.