Heimdal Security Is Nominated for Anti Malware Solution of the Year
We are absolutely thrilled and proud to be among the finalists, all thanks to you!
LAST UPDATED ON
SEPTEMBER 13, 2018
Last year, we were on the frontlines of the massive WannaCry ransomware outbreak, one of the largest, most devastating cyber attacks in history. More than 230.000 computers around the world have been infected with malware and hundreds of thousands of home users and companies were affected.
This made us double our efforts in fighting malware and protecting our customers from cyber criminals' actions who have switched to more sophisticated attack vectors. 
Thanks to your vote of confidence, we've been nominated by Computing Security Awards for the "Anti Malware Solution of the Year" category.
We would really appreciate if you also took the time to vote us for this award. Just click this image and help us reach the top!

We are on the shortlist for Anti Malware Solution of the Year and we want to continue going up because the fight against malware is not over anytime soon.
This report predicts that every 40 seconds a business will fall victim to a ransomware attack by 2019.
Prevention is always the best cure. That's why we strongly recommend our users to add multiple layers of security to enhance online protection for their digital assets.
It's also why we do everything in our power to help users understand cyber threats and become more aware and proactive about dealing with them.
In 2017 we joined the global No More Ransom initiative to bring our contribution to the common effort of fighting ransomware, a devastating cyber threat that has caused so much data loss, not to mention financial damage and stress.
We also put together a list of useful decryption tools that can help ransomware victims unlock their data for free.
What's more, through our security alerts, we try to make users understand how the latest cyber attacks work and why it's essential to invest in proactive cyber security.
With your vote, we could find an even greater audience, so we can continue offering you truly next-gen security.
You'll find us nominated under Anti Malware Solution of the Year section and you can cast your vote until 2nd October 2018!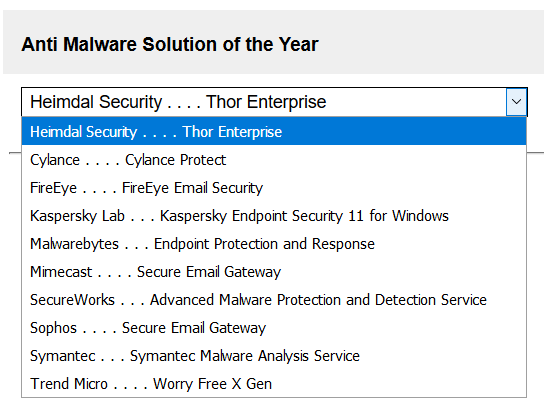 If you're not a company or not working for one, you can just add "N/A" in the section and the vote will be valid.
Thank you for being here with us.