State-of-the-Art Cybersecurity Strategies: Essential Microsoft EDR Tools
EDR Is an Important Part of a Top Cybersecurity Strategy. Learn About Microsoft EDR Tools And How To Adapt Them!
LAST UPDATED ON
FEBRUARY 23, 2021
EDR (Endpoint Detection and Response) should be an essential part of any great cybersecurity strategy. Endpoint security is critical for any company since, only in 2019, "70% of successful breaches originated on the endpoint." Moreover, "Today's business is mobile, with people becoming the new perimeter. As organizations expand and more employees work remotely, the number of vulnerable endpoints grows. Centralized solutions no longer protect networks, and organizations must embrace multi-layered endpoint security solutions or face a greater risk exposure to costly breaches." For this reason, today we'll have a look at Microsoft EDR tools. 
Microsoft EDR: Some Definitions
What is an endpoint? 
The term endpoint refers to distant devices that have back and forth communication with specific networks: laptops, desktops, smartphones and tablets, work stations, servers. Endpoints are some of the most vulnerable assets of a network and are frequently targeted by malicious attacks, as they contain sensitive information. 
Some of the most common types of endpoint attacks are ransomware, phishing, zero-day vulnerabilities,  DDoS, brute force attack – also, there is always the danger of malicious insiders. 
What is EDR? 
As I have already mentioned, EDR stands for Endpoint Detection and Response and represents a reactive approach to cybersecurity incidents. EDR provides notifications, visibility and remediation and combines next-gen antivirus with additional tools for real-time anomaly detection and alerting, forensic analysis and endpoint remediation. 
EDR is essential for stopping attacks at the earliest signs of detection, but it also provides incident response capabilities, helping security teams to respond to cyberattacks faster and more efficiently. 
Microsoft EDR: EDR Key Components
The basic faculties of EDR solutions are:
Detection
Threat detection is a fundamental aspect of EDR solutions. Since it's not a matter of if, but when an advanced threat will get access into your network, you must be able to accurately detect, contain and remove it. 
For this step, EDR solutions use machine learning and advanced file analysis. 
Containment
The purpose of malicious files is to infect as many users, applications and processes as possible, so EDR solutions must be able to contain threats when they are detected. Containment implies the isolation of certain areas of a network – which is crucial, for example, in case of a ransomware infection. 
Investigation
Investigation represents the analysis of the detected threats. Suspicious files are isolated in sandboxes – e.g. virtual machines, simulated environments -, where they are tested and monitored. If the files entered the network for the first time, it's important to discover what was the vulnerabilities that allowed it. 
Elimination
For true efficiency, EDR solutions must be able to eliminate the threats they detect too. They have to know where did the file originate, with what data and applications did it interact and if the file replicated. Elimination can be combined with remediation. 
Microsoft EDR Tools
The most important Microsoft EDR tool is Microsoft 365 Defender, with its Microsoft Defender for Endpoint service. Let us have a closer look at them.
Microsoft 365 Defender
Microsoft 365 Defender can help you both pre and post-breach since it coordinates detection, prevention, investigation and response across endpoints, identities, email and applications. 
With its help, you can discover how a threat entered your environment, what was affected, and what is its current impact on the organization. 
Other services included in the Microsoft 365 Defender suite are Microsoft Defender for Office 365, Microsoft Defender for Identity and Microsoft Cloud App Security. As they say, the set can help you protect against attacks, narrate the full story of attacks, automate response to compromise and "enable security teams to perform detailed and effective threat hunting across endpoint and Office data."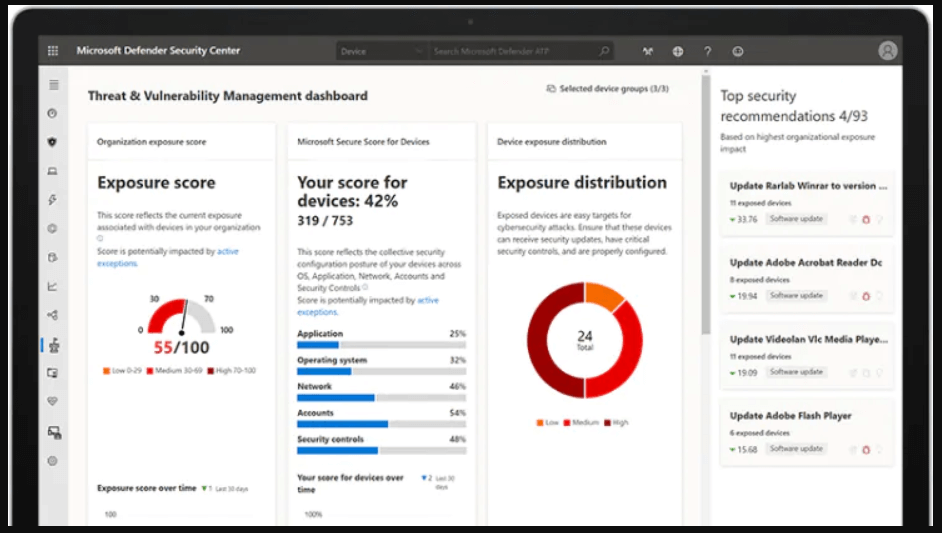 Microsoft Defender for Endpoint
Microsoft Defender for Endpoint offers threat&vulnerability management, attack surface reduction, next-generation protection, endpoint detection and response and auto investigation and remediation. 
This Microsoft EDR tool can defend against new polymorphic and metamorphic malware, but also against fileless and file-based threats. Due to automation, it can quickly go from alert to remediation: after discovering vulnerabilities and misconfigurations in real-time, its algorithms decide if a threat is active and what actions need to be taken.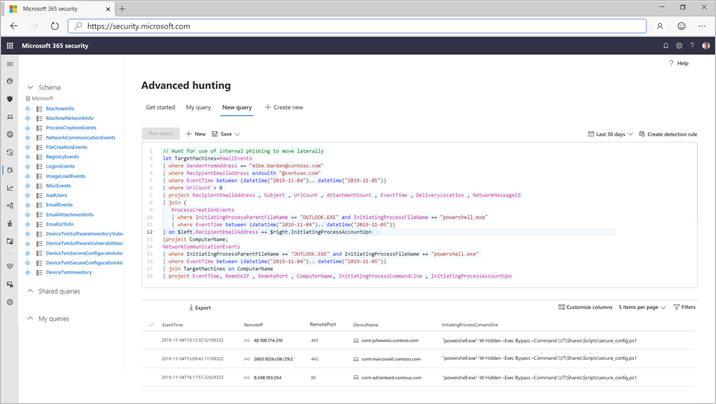 Microsoft EDR: Recommendations
Although EDR is essential for the security of your endpoints, we recommend not forgetting about proactivity – more exactly, do not forget about EPP! 
EPP stands for Endpoint Protection Platform and is represented by solutions that detect and block cybersecurity threats at the device level. It typically includes components like antivirus, anti-malware, data encryption, firewalls, intrusion prevention, data loss prevention.
In case you're wondering if you need to choose between EDR and EPP, the answer is no. You shouldn't choose between them, you should actually  combine them: 
Keeping malware off your endpoint devices is the best way to avoid threats in the first place. EPPs work to match any threats on your endpoints with known malware signatures to identify them and remove them from your device more quickly. Unfortunately, new malware pops up all the time and existing malware can be tweaked, so an EPP isn't enough to protect your network on its own.

Once a threat has made its way onto your endpoint, you need to contain and remove it quickly to keep it from getting to your network. That's where EDR comes in. While EPP is more of a passive tool, IT security teams actively use EDR to isolate the threat and start automated resolution plans. EDR also helps security teams with their threat investigation to determine which endpoints were affected and where the attack came from.
Our Endpoint Prevention Detection and Response software (E-PDR) combines EPP with EDR to protect endpoints and continuously monitor and respond to mitigate cyber threats. The solution includes Threat Prevention and Endpoint Detection X-Gen Antivirus and works with the following components of our security suite: 
Simple standalone security solutions are no longer enough.
HEIMDAL™ ENDPOINT PREVENTION - DETECTION AND CONTROL
Is an innovative multi-layered security approach to organizational defense.
Next-gen Antivirus & Firewall which stops known threats;
DNS traffic filter which stops unknown threats;
Automatic patches for your software and apps with no interruptions;
Privileged Access Management and Application Control, all in one unified dashboard
Microsoft EDR: Wrapping Up
Effective endpoint security is of paramount importance for any company that values its data, time and money, and EPP and EDR protection are just a part of the equation – an essential one. 
However you choose to proceed, please remember that Heimdal™ Security always has your back and that our team is here to help you protect your home and your company and to create a cybersecurity culture to the benefit of anyone who wants to learn more about it. 
Drop a line below if you have any comments, questions or suggestions regarding the topic of Microsoft EDR  – we are all ears and can't wait to hear your opinion!