How to Remove Malware from Your Windows PC [Updated 2020]
Need PC cleaning? This step-by-step guide will help with a malware infection.
LAST UPDATED ON
JULY 4, 2019
Malware infection. You might think it will never happen to you. Until it does and you don't know exactly what to do. How do you actually remove malware? Maybe you'll ask your tech-savvy friend how to remove malware or you'll try to clean the PC by yourself. Or perhaps you'll address this issue on a security forum where other people encountered the same problem. Warning signs: You've noticed your PC has started to slow down, it crashes often, pop-ups appear randomly in your browser, or that unusual apps start automatically. All these signs can tell that your computer is infected with malware. So, a malware infection has taken your computer hostage. What do you do now? In this article, I'll walk you through all the steps you need to follow so you can easily clean up and restore your PC to a functional state.
Step 1. Back up all your documents and files before you start removing the malware infection.
Regardless of your malware infection, the first thing to do is backup all your important files and documents. You can do that by saving your essential data on the external source such as DVD/CDs, free cloud storage services, USB sticks or external drives. Use this guide to better back up your online data. By performing a backup process, you can save your essential data on an external source to keep it safe. You can do this manually or automatically and we recommend using software backup tools.
Step 2. Enter your PC in Safe Mode with Networking
Here's what you should do:
Unplug DVDs, CDs or other USB drives from your PC and then shut it down.
Restart by pressing F8 key over and over again until it takes you to the Safe Mode with Networking.
This will make your system boot up only critical processes and prevent certain malware infections from starting up.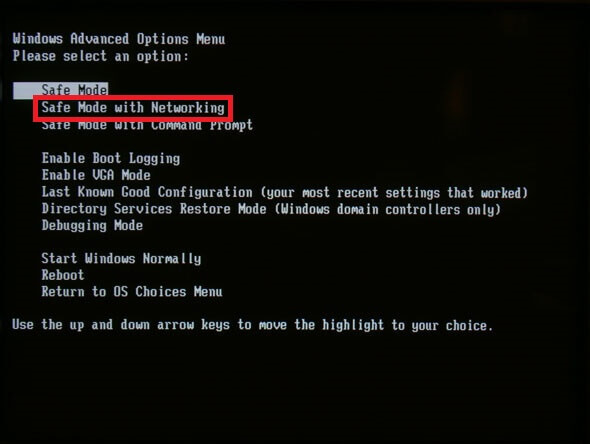 If you are using Windows 8 and/or Windows 10, here's how you can start your PC in Safe Mode. For older versions of Windows, such as Windows 7 or XP, follow these steps.
Step 3. Delete your temporary files.
To make the scanning process smoother and simpler, you should delete all unessential temporary files from your computer. You can do this by right-clicking on a Windows drive, such as C:/ or D:/ – > Properties -> Disk Cleanup. From the menu, choose which files you want to delete and remove.
Step 4. How to remove malware with an anti-malware tool.
In order to clean up your PC, you'll need some specialized software to find and clean up the malicious items. Here's a list of all the software you can use. Heimdal™ Premium Security Home is completely free for the first 30 days and you can cancel your subscription anytime you want. This is a powerful anti-malware solution that will both remove malware and stop any other possible future infections.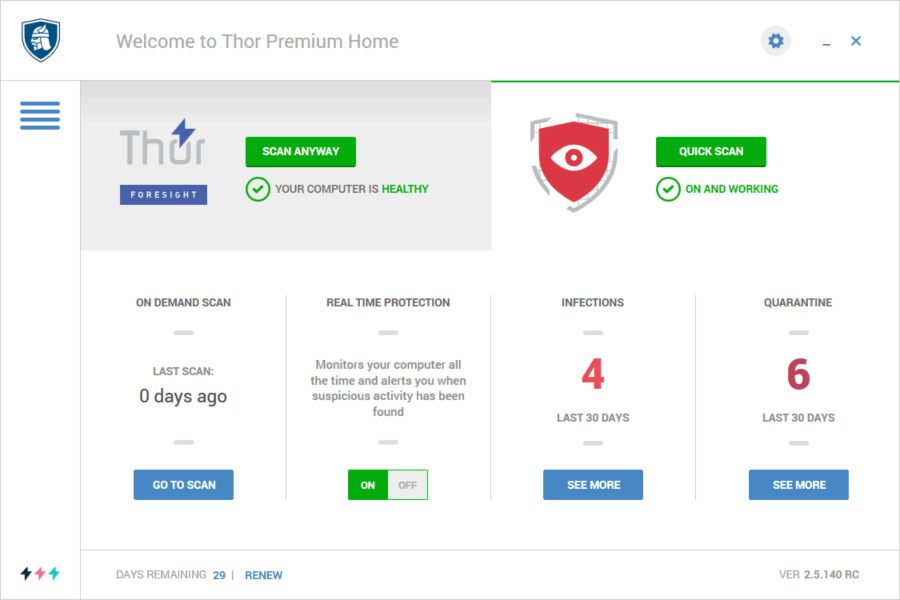 Free Trial Once Heimdal™ Premium Security Home starts, it will enable automatic, real-time scanning and all the infected files can be removed using Heimdal™ Next-Gen Antivirus Home, the next-gen AV tool included in the Heimdal™ Premium Security Home package. You can also choose to perform scans by yourself and delete the infections.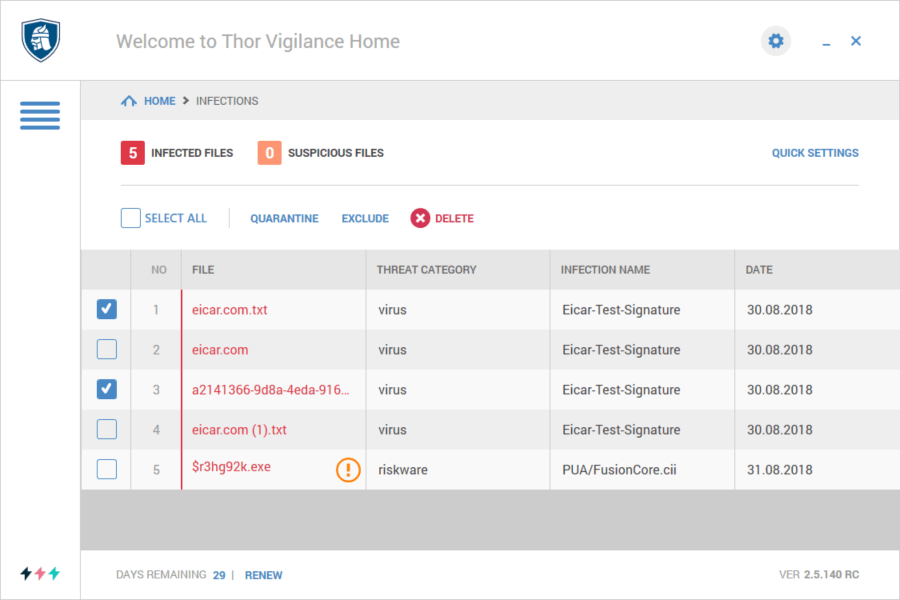 It's that easy. Now, your computer is clean and kept away from any type of malware, viruses, ransomware, phishing attacks, and many other online threats. Advanced System Protector is one of the best security tools, which protects your computer from trojans, spyware, adware, and other threats. The tool comes with three scanning modes to choose from Quick Scan, Deep Scan, and Custom Scan. It deletes browser cookies and internet browsing history to ensure privacy. This spyware tool isolates suspicious files from other files to restrict the spread of infection. SUPERAntispyware malware tool has a free edition that can detect different forms of malicious software, adware, and spyware, and efficiently scan and remove unwanted files from your PC. You can control the scanning options by choosing which files you want the tool to analyze. Scans will be performed manually, but the full control over scans makes it a good choice for users. Kaspersky TDSSKiller is a free malware removal tool for Windows. It was designed to remove the rootkits which are malicious malware that boots up at the same time as your PC and hide the activity of other malicious software. Rootkits can gain access to administrator rights on an infected computer and provide deeper access to other types of malware. Online attackers can maintain the infection for a long time and are difficult to find and remove. Malwarebytes anti-malware tool can detect, scan and remove malicious software found on your PC.  It is free for a limited period of time and has a 14 day free trial with full features such as malware removal, ransomware protection, rooter killer and even a repair function for any damaged files. Use the "Start Scan" button to help you remove and kill any malware found with a manual scan. We recommend running this program at least once a week to check things you might have missed or when you notice your PC runs slowly or acts strangely. ADWCleaner is a free software tool specialized in removing adware, browser hijackers and other potentially unwanted malicious programs that have infected your browser. The product was acquired by Malwarebytes in 2016 and includes features like toolbar removal functionality, light footprint. If you've been using Junkware removal tool for a while, you should know that Malwarebytes has chosen to discontinue development for this free software. However, Malwarebytes "will continue to provide service and support for JRT until End of Life (EOL) on April 26, 2018." As an alternative, you can use the free ADWCleaner tool that includes all major JRT features. Here's a list of malware removal online tools you can use to protect your computer:
Note: CCleaner was recently compromised by cybercriminals, but the tool is safe now. Let's move on to one more quick step, just to be sure malware didn't mess up your browser's settings.
Step 5. Reset your browser settings
In many cases, malware will change your browser settings in order to re-infect your computer, show advertisements, or facilitate any other malicious downloads. This is why you need to review some of your browser settings. Here's how to fix browser shortcuts the malware might have altered First of all, access your browser, Right-click on your browser, then go to Properties.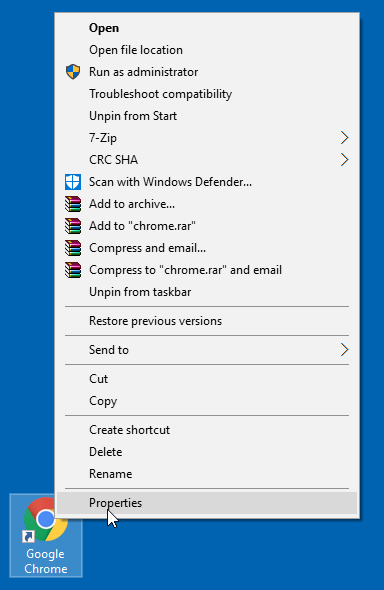 Under the Shortcut tab, you'll see the Target field.
What can actually happen is that the malware might have altered the target field and included a malicious URL in it. So what happens is that now your browser will start up on this page each time you boot it up. Normally, the browser target should look something like this: Chrome: "C:\Program Files (x86)\Google\Chrome\Application\chrome.exe" In our example case, the browser was targeted to go to a suspicious website, aimed at downloading malware on your PC.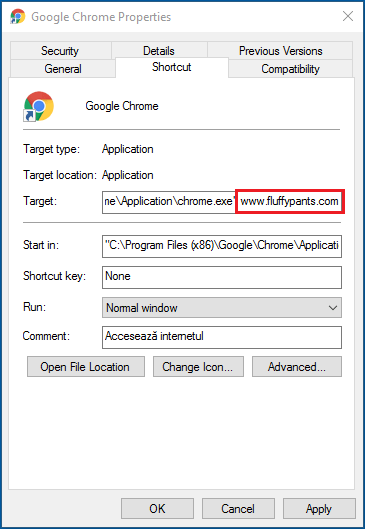 You can fix that by simply remove the URL that comes after .exe". Browser hijackers will change the homepage.  Instead of changing the "Target" field in the "Shortcut" tab, some malware might just modify your browser homepage. For the Chrome browser: Go to the Settings in the top right corner of the browser. Once there, go to the On startup section. The first two options don't have any homepage whatsoever, so you can go ahead and select either one of those.

If however, you want to have your own homepage, then check the option to Open a specific page or set of pages and then click on Set pages. This should take you to this window where you can add or delete malicious links sneakily set as homepage.

Settings for Firefox: You can access the Options menu in the top right corner of the browser. This will immediately take you to the General tab, where you can reset your homepage as you see fit.

Malicious hackers can also take control of your accounts through session hijacking by entering the server and access its information without having to hack a registered account. Additionally, he can also make modifications on the server to help him hack it in the future or to simplify a data-stealing operation. Verify your proxy settings There is malware that can even change what Internet service you use to connect to the web. Simply removing the malware won't reset these proxy settings, so it's something you should fix before considering your PC squeaky clean. To access your proxy settings, go to Control Panel -> Network and Internet and then press Internet Options.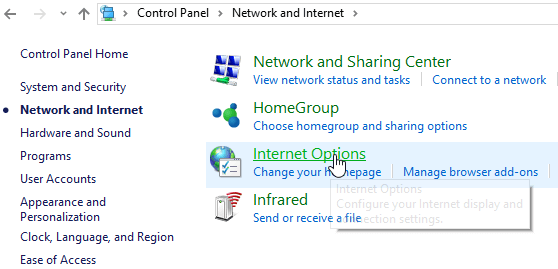 In the Internet Options menu, go to the Connections tab and press the LAN settings button.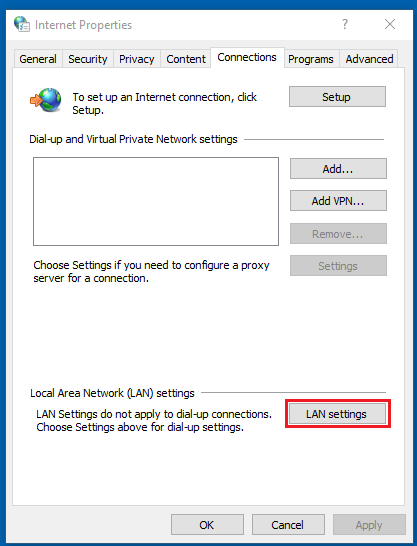 Make sure that Automatically detect settings is on, and that the other two options, "Use automatic configuration script" and "Use a proxy server for your LAN" are unmarked. Here's how your settings should look like: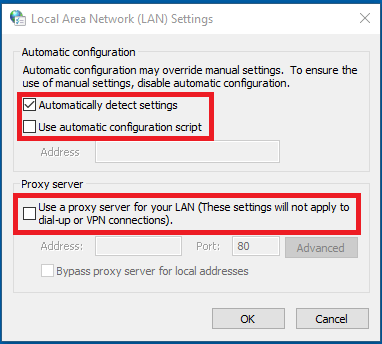 How to make sure you'll never get infected with malware again
Now that you've managed to clean up your PC and remove malware, it is important to take some protection measures to prevent getting another infection. Some malware programs operate stealthily, and you may not know the infection is there. They don't visibly affect your PC. Instead, they may collect sensitive information of yours such as passwords, credit card data, completed forms and screenshots. We recommend following these protection measures to prevent getting your computer infected:
Use two-factor authentication management system
If among other things you were also infected with a keylogger, then there's a high chance your passwords and accounts were compromised. One of the first things you should do is start using the two-factor authentication management system and manage your passwords safely. There is some malware that can take full control of your passwords. This password security guide will provide all the details needed to set strong and unique passwords to prevent malicious hackers exploiting them and lock you out of your accounts. With the two-factor authentication system, you will add another layer of protection to your account.
Always keep your software up to date
Outdated software is one of the major cause of malware infections out there, mostly because they come with many vulnerabilities exploited by cybercriminals. Keeping up your software permanently up to date will lower the chances for malicious hackers to get inside your device or limit any possibility for them to infect computers. We know it can become a tedious, yet necessary task to constantly update your software, particularly those that patch frequently. Heimdal™ Free is a great solution that will automatically (and silently) update your software, without any annoying confirmation pop-ups. It's light and unobtrusive, so it won't slow down your system.
One layer of protection is not enough, and you need multiple layers of security to better protect your PC. A traffic filtering software will nicely and efficiently complement an antivirus since it scans incoming and outgoing traffic for any malware and then blocks that traffic from entering your PC. In other words, it gets difficult for new malware to reach your device. Heimdal™ Premium Security Home does everything I mentioned in the paragraph above and is able to protect you from brand new and unlisted malware that traditional antivirus software can't detect. It will also sanitize your Internet traffic and block malicious sources, making sure you have both your financial and confidential information safely kept. Free Trial BONUS: I also added a list of in-depth articles we recommend reading so you can better know how to recognize different signs of malware infection and protect your computer with multiple layers of security.
This post was originally published by Paul Cucu in January 2017 and received relevant updates from Ioana Rijnetu in November 2017 and from Bianca Soare in July 2019.