Hive Ransomware Group Hits Bell Canada Subsidiary
Stolen Data Include Personal Information of Employees, But Not Clients' Financial Data.
LAST UPDATED ON
SEPTEMBER 16, 2022
Ransomware-as-a-Service (RaaS) group Hive claimed to be behind a cyberattack that hit Bell Technical Solutions (BTS), an independent subsidiary of Bell Canada with 4.500 employees, that specializes in Bell services across Ontario and Québec.
Hive claims that the attack took place this year on August 20th, but no official confirmation came from the Canadian telecommunications company.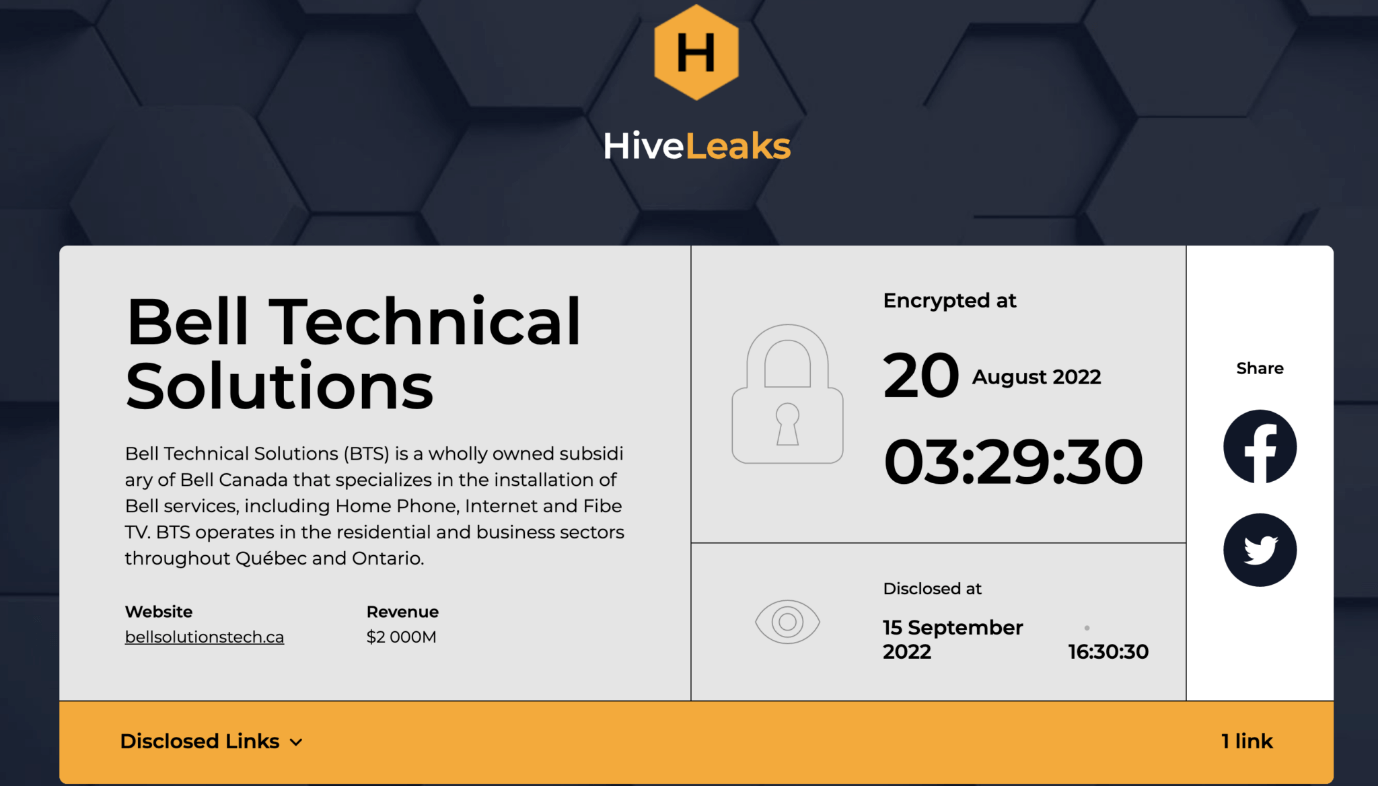 Hive's leak blog confirming the breach
What Data Was Stolen?
Bell Canada issued an official statement on their website, where they announced that their subsidiary, Bell Technical Solution, has been the victim of a cyberattack. Currently, BTS' website (bellsolitionstech.ca) is unavailable as a result.
Some operational company and employee information was accessed in a recent cybersecurity incident targeted at Bell Technical Solutions.
The ransomware group gained access to the names, addresses, and phone numbers of residential and small business customers who requested a technical visit, as well as the personal information of the staff.
Following the incident, BTS issued a warning to its clients that they might become victims of phishing attacks and instructed them to keep an eye on their accounts for any suspicious activities.
Bell Technical Solutions took immediate steps to secure affected systems and we want to assure you that no database containing customer information such as credit and debit card numbers, banking, or other financial data was accessed in the incident.
Investigations Are Underway
According to BleepingComputer, Bell Technical Solutions is currently investigating the incident with the help of the Royal Canadian Mounted Police's cybercrime unit. The Office of the Privacy Commissioner has also been notified of the breach.
The company stated that it will soon notify the individuals whose sensitive information had been accessed during the incident. Fortunately, because BTS uses a different IT system than Bell, neither Bell's other clients nor its subsidiaries were affected.
"We are committed to protecting the security and privacy of your information and we value the trust you place in us, and in our products and services.", Bell added.
If you liked this article, follow us on LinkedIn, Twitter, Facebook, Youtube, and Instagram for more cybersecurity news and topics.