Heimdal® Recognized as Top Cybersecurity Software by Software Advice in 2022
LAST UPDATED ON
NOVEMBER 18, 2022
Copenhagen, November 18, 2022 — Heimdal® announced today that Heimdal® Threat Prevention has been recently recognized as a Top Cybersecurity Software in Software Advice's latest FrontRunners report.

This report evaluates verified end-user reviews, positioning the top-scoring products based on their usability and customer satisfaction ratings for small businesses. (Know more about the methodology here)
Heimdal has earned an incredible overall rating of 4.8 (out of 5). Big thanks to all our users who appreciate us so much! It would not have been possible without your constant support.
Check out what our happy users have to say about us:
Support is second to none – very responsive and helpful. Peace of mind is absolute and the admin overview and ability to remediate remotely is fantastic. It is also built for the work-at-home culture when have settled into after covid.
– Brian
Everything is just perfect, but I like the most the speed of the DNS filtering. It happens so fast that you don't even realize that there is a DNS filtering on your machine. Wonderful!
– Sabina
Great Co, Great Product and excellent customer service – Heimdal Security stands proud for showing the industry how it should be done!
– Mark
Want to share a review? Click here
FrontRunners is published on Software Advice, a leading online service for businesses navigating the software selection process. It evaluates verified end-user reviews and product data, positioning the top-scoring products based on Usability and Customer Satisfaction ratings for small businesses.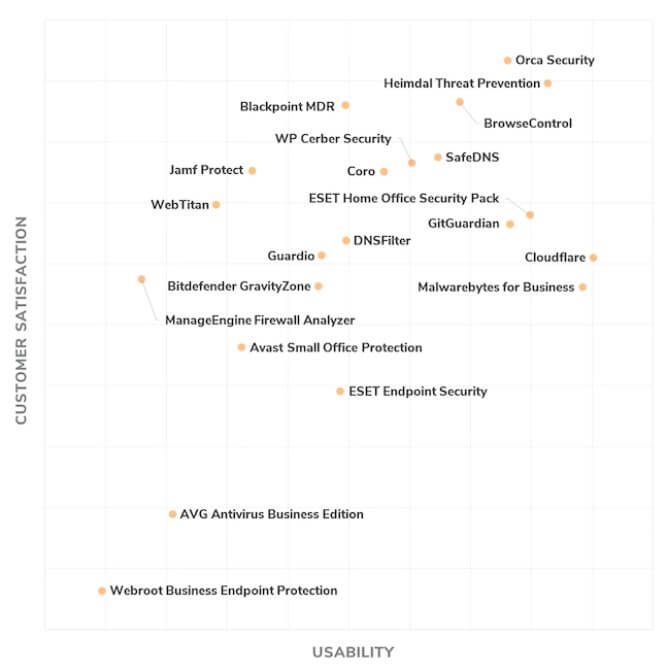 FrontRunners for Cybersecurity software is available here.
About 
Heimdal®
Founded in 2014 in Copenhagen, Denmark, Heimdal® is a leading European provider of cloud-based cybersecurity solutions. The company offers a multi-layered security suite that combines threat prevention, patch and asset management, endpoint rights management, and antivirus and e-mail security which together secure customers against cyberattacks and keep critical information and intellectual property safe. Heimdal has been recognized as a thought leader in the industry and has won multiple awards both for its solutions and for its educational content. 
Currently, Heimdal®'s cybersecurity solutions are deployed in more than 60 countries and supported regionally from offices all over the world, by 175+ highly qualified specialists. Heimdal® is SOC 2 Type II and ISAE 3000 certified, securing more than 3 million endpoints for over 11,000 organizations. The company supports its partners without concessions on the basis of predictability and scalability, creating sustainable ecosystems and strategic partnerships.
About Software Advice
Software Advice is the leading online service for businesses of all sizes navigating the software selection process, providing free, personalized software recommendations that meet their business needs. Software Advice features objective research by industry experts and reviews from validated users, saving buyers time and resources. Software Advice is a Gartner company.
Disclaimer: FrontRunners constitute the subjective opinions of individual end-user reviews, ratings, and data applied against a documented methodology; they neither represent the views of nor constitute an endorsement by, Software Advice or its affiliates.