Hackers Might Shift Focus to Consumers Instead of Businesses in 2022
Analysts Are of the Opinion that Threat Actors' Targets Will Change This Year!
LAST UPDATED ON
FEBRUARY 28, 2022
According to threat analysts, the year 2022 will mark the beginning of a change in hackers' attention from huge corporations to individuals. Researchers base their prediction on a number of variables that point out how consumers are now more valuable to hackers than in the past.
What Happened in 2021 and What Will Happen in 2022?
ReasonLabs has published a comprehensive analysis on cybersecurity's status at the consumer level and the most likely trends to develop this year.
Targeting Remote Employees through Phishing
Cybercriminals prefer to take the quickest and easiest route to their objectives, therefore, when speaking of business networks, targeting remote workers offers them the best chances.
Remote work along with the security issues related to it will be a long-term trend, at the same time, businesses are spending considerable sums of money to improve their on-premise systems.
The easiest method for hackers to obtain company network access is to have remote employees as targets using techniques like phishing or social engineering. This way, threat actors can perform account takeover and get access to the specific network.
The Rise of Crypto-Miners
2021 met growth in crypto-miners, a phenomenon closely related to the fact that the value of Bitcoin, Ether, and other cryptocurrencies, as well as NFT, increased. Many people invested a lot of money in virtual assets to be aligned with this growth in a timely manner, but that triggers also security concerns for the new investors' virtual assets.
According to ReasonLabs, the crypto rush has resulted in a sharp increase in info-stealer infections, which is expected to continue through 2022.
The researchers also shared a table with 2021's major detection by type.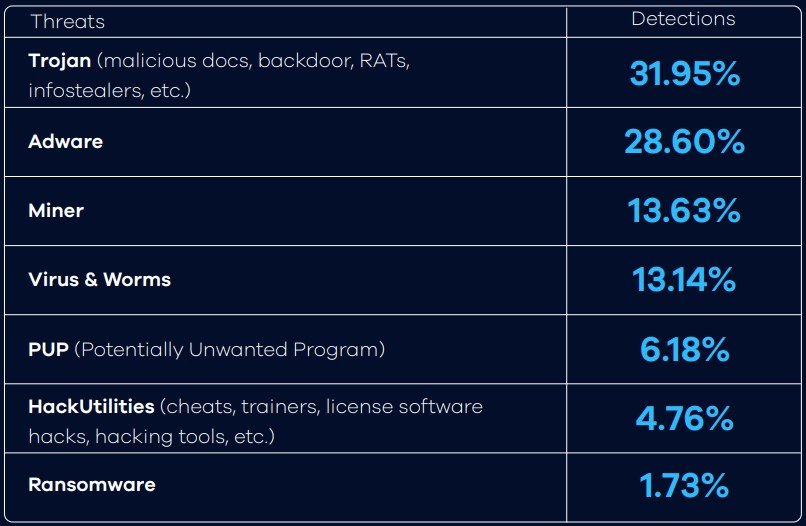 No More Malicious Macros
Microsoft's decision to disable Excel 4.0 macros by default prevents malicious documents containing harmful macros from downloading malware onto the user's device. This strategy was mostly employed against corporate users.
That's why threat actors are now compelled to push victims to dangerous websites, engage in SEO poisoning attacks, produce malware disguised as game cracks, or even promote these files directly through social media, YouTube, and IM channels.
These seemingly random malware dissemination techniques grew in popularity in 2021, and the trend is expected to continue in 2022, according to researchers.
Adware Is Here to Stay
Adware continues to be a reliable source of revenue for cybercriminals, and it is based on infecting and exploiting vast numbers of systems, mostly consumer computers as well as smartphones.
The number of ad-injectors and clickers is expected to increase in 2022, according to ReasonLabs, because they are easy to spread and difficult to identify, map, and stop, which normally occurs only when they reach massive operating sizes.
The Ransomware Market Shifts Its Focus
The 2021 busts caused volatility in RaaS operations, and while most of the big players kept going, significant changes in their targeting scope were noticed, according to BleepingComputer. Ransomware operators have understood that targeting governmental or vital infrastructure entities has implications. Thus the current trend now seems to be targeting consumers who own costly items and demand tiny ransom payments from a big number of victims.
How to Keep Yourself Protected against the Emergent Cyberthreats
Rely on strong and unique passwords
Installing security software is a must
Avoid opening unknown users' email attachments
Internal services, such as Remote Desktop and NAS devices, should not be exposed to the Internet
Keep your system updated constantly and rollout updates in your system as soon as they are released
Unlicensed software might contain ransomware and data-stealing trojans, so it's better to avoid downloading it
How Can Heimdal™ Help?
We offer the same protection to businesses and individuals, as our Heimdal suite for private users shows the same quality standard. You can use our Heimdal Free to keep your software always updated and close off vulnerability gaps or Heimdal Premium Security Home, a full and all-in-one protection package with unique threat prevention and next-generation antivirus. Find more on our home page!
Moreover, we have published our own report about the cyber threat landscape of 2021, if you want to gain more knowledge on the topic, you can download it from HERE.
CyberSecurity & Threat Intelligence Report
A review of the 2022 cyber-threat landscape and our predictions for 2023.
If you liked this article, follow us on LinkedIn, Twitter, Facebook, Youtube, and Instagram for more cybersecurity news and topics.