Heimdal Cyber-Security & Threat Intelligence Report 2022-2023
LAST UPDATED ON
JANUARY 17, 2023
Marked by significant geopolitical shifts and unrest, 2022 has galvanized the cybersecurity landscape as well; war-profiteering fueled by endless media disputes has allowed the threat actors not only to operate unhindered but also to find safe harbor with states that choose to turn blind eye to cyber-criminal activity.
2023 will most likely be just as challenging as the previous few years, but I'm confident that the cybersecurity market has the right tools to deal with the constantly shifting cybercrime landscape and new/consolidated threats, whether we're talking about supply chain attacks, ransomware, deepfakes or cyber espionage.
Glancing back at 2022's Cyber Threats
The "new normal" foisted upon organizations as they accommodate a remote workforce has left them vulnerable to new attack vectors and facing huge alterations in the threat landscape, according to our annual Threat Report.
Worms, Trojans, and infected JS malware were the ones our SOC Team encountered most often. Although these varieties of malware often appear legitimate, they are actually designed to destroy, disrupt, or steal data, and they can quickly seize control of a device.
Looking more closely at how the cybersecurity landscape altered in 2022, we couldn't help but notice that our clients have successfully been safeguarded from major cyber events thanks to our unified corporate security suite.
Without further ado, here's a sneak peek of what Heimdal®'s 2023 Cyber-Security & Threat Intelligence Report brings to the table. We tackled the main areas of last year's cybersecurity interests by putting together a list of:
You can download the Heimdal® CyberSecurity & Threat Intelligence Report 2023 here.
Cyber Threat Report 2023 Key Takeaways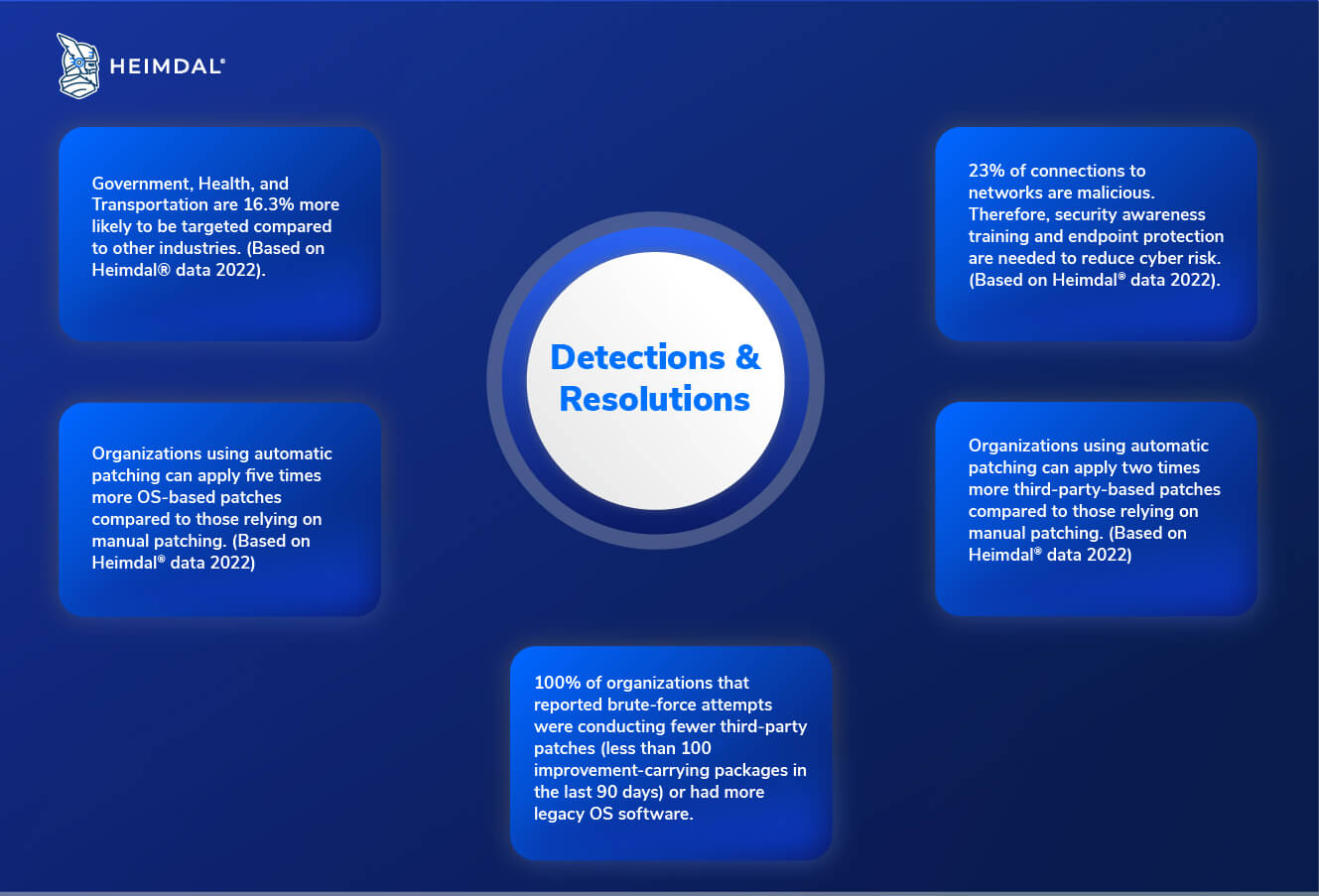 Detections & resolutions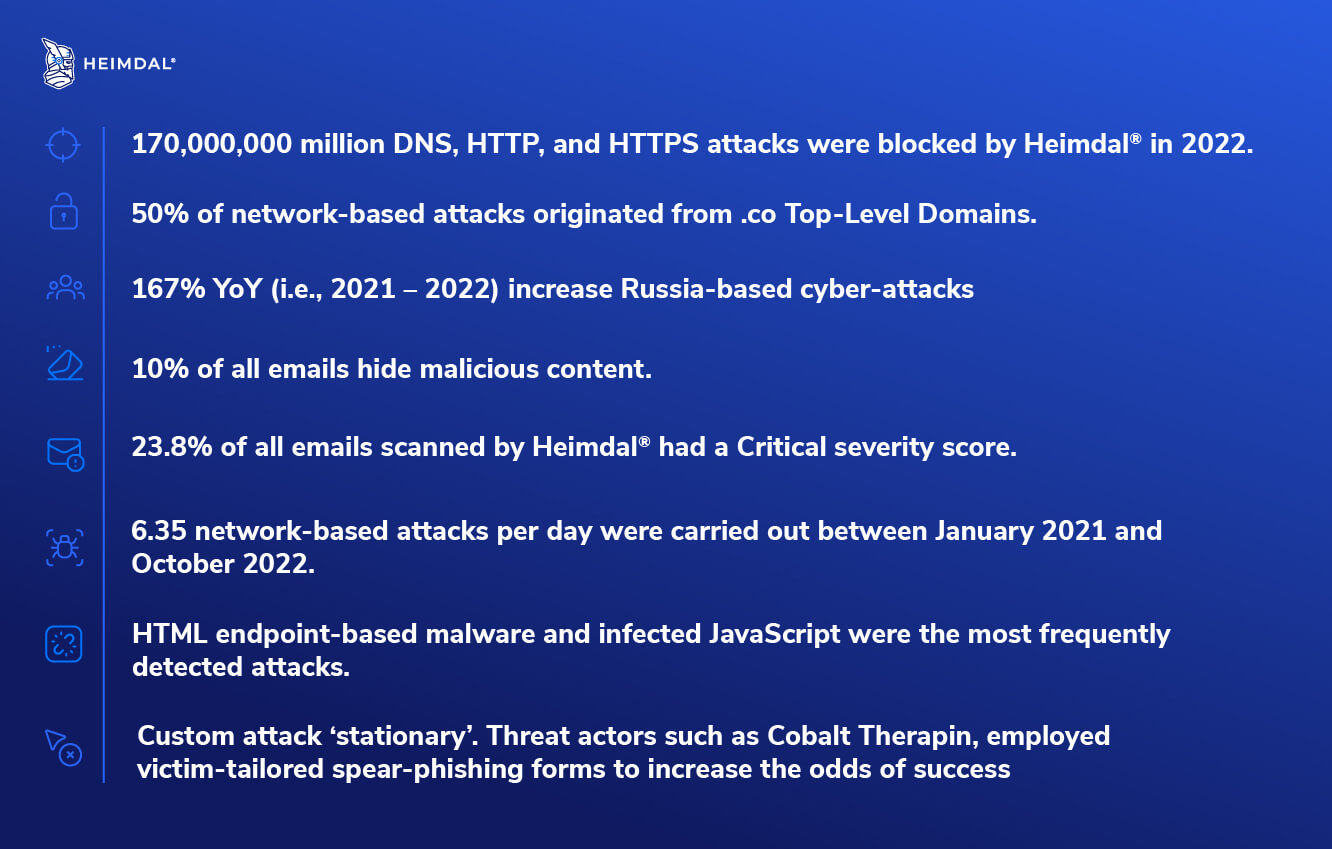 Key Predictions of Cyber ​​Threats and Trends for 2023
In 2022 we witnessed not only a rise in cyber-threats all across the grid, but also increased friction when it comes to embracing non-traditional malware detection & mitigation tools. Despite the industry's having a clear-cut trajectory, automatizations, be them all-inclusive or partial, carry inherent challenges and limitations (e.g., SIEM solutions are prone to alert fatigue, while SOAR-type responses are confined to low- and medium-level security incidents).
Other factors that encumber the adoption and implementation processes are licensing, medium- to long-term costs (i.e., setup, configuration, upscaling, and maintenance), and workforce, the latter being considered a deal-breaker for organizations seeking to embrace SIEM, SOAR, or hybrid approaches.
Such challenges highlight the importance of enhancing cyber resilience across society; nevertheless, cybersecurity requires more than just precautions; it is also critical to educate employees and the broader public about cyber protection and how to stay safe from such threats.
CyberSecurity & Threat Intelligence Report
A review of the 2022 cyber-threat landscape and our predictions for 2023.
If you want to know more about what 2023 might bring in terms of cybersecurity you should read Morten's article on the top trends we'll see in cybersecurity.
Interested in learning more about the Heimdal® way? Join us at UK CyberWeek Conference & Expo (April 4-5th). We'll be waiting for you at stand #A6 at the Business Design Centre, in London. Don't miss the chance to see our award-winning products in action, or just meet the team. We will also be giving away a luxury, super-car driving experience to one lucky delegate! Could that be you?