The 12 Online Scams of Christmas
LAST UPDATED ON
NOVEMBER 25, 2022
Whether you are a Christmas lover or more of a Grinch, chances are you're going to do some online shopping whether you like it or not. Consequently, everybody is, by default, vulnerable to winter holiday scams or, more specifically, Christmas scams. Learn what they are and how to stay safe from this extensive guide!
What Is a Christmas Scam?
Christmas scams refer to fraudulent activities that take place during the holiday season. Typically, criminals target unsuspecting shoppers with a goal of seizing personal information, such as credit card details or identity documents.
When thieves have your private information, they can use it to make fraudulent transactions and access your bank accounts. This could lead to identity theft.
The 12 Scams of Christmas 
Here are 12 of the most common scams you may encounter this season!
Fake Websites
Every year, scammers come up with new ways to try and take advantage of people during the holiday season. One of the most common scams is creating fake websites. These websites usually impersonate a legitimate website or company, in an attempt to get you to enter your personal information or financial details. They may even offer fake products or services for sale.
How can you spot a fake website? Here are some things to look out for:
Typos and grammatical errors;

Poorly designed website;

Generic email address (e.g. info@example.com);

Unsecure payment methods;

Asking for personal information that is not necessary (e.g. your Social Security number).
Online Shopping Fraud
Online shopping fraud is one of the most common types of fraud during the holidays, and it can be difficult to spot. 
In this type of scam, a person pretends to be a legitimate online retailer and attempts to collect payment for merchandise that they never deliver. This can be done through a fake website or by using a real online retailer's name and logo without their permission. To avoid becoming a victim of online shopping fraud, only shop at websites that you know and trust.
Christmas Delivery Scams 
Another scam to watch out for is fake delivery notifications. You may get an email or text message saying that your package has been delivered, but when you check, it's nowhere to be found. Or, you may get a notification that your package has been delayed, and then be asked to click on a link to track its status. But this link could lead you to a phishing site that steals your personal information.
If you're expecting a package this holiday season, make sure you know who the sender is and that the tracking information is legitimate before clicking on any links. And if something seems too good to be true (like a free product in exchange for a review), it probably is!
Banking Scams 
Scammers may try to trick you into giving them your personal and financial information by posing as a representative from your bank or another financial institution. They may also send phishing emails or text messages that appear to be from your bank, credit card company, or another legitimate source, in an attempt to get you to click on a link or open an attachment that contains malware.
To protect yourself from banking scams, never give out your personal or financial information to someone you don't know and trust. If you receive an unsolicited email or text message from your bank or another financial institution, do not click on any links or open any attachments. Instead, contact the institution directly using a phone number or website address you know to be legitimate.
Travel Scams 
In the fake vacation rental scam, someone may list a vacation rental (usually a condo or house) online, usually at a significantly discounted rate. They may even use fake photos or stolen ones from another listing. Once you've sent them money for the rental, they disappear and you're left without a place to stay. To avoid this scam, only book vacation rentals through reputable websites or agencies, and be sure to do your research on the property before sending any money.
Gift Card Scams
When it comes to gift card scams, there are a few different ways that scammers will try to get your money. The most common is by sending you an email or text message that looks like it's from a reputable company, like Amazon or iTunes. These messages will usually say that you've won a free gift card, or that you can get a discount on a purchase if you use a certain code. However, the links in these messages will actually take you to a fake website where you'll be asked to enter your personal information, like your credit card number.
The best way to avoid gift card scams is to be careful when you're buying them. If you're buying them from someone you don't know, make sure to check the balance before you hand over any money. And never give out your personal information, like your credit card number, in response to an unsolicited message or offer.
Facebook Scams
When it comes to online Christmas scams, Facebook is one of the most common platforms where scammers operate. There are a few different types of Facebook scams that you should be aware of this holiday season:
Fake Facebook Pages 
One type of scammer will create a fake Facebook page that looks like a legitimate business or organization. They will then post special deals and offers on this page in an attempt to lure people in. Be sure to check the URL of any page before you click on any links or enter any personal information.
Friend Request Scams
Another type of scammer will send friend requests to people they don't know in an attempt to gain access to personal information. Once they have your information, they can use it for identity theft or other fraud. If you get a friend request from someone you don't know, simply ignore it.
Survey Scams 
Finally, there are also survey scams that circulate on Facebook. These surveys usually promise some sort of prize or reward for completing them, but the reality is that they are just trying to collect your personal information. Never fill out any surveys that you see on Facebook (or any other website for that matter).
WhatsApp Scams 
WhatsApp scams are becoming increasingly common, especially during the holiday season. Here are some of the most common WhatsApp scams and how to avoid them:
Fake contests and giveaways
Beware of fake contests and giveaways that promise free gifts or prizes. Many of these scams originate from WhatsApp groups, so be careful before joining any groups or taking part in any conversations.
Phishing attacks
Phishing attacks via WhatsApp are on the rise, so be cautious of any links or attachments you receive from unknown contacts. If you're unsure about a link, don't click on it – instead, go to the website directly by typing in the URL yourself.
Malware-infected websites
Some malicious websites will send you an automated message through WhatsApp, urging you to visit their site. Don't click on any links in these messages, as they could lead to malware-infected websites that could infect your device with viruses or ransomware.
Bogus offers and deals
Be wary of any offers or deals that seem too good to be true – chances are, they probably are! If you're not sure about an offer, do some research online or contact the company directly to confirm its legitimacy before making any decisions.
The Fake Job Posting Scam
One of the most common scams during the holiday season is the fake job posting scam. This scam typically works like this: a scammer will post a fake job ad on a job board or classifieds site, offering a great paying gig as a personal shopper or package delivery person. The ad will usually require that the applicant provide their personal information, including their Social Security number and bank account number. Once the applicant has provided their information, the scammer will then withdraw money from their bank account or use their credit card to make fraudulent charges. In some cases, the scammer may even go so far as to send the victim a fake paycheck, which will bounce when they try to deposit it. 
To avoid becoming a victim of this scam, be sure to only apply for jobs through reputable sources, and never give out your personal information to an employer before you've had a chance to verify their identity. If you're ever asked to pay anything upfront in order to secure a job, walk away – it's almost certainly a scam.
Too-Good-To-Be-True Pop-Up Ads
There's nothing quite like the feeling of finding a great deal online. But when that deal comes in the form of a pop-up ad, it's important to proceed with caution. These types of ads are often too good to be true, and clicking on them can lead to all sorts of problems.
If you're seeing pop-up ads offering amazing deals on popular items, be very wary. These deals are often scams, designed to lure you in and get your money. Don't click on any links in the ad, and don't enter any information or payment details.
If you're tempted by a pop-up ad, do some research first. See if you can find the same deal elsewhere from a reputable source.
Phishing Scams
When it comes to online Christmas scams, phishing scams are among the most common. Phishing is a type of online scam where scammers try to trick you into giving them personal information, such as your bank account details or login credentials for a website.
There are several ways that scammers may try to phish you during the Christmas period. They may send you an email that looks like it's from a legitimate company, such as your bank or a retailer, and that contains a link to a fake website. They may also create a fake website that looks like a legitimate one, in order to try and get you to enter your personal information.
If you receive an email or see a website that you think may be part of a phishing scam, there are some things you can do to protect yourself. First, never click on any links in an email or on a website if you're not sure that they're legitimate. If you're unsure about a website, do a quick Google search to see if anyone else has reported it as being fake. And never enter your personal information into any form on a website unless you're absolutely sure that it's legitimate.
Charity Scams
In the case of charity scams, cybercriminals create fake websites or email campaigns that claim to be raising money for a legitimate charity. They may also contact people directly, posing as a representative of the charity.
The best way to avoid falling victim to a charity scam is to do your research before donating. Make sure you know where the money is going and how it will be used. Don't donate to charities that you're not familiar with, and don't give personal information or financial information to anyone who contacts you purporting to be from a charity.
If you're contacted by someone asking for donations, ask for specific information about the charity and what the donation will be used for. If they can't provide this information, or if something about the situation doesn't seem right, don't donate.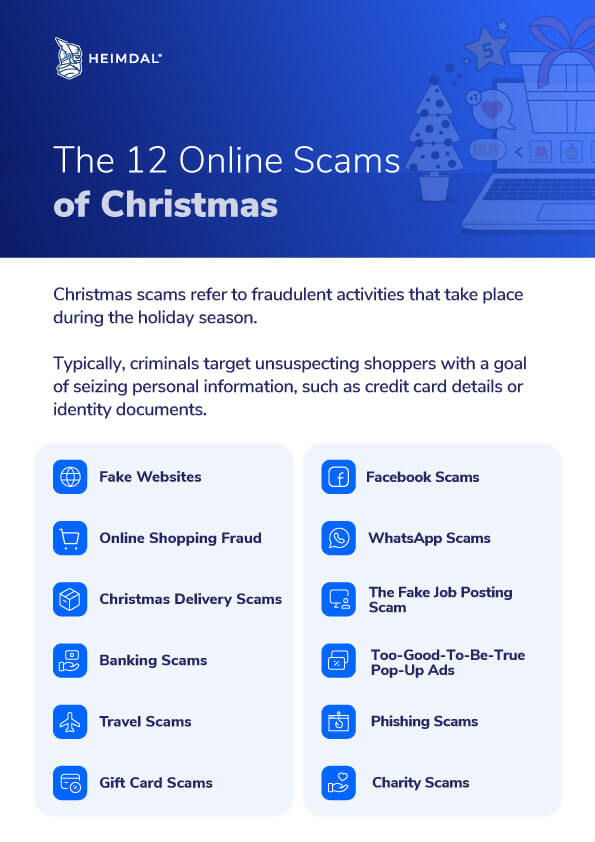 What to Do If You Get Scammed
It can be easy to feel like there is no hope left if you have fallen victim to a scam. However, there are a few things you can do to safeguard your identity and stop online criminals from getting access to your personal data. In some circumstances, you might even be able to get back the money that might have been stolen.
First and foremost, stop communications with the fraudsters right away, cancel all upcoming payments, and change your usernames and passwords. You should consider requesting a credit freeze as well.
Your chances of catching the thief and getting your money or identity back increase the faster you report the scam. If you were a victim, report the incident right away to the following organizations:
Your bank or credit card provider – stop any bank payments and ask your credit card provider for a chargeback.
The retailer – let the online store know about the fraud so they can look into it and stop others from falling for it.
The platform – inform the impersonated business if the scam uses a social media advertisement or message. They can look into the scammer's account and remove the offensive pop-up or advertisement.
The police. 
How Can You Avoid Christmas Scams?
Since it would be, of course, far better to avoid becoming a victim of Christmas scams in the first place, here are some preventative measures you can adopt: 
Be cautious of unsolicited emails and texts offering great deals on gifts or vacation packages. Many of these offers are fraudulent and will lead to identity theft or other financial losses.

Don't click on links or open attachments in emails or texts from unknown senders. These could contain malicious software that will infect your device and give scammers access to your personal information.

Beware of fake websites that look like legitimate retailers. These sites are created for the sole purpose of stealing your credit card information. Only shop on websites that you know and trust.

Don't let anyone pressure you into making a purchase right away. Legitimate businesses will give you time to make a decision without putting pressure on you.
How Can Heimdal® Help?
By using Heimdal® Premium Security Home, home users can supplement the advice provided in this article with an additional, extremely powerful layer of security. The solution eliminates system vulnerabilities and protects the valuable data that makes up their digital life, while keeping their systems updated and secure.
Companies also need to prevent the unpleasant consequences of online winter holiday / Christmas scams. Phishing is the most significant threat for businesses, so it is highly recommended to use an email protection solution.
Our Email Security software can help you protect your email communication by using market-leading spam detection and filtering engines that go beyond simple spam definitions. It proactively prevents even the most sophisticated email exploits so that you can enjoy a peaceful winter holiday, without countless phone calls or emails trying to deal with a security incident. 
Also, if you have a retail business, keep in mind what my colleague Alina Petcu wrote in her article on CyberMonday (another prolific occasion for online scammers) when it comes to brand impersonation scams:
Creating deceitful websites that mimic the branding of popular retailers is the oldest trick in the opportunistic Cyber Monday scammer's book. Are you the owner of a large-scale national or international store? Then your client base is a prime target for fraudsters. Smaller businesses aren't safe either, as they tend to have a loyal customer list that shows massive support during sales season. For this reason, you need to be on the constant lookout for pages impersonating your enterprise. Don't wait until the influx of shoppers coming in on Monday starts reporting these cons to you. Stay one step ahead of hackers by doing constant research. Scour social media and SERPs for suspicious activity, then isolate fraud attempts and pursue appropriate legal action against them. This is something that you should ideally do all year round, but it is particularly important on Cyber Monday. My advice is to integrate this practice into the workflow of your IT and security department. If you have the budget for it, you can go as far as to recruit a designated person to handle this process or create a task force-type team for it.
Everything she said here is perfectly valid for winter holiday scams too.
Email is the most common attack vector used as an entry point into an organization's systems.
Heimdal® Email Security
Is the next-level email protection solution which secures all your incoming and outgoing comunications.
Completely secure your infrastructure against email-delivered threats;
Deep content scanning for malicious attachments and links;
Block Phishing and man-in-the-email attacks;
Complete email-based reporting for compliance & auditing requirements;
Final Thoughts 
The winter holidays are a time when scammers are out in full force, looking to take advantage of unsuspecting people. The Christmas season is popular for con artists because it's when many people are the most trusting. The best defense against any of these scams is always going to be awareness and education. Make sure you are aware of the most common Christmas scams and the best ways to prevent becoming a victim. 
If you liked this article, follow us on LinkedIn, Twitter, Facebook, Youtube, and Instagram for more cybersecurity news and topics.
P.S.: We'd love to hear from you about your experience: were you ever tricked or almost tricked into a Christmas scam? Let us know how you handled it in the comments below.
CHECK YOUR CYBER SECURITY HABITS
Did you see any Christmas scams online?