The US Healthcare Sector: Target to Multiple Breaches Last Year
Most of Them Derived from Ransomware Cyberattacks.
LAST UPDATED ON
JANUARY 3, 2022
Last year hundreds of cyberattacks hit the US healthcare sector. Multiple breaches reports containing public data illustrate that unauthorized parties had access to tens of millions of healthcare records.
Ransomware attacks represented the most popular cause of the biggest data breaches.
On the portal of the U.S. Department of Health and Human Services (HHS) Office for Civil Rights, it can be seen that the top ten cyberattacks with the biggest impact resulted from hacking, approximately 19 million people's PII being exposed.
The Florida Healthy Kids Corporation's incident is listed first on the list, according to BleepingComputer, hackers managing to exploit vulnerabilities that existed in the company's website hosting platform and were not patched for a period of seven years. This way, 3.5 million individuals' data was accessible to threat actors.
In the second place out of the breaches directed to the healthcare sector stood the 20/20 Eye Care Network in Florida during which over 3.2 million individuals' data was exposed.
Another data breach targeted Forefront Dermatology, as its systems were exposed to unauthorized parties for a week.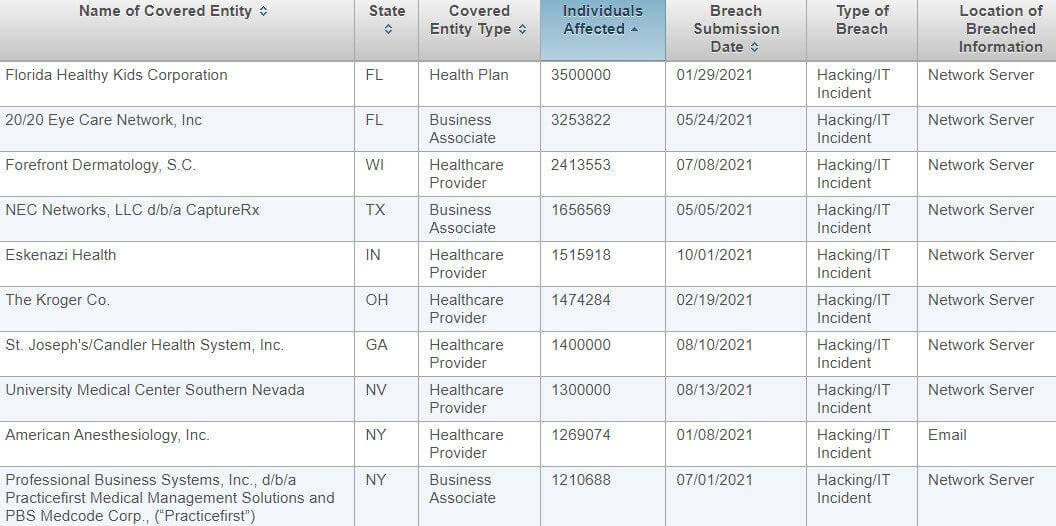 Popular Ransomware Attacks
According to the HIPAA Journal, here are the largest 2021 healthcare data breaches:
NEC Networks (CaptureRx)
NEC Networks noticed on the 19th of February 2021 the compromise of their systems and that hackers managed to have access to records of the customers. The investigation led to the conclusion that the breach was caused by a ransomware attack with an impact on the data of 1.65 million people.
Eskenazi Health
Eskenazi Health was hit by a cyberattack on August 4 2021 with over 1.5 million private data being compromised. The company revealed in a blog post that since May 19 threat actors hid on the internal network in their data encrypting attempt preparation which in the end failed, as the organization mentioned. Even if the encryption phase was not successful, hackers still managed to perform patients' data theft.
The Kroger Co.
A data breach was confirmed by The Kroger Co. which resulted in the exposure of 1.47 million people's data. This cyberattack was part of the Clop ransomware extortion campaign. Hackers managed to exploit some vulnerabilities in the File Transfer Appliance service of Accellion and gain access to corporate data. 100 companies were using this service. Kroger agreed to pay $5 million to make the claims against it come to an end.
St. Joseph's/Candler
The company was targeted by a ransomware attack, announcing that the intrusion detection happened on the 17th of June 2021. The conclusion of the investigation revealed that threat actors had access to the organization's network since the 18th of December 2020 with 1.4 million patients' data being exposed.
University Medical Center Southern Nevada
University Medical Center Southern Nevada was the target of the well-known REvil ransomware in the middle of the month of June. Hackers managed to gain access to 1.3 million people's data, including PII data as per the company's notification.
American Anesthesiology
In January 2021 patients were notified that a phishing incident impacted Mednax Services and an unauthorized party managed to have access to private data, resulting in 1.2 million people's private info being exposed.
Practicefirst Medical Management Solutions and PBS Medcode Corp.
A ransomware attack that did not succeed and was revealed in December 2020. Threat actors did not manage to perform data encryption, however, they managed to copy files from the network of Practicefirst, with 1.2 million data being exposed.
How Can Heimdal™ Help?
In the event of so frequent ransomware attacks, efficient tools are a must for every company. User our Ransomware Encryption Protection Tool, a 100% signature-free solution, to keep malicious encryption attempts away and be one step ahead of hackers.
If you liked this article, follow us on LinkedIn, Twitter, Facebook, Youtube, and Instagram for more cybersecurity news and topics.