The Pig Butchery Scams That The U.S. Department of Justice Just Busted
U.S. Government Seizes Domains Used In 'Pig Butchering' Scams.
LAST UPDATED ON
NOVEMBER 25, 2022
Authorities have finally begun to crack down on fake investment platforms used by scammers. 
The U.S. Department of Justice has seized seven domains that hosted websites linked to these "pig butchering" scams, where victims of online romance scams would be tricked into investing in cryptocurrency with the promise of high returns.
The list of domains includes simexcbr.com, simexlua.com, simexwim.com, simexarts.com, simexrue.com, and simexbiz.com, all of which are spoofing the site used by the Singapore International Monetary Exchange (SIMEX).
What Are 'Pig Butchering' Scams?
"Pig butchering" is a scam where fraudsters use fake online impersonation to fool victims into giving up their crypto assets.
Scammers often find victims on dating apps, social media networking sites, or even in random texts masquerading as a wrong number. They will build a relationship with the victim and eventually introduce the idea of making a business investment using cryptocurrency.
Five Victims Lost Over $10 Million To 'Pig Butchering' Scams
Scammers recently stole money from at least five victims in the United States using the seven spoofed domains of the Singapore International Monetary Exchange. The domains were seized in May and August of 2022.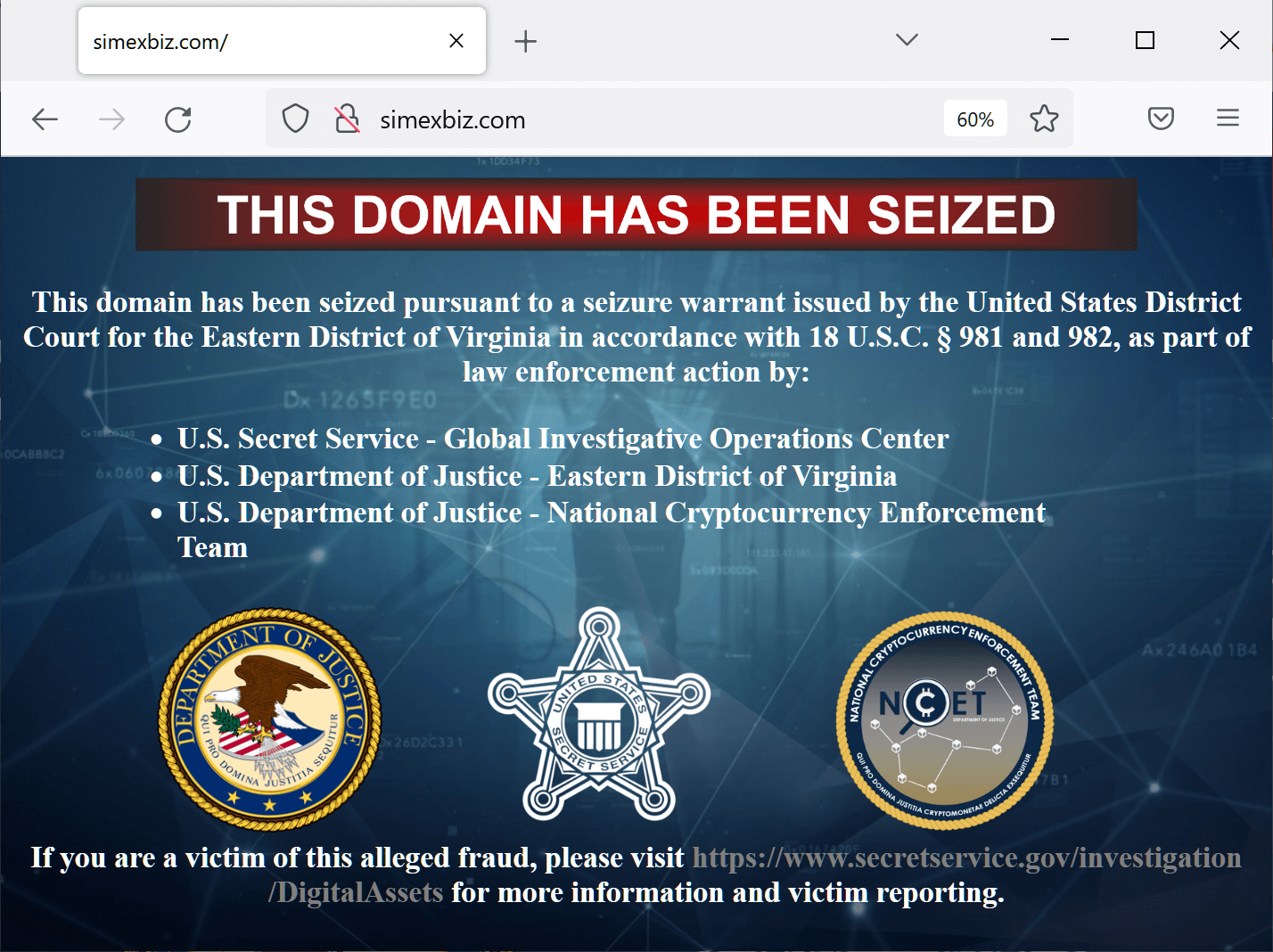 For example, one of the victims said that one of the criminals reached out via LINE and WeChat and told them about a cryptocurrency investment platform. They promoted his website using the simexlua.com domain.
After being tricked in May 2022 into installing a fake investment app and initially making a small $400 investment, the victims transferred about $9.6 million worth of USDC to a deposit address provided by the scammers.
According to the affidavit details unsealed on Wednesday, fraudsters sent "trading profit" notifications after each deposit to keep the victim "investing."
The scammers even went so far as to catch the victim when they tried to withdraw some fake profits, totaling over $7 million per the fake in-app alerts. The scammers then used these events as a way to get the victim to give them additional money by asking for "taxes," "fees," and "security deposits."
According to court records, scammers have used the seven seized domains to spoof the Singapore International Monetary Exchange for at least the last five months. The Department of Justice issued this statement on November 21st. 
Victims transferred investments into the deposit addresses the scammers provided through the seven seized domain names. Still, their funds were transferred so quickly through private wallets and swapping services that it's nearly impossible to trace. All in all, the victims lost over $10 million.
The FBI Warns Digital Currency Investors
According to the FBI, this type of theft is one of the most popular scams these days, and it has proven so profitable that criminals have been going after many more victims lately. Many victims were directed to make wire transfers to overseas accounts or purchase large amounts of prepaid cards.
"Individual losses related to cryptocurrency and ATMs have ranged from tens of thousands of dollars to millions."
The FBI publishes a list of some potential red flag warnings that people may see when they're the target of a pig butchering scam:
You're contacted by a long-lost contact or a stranger you met on social media.

The investment platform's URLs show nothing about it being a legitimate website for a cryptocurrency market or exchange, even though the site is very similar.

You tried to open the investment app you downloaded on your Windows computer, but it generated a warning that it was unsafe. You also noticed that your antivirus said the app was considered "dangerous."

You might be asking yourself: Why is this investment opportunity so great?
If you think you may have been the victim of a crypto scam, please file a police report on IC3.gov's Crime Complaint Center or contact CryptoFraud@SecretService.gov with your concerns.
If you liked this article, follow us on LinkedIn, Twitter, Facebook, YouTube, and Instagram for more cybersecurity news and topics.