A New Crypto Giveaway Scam Is Promoted Via Email
The Elon Musk-themed Cryptocurrency Giveaway Scam Is Promoted Through Spam Email Campaigns.
LAST UPDATED ON
SEPTEMBER 20, 2021
The new Elon Musk-themed cryptocurrency giveaway scam is called the "Elon Musk Mutual Aid Fund" or "Elon Musk Club".
People might think that no one falls for these scams, but unfortunately, similar crypto scams have been extremely successful in making hundreds of thousands of dollars in the past.
How Does the Scam Work?
It's a well-known fact that most cryptocurrency scams usually work by targeting social media users so it is quite interesting to notice the fact that scammers are now using email spam in order to promote a new "Elon Musk Club" or "Elon Musk Mutual Aid Fund" giveaway.
It does not look like the attackers have put too much effort in designing the phishing emails, as these include strange non-descriptive subjects and messages.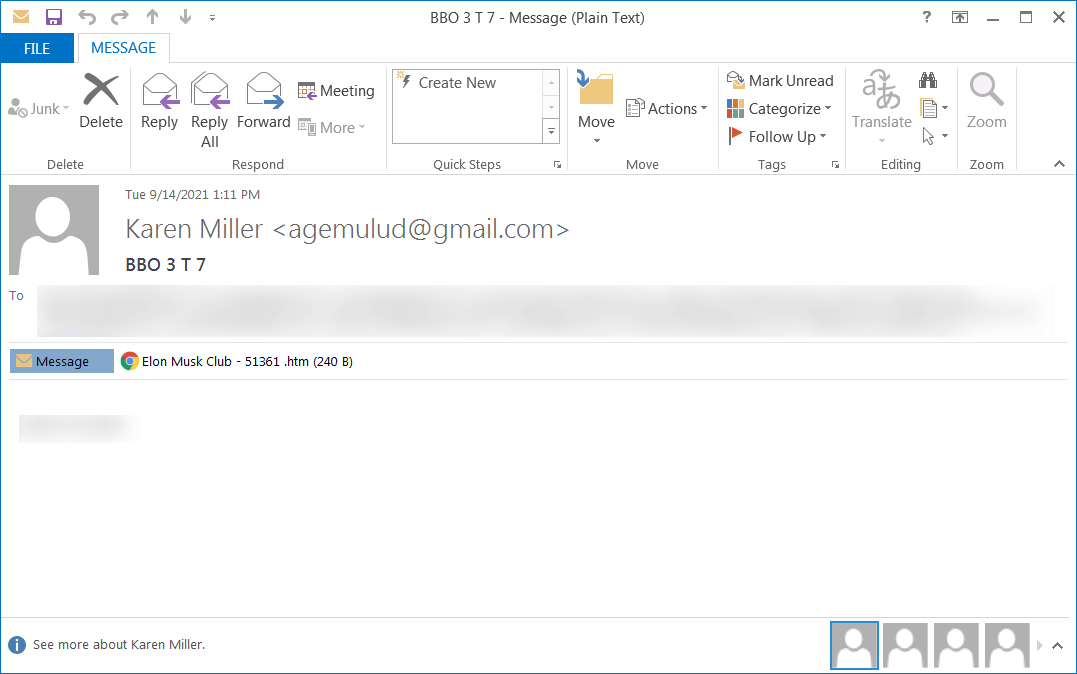 The emails have an HTML attachment named 'Get Free Bitcoin – [id].htm' or "Elon Musk Club – [id].htm", that contain just a line of code.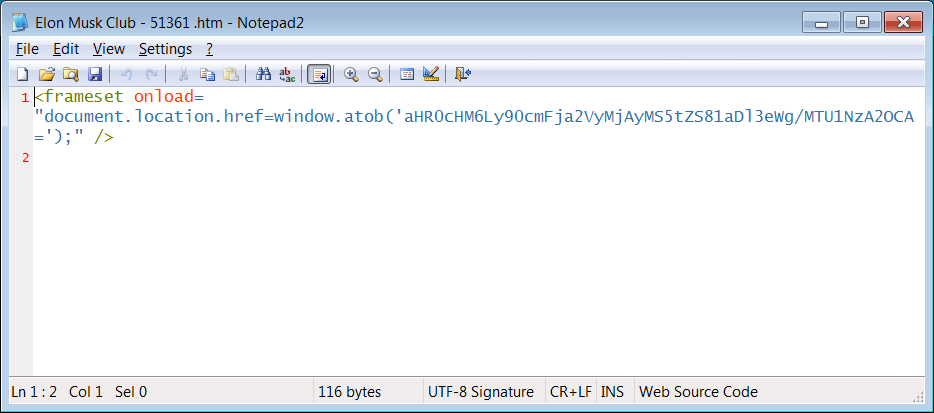 The code included in the attachments uses JavaScript in order to redirect the browser to the https://msto.me/elonmusk/ webpage.
This website pretends to be an "Elon Musk – Mutual aid fund" falsely promising to send 0.001 to 0.055 bitcoins to all users who participate.
If you click the 'Accept an invitation" button, you will be sent to another site called "Bitcoin Donate," located at https://bitcoindonateur.site/, where you'll have to enter a bitcoin address in order to receive the free bitcoin, your name, and an optional picture at this site.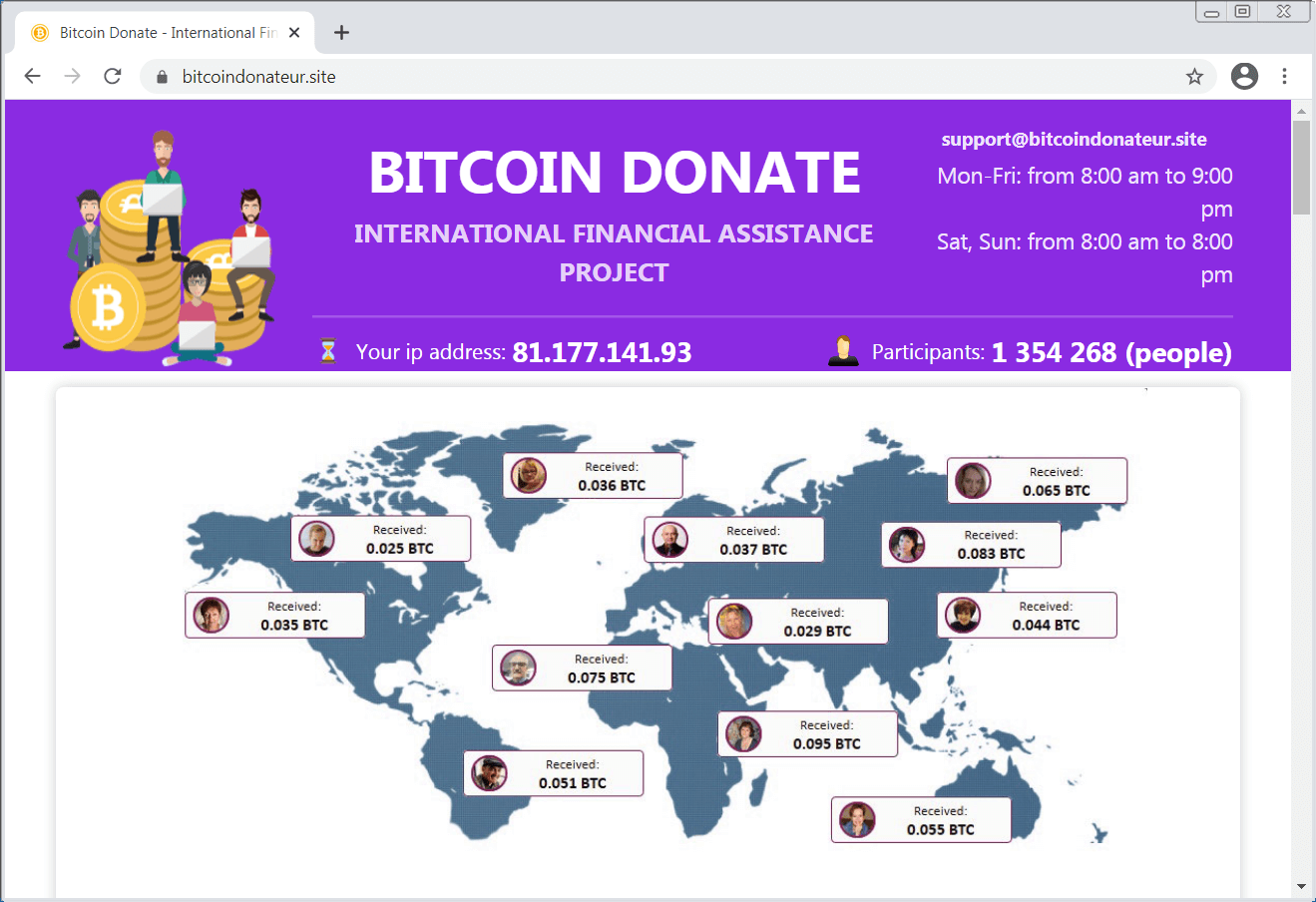 By continuing and pressing the 'Accept donate' button, you will be redirected through a series of pages pretending to be users donating .001 bitcoin to your account, and after your account accrued 0.055 of fake bitcoin donations, you will be sent to a final page stating that you must first donate 0.001 bitcoins to another user so you can receive the "financial assistance."
These Bitcoin addresses are owned by the scammers, as they will take your "donation" but will not send anything in return.
The journalists at BleepingComputer have discovered so far two bitcoin addresses that are associated with these scams: 32hU2JrkmMmgmka2rUuKXc3yd3S9WKxWnp account that received 73 transactions of 0.05734407 bitcoins, worth approximately $2,731.98 and 3EbUB9wdQCxJwW5neH3xnTGjuoCA8THU5D that had received 23 transactions of 0.01953376, worth approximately $930.99.
These scammers aren't going away soon, so they'll probably expand to other messaging platforms as well.
As a result, everyone should be aware that nearly every cryptocurrency giveaway website is a hoax, particularly those masquerading as Elon Musk, Tesla, SpaceX, or Gemini.
If you receive emails, tweets, or other social media messages promoting similar giveaways, it's probably safe to assume that any bitcoin you give will not be reimbursed.