Surgeries Are Being Cancelled Across Melbourne Due to a Cyber "Incident" 
Eastern Health cancels some surgeries across Melbourne, following a "cyber incident" experienced on Tuesday.
LAST UPDATED ON
MARCH 18, 2021
Eastern Health is one of Melbourne's largest metropolitan public health services and operates the Angliss, Box Hill, Healesville, and Maroondah hospitals, among other important health facilities. 
A cyber Incident cancels surgeries in Australia
A cyber incident caused the IT systems at multiple Victorian hospitals to shut down causing Eastern Health to cancel all but urgent category one surgeries.
In response to this incident, Eastern Health took offline many of its systems.
Many Eastern Health IT systems have been taken off-line as a precaution while we seek to understand and rectify the situation.

It is important to note, patient safety has not been compromised.
It seems that Elective Surgeries listed in Category 1 will continue just as planned, the incident impacting the system's ability to undertake less urgent interventions like the ones from Category 2 and 3.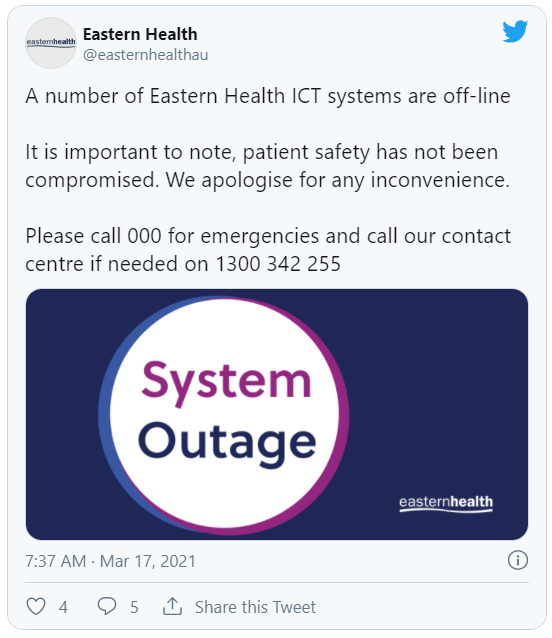 In 2018 the Office of the Australian Information Commissioner made reporting of data breaches mandatory, and since then, health was the most affected sector, with the latest NDB report shows accounting the health sector for 123 of the total 519 notifications reported in the last half of 2020.
COVID-19 Vaccine booking system overload
This isn't the only issue that the health system from Australia is having at the moment, the health minister declaring the vaccine booking system had some glitches.
On Wednesday, Australians tried to secure their dose of vaccine, but the system had some issues, it was expected for day one to be busy, but the number of people trying to register simultaneously took the platform by surprise.
For this reason, the patients listed in phase 1b inundated with calls the 1,069 GP's listed on the official website.
The eligibility checker had approximately 243,000 people on health.gov.au, check their eligibility. We had a 98% connection rate, on the advice that we've received from the booking engine. And then what happens is that you approach your GP, in the vast majority of cases. Some take online bookings, some take telephone booking.

And day one was always going to see significant initial demand and I'm very pleased about that.
Apparently day one of the campaigns was supposed to be Monday and the medical appointment booking industry should've been more prepared to feed their platforms into HealthDirect, in such a way for their client GP clinics to be already familiar with the software.
This is a system that should have been in place well before the commencement, particularly, of phase 1b of the vaccine rollout strategy. Already, we are seeing widespread confusion and widespread frustration.

The health system website continues to drop out, people are continuing to have problems logging onto a website that is the gateway to the vaccine rollout strategy.

These systems should have been tested and finalized weeks ago. Instead, all we are seeing out there today is chaos and confusion.
We can remember that, a year ago, the federal government's myGov portal went offline after thousands flocked to the website to sign up for income assistance following the business closures happening in the wake of the coronavirus outbreak.