Security Alert: Criminals Slip Backdoor in CCleaner to Spread Malware
Compromised CCleaner Versions Endanger Millions of Devices
LAST UPDATED ON
SEPTEMBER 20, 2017
IT infrastructure is important for any company to better perform on the market. And every part of the system should provide maximum security and safeguard sensitive data. But unfortunate incidents happen, critical pieces of infrastructure are affected and produce business disruptions. Like this recent one with CCleaner, a popular PC cleaning software app.
The attack against CCleaner has been labeled as a "supply-chain attack" which involves exploiting vulnerabilities in the supply network used by a specific organization.
CCleaner, one of the most widely used PC cleaner and optimization applications created by Piriform and acquired in July 2017 by the antivirus company Avast, has been compromised by cyber criminals. Attackers managed to infiltrate two versions of CCleaner and slip backdoors into them, potentially impacting millions of devices and their users.
If you are using the older version of CCleaner app, 5.33 and above, you should upgrade to the 5.34 version immediately.
Here's what we know so far
CCleaner is a popular application that helps users clean unwanted files on various programs by saving and optimizing the hard disk space for better performance.
It's also worth mentioning that, for almost one month, 2.27 million people used the affected version of CCleaner.
Since November 2016, CCleaner has had over 2 billion downloads worldwide, with a growth rate of 5 million desktop installations per week, so the potential impact that cyber criminals wanted to achieve was massive!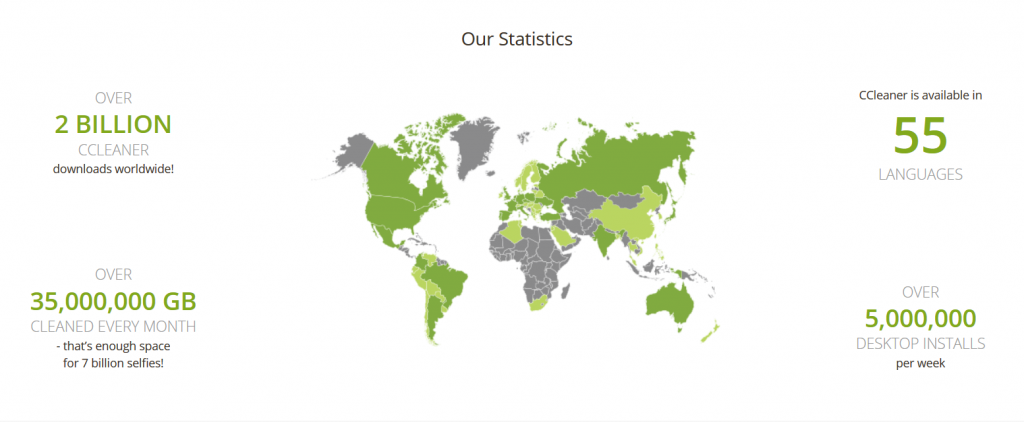 Source: Piriform
Given the proactive approach of the Avast team, the number of affected people went down to 730,000 users still using the affected version (5.33.6162).
The company is strongly encouraging users to download the latest version available, 5.34 or higher of the application to avoid being exposed to a potential attack.
What is a supply-chain attack
Definition: This type of attack initiated by cybercriminals aims to damage an organization by leveraging vulnerabilities in its supply network. Basically, hackers often manipulate with hardware or software during the manufacturing stage and implant rootkits or tie in hardware-based spying elements. The malware has been delivered through a backdoor, and still remaining undetected.
Such attacks are effective mainly because cyber criminals try to spread malware throughout the target organizations by leveraging a resource used internally.
The current publicly available information suggests that cyber criminals managed to access the company's download servers used by CCleaner and deliver compromised versions of the app to unsuspecting users. No specific details about malware delivery through these impacted versions have surfaced so far.
When the trust relationship between a manufacturer/supplier and its customers is abused, it leads to confusion among all parties involved in the process. This was one of the consequences of this compromise, which is why we're aiming to provide guidance and help you understand the situation better.
How to check if you've been affected
If you are one of the users who have installed CCleaner older versions, your device is at risk! Please read on.
The attack affects anyone who's been downloading CCleaner version 5.33 or updated their app to this version between August 15 and September 12, when the new 5.4 version was released.
The first thing to do is to check for updates and see if you have the new, 5.4 version of CCleaner.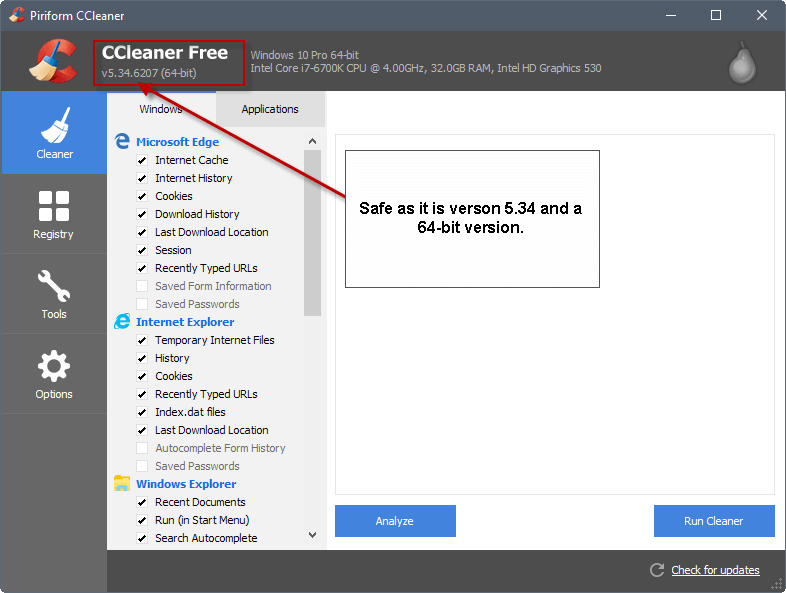 Source: Ghacks.net
Should I still update my software? What if it's infected?
It is worth saying that software patching is one of those proactive things we can do to enhance our security online. And we still need to take all needed measures to update our software products. We highly recommend reading our roundup on what security experts have to say about the importance of software patching.
Despite observations that these kind of attack are on the rise, the reality is that they remain extremely rare when compared to other kinds of attacks users might encounter. This and other supply chain attacks should not deter users from updating their software. Like any security decision, this is a trade-off: for every attack that might take advantage of the supply chain, there are one hundred attacks that will take advantage of users not updating their software.
We quoted the Electronic Frontier Foundation which is a leading nonprofit organization defending civil liberties in the digital world. Their work is focused on ensuring that rights and freedoms are enhanced and protected as the use of technology quickly grows.
Details about the CCleaner update delivered through Heimdal products
As soon as the news about the CCleaner backdoor, we conducted a thorough analysis of the patch delivered by Heimdal™ Threat Prevention, Thor Free, and Endpoint Security Suite on August 16 (for v5.33). The way Heimdal delivers the patch does not also involve executing any code. Therefore the backdoor is never opened. In the case of the CCleaner patch, no malicious connections were made.
Additionally, we immediately blocked the DGA domains and IP addresses used in distributing the potential infection. Following a thorough analysis of the traffic on all PCs and other endpoints protected by Heimdal, we identified zero blocks of malicious traffic associated with any of the DGA domains involved in the CCleaner security breach.
However, if you have auto-update turned off for CCleaner in Heimdal™ Threat Prevention or Heimdal Free and you're still running v5.33.6162, we highly recommend you upgrade right away to v5.34 or v5.35 (the latest in the Heimdal patching system) to eliminate any potential vulnerability.
How to fend off supply-chain attacks if you're a home user
CHECK YOUR CYBER SECURITY HABITS
Will this incident determine you to give up using CCleaner?
How you can protect your company from supply-chain attacks
In a business environment, the supply chain, whether concerning a manufacturer or a service provider, is a prime target for cyber attacks. Here's what you need to do to maximize your protection against these attacks.
Technical analyses
If you're interested in reading technical details and following how the situation evolves, we recommend the following articles:
Should you still use CCleaner?
This recent incident is a reminder of the danger that is supply chain attacks. Cybercriminals took advantage of an essential piece of infrastructure to reach and impact a potentially large number of users.
Users did not expect such attacks to happen, as neither did Avast or Piriform. Still, the company reacted promptly and allocated time and resources to solve this incident to the best of its abilities.
Although no one wants to see this situation happen again, it could happen to any tech company, unfortunately. This is why situations like these prompt us to look at our own security habits, both as individual users and as employees and companies, and see how we can contribute to our overall safety.
Did you know about this security incident? What questions did it trigger for you? (Maybe we can help with some additional answers.)