Russian Cybercrime Market Owner Added to FBI's Most Wanted List
Igor Dekhtyarchuk Was Accused in the Eastern District of Texas of Operating a Cybercrime Marketplace.
LAST UPDATED ON
MARCH 24, 2022
According to the US Department of Justice, a Russian citizen has been charged and added to the FBI's list of Cyber Most Wanted for allegedly founding and running a cybercrime marketplace.
Igor Dekhtyarchuk is wanted for allegedly operating a cyber-criminal marketplace that sold thousands of login credentials, personally identifiable information, and authentication tools that allowed transnational organized crime and other cyber criminals to unlawfully access the online accounts of victims located around the world.  On March 16, 2022, Dekhtyarchuk was indicted in the United States District Court for the Eastern District of Texas, Tyler, Texas, on charges of Wire Fraud, Access Device Fraud, and Aggravated Identity Theft.  On March 17, 2022, a federal warrant was issued for his arrest.
A Russian national, Igor Dekhtyarchuk, was accused in the Eastern District of Texas of operating a cybercrime marketplace where he sold credit cards, access to hacked devices or accounts, and personal information to unsuspecting customers.
A criminal complaint states that Dekhtyarchuk established the marketplace in May 2017 and started marketing it on Russian hacker forums in April of the following year.
Dekhtyarchuk was the administrator of Marketplace A and was a Russian hacker who first appeared in hacker forums in November 2013 under the alias floraby.

Dekhtyarchuk began advertising the sale of compromised account data in Russian language hacker forums in April 2018 and opened Marketplace A in May 2018.

Dekhtyarchuk immediately began advertising Marketplace A and the products it sold in May 2018. As of May 2021, Dekhtyarchuk, through Marketplace A, publicly advertised that he has sold over 48,000 compromised email accounts, 25,000 compromised Company B accounts, and 19,000 compromised Company A accounts.

Dekhtyarchuk also prominently advertised the locations of the owners of the compromised accounts,including the United States and Australia. Around March 2022, and according to site statistics, Marketplace A averaged approximately 5,000 daily visitors.
In the case of customers who acquired device access via the marketplace, Dekhtyarchuk or one of his accomplices reportedly contacted them on Telegram and provided them with either login credentials or a login cookie that provided access to the purchased device or account.
After being arrested on accusations of wire fraud, access device fraud, and aggravated identity theft, Dekhtyarchuk was placed on the FBI's Cyber Most Wanted List, where he remains today.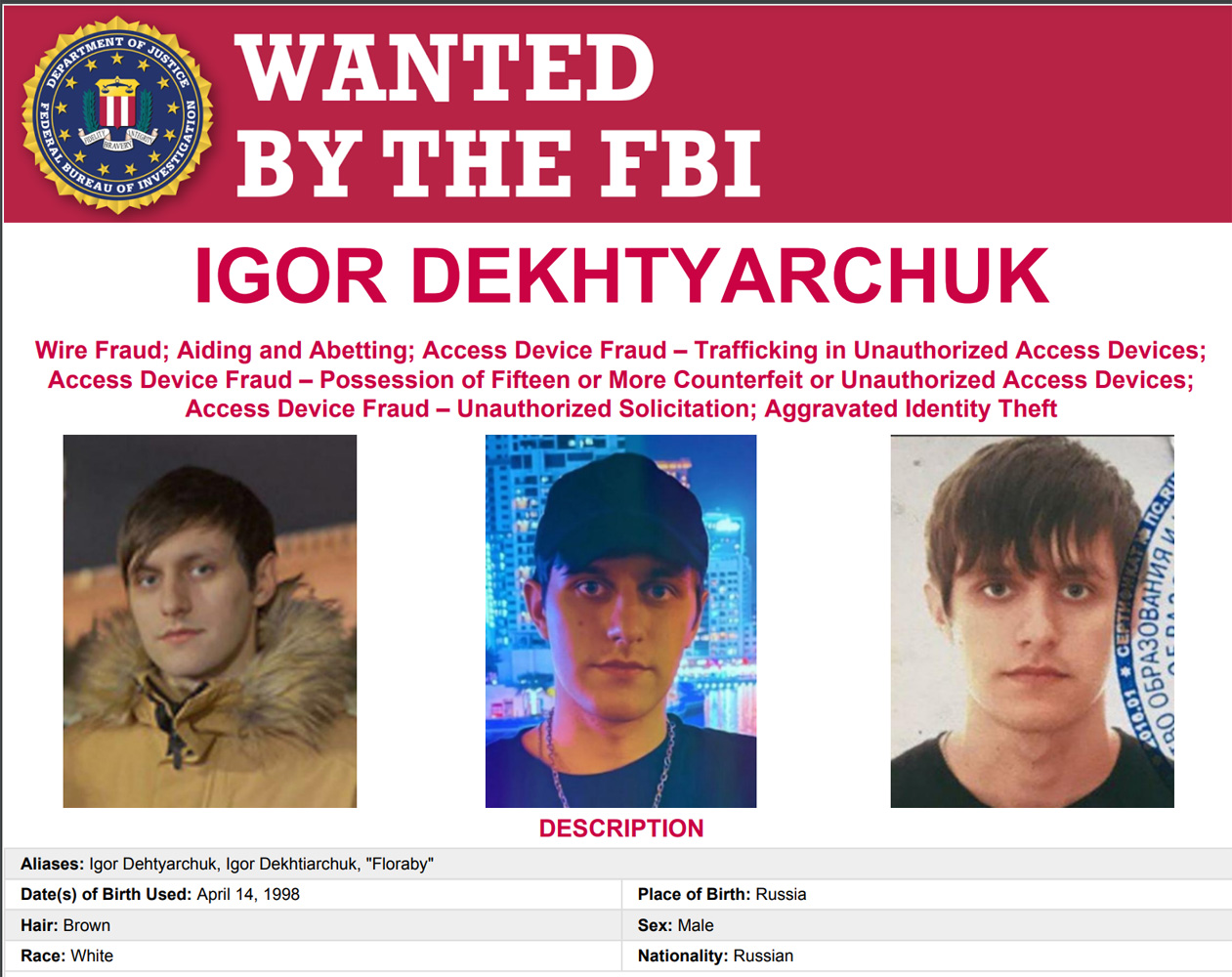 As BleepingComputer reports, Dekhtyarchuk was indicted on charges of cybercrime marketplace creation and operation. While the indictment did not specify what cybercrime marketplace Dekhtyarchuk founded, it did state that he operated under the pseudonym 'Floraby.'
If you liked this article, follow us on LinkedIn, Twitter, Facebook, Youtube, and Instagram for more cybersecurity news and topics.