NatWest Bank Informs Its Clients of Scheduled Payments Error
This Error Affects NatWest Clients Who Had Initiated Permanent Orders Through Online Banking to Perform Automatic Payments.
LAST UPDATED ON
MAY 11, 2021
Yesterday, NatWest Bank, a major retail and commercial bank in the United Kingdom, started sending emails to its clients, urging them to look into their bank account for payments debited since 23rd March of last year.
The e-mail notifications reveal that due to a system blunder, additional payments could have been debited from customer accounts than the originally established-upon rate of occurrence.
According to emails sent by the financial organization and seen by Bleeping Computer, the system flaw meant that the permanent purchases scheduled by banking users over the course of 11 months did not record the number of automated payments that were to be debited in an accurate way.
We'd like to apologize for a mistake we've made with standing orders. We can reassure you that it's now been put right and we'd also like to explain what to do if you've been affected.

This error affects any standing orders you set up between 23rd March 2020 and 24th February 2021 using Online Banking.
This mistake might cost their customers money because even after the standing order has become void automated payments could have continued to be made from the client accounts.
The error primarily affects NatWest clients who had scheduled permanent orders through Online Banking to perform automatic payments.
UK banking clients are using standing orders just like people in the U.S. use Bill Pay to schedule automated recurring payments for debit transactions such as mortgage, rent, or bills. While any company can request a Direct Debit for a customer bank account, permanent orders can be started only by the clients themselves.
For standing orders initiated between 23rd March 2020 and 24th February 2021, the bank was unsuccessful in correctly capture the end date for the order or the total number of payments the client had asked for.
This means "any payment will have continued to be debited from your account unless you cancel it."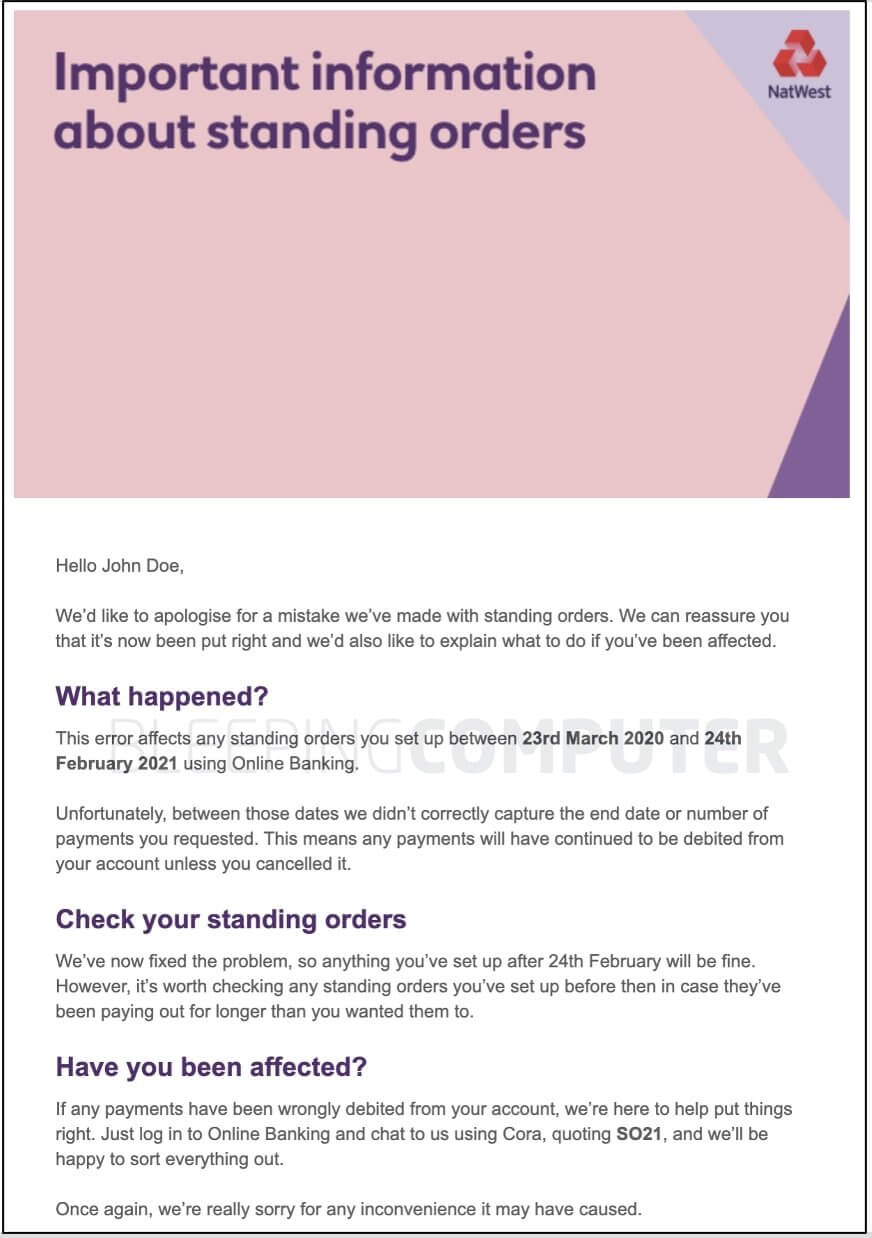 Even though all the problems have been fixed by now, clients who had scheduled permanent orders between the mentioned dates are encouraged to verify their payments to see if they have dubious transactions.
As stated by the NatWest Bank, any standing orders scheduled after 24th February 2021 should be in order.
However, it's worth checking any standing orders you've set up before then in case they've been paying out for longer than you wanted them to.
At the moment, it is unknown how many clients have been affected by the error as a NatWest support representative confirmed to BleepingComputer that "multiple customers" were impacted.