Introducing Heimdal XDR: A Game-Changer Disrupting the Market with the Widest Range of Next-Generation Solutions
LAST UPDATED ON
AUGUST 21, 2023
Heimdal® has announced its entry into the Extended Detection and Response (XDR) market with a disruptive SaaS platform. The company offers the widest XDR suite in the industry, featuring 10-in-1 award-winning solutions, all in one unified, easy-to-use console.
Discover Extended Detection and Response. XDR Solution by Heimdal.
XDR represents a paradigm shift in cybersecurity, offering comprehensive visibility and integrated security capabilities across multiple data sources, endpoints, networks, and cloud environments.
Heimdal's XDR solution combines advanced threat detection, automated incident response, and threat hunting into a unified platform. This empowers organizations to proactively defend against sophisticated attacks.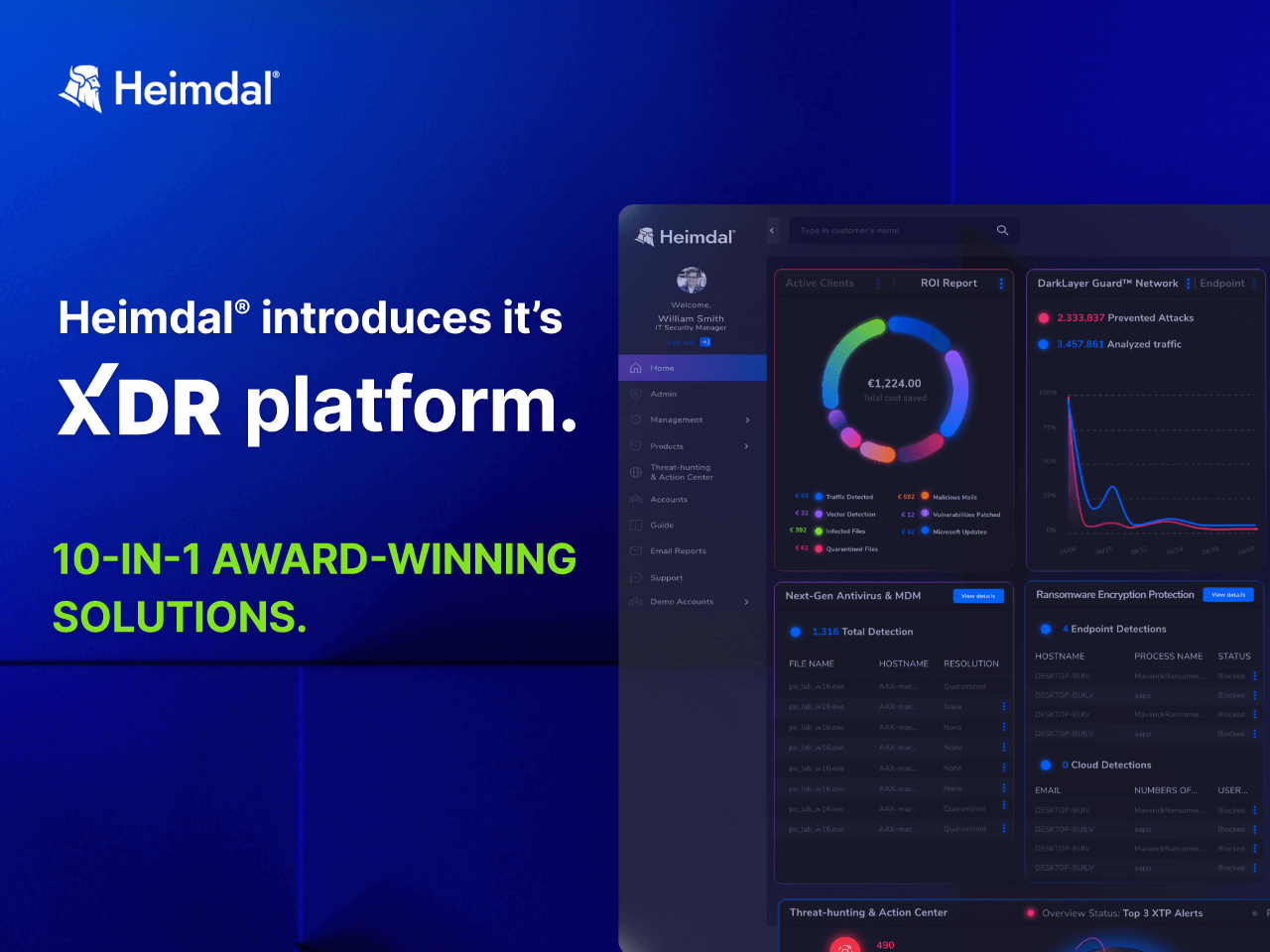 "We are thrilled to make a significant impact in the XDR market with our ground-breaking offering: the industry's largest XDR suite " expressed Morten Kjaersgaard, CEO of Heimdal.
"By seamlessly integrating our product suites, advanced machine learning algorithms, and invaluable human intelligence, we empower our customers with next-gen threat visibility, proactive threat hunting, and automated incident response capabilities, setting a new standard for cybersecurity excellence."
Empowering IT Teams
The XDR solution from Heimdal uses the Extended Threat Protection (XTP) detection engine. Supported by AI/ML predictive models, this technology will quickly identify threats and take appropriate action.
By utilizing MITRE ATT&CK methodologies, Heimdal gives security and IT teams enhanced forensics information, ransomware data processing, bilateral telemetry, and a comprehensive picture of the attack chain. This way, it enables them to successfully defend against even the most complex attacks.
As cyber threats continue to evolve in complexity and scale, businesses need a robust XDR solution that can adapt and respond to emerging threats effectively.
Heimdal's entry into the XDR market marks a significant milestone in the company's mission to empower organizations with the tools they need to defend against the ever-changing threat landscape.
To learn more about Heimdal's disruptive XDR solution, visit Extended Detection and Response. XDR Solution by Heimdal®.