Google Decided to End Business with Huawei. How This Impacts Users.
Learn if your Huawei phone is safe and what you need to know if you're going to buy a new one.
LAST UPDATED ON
MAY 22, 2019
Sad and worrying news for Huawei mobile users, like you and me. Google recently announced that it will no longer provide support to the giant Chinese company for many Android hardware and software operations. 
This move is followed by a Trump administration decision to add Huawei Technologies Co Ltd to the trade blacklist and impose restrictions that will affect how the company will do business with other U.S. organizations. 
On top of that, important US chipmakers like Intel, Qualcomm, and others have also joined Google and cut off deals with the Chinese company, Bloomberg reported.  
So, the big US tech players decided to comply with this new legislation, but the consequences will surely impact the tech industry, consumers, and each of us, in general.  
While we are aware of the geopolitical implications involved, a trade war between China and US, which will probably lead to an imminent technological cold war, there are also actual real-life implications for those who have (at least) one Huawei device at home. 
All the buzz around the recent Huawei ban has probably sparked confusion and raised some key questions like: 
Is my Huawei device safe? Should I stop using it and switch to another alternative?  What about Android security updates? I want to purchase a new Huawei smartphone, is it safe or not? 
In this article, we'll try to understand what's the best approach to dealing with this situation and provide actionable and useful tips you can apply for a better user experience. 
Here
are some key aspects related to the Huawei ban to keep in mind
The US Government applied new regulations for the Chinese company, by adding it to the "Entity List" which means it can't "buy parts of technology from US suppliers without government approval as its equipment is considered potential tools for Chinese espionage".  
Following this ban, the US Department of Industry and Security, Commerce said Huawei still has a 90-day "temporary general license" which allows the company to continue using the US intel with the license.  
During this limited license available until August 19, 2019, Huawei will work closely with US corporations to maintain business relationships and provide software updates for the existing Huawei devices. Read more details about this temporary license. 
From a positive perspective, ZTE telecom Chinese company went through a similar situation. It was blacklisted by the US government, but it finally lifted the trade ban and allowed the company to continue getting essential hardware parts and software from US companies.      
However, in the case of Huawei, Google decided not to provide software hardware, and technical services to the Chinese phone maker. This means that the giant tech player will control the Chinese company's access to Android, its core operating system, and parts of it, such as: 
Its Play store

 

Own applications

 

Google Assistant

Gmail email service

 

Tools that require access to third-party services.

 
While the US-based technology companies such as Intel and Qualcomm decided to comply with the latest US government order, it looks like Microsoft remains silent on potential Windows ban which will block Huawei's access to get Windows licenses. The Verge tried to reach out to Microsoft reps, but no further commend has been given on this situation. However, it appears that the company stopped selling Huawei's MateBook X Pro, one of the Windows laptops in the US, at its online store. 
In anticipation of this move and current tensions between US government and China, Huawei has worked on a "plan B" and already started developing a proprietary operating system, for both smartphones and computers, as an alternative to Google's Android OS. We'll see how things will evolve going forward. 
"We have prepared our own operating system, if it turns out we can no longer use these systems [Android], we will be ready and have our plan B."
declared Huawei executive, Richard Yu.
In a recent interview, Huawei's founder Ren Zhengfei said that the company's "5G would not be affected and predicted that no other parties would be able to catch up with the company in 5G technology in the next 2-3 years". He also added that the U.S. authorities are underestimated Huawei's capabilities. Are they?  
Smartphones sales experienced a decline in the first months of 2019, but Huawei saw a significant increase in shipments by 50% (all running Android OS), and "made a strong statement by growing volume and share despite market headwinds".
What the current
Huawei device owners
should know
Google said that consumers who currently have a Huawei device can still use the company's services such as the Google Play Store, Google Search, Gmail, Google Maps, and security from Google Play Protect. 
For Huawei users' questions regarding our steps to comply w/ the recent US government actions: We assure you while we are complying with all US gov't requirements, services like Google Play & security from Google Play Protect will keep functioning on your existing Huawei device.

— Android (@Android) May 20, 2019
 The official statement from Huawei also confirmed that it "will continue to provide security updates and after-sales services to all existing Huawei and Honor smartphone and tablet products." 
So, this means that all current Huawei devices will work normally, without being affected in any way. In the medium-to-long term, we don't know exactly what's going to happen, but it will depend on the relationship between the US and China.    
Yes, you can still perform your daily tasks, download any app from the Google Play and rest assured that all software updates are being delivered at time.  
We all know how essential software patching is and why security experts have taken every opportunity to encourage both regular users and organizations to apply them.    
Heimdal™ Threat Prevention Home makes sure that link is safe!
Your parents and friends will click any suspicious link, so make sure they're protected.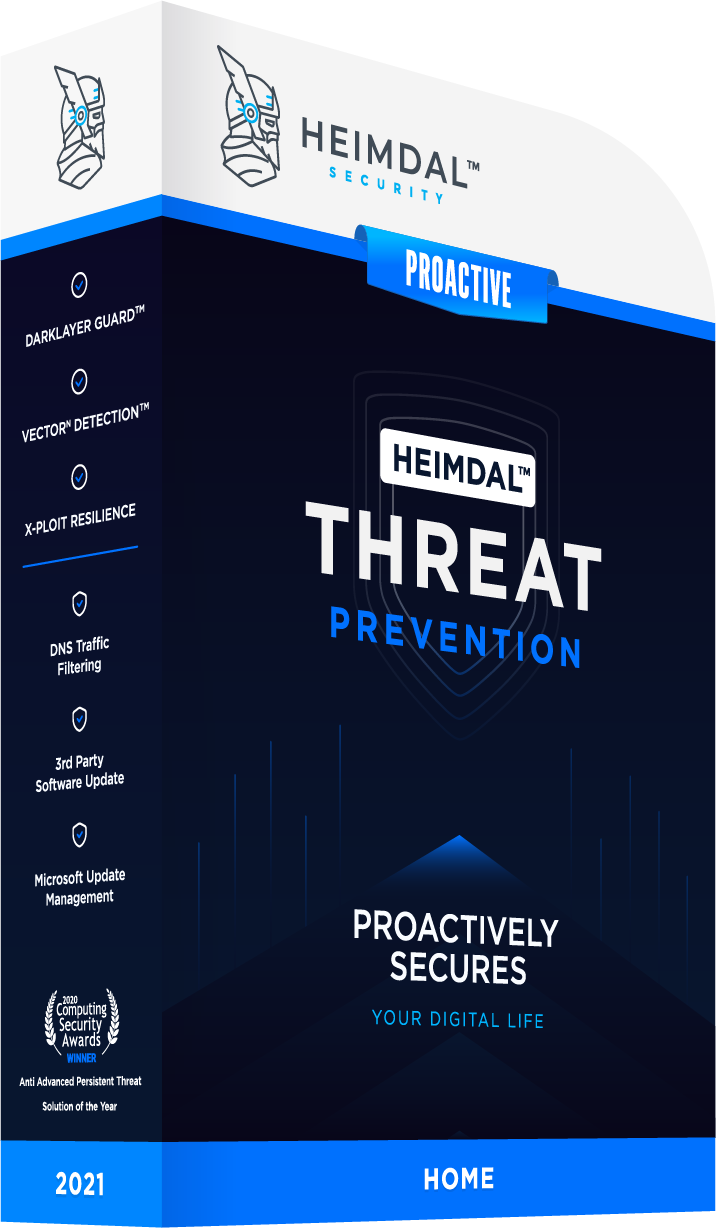 Heimdal™ Threat Prevention Home provides:
Automatic and silent software updates
Smart protection against malware
Compatibility with any traditional antivirus.
SECURE YOUR ONLINE BROWSING!
Try it FREE
30-day Free Trial
How does this
situation i
mpact any future Huawei smartphone?
If you're going to purchase a new Huawei smartphone in the upcoming months, there will be limitations regarding the access to Google services and other implied restrictions that you need to know about.  
First off, all the upcoming Huawei devices

will not be certified by Google and they won't have built-in Google's most popular applications and programs. 

 
This decision won't impact the Chinese consumers, who already can't access most of Google's top services, but will be reflected in Europe and other parts of the globe.  
Without access to Google Mobile Services, third-party developers won't be able to use Google's API on new Huawei handsets.

 

For future devices, Huawei can no longer benefit from the Google Play services, but it still has access to Android OS, since it is an open-source system.

 

Each new addition Google will be done to Android via the Google Play Services will no longer be available to the Chinese company for its global devices.

 

New versions of

Huawei

smartphones outside China w

ill not ship with key Google services such as Google Play, Gmail apps, Maps, or YouTube. Even if you try to install them, they won't work.

 

Without access to the Google Play store, users will probably try to download their apps and programs from other sources which can pose real security

risks

and provide new opportunities for cybercriminals to inject malware through fake apps.

 

Also, new Huawei smartphones could not receive future releases of Android OS and be stuck with an old version. This means there will be no access to new improvements and features developed by the company

, but we know that Huawei usually changes the standard Android experience by adding its own user interfaces.

   

                                                                                                                                     



Protection guide for Huawei
device
users
 There's no secret to anyone that Huawei is the largest smartphone vendor in China and a key player on the global market.  
However, the company still relies on US suppliers to obtain hardware that will help them develop high quality and popular devices all over the world. 
If you have a deep fondness for your Huawei smartphone and you don't want to give up on it, here are some essential security measures you need follow: 
Apply available software updates and consider

turning on the "automatic updates" feature, if you have it. Thus, you will avoid seeing your device an easy target fo

r

malware and ransomware which usually lookout for outdated programs and apps.

 

Use a specialized security solution like

Heimdal™ Free

to handle software updates, automatically and silently, by allowing users to save time and energy.

I

f your Huawei device is more vulnerable to

cyber attacks

, it is recommended to use a multi-layered security solution like

Heimdal™ Premium Security Home. Given its proactive and unique threat intel, alongside a next-gen Antivirus, your sensitive information and digital life are secure and protected with a complete and all-in-one security suite

.

 

Be

proactive

and stay up to date with the latest news about this debate, if you're going to invest in a Huawei device. Make sure you follow the company's latest announcements on this matter and keep an eye on the security updates for your specific device.

Learn about the online dangers and

build a strong defense against cyber threats by checking out one of our valuable

educational resources

that will teach you actionable and applicable security tips.    

 
Final
thoughts
In the long run, this decision coming from the US Government to crack down on the Chinese company will probably escalate to something even bigger. There's an ongoing battle between the United States and China which we don't know exactly how will end, but the future remains unclear for Huawei company. 
The other day, I heard one of my colleagues in the office saying that Huawei is no longer a viable option. I, for one, will continue to use my current Huawei smartphone and stay informed of the latest news from the company.
What are your thoughts on this subject? Are you still going to invest your money in a Huawei phone or consider other options?