Excited about the Final Season of Game of Thrones? Be Careful Where You Watch It!
Here is how you can get infected with malware
LAST UPDATED ON
APRIL 12, 2019
All Game of Thrones fans know it by now – the long-awaited final season is starting on Sunday, April 14th. While you may be overly excited to watch it, you may also be tempted to stream it online for free or resort to torrent websites and download it illegally.
By turning to these resources you are not only breaking copyright laws but possibly your computer as well.
According to the anti-malware researcher Muso, almost 190 billion visits were made to illegal piracy websites in 2018. Nearly half of these people visited the websites in search for television shows, and almost one in five visitors were looking for the latest movie.
Two years ago, before Season 7 of Game of Thrones was released, over 10 million Americans were planning to watch it illegally, and it would be safe to assume the numbers would look equally shocking this year.
Winter is coming, but so is malware
We decided to take a look at what domains our users have tried to access in the past two weeks, to see what type of content Heimdal™ Threat Prevention blocked. We investigated all the domains containing keywords related to TV and videos in general.
Below you can see the keywords we looked at. The percentages were calculated out of the total number of TV and video-related keywords.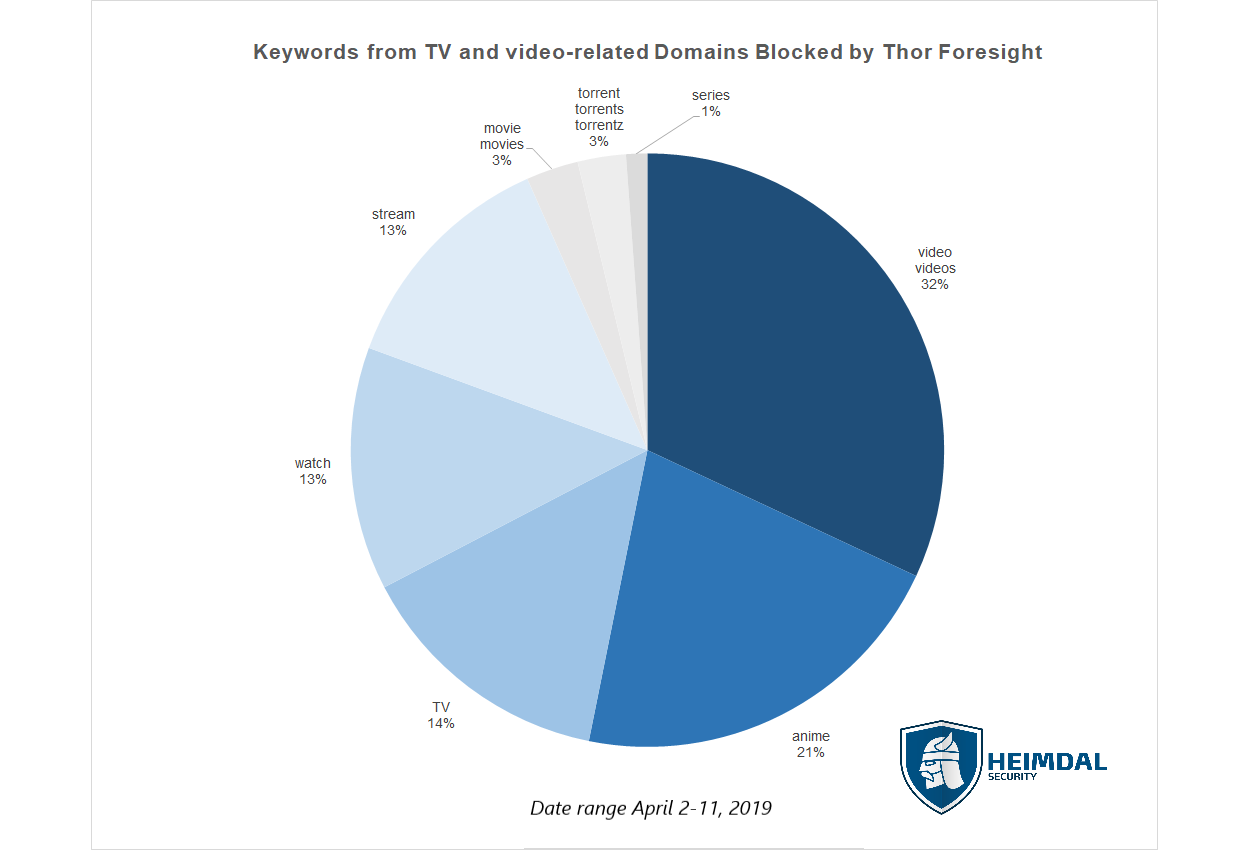 Source: Heimdal Security Threat Intelligence Data
According to another recent report, the number of users who ran into TV shows-related malware in 2018 is one-third less than in 2017. But the rest of the findings don't fall on the bright side at all. Interestingly enough, although there was a one-year gap between Season 7 and Season 8, Game of Thrones was the top target for malware in 2018.
This show alone was accounted for 17% of all the infected pirated content in 2018, with almost 21,000 users attacked.
Where did malicious actors hide the largest number of infected files? Obviously, in the first and last episodes of each season of Game of Thrones, since you are most likely not to miss these.
The same research showed Trojan was the most frequent malware type.
So what can happen if you watch TV shows and movies illegally?
Let's go through some of the recently discovered security threats in the realm of torrents.
At the beginning of January 2019, a malicious Windows shortcut file was discovered on The Pirate Bay torrent tracker. It injected content from the attacker into browsers and altered search results from Google and other search engines or Wikipedia, also trying to steal cryptocurrency. The malware was hiding in files for the movie The Girl in the Spider's Web.
At first glance, it looked like just some annoying adware, but after taking a closer look, researchers found the malicious activity is extending to webpages and on Wikipedia entries. The attackers are monitoring websites for Bitcoin and Ethereum wallet addresses, looking to replace them with the ones of the attacker.
On Google, the malware creates fake ads on the top search results. And when searching for certain terms, such as "spyware", the first two results take you to a cybersecurity solution called "Total AV".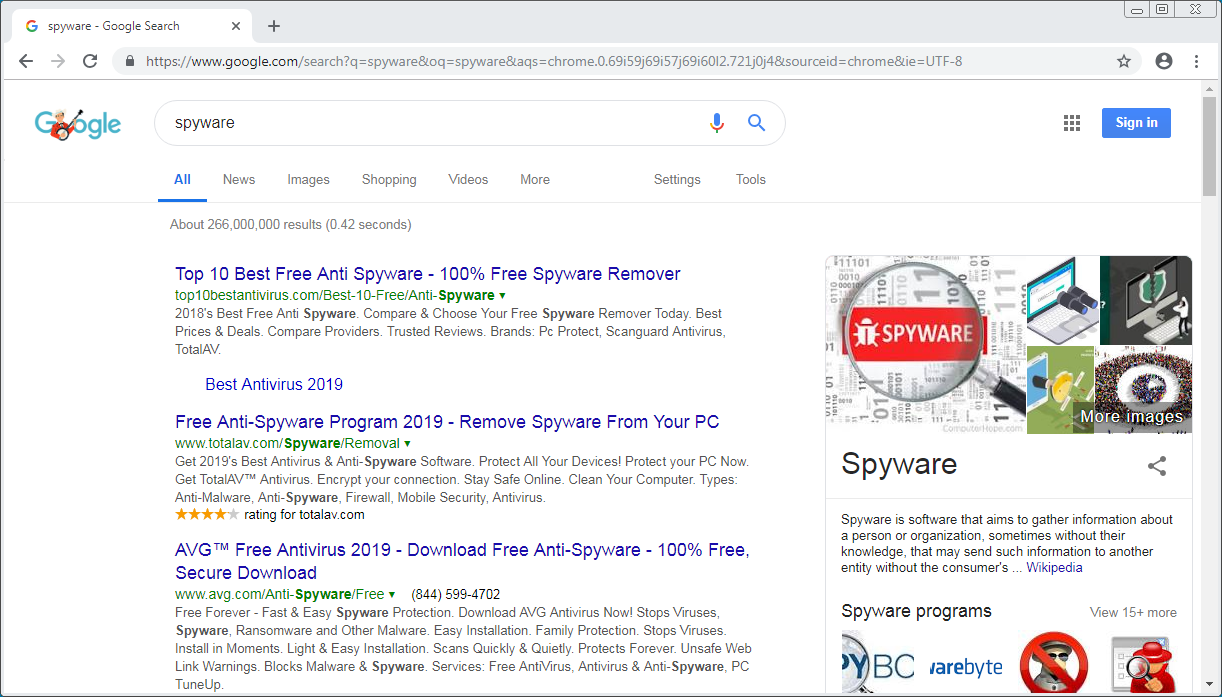 Source: bleepingcomputer.com
What's more, attackers have also created a Wikipedia donation scam, where they insert a fake banner that says Wikipedia now also accepts cryptocurrency donations. For more details, you can read the full story here.
The chain of recent malware events associated with torrent websites doesn't stop here.
In March 2019, the "PirateMatryoshka" scheme was also brought to light.
What did the torrent files contain? Instead of the software you were hoping to download from The Pirate Bay, you would come across a Trojan, which was disguised as genuine software. If you were to install it onto your computer, you'd ended up buried in adware. This doesn't stop here, as additional installers can be introduced to bring even more malware and wreak havoc into your PC.
The easy way to protect yourself against malware
Here's 1 month of Heimdal™ Threat Prevention Home, on the house!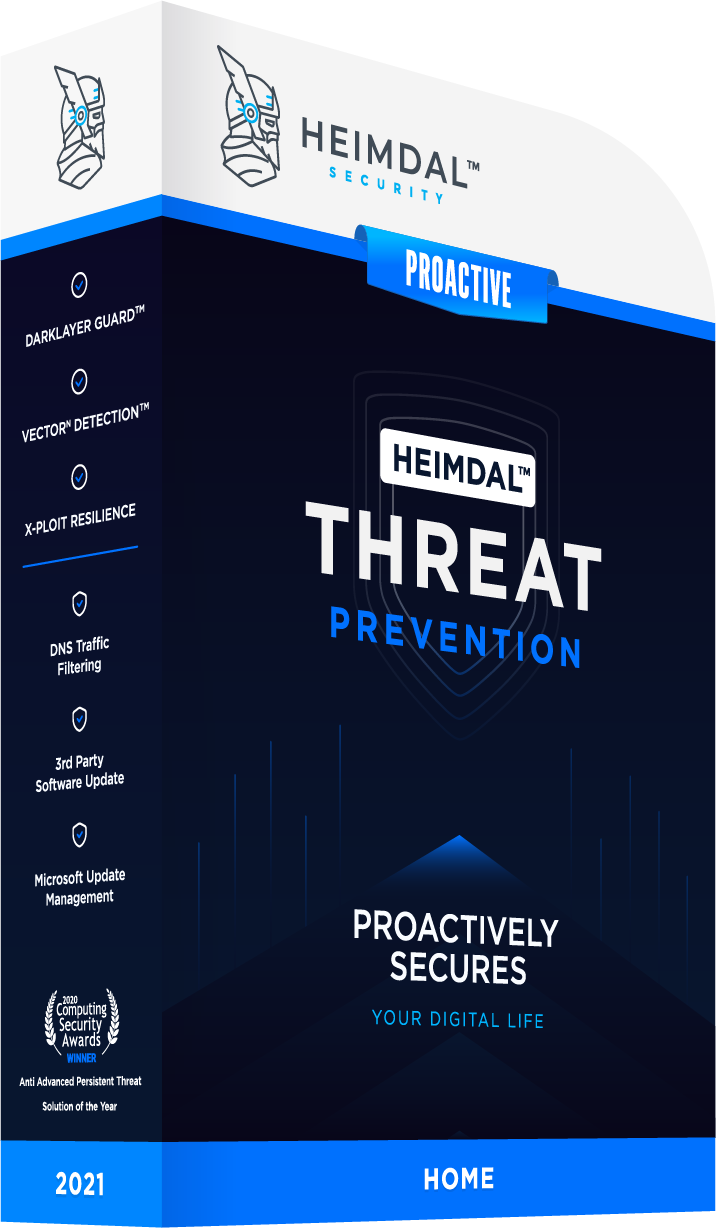 Use it to:
Block malicious websites and servers from infecting your PC
Auto-update your software and close security gaps
Keep your financial and other confidential details safe
Traps can be hidden anywhere
Unfortunately, malicious actors are finding more and more ways to attack you. It seems they are now also relying on popular search terms to infiltrate into your system.
Even searching for your favorite actor's name could result in some unwanted results. For example, returns for "Emilia Clarke" are among those most likely to be infected with malware, according to a recent study. By clicking on these results, users are tricked into visiting malicious websites. What these websites can do is steal passwords or other personal info.
Malware could be hiding anywhere when you try to watch your favorite TV show illegally. To be one step ahead of cybercriminals, we recommend you also read our in-depth explanation:
Here are also a few key pieces of advice to keep in mind before watching Game of Thrones:
Never access suspicious links that promise you leaked episodes or exclusive early premieres.
Always look up the TV show's episodes release dates. If something looks too good to be true, it probably is. Here is the Game of Thrones Season 8 complete schedule (the official US release dates):
Episode 1: April 14, 2019
Episode 2: April 21, 2019
Episode 3: April 28, 2019
Episode 4: May 5, 2019
Episode 5: May 12, 2019
Episode 6: May 19, 2019
Ditch the torrents and illegal streaming websites.
Here is what you can do instead:
We can't stress this enough – lack of updates creates security holes that can be easily exploited by hackers.
Endpoint Security Suite offers you protection in front of the most advanced malware threats and blocks them before they can reach your PC.
Final Words
Are the risks of watching TV shows and movies illegally actually worth it? We warned you, but it's your decision to make.
Meanwhile, until the first episode of season eight is out, enjoy this version of GoT's soundtrack, played by an old computer hardware orchestra:

What are your thoughts on online piracy? How are you planning to watch the final season of Game of Thrones? Share your comments in the section below.