Fake Windows 11 Installers Distribute Malware on Your Computer
Threat Actors Have Floated Several Malware-Riddled Fake Installers Disguised as Windows 11.
LAST UPDATED ON
JULY 26, 2021
On June 28th, Microsoft released the first Windows 11 Insider Preview and has been constantly updating it in the past month, with the latest build landing a couple of days ago. While upgrading your PC to Windows 11 is a fairly simple process, many have been using other methods of obtaining unofficial ISOs and are being infected with malware as a result.
How Cybercriminals Trick Windows 11 Downloaders
Recently, researchers from Kaspersky have warned against downloading Windows 11 from unverified sources as the installer most likely contains malware.
This distribution of Windows 11 through fake installers isn't at all a sophisticated process. It basically relies on people downloading a shady installer and then initiating the installation by clicking through the terms and conditions without reading them.
The most straightforward way cybercriminals deceive users is by slipping in (…) an executable file called 86307_windows 11 build 21996.1 x64 + activator.exe. With a file size as large as 1.75GB, it certainly looks plausible. In fact, though, the bulk of that space consists of one DLL file that contains a lot of useless information.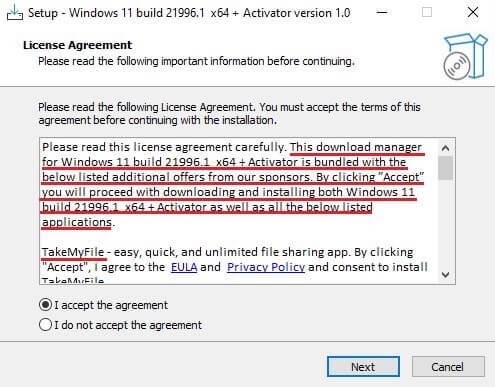 The malicious installer would also download and run a second installer designed to install adware, potentially unwanted programs, and malware.
According to the researchers,
The second executable is an installer as well, and it even comes with a license agreement (which few people read) calling it a "download manager for 86307_windows 11 build 21996.1 x64 + activator" and noting that it would also install some sponsored software. If you accept the agreement, a variety of malicious programs will be installed on your machine.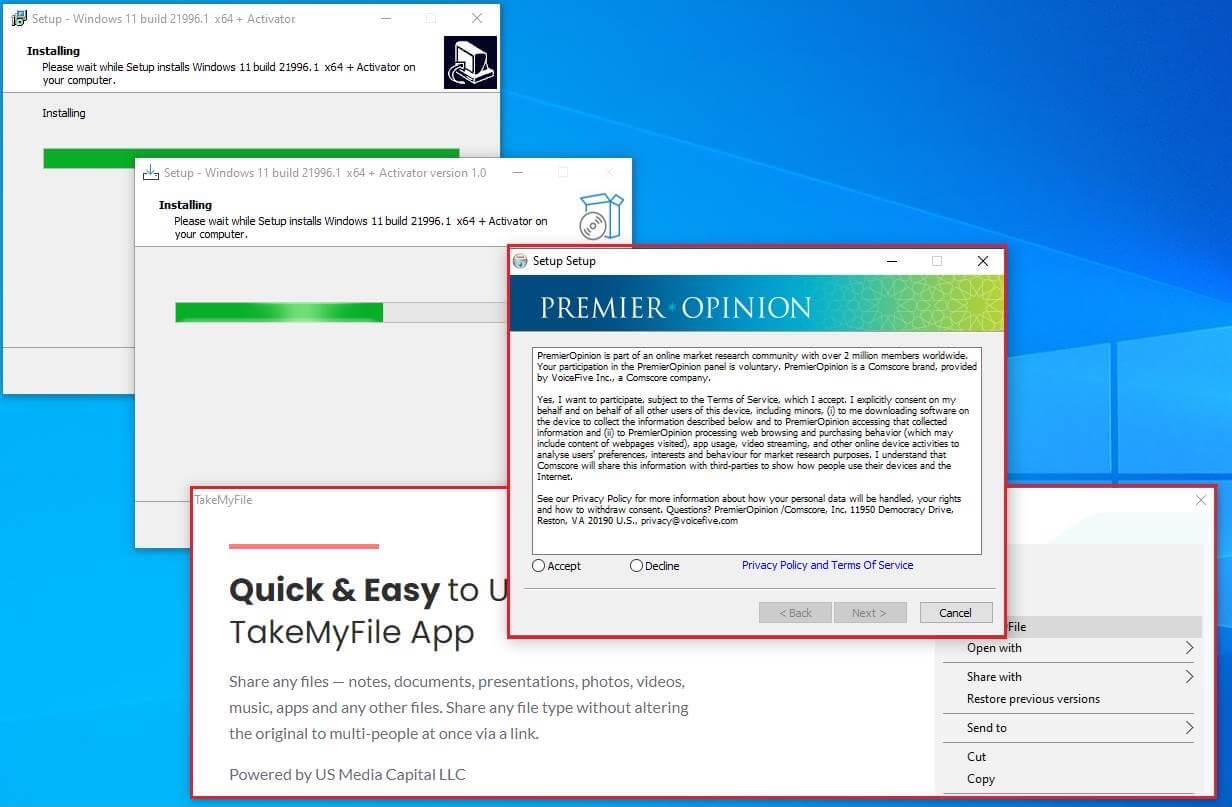 How to Stay Safe
As always, make sure you download software apps and services only from official vendor sites. This is the safest way to avoid getting infected with malware by rogue Windows 11 installers.
Windows 11 is officially available only to participants in the Windows Insider program, therefore you have to register. Remember it can be installed on any Windows 10 computer.
After registering for the Windows Insider program, you can upgrade your Windows 10 computer to Windows 11 by going to Settings, clicking Update & Security, selecting Windows Insider Program, and finally activating Dev Channel to get the update.
Additionally, Microsoft also published a PC Health Check app that can be used to check if your device meets the minimum system requirements for Windows 11. The tech giant states that a Trusted Platform Module (TPM 2.0) is required to upgrade or install Windows 11.
Nevertheless, Microsoft announced that Windows Insiders already in the Dev channel will be able to install Windows 11 preview builds even if they're not meeting the OS' minimum system requirements.