Enterprise Patch Management: What It Is and Why You Need It
LAST UPDATED ON
MARCH 23, 2022
Nowadays, enterprise patch management is a necessity for every company that wants to stay safe from cyberattacks, achieve compliance and focus only on the road ahead, without unpleasant interruptions.
What Is Enterprise Patch Management?
Enterprise patch management refers to the activity of getting, testing, and installing software patches for a network and the systems in it. Patch management includes applying patches both for security purposes and for improving the software programs used in the network and the systems within it.
In cybersecurity, a patch is a small software update released by manufacturers to fix or improve a software program. A patch can fix security vulnerabilities or other bugs, or enhance the software in terms of features, usability, and performance.
How an Effective Patch Management Program Benefits Your Organization?
As you can probably already tell, patch management is important due to a multitude of reasons: 
patches

correct the security and functionality issues of software and firmware

. 

patches

mitigate software flaw vulnerabilities

, significantly reducing exploitation opportunities. 

patches can

add new features to software and firmware

.

patch management is

required by various security compliance regulations

. 
Dealing with Challenges
Although enterprise patch management is essential for every company, many still have difficulties when it comes to patching and update management. Here are a few reasons why: 
Timing and prioritization
As Murugiah Souppaya and Karen Scarfone note in their paper, "Guide to Enterprise Patch Management Technologies", ideally, an organization would deploy every new patch immediately to minimize the time that systems are vulnerable to the associated software flaws.
This doesn't happen every time in reality, because the companies' resources are limited, so they need to prioritize what patches should be installed first. 
Software inventory 
In order to have effective enterprise patch management, you need to run a full IT asset inventory to know exactly what software (e.g. applications and operating systems) you need to patch:
This inventory should include not only which software is currently installed on each host, but also what version of each piece of software is installed. Without this information, the correct patches cannot be identified, acquired, and installed.
Installation side effects 
Side effects are another aspect that may interfere with the successful installation of patches: "A common example is the installation inadvertently altering existing security configuration settings or adding new settings. This may create a new security problem in the process of fixing the original vulnerability via patching."
Application whitelisting
Application whitelisting relies on the known characteristics and components of software – the same one that may be modified during patching. As Souppaya and Scarfone say, 
To avoid these problems with updates, most application whitelisting technologies offer maintenance options. For example, many technologies allow the administrator to select certain services (e.g., patch management software) to be trusted updaters. This means that any files that they add to or modify on a host are automatically added to the whitelist. Similar options are available for designating trusted publishers (i.e., software vendors), users (such as system administrators), sources (such as trusted network paths), and other trusted entities that may update whitelists. Organizations using application whitelisting technologies should ensure that they are configured to avoid problems with updates.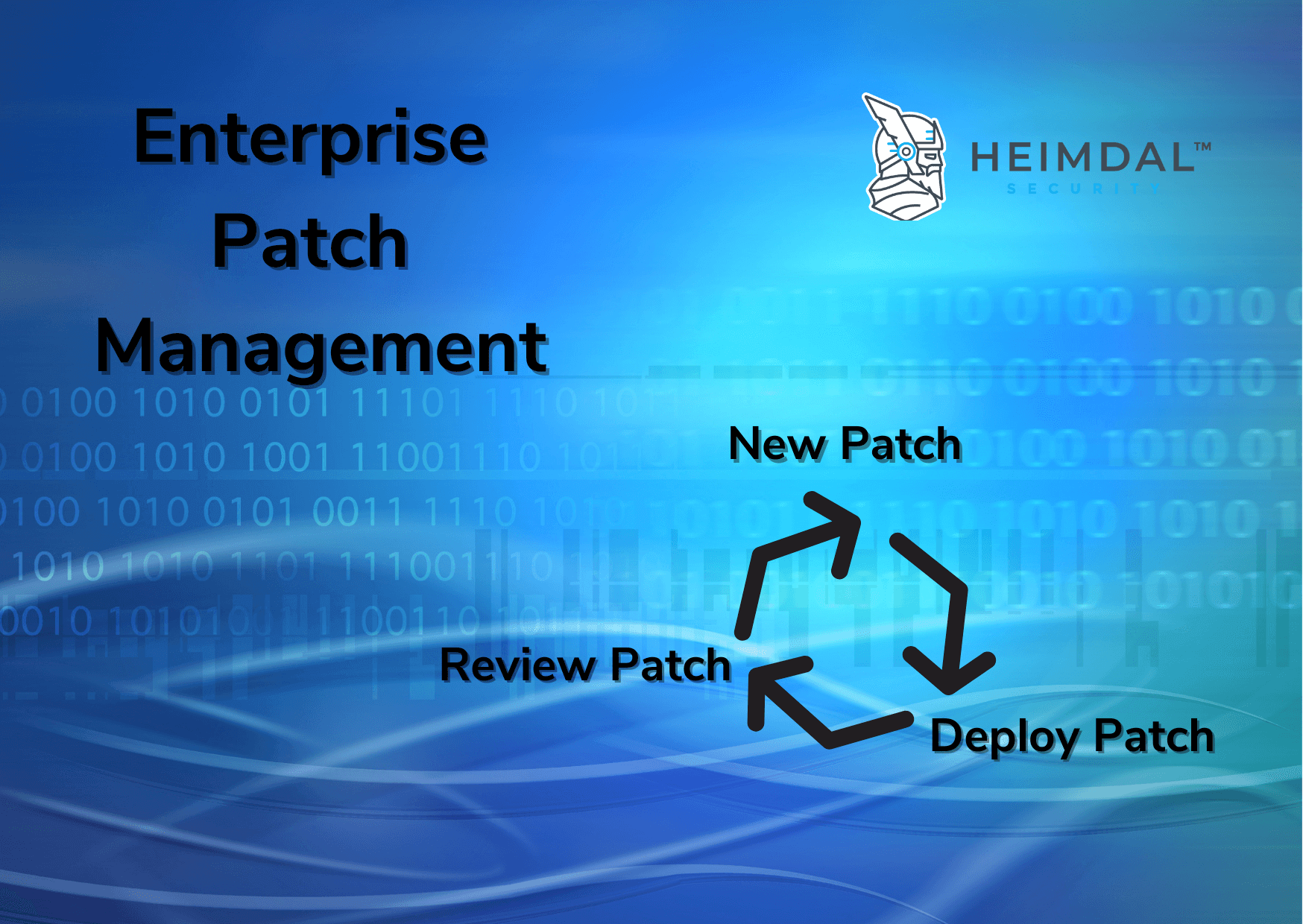 Enterprise Patch Management Process
So…now that we've seen what challenges can interfere with enterprise patch management, let's see what you can do to streamline the process: 
Start with an inventory!

As mentioned before, it's important to have a clear picture of your software

assets

. 

Categorize your systems.

As

DNS Stuff

notes, "

To apply effective patch management processes, you need to have performed a clear risk assessment to ensure the highest-risk or most sensitive parts of your infrastructure are patched first."

 

Apply patches as soon as possible.

To completely minimize the risk of exploits, patches should be deployed as soon as they're released. 

Test the patches!

Patching is a time-sensitive process, but the testing of the patches is a stage that should not be skipped. Always try the patches in a test environment before deploying them to your entire system.

Scan and audit your systems for previous vulnerabilities.

As

DNS Stuff

says, "

The longer these security holes stay open, the more likely it is you'll be the subject of an attack. Patch management should be a continuous process with regular and ongoing scanning."

Get used to reports and regular reviews.

Reports and reviews are necessary to demonstrate compliance with regulatory standards or show auditors and internal management that the company takes security measures seriously. 
And…last but not least…
Automation Benefits
An automated enterprise patch management solution will simplify the patch management process by: 
Saving time and increasing productivity
Automated patch management will allow your employees to spend less time on repetitive tasks and be more productive. 
Reducing mistakes
As mentioned in a previous article of mine, human error can appear because people are tired, not paying enough attention, or are somehow distracted, but also because of the environment. Automated software will significantly reduce the risk of errors and will do the job much faster. 
Improving endpoint security 
By accelerating the patch management process and reducing the risk of error, an automated enterprise patch management solution will greatly enhance your endpoints' security. 
If you want to see all these benefits for yourself, you can get a demo of our Heimdal Patch & Asset Management. The solution will see any software assets in your inventory, alongside their version and number of installs, deploy Windows, 3rd party, and custom software to your endpoints anywhere in the world, and create inventory reports for accurate assessments and compliance demonstrations.
Automate your patch management routine.
Heimdal® Patch & Asset Management Software
Remotely and automatically install Windows, Linux and 3rd party application updates and manage your software inventory.
Schedule updates at your convenience;
See any software assets in inventory;
Global deployment and LAN P2P;
And much more than we can fit in here...
Final Thoughts
Enterprise patch management is an essential component of any good cybersecurity strategy and one that no company should neglect. Although the process may sometimes be challenging, there are always ways to streamline it, especially with the help of automated patch management solutions. 
However you choose to proceed, please remember that Heimdal Security always has your back and that our team is here to help you protect your home and your company, and to create a cybersecurity culture to the benefit of anyone who wants to learn more about it. The more frequently you patch and update all of your important (and non-critical) systems, the less likely your company will be hacked.
Always remember that patch management is important for providing effective organizational security. However, it should not be considered as a panacea for all security challenges, but rather as an important layer of security for your company, alongside DNS filtering, Endpoint Antivirus & Firewall, and Privileged Access Management (PAM).
Drop a line below if you have any comments, questions, or suggestions related to the topic of enterprise patch management – we are all ears and can't wait to hear your opinion!
If you liked this article, follow us on LinkedIn, Twitter, Facebook, Youtube, and Instagram for more cybersecurity news and topics.