Data Breach Leaves Geico Customers' Data Exposed
Threat Actors Stole Driver's Licenses for Policyholders for over a Month, by Abusing an Online Sales Portal.
LAST UPDATED ON
APRIL 20, 2021
The car insurance provider Geico is the second-largest car insurance company in the United States, with over 17 million policies for more than 28 million vehicles, and recently became the victim of a data breach.
Geico recently suffered a data breach with threat actors stealing the driver's licenses for policyholders, as Geico stated in a data breach notification filed with the California Attorney General's office
It seems that for over a month, the threat actors were abusing an online sales portal in order to be able to gain access to policy holder's driver's license numbers.
We recently determined that between January 21, 2021, and March 1, 2021, fraudsters used information about you – which they acquired elsewhere – to obtain unauthorized access to your driver's license number through the online sales system on our website.
Geico declared that threat actors utilized customer information obtained elsewhere when trying to pull up the info on policyholders, but did not disclose what information was required to access the online sale's portal.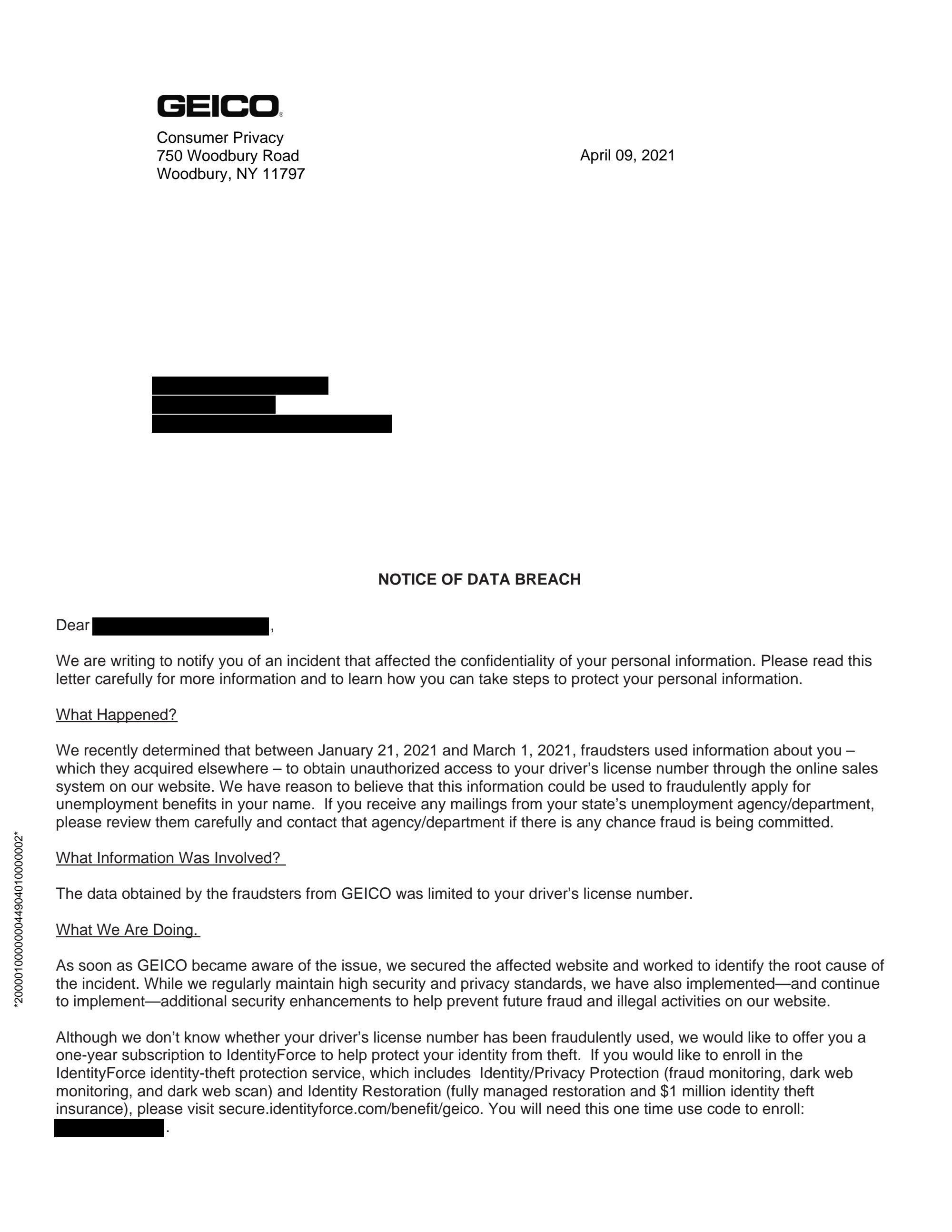 It is believed that the threat actors are planning to use the driver's license number to apply for unemployment benefits under the policy holder's name, therefore Geico is urging its users to be very careful in regards to any mailing coming from the state's unemployment agency/department.
We have reason to believe that this information could be used to fraudulently apply for unemployment benefits in your name. If you receive any mailings from your state's unemployment agency/department, please review them carefully and contact that agency/department if there is any chance fraud is being committed.
Geico secured the website and added additional safeguards to prevent further fraud or illegal activities, once it learned about the breach, and is offering a free one-year subscription to an identity protection service, for all the affected users.