Cryptocurrency Exchange App Breakdown Led to Delayed Credits and Duplicate Orders
Multiple Clients Ended Up Being Charged More than Twice for the Same Transaction by Cryptocurrency Company.
LAST UPDATED ON
MAY 13, 2021
Buying and selling goods and services with cryptocurrency has become one of the most popular financial activities among investors worldwide and that's because a big part of these blockchain-based units has huge potential to become more valuable over the years.
It also represents a modern way of payment, having more benefits than the traditional banking system. Hundreds of crypto exchanges are operating around the world at the moment and their number is constantly growing.
However, there are lots of problems cryptocurrency exchanges face every day.
For example, the newest crypto exchange incident led to multiple Crypto.com users not receiving their acquisitions for days due to a recurring breakdown.
Furthermore, when users were trying to buy again after their transactions were declined they would get charged multiple times for identical orders.
Crypto.com, a pioneering payments and cryptocurrency company founded in 2016, has over 10 million users across more than 90 countries.
According to the cryptocurrency trading app's service status page, it initially started having issues at the beginning of this week.
But, the network slowdown kept recurring throughout the week, including today, and has led to issues such as massive delays in purchases being reflected in the users' accounts. It took days for users to see the payments they've made over the weekend or anytime this week.
Clients observed that even if some cryptocurrency payments have been declined at first in the app, encouraging them to try again several times, the transactions would show up later on their accounts.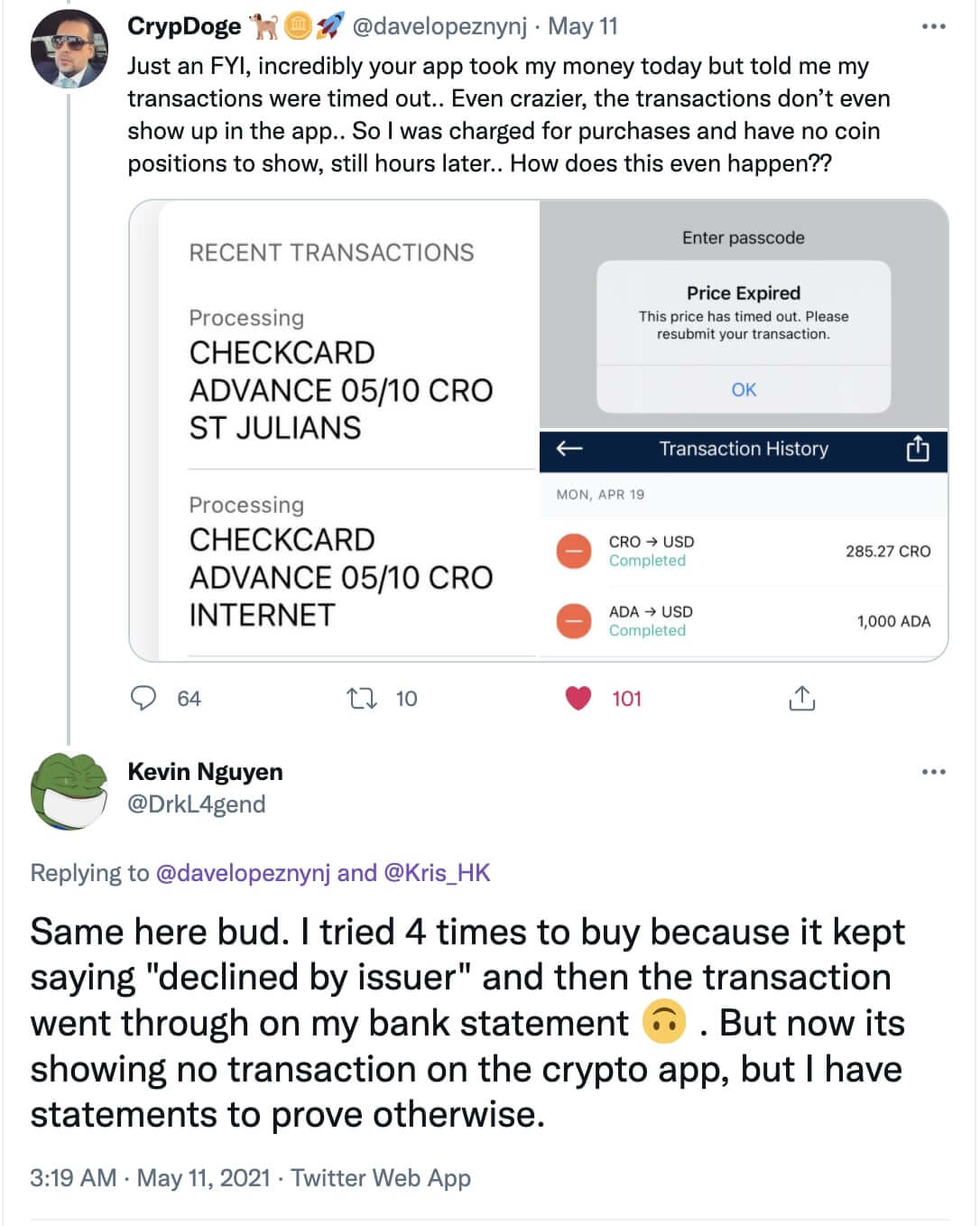 This led to duplicate purchases and users being charged double or more than what they had wanted spending, and for transactions that were apparently "declined."
I had an order not go through yesterday afternoon because it 'timed out'. No charge on my credit card. Then woke up this morning with the charge on my card and crypto I wouldn't have purchased this morning at 8 am?
Twitter was full of users' posts showing similar concerns and their annoyance regarding the extra payments they unintentionally made.
$SHIB took down https://t.co/P5Cjwtobir after listing this weekend. There were errors and delays. I made duplicate purchases in error and now own 50 mil $SHIB 😂 pic.twitter.com/PgSBs1f0WG

— Jessica (@cryptonoobbabe) May 10, 2021
Following these concerns, the cryptocurrency company said that they took care of the problem regarding users' wallets having not been timely credited by crediting the purchased amounts, but didn't say anything about the duplicate orders posted days later.
When asked about the duplicate purchases, Crypto.com responded in general:
Due to the recent downtime, the app experience was affected. The login and app slowness issue that was affecting app balance, as well as the issue with missing crypto purchase has been resolved.

We are aware of the ongoing issue with the delay of Earn interest distribution. The funds will be credited to the wallet's owners soon.
Source: Bleeping Computer
Crypto.com CEO Kris Marszalek tweeted later that all the missing credits have been processed, but we don't know if the organization will refund those affected by this incident.