Computing Security Awards 2021: Heimdal™ Wins AI and Machine Learning-Based Security of the Year
Our Threat Prevention Solution Secures First Place.
LAST UPDATED ON
DECEMBER 3, 2021
On the 18th of October, we announced that Heimdal™ is a finalist at the Computing Security Awards 2021. The voting is now closed and the winners are communicated. We are very proud to let you know that we secured first place in the AI and Machine Learning-Based Security Solution of the Year category with our amazing Threat Prevention Solution.
AI and Machine Learning Based Security Solution of the Year and the winner is @HeimdalSecurity

— Computing Security (@CSMagAndAwards) December 2, 2021
This is the second time this year Threat Prevention wins an award. We also won Best-Cloud Delivered Solution of the Year at the Networking Computing Awards 2021 in October as well as second place in the Product of the Year Category.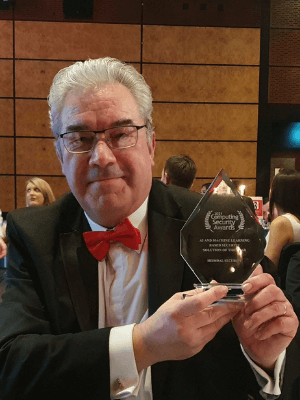 Alan Case, our Senior Channel Manager, holding the prize.
I think words are needless because this is the proof that Threat Prevention stands out in relief on the cybersecurity market, being a solution the emphasizes excellence of the Heimdal™'s products and their ability to keep up with the evolution in technology since AI and the cloud represent the current and the new future.
We are grateful to everyone who voted for us and showed their appreciation through their votes. It means a lot to us and our team and it is real proof that great efforts pay off! As always, Heimdal™  will always strive to keep pace with innovation and bring forth excellence and efficiency into the products from our offer.
We also want to thank you, our partners, and valued customers, as your support is a cornerstone to our beautiful and continuous evolution. We will always make sure to meet all your expectations!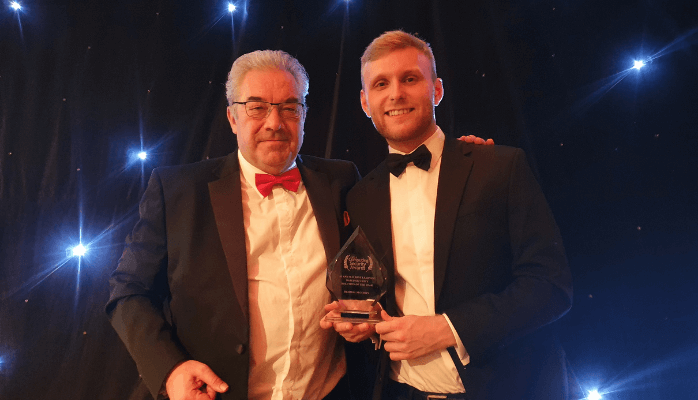 About Heimdal™ Threat Prevention
Threats at the domain level represent reality in today's threat landscape. Complex issues require complex solutions. Our Threat Prevention, an excellent DNS traffic filtering prevents with 96% accuracy future threats. The second time in a row winning first place in a category at a different competition only proves that our solution is the best on the market.
Here are some of its characteristics:
It's a product that brings Machine Learning, AI-base prevention, and cybercrime intelligence together;
Cyberattacks that won't be stopped by traditional antivirus will be surely blocked by Threat Prevention;
It identifies not only emergent but also hidden threats at the domain level based on the use of applied neural network modellings;
Interruptions are zero and the footprint on the endpoint is minimal;
Being a code-autonomous endpoint DNS solution, it effortlessly recognizes malicious URLs and processes, the attacker's origin being not anonymous anymore;
The traffic scanning is done in real-time and the infected domains are blocked;
The DNS-over-HTTPS traffic filtering and Threat-to-Process correlation features will make the perfect combo for stopping cyberattacks;
And many many more delightful features you might want to discover by yourself!
About Heimdal™
Heimdal™  is a Danish-based cybersecurity company founded in 2014, being a leading provider of cloud-based cybersecurity solutions on the European market. The company's offer encompasses a multi-layered security suite with products that satisfy the current market's requirements like threat prevention, privileged and access management with application control, patch and assets management, and also endpoint and email security.
Heimdal™'s goal is to bring to the table the best cybersecurity solutions, efficient against today's threats, and to keep critical business data safe and sound.
Heimdal™ has won various international awards for its products and its blog's educational content resources, being recognized as a thought leader in the industry.
The solutions provided by Heimdal™ are currently deployed in over 45 countries, the company is ISAE 3000 certified and protects 2 million endpoints for over 10,000 businesses.
Heimdal™ supports its partners with the common goal of building a long-term ecosystem and a strategic collaboration.
Last, but not least, we want to thank you all again for all of your appreciation!