Billions of Records Worldwide Were Already Hacked
It's Time to Make Sure that Cybersecurity Becomes a Priority. 
LAST UPDATED ON
MARCH 30, 2021
2020 was a prolific year for the attackers looking to steal precious data. It looks like more records were compromised in 2020 alone than in the past 15 years combined, creating what we could call a data breach crisis.
In the past 12 months, 31 billion data records have been compromised, according to a study run by Canalyst, which means that we're seeing an increase of 171% from the previous year, adding up to well over half of the 55 billion data records that have been compromised in total since 2005.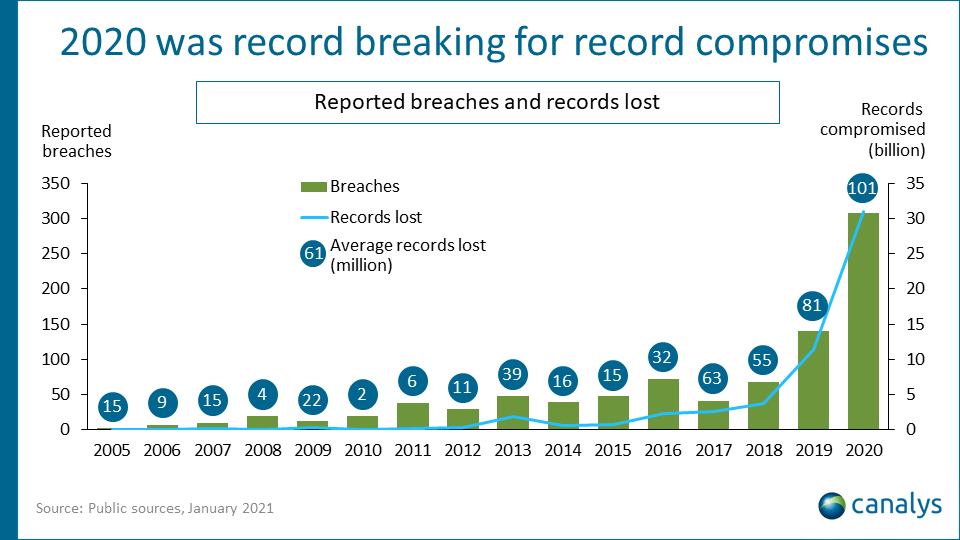 The cases of ransomware especially have been on the rise, having increased by 60% compared to 2019. 
This is an unprecedented boom in attacks and it's believed to be in part attributed to the COVID-19 pandemic, which created a proper breeding ground for this type of attacks, forcing organizations across the world to become more digital, without putting serious thought into the new security requirements that come with doing business online. 
Retailers were forced to switch to selling their products online, while the hospitality sector became more involved in new platforms for home delivery.
The change happened almost overnight with organizations across the globe encouraging their employees to work remotely, making remote working the new way of working.
In order to be able to keep businesses afloat, digital technologies and the cloud benefited from investments meant to help them to move processes online and adapt to new ways of working, but unfortunately, the Cybersecurity concerns were put on hold way too often.
Organizations had to implement business continuity measures quickly in response to the COVID-19 pandemic or risk going out of business. These measures were often at the expense of cybersecurity and bypassed longstanding corporate policies, leaving many exposed to exploitation by highly organized and sophisticated threat actors, as well as other more opportunistic hackers. 

"For many, cybersecurity was an afterthought, as they had to focus primarily on staying in business.
Because employees are now accessing company information from many different locations, and the data is being stored and processed outside of traditional, office-based IT environments, some new security measures are much needed. 
Unfortunately, the businesses do not seem to have taken the cybersecurity topic seriously enough, with investments in this field only growing by 10% compared to the previous year. 
We can therefore conclude that the fast-paced digital transformation was not matched by a reliable cybersecurity strategy against cyber threats.
Your perimeter network is vulnerable to sophisticated attacks.
Heimdal® Threat Prevention - Network
Is the next-generation network protection and response solution that will keep your systems safe.
No need to deploy it on your endpoints;
Protects any entry point into the organization, including BYODs;
Stops even hidden threats using AI and your network traffic log;
Complete DNS, HTTP and HTTPs protection, HIPS and HIDS;
The COVID-19 pandemic was one of the largest contributors to this crisis but it seems to only have accelerated a worrying pattern that was already emerging in previous years, therefore companies must take action as soon as possible and make sure that the data they are handling is properly protected.