Heimdal Security – Nominated for Anti-Ransomware Solution of the Year
Show your support by voting for us at the 2017 Computing Security Awards
LAST UPDATED ON
SEPTEMBER 18, 2017
If you've been reading this blog for a while, you most likely know that we're dedicated to the fight against ransomware. This is deeply tied to our core mission of helping people understand cyber threats and help them be proactive about dealing with them. That's why we do everything in our power to contribute. At the beginning of this year, we joined the global No More Ransom initiative to contribute to the common effort of stifling this massive cyber threat that has caused billions in damage so far. Our guide on what ransomware is and what it does has been shared over 2000 times and read by hundreds of thousands of people around the globe. We also put together a list of over 100 decryption tools that help ransomware victims get back their data back for free. Also, through our security alerts, we try to help people understand how the latest cyber attacks work and how the attack tactics change. These alerts are meant to educate and provide the right tools to tackle the complex issues surrounding data safety and data privacy. Beyond this, the largest amount of our work is dedicated to creating and constantly improving our products (Heimdal™ Free, Heimdal™ Threat Prevention Home, and Endpoint Security Suite), which protect thousands of endpoints around the world. We don't talk about this very often, but, as you can imagine, they're the heart of our company and team. So today we're honored to share that our anti-ransomware efforts have been recognized through our nomination at the 2017 Computing Security Awards!
You'll find us nominated under Anti Ransomware Solution of the Year and you can cast your vote until October 5th!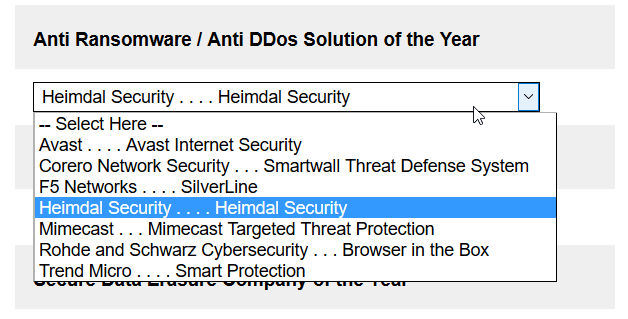 Thank you for your continued support and especially for investing your time and resources into protecting yourself online! If you want to do it, vote now on the Computing Security Awards website.