WhatsApp Adds Proxy Support to Bypass Internet Shutdowns
The Company Continues to "Fight for Your Right to Communicate Freely and Privately".
LAST UPDATED ON
JANUARY 6, 2023
WhatsApp introduces a new feature in its latest released update. From now, users of the messaging app will be able to connect via proxy servers in case of Internet shutdowns or if the service is blocked in their country by the governmental authorities.
According to the developers of the app, connecting through a proxy server will maintain the privacy and security of the messages as they remain protected by end-to-end encryption. This makes sure that only you and the recipient can view them and that no one else, such as a proxy server, Meta, or WhatsApp, can access their information.
Connecting via proxy maintains the high level of privacy and security that WhatsApp provides. Your personal messages will still be protected by end-to-end encryption – ensuring they stay between you and the person you're communicating with and are not visible to anyone in between, not the proxy servers, WhatsApp, or Meta.
How to Connect to a Proxy on WhatsApp?
As explained by BleepingComputer, you must input a proxy address after turning on the "Use Proxy" option under "Storage and Data" in the WhatsApp settings in order to connect using a proxy on Android and iOS.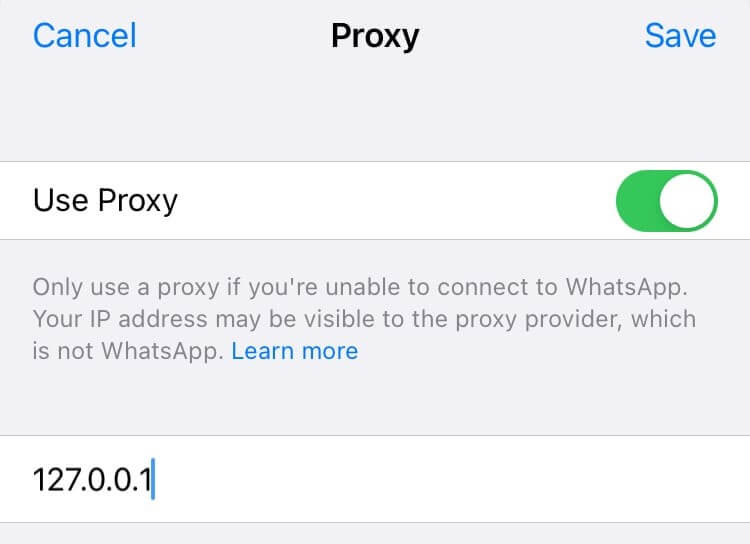 Proxy Settings on WhatsApp (Source: BleepingComputer)
Anyone can set up their own proxies by following the instructions provided here to assist friends or family members in remaining connected even when their connection is interrupted or blocked.
We continue to fight for your right to communicate freely and privately.

Now, when connecting to WhatsApp directly is not possible, you can stay connected around the world through a server set up by volunteers and organizations dedicated to helping others communicate freely.

— WhatsApp (@WhatsApp) January 5, 2023
In October 2021, WhatsApp launched end-to-end encrypted conversation backups on iOS and Android smartphones to prevent unauthorized access to chat contents, regardless of where the chats are kept. Additionally, in December 2021 it also expanded its privacy control features by adding default disappearing messages in all new chats.
Over 2 billion people from over 180 countries use the instant messaging and video calling platform.
If you liked this article, follow us on LinkedIn, Twitter, Facebook, Youtube, and Instagram for more cybersecurity news and topics.