Ubisoft Was the Victim of a Cyber Security Incident
The Malicious Actor Lapsus$ Could Be Behind the Attack.
LAST UPDATED ON
MARCH 14, 2022
Ubisoft Entertainment is a French video game corporation that has headquarters all around the globe.
Assassin's Creed, Far Cry, For Honor, Just Dance, Prince of Persia, Rabbids, Rayman, Tom Clancy's, and Watch Dogs are among its video game brands.
What Happened?
It has been confirmed by video game publisher Ubisoft that it has suffered from a "cyber security incident" that has caused interruption to its games, systems, and online services.
Last week, Ubisoft experienced a cyber security incident that caused temporary disruption to some of our games, systems, and services. Our IT teams are working with leading external experts to investigate the issue. As a precautionary measure we initiated a company-wide password reset. Also, we can confirm that all our games and services are functioning normally and that at this time there is no evidence any player personal information was accessed or exposed as a by-product of this incident.
As BleepingComputer reports, a number of Ubisoft consumers had experienced difficulties accessing their Ubisoft service last week, prompting the company to make the disclosure.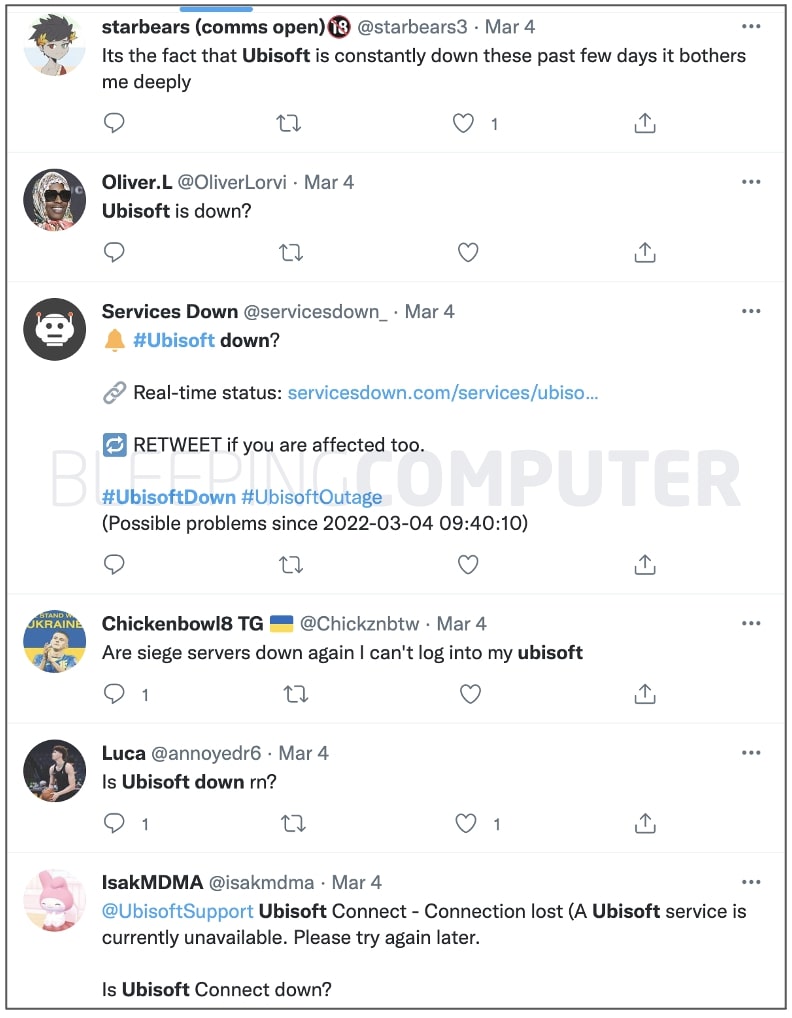 In this case, it looks that the data extortion gang LAPSUS$, which has claimed credit for hacking into Samsung, NVIDIA, and Mercado Libre in the past, is behind the attack.
On March 4th, users on Twitter and Downdetector reported difficulties accessing various Ubisoft services, which seem to be related to this event.
At this point, there is no evidence to suggest that any personal information about the gamers was compromised as a result of this event.
The Verge was the first publication to report the story of Ubisoft acknowledging the cyber security breach, and moments later, administrators of what seems to be Lapsus$' Telegram group commented to The Verge's first post with a smile emoji, implying that Lapsus$ is responsible for the hack.
Material extortion gangs like Lapsus$ penetrate victims, but instead of encrypting private files as a ransomware operator would, these actors take and keep victims' proprietary data, which they then disseminate if their extortion demands are not satisfied.
However, it does not seem that Lapsus$ or any other threat actor was able to get Ubisoft's private data in this situation, and the inquiry is ongoing.
How Can Heimdal™ Help?
Cyber incidents may be avoided by adopting cybersecurity solutions that are efficient and meet the market's requirements. If you choose the Heimdal suite, you will be able to enjoy a wide range of products that all promote the concept of unified cybersecurity, such as Threat Prevention, which prevents cyberattacks at the domain name system level, Patch and Asset Management, which closes down vulnerabilities in your software, and Privileged Access Management, which allows you to control privileged sessions in your company, among many others.
If you liked this article, follow us on LinkedIn, Twitter, Facebook, Youtube, and Instagram for more cybersecurity news and topics.