NVIDIA Data Breach Confirmed by the Company
A Cyberattack Claimed by a Hacking Group Impacted the IT Resources of the Enterprise.
LAST UPDATED ON
MARCH 2, 2022
A cyberattack impacted Nvidia's network last week, the popular chipmaker confirmed, threat actors achieving access to confidential and employees' login information.
The extortion group that claimed this cyberattack is dubbed Lapsus$. The hackers began to reveal detail on the incident and its impact.
Nvidia declared last week that an investigation regarding an incident with an impact on the system was ongoing.
We are investigating an incident. Our business and commercial activities continue uninterrupted. (…) We are still working to evaluate the nature and scope of the event and don't have any additional information to share at this time.
Then, according to the BleepingComputer publication, Lapsus$, a hacking group, claimed over the weekend to be in the possession of 1TB of Nvidia proprietary information. Threat actors also distributed password hashes supposedly linked to the employees of the company.
Besides, the threat actor group leaked a big document archive (20 GB in size) they said was extracted from Nvidia's 1TB cache.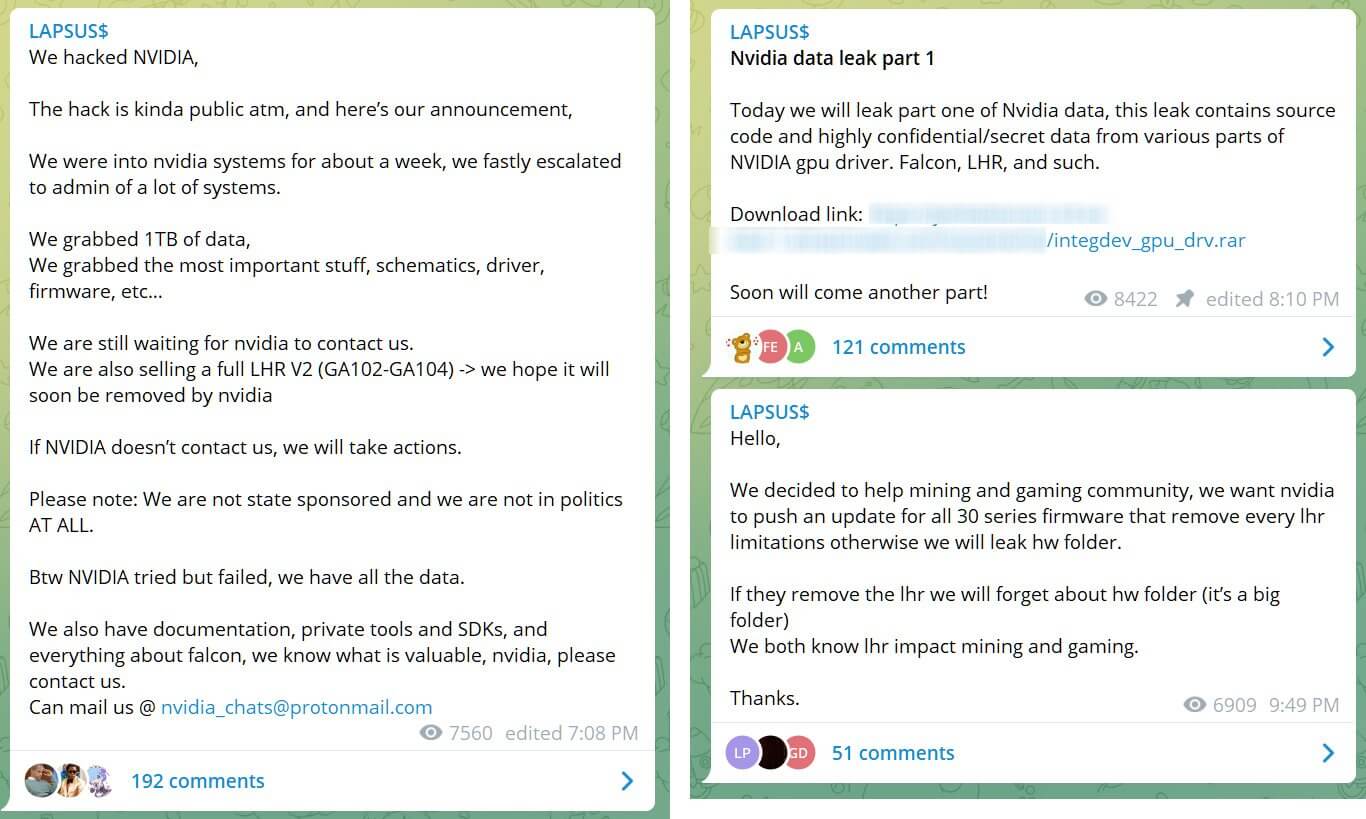 The NVIDIA Data Breach Was Confirmed by Chipmaker Enterprise
NVIDIA then confirmed the identification of a cybersecurity incident on February 23, as the same publication mentioned above states.
On February 23, 2022, NVIDIA became aware of a cybersecurity incident that impacted IT resources. Shortly after discovering the incident, we further hardened our network, engaged cybersecurity incident response experts, and notified law enforcement. We have no evidence of ransomware being deployed on the NVIDIA environment or that this is related to the Russia-Ukraine conflict. However, we are aware that the threat actor took employee credentials and some NVIDIA proprietary information from our systems and has begun leaking it online. Our team is working to analyze that information. We do not anticipate any disruption to our business or our ability to serve our customers as a result of the incident. Security is a continuous process that we take very seriously at NVIDIA – and we invest in the protection and quality of our code and products daily.
According to the company's statement, no evidence of ransomware has been found, however, it confirmed that theft of employees' credentials and proprietary data happened during the cyberattack that impacted IT resources.
About NVIDIA
NVIDIA Corporation is an American technology company founded in 1993 by Jen-Hsun Huang, Chris Malachowsky, and Curtis Priem. The company specializes in creating graphics processing units (GPUs) which are commonly used in PCs, workstations, video game consoles, and more.
How Can Heimdal™  Help?
In the event of nowadays's continuously emergent cyberattacks, businesses should implement efficient security solutions in order to secure their network perimeter on all fronts. Heimdal is a trustworthy provider of reliable cybersecurity solutions and a promoter of unified cybersecurity, covering areas from DNS protection and vulnerability management to privileged access management, email security, and ransomware encryption protection. If you want to find more, you can visit our home page!
If you liked this article, follow us on LinkedIn, Twitter, Facebook, Youtube, and Instagram for more cybersecurity news and topics.