SHI International Corp. Confirms Cyberattack
The Company Had to Shut Down Its Public Websites and Email.
LAST UPDATED ON
JULY 7, 2022
SHI International, formerly known as Software House International, is a privately-owned provider of technology products and services headquartered in Somerset, New Jersey.
The IT services company has recently disclosed that it has been the victim of a malware attack.
What Happened?
According to the tech giant, the organization is one of the largest IT solutions providers in North America, with $12.3 billion in revenue in 2021, 15.000 customers in the non-profit, private, and public sectors all over the world, and 5,000 employees worldwide in operations centers in the U.S., the United Kingdom, and the Netherlands.
SHI declared:
Over the Fourth of July holiday weekend, SHI was the target of a coordinated and professional malware attack.

Thanks to the quick reactions of the security and IT teams at SHI, the incident was swiftly identified and measures were enacted to minimize the impact on SHI's systems and operations.
Following the incident, SHI updated its website with a notice informing users that maintenance was being done on its information systems because of a "sustained outage." This message was eventually replaced by a statement about a malware attack posted on the organization's blog.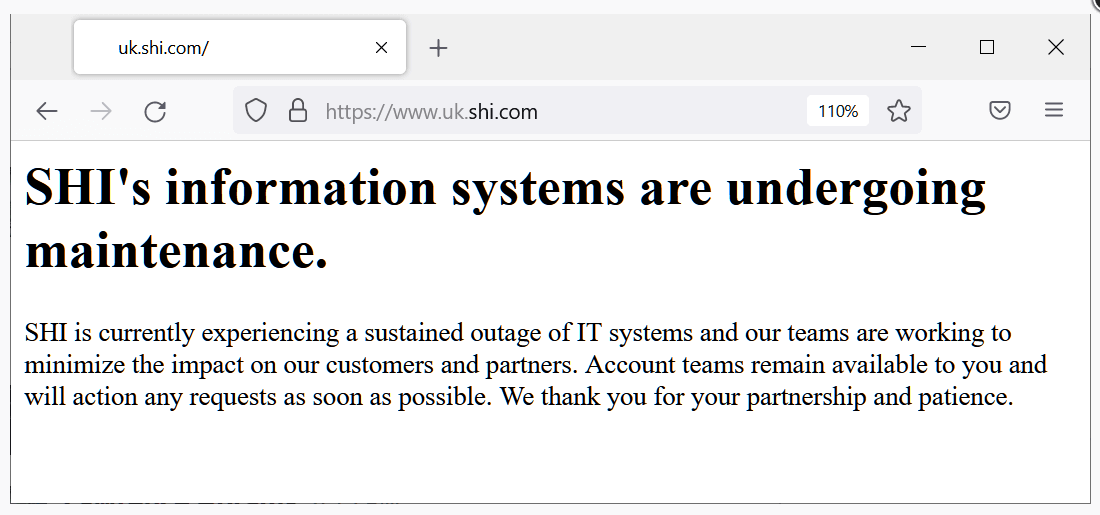 As a result of the cyberattack, some website pages have started to return Amazon CloudFront/S3 SHI errors, which lasted until yesterday.
While assessing the integrity of its systems and investigating the malware attack, SHI had to shut down some of its systems, including the organization's public websites and email.
Starting yesterday morning, all email servers that had been shut down following the incident were restarted by SHI employees. The company's IT team is also trying to restore access to the rest of the compromised systems on the network.
Should Customers Worry?
While the investigation into the incident is ongoing – and SHI is liaising with federal bodies including the FBI and CISA – there is no evidence to suggest that customer data was exfiltrated during the attack.
Additionally, SHI stated that it would keep customers informed at every step of the process and that the malware attack had no impact on any external systems that were part of its supply chain.
If you liked this article, follow us on LinkedIn, Twitter, Facebook, Youtube, and Instagram for more cybersecurity news and topics.